With the Green Bay Packers having marked the 100th anniversary of the franchise's founding on Sunday, Jason Wilde ranks the five most important administrators in Packers history. 
5. TED THOMPSON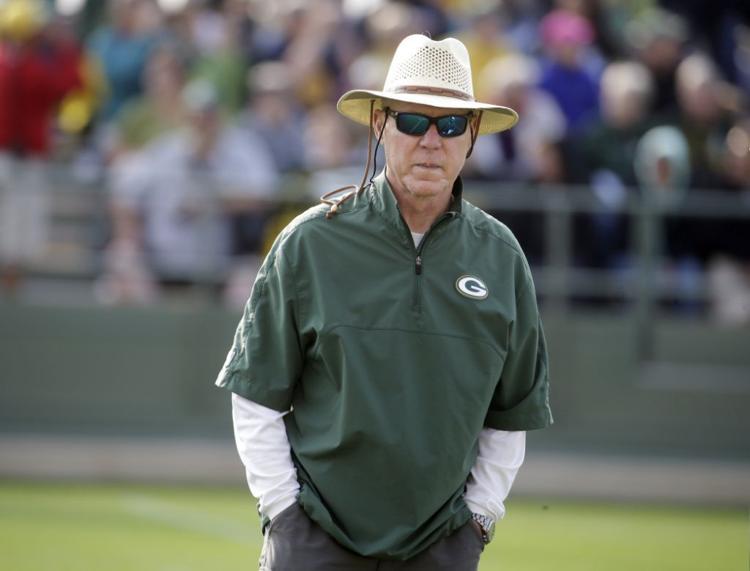 The humble Thompson, who battled health issues brought on by an autonomic disorder late in his tenure as general manager, likely will never get the plaudits he deserves for the talented rosters he assembled during his 13 years in charge of the football operation. He can't take credit for resurrecting the woebegone franchise, as his mentor Ron Wolf did, but he certainly righted the operation after head coach Mike Sherman struggled with the dual role of coach/GM in the early 2000s.
Thompson's tenure was largely defined by three events: Using his very first draft selection as GM on University of California quarterback Aaron Rodgers during the 2005 NFL Draft, even though the team still had future Pro Football Hall of Famer Brett Favre as its starter; trading Favre to the New York Jets in August 2008, after Favre decided to unretire and the Packers had moved on with Rodgers as their starter; and Rodgers leading the 2010 team to the Super Bowl XLV title in his third season as the starter.
Overall, the Packers compiled a 125-82-1 regular-season record on Thompson's watch and made the playoffs nine times in 13 years, including a franchise-best eight straight seasons from 2009 through 2016. Green Bay was 10-8 in postseason play during that time, reaching four NFC Championship Games (2007, 2010, 2014, 2016) in addition to the one Super Bowl.
"In 36 years in the league, his teams won 330 games, so I don't care if he was a player, a coach, a scout — his teams won. That's what he did as a GM. Year in year out, his teams won football games," said former Packers executive Mike Reinfeldt, who played with Thompson with the Houston Oilers and presented him for his Packers Hall of Fame induction in May.
"I think people will appreciate Ted. The longer he's retired, the more the people will appreciate him. I think history is going to be kind to Ted Thompson. When they look back and see what he accomplished, it's a pretty golden era for the Packers."
4. BOB HARLAN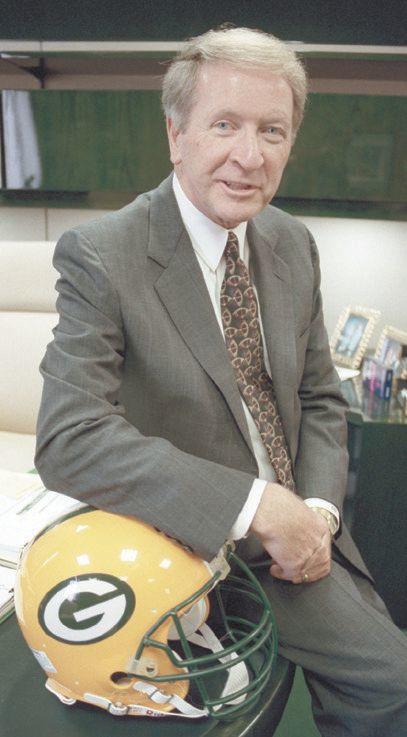 When the Packers dedicated their redeveloped Lambeau Field in 2003, they placed enormous statues of the two most important men in the franchise's history out front of their glistening atrium — Curly Lambeau, who co-founded the team and was one of its greatest coaches and players, and Vince Lombardi, who coached his 1960s teams to the club's greatest on-field era.
But those two monuments are situated on Bob Harlan Plaza, an area dedicated to the former president/CEO who helped restore the franchise to its Lombardi-era glory by changing how the team did business and hiring the right man — Pro Football Hall of Fame general manager Ron Wolf — in 1991 after so many years of disappointment. Harlan's wife, Madeline, said that at the time, her husband wasn't sure he deserved such an honor.
So let's be clear: He did, even if Harlan himself still isn't so sure.
"I'm out there in the shadows of those two statues, two men who are the biggest names in the history of this franchise. One founded it and won six world championships, the other one saved it and won five championships," Harlan said. "To be in an area with them, it means a great deal to me. I'm monumentally honored. That's what I am."
But even when pressed to put his accomplishments in perspective — from hiring Wolf to rebuild the football program, to getting the stadium referendum passed in 2000, to making tough decisions like pulling the team out of Milwaukee County Stadium in 1994 to play all of its home games at Lambeau — Harlan struggles to take credit for any of it.
"I've always thought that one thing I was able to do was hire good people, know good people, and then stay out of their way. Be available to them, but don't interfere with them," he said. "I would hope that I have common sense. Sometimes we get into big debates, and I'll say, 'Well, isn't this what we should do?' Like the Milwaukee thing, it was common sense, so we adopted the idea that we were abandoning the stadium, but not abandoning our fans. I said, 'We've got to bring those people up here.' That, to me, was just a common sense thing.
"I pride myself on, I don't know if it's a quality or not, but that I will look at something that seems complicated and find a very simple solution. Don't make it more difficult than it should be."
And as Wolf will attest, Harlan never made it difficult for him to get his job done.
"I don't think any employee could have asked for anything more than he gave me. He gave me that opportunity, and I'm deeply indebted to him,'' Wolf said. "It was in my hands to sink or swim, and we swam quite a distance."
3. GEORGE WHITNEY CALHOUN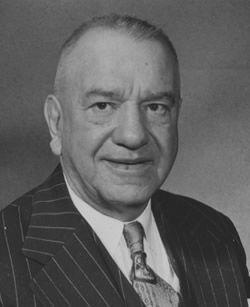 When the Packers celebrated the 100th anniversary of their founding on Aug. 11, Calhoun's place in franchise history was discussed frequently. Calhoun, of course, co-founded the Packers that day in 1919, along with Earl "Curly" Lambeau. At the time, Calhoun was the Green Bay Press-Gazette's city editor, and while Lambeau was elected captain, Calhoun was named manager.
Calhoun was just 28 years old at the time, and was the great-grandson of Daniel Whitney, the founder of the city of Green Bay. He not only served as manager, but also covered the team for the newspaper and was the team's publicity director.
He also was known to have passed the hat in the stands to collect donations from fans at games. The Packers joined the American Professional Football Association on Aug. 27, 1921, before the league was renamed the National Football League in 1922.
Calhoun loved his role with the fledgling team and waxed nostalgic in a 1962 column he wrote for the Press-Gazette, an excerpt of which ran in the book "Mudbaths and Bloodbaths." Calhoun particularly enjoyed Packers games against the archrival Chicago Bears in the Windy City.
"The Chicago excursions were always humdingers to one who traveled with the Bays for over a quarter of a century," he wrote. "Fond memories exist over the four-dollar-round-trip fares on both railroads; early services in the churches so the fans could catch the 7 o'clock a.m. Sunday trains; and, last but not least, red fire along the railroad tracks as we were riding home, and the crowds at the stations, joyful with victory. It was a great life!"
2. JACK VAINISI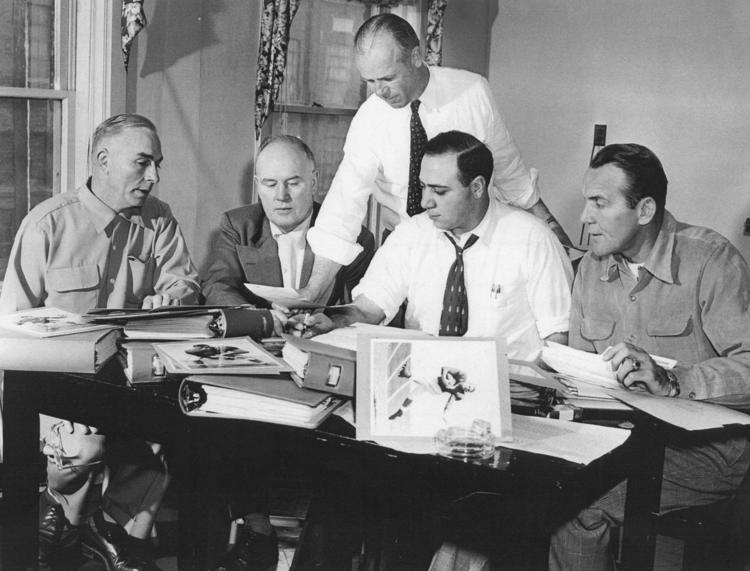 Without Vainisi (above, second from right), would Vince Lombardi have won five championships? Perhaps, but there's no question that Vainisi's scouting acumen helped those legendary teams by plying Lombardi with a host of future Pro Football Hall of Famers.
In 1950, then-Packers head coach Gene Ronzani hired the then-23-year-old Vainisi to organize the team's personnel department. Vainisi, doing something most teams didn't, sought the opinions of college coaches in his scouting, and was essentially a one-man band in the scouting department in Green Bay.
It paid off: The Packers went on to draft or acquire 10 future Pro Football Hall of Fame players with Vainisi on staff — center Jim Ringo, tackle Forrest Gregg, halfback Paul Hornung, fullback Jim Taylor, linebacker Ray Nitschke, guard Jerry Kramer and quarterback Bart Starr. He also signed safety Willie Wood as a free agent in 1960 and traded for Willie Davis and Henry Jordan.
According to David Maraniss' Lombardi biography, "When Pride Still Mattered," Vainisi lobbied team president Dominic Olejniczak and Packers board of directors to hire Lombardi as coach, and during his interview, Lombardi told the board that he would not have considered Green Bay if it was not for Vainisi.
Sadly, Vainisi never saw any of Lombardi's championships. He died of a heart condition at age 33 on Nov. 27, 1960. He never held the title of general manager but had an enduring impact.
"He was the unsung hero of that whole era," Starr once said. "Jack gets forgotten sometimes, but his eye for talent made it all possible."
1. RON WOLF
While Wolf made the moves that restored the Packers to prominence after Harlan hired him as general manager in November 1991 — firing coach Lindy Infante and replacing him with Mike Holmgren; trading a 1992 first-round draft pick for quarterback Brett Favre; signing transformative free-agent defensive end Reggie White in 1993 — what's even more remarkable is that the Packers had a chance to hire Wolf four years earlier.
And blew it.
Yes, in 1987, Wolf interviewed for the Packers' GM job. For that interview, Harlan had picked Wolf up at the airport the night before. But the Packers and team president Robert Parins made such a bad impression on Wolf that he pulled his name out of consideration afterward. When he stopped by Harlan's office after the interview and Harlan, then the assistant to Parins, offered to take him out to lunch, Wolf wasn't interested.
"He said, 'No, take me to the airport,'" Harlan recalled. "Ron couldn't wait to get out of town."
The Packers ended up hiring Tom Braatz instead, and while Braatz was a smart football man and a quality talent evaluator, Parins inexplicably hired Infante to replace Forrest Gregg as coach a year later and gave Infante and Braatz a bizarre 50-50 split of authority on football decisions.
After Harlan assumed the presidency on June 5, 1989, he came to believe the structure was flawed. He fired Braatz late in the 1991 season and immediately went after Wolf, who of course went on to build the roster that won Super Bowl XXXI, the Packers' first championship after a 29-year drought. Wolf was inducted into the Pro Football Hall of Fame in 2015.
"I knew what he would want to hear if we wanted to get him. And I was not letting him get away again. I said, 'I'm going to talk to you until you say yes.' I'd made up my mind," Harlan said. "We were coming off 24 years of mediocre football, and I felt we had reached the point where we had to change the way we were doing business. The executive committee, they were all fine businessmen but they weren't football people. I thought we needed a change and bring in a strong football person and guarantee him there would be no interference from the board. The way we were doing it, it wasn't working.
"I knew what Ron needed: He needed full authority. I knew if we didn't give him that, he wouldn't leave the job he had. Once we gave him that, the negotiation was very short."
---
Jason Wilde covers the Packers for ESPN Wisconsin. Listen to him with former Packers and Badgers offensive lineman Mark Tauscher weekdays from 9 a.m. until noon on "Wilde & Tausch" on 100.5 FM ESPN Madison.