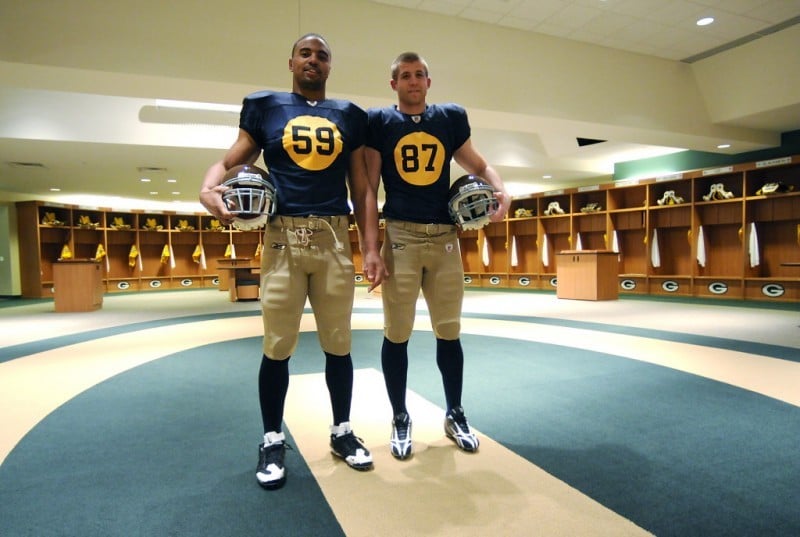 The Green Bay Packers unveiled their alternate jersey for the 2010 season Friday at their Fan Fest event in Green Bay, a design that is patterned off the 1929 uniform worn by the franchise's first NFL championship team.
The jersey is predominantly navy blue, but bears an oversize gold circle on the chest that will bear large navy blue numbers.
"We wanted to celebrate the history and tradition of the Packers," President/CEO Mark Murphy said in a statement posted on the team's website. "Those who remember history and follow the history of the Packers know it was a very successful era for the organization."
That year marked the first of three consecutive titles, as the Packers recorded a 34-5-2 cumulative record in official league games from 1929-31.
The circle and number are enlarged from their 1929 size to comply with NFL regulations regarding jersey numbers. An enlarged number is also on the back.
One feature is definitively modern -- a nameplate above the number on the backside.
The helmet is a solid brown color without a logo, the aim being to simulate the leather helmets worn during the era. The uniform pants are a tan color.
"Some teams use different colors, like the Bears have had an orange jersey, but for us what really makes sense is to have a historical jersey and uniform," Murphy said. "What's exciting about this is it's so different. The colors are different, and I think our fans will really enjoy this."
NFL teams are allowed to have a third jersey that they can wear for up to three games per season -- including no more than two home games -- over a five-year period.
Murphy said the Packers would wear it for home games only, starting this season, after which its use would be evaluated. The games will not be determined until the schedule comes out in April.
"It would be nice to use it against one of the original NFL teams we played in that era," Murphy said. "But I don't know if that's possible."
The Packers have worn two "throwback" jerseys in the last two decades. In their 2001 Thanksgiving game in Detroit, the Packers wore replicas of their 1939 uniforms, while in the NFL's 75th anniversary season in 1994, the team wore 1937 uniforms.
"I think the players will really like this, especially the younger players," Murphy said. "They probably have read and heard a little bit about our history and tradition, but to actually wear a re-creation of a uniform that our team has worn will be exciting for them. We'll have a lot of fun with it."
The alternate jersey is not yet available at retail outlets and may not be until training camp or the start of the regular season, Murphy said.