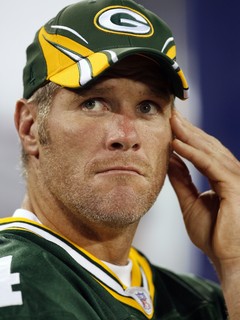 Brett Favre is retired and will not be returning to the Green Bay Packers in the wake of Aaron Rodgers' fractured collarbone suffered in Monday night's 27-20 loss to the Chicago Bears, according to this Sporting News story passed on by Bleacher Report.
The Packers had reached out to Favre after Rodgers was injured, longtime NFL writer Howard Balzer had reported.
But ESPN Milwaukee's Gabe Neitzel Tweet'd on Tuesday that he "Talked with Bus Cook this morning. Assured me that Brett Favre is retired."
Cook is Favre's longtime agent.
This probably is the last time the issue of Brett Favre returning to the NFL will ever come up.
He's 44 now and has talked about the toll the game has taken on him.
When he turned down the St. Louis Rams, one could argue that he might answer differently to a Super Bowl contender. 
The Packers were exactly that. And he knows the offense. And it would allow him to potentially ride out in glory as a Packer.