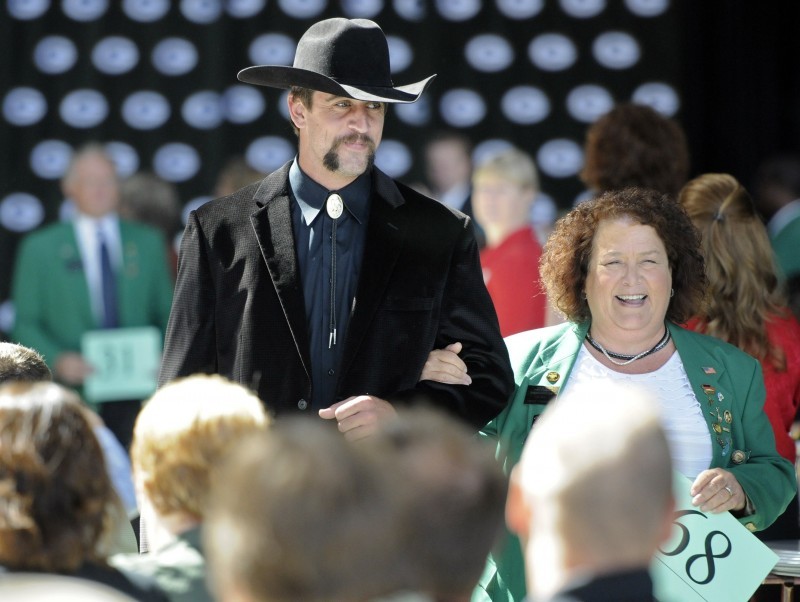 GREEN BAY — The Super Bowl hype has been flowing non-stop for six weeks and the Green Bay Packers haven't so much as lifted a finger to turn off the faucet.
Last week, quarterback Aaron Rodgers and a group of Packers showed up at the annual Welcome Back Packers Luncheon wearing cowboy hats and bolo ties. Teammates say the wardrobe malfunction was Rodgers' idea and the unstated message, of course, was that the Packers are planning to finish the season in Arlington, Texas, the site of Super Bowl XLV.
The players' public display of intention provided a fitting bookend to coach Mike McCarthy's bold (for him) approach at the start of training camp, when he openly embraced talk of the Super Bowl and privately challenged his players to consider the NFL title a realistic goal.
The expectations gained momentum after that, with many national media types picking Green Bay to at least reach the Super Bowl. But now, with the regular-season opener at Philadelphia just days away, the Packers insist the Super Bowl talk is behind them, cowboy hats or no cowboy hats.
"To me, that's not a real big deal," McCarthy said Wednesday when asked about his players' fashion statement. "That's not a focus of ours. We're not a flamboyant-type football team. That's by design. I like the confidence of our team, but we're at the starting line. We're 0-0. We're preparing to win our first game."
Only three Packers were even around the last time a Wisconsin team dressed for success and ended up getting caught with its pants down. In 2001, the Milwaukee Brewers beat the first-place Cubs three straight times in Chicago, then donned their "sweep suits" for a flight to Pittsburgh, where they promptly lost four straight to the last-place Pirates.
The Packers players insist that wearing Texas-style outfits was a meaningless prank, something fun to get the fans fired up. They say that in no way does it signify that their heads have outgrown their hats, even if they're 10-gallon hats.
"It'll mean something when we're getting ready to fly down to Dallas the week before (the Super Bowl)," defensive end Cullen Jenkins said. "Just because somebody picks you doesn't mean it's going to happen. You still have to go out there and make it happen. That's our attitude."
McCarthy apparently agrees. When his players showed up at the luncheon looking like cattle barons from the Lone Star State, he saw it not as a warning sign but as a healthy show of confidence.
"This is an exciting bunch of men," McCarthy told the crowd. "We'd play anybody, anywhere, anytime. We'll go right here in the parking lot if they'll show up, so that's the kind of attitude we have. And I don't know if you've noticed this, but we've got a number of our players already dressed for Dallas, Texas. So we're ready to go!"
Yeah, but where are they going? To Philadelphia, for starters, a setting that might actually help the Packers focus on the task at hand. Green Bay hasn't won in Philadelphia since 1962 and the Eagles have won five of the teams' six meetings since 2003.
If expectations were going to breed complacency, it probably won't show up in the opener.
"You want to have expectations," offensive tackle Mark Tauscher said. "But I know this is a long, tough journey and there's going to be ups and downs. ... Everybody right now has high expectations. There's 31 teams that their expectations are the same as ours. We know the challenge is huge, but we also know we have a lot of talent."
On offense? A definite yes. On defense and special teams? A definite maybe.
Still, the Packers should have no trouble blocking out the hype and showing up ready to win as soon as Sunday's opener.
"We're a young team, but at the same time, we're a young team with a lot of experience," wide receiver Greg Jennings said. "I think that over the last few years we've been in situations that we've definitely learned from. ... We're definitely not a team that's overconfident. We're a team that understands that it's a 16-, 17-week season and you've got to take them one game at a time."
It's possible the runaway Super Bowl hype could blow up in the Packers' faces this season, but that doesn't seem likely. If they fail to live up to expectations, it will be due not to the hats they're wearing but to a shortage of pass-rushers and kick returners.