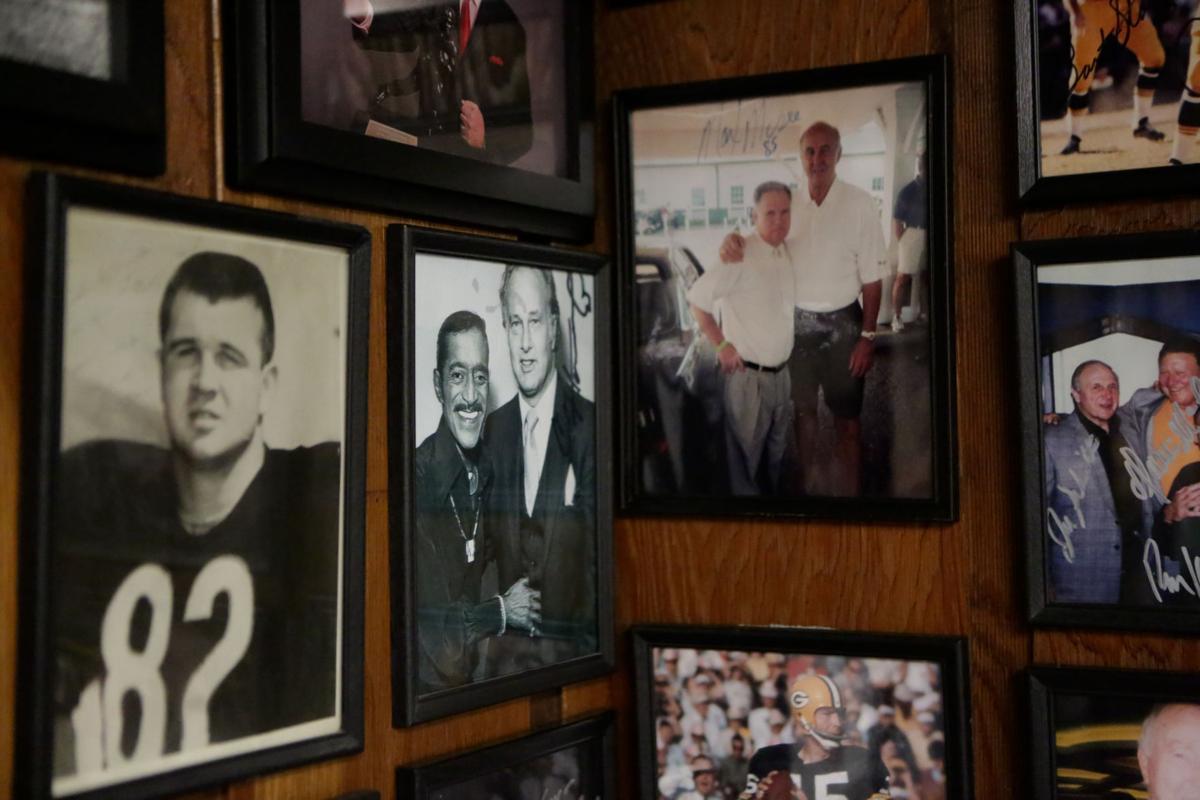 MUNSTER — Notre Dame's Golden Boy Heisman Trophy winner and superstar utility knife for Vince Lombardi's Green Bay Packers, Paul Hornung died Nov. 13 in Louisville at a top-shelf extended-care facility where he spent his final months under the spell of dementia.
A close friendship of Hornung's hatched one day shy of 59 years earlier is very much alive at a home in Munster, especially in the basement.
"When I come down here, I feel he's still here," Wally "Fox" Peters said while telling the stories behind the photographs of and with Hornung and other celebrities that crowd every wall. "That's how I feel."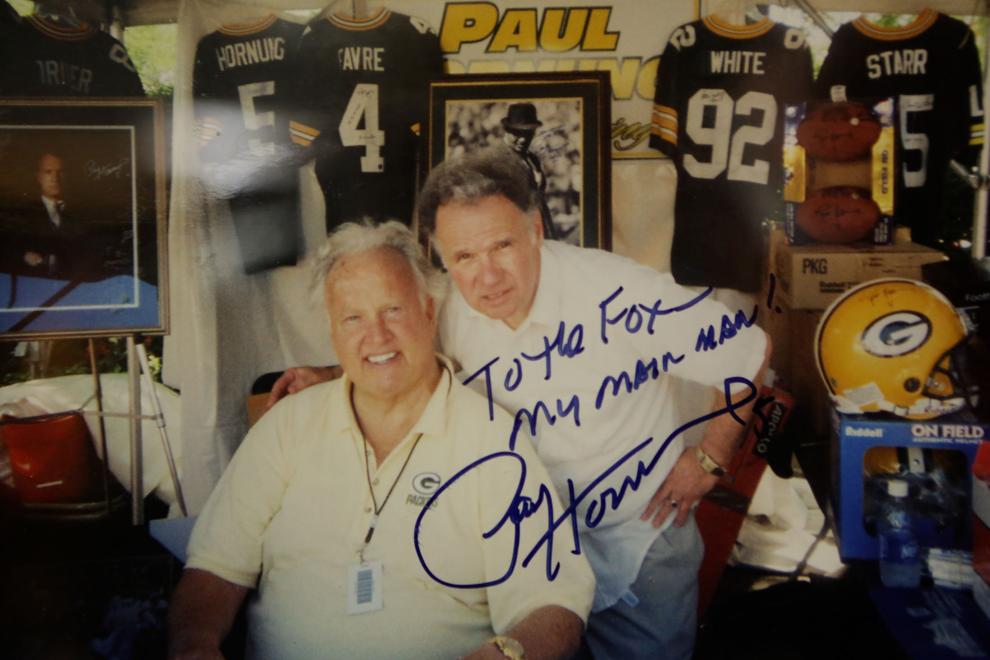 Peters met Hornung at Fort Riley in Junction City, Kansas, where both men had been recalled as the Cold War heated up.
Peters is fond of saying, "A picture is worth a thousand words," but he belies those words with Hornung stories that no photograph could tell.
"This one's a story-and-a-half," Peters said, shaking his head at the memory. "Shine's Tap in Calumet City, right across from Memorial Park. It's no longer there. It's torn up. We walked into the bar and there's only nine people there. The place was a dive. I mean it was a dive. I walk in there and say, 'Shine, I want you to meet Paul Hornung.' 'Paul Hornung?' "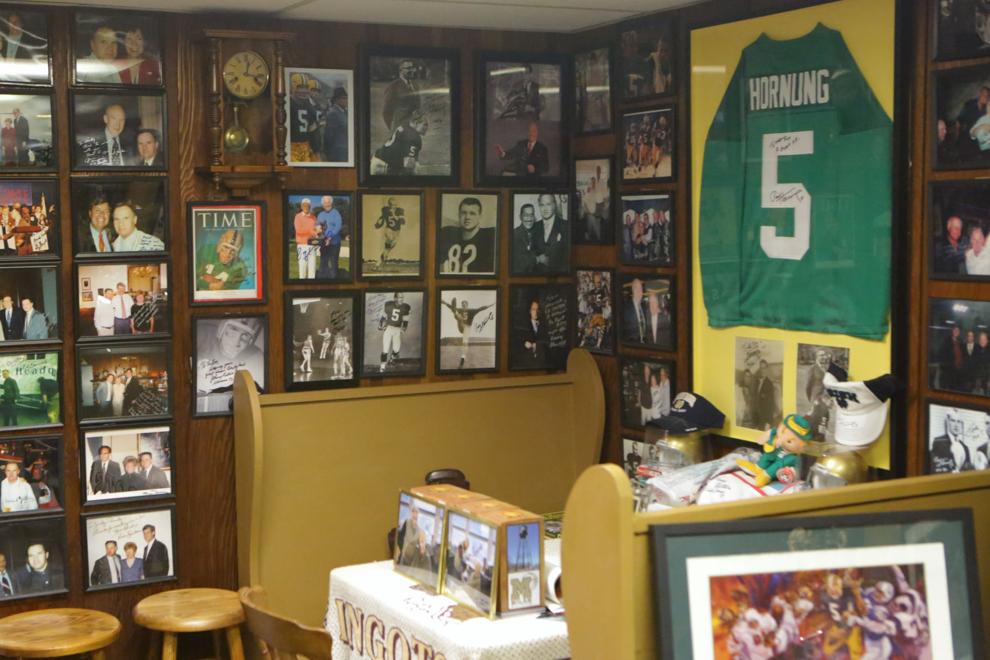 Peters slapped the coffee table in his basement to recreate the sound.
"The guy faints, hits his head right on the floor," Peters said. "We revived him, Hornung puts a $100 bill on the bar and says, 'Get the guys a drink.' "
Hornung's star shined that brightly in his prime. It was more than what he accomplished as an athlete that made it so, although that alone put him in rare air. He won the Heisman in 1956 and followed that with an NFL scoring record of 176 points in the NFL's final 12-game season in 1960 — an accomplishment that stood until LaDanian Tomlinson broke it 46 years later in a 16-game season — and the NFL MVP award in 1961.
Lombardi called him "the greatest player I ever coached." Before Lombardi's arrival, the Packers used him mostly as a fullback with cameos as a quarterback, his position at Notre Dame. Hornung also was the Packers' placekicker and punter.
His looks, charisma and approachability all played into making him even bigger than his accomplishments on the playing field. Even getting suspended for a year by NFL commissioner Pete Rozelle for betting on the Packers didn't taint Hornung's image much because of the way he owned up to it.
"Talking to Paul was like talking to your neighbor over the fence," said Ken Keeler, a visitor to the basement who joined Peters on many trips to Louisville to visit Hornung. "He was a very down-to-earth guy. Nuns ran a shelter in Louisville and Paul gave them $360,000 one year. We knew about that, but not a lot of people knew about that because that's the way Paul wanted it."
Before meeting his wife of 41 years, Angela, and settling down, Hornung enjoyed meeting women, according to Peters. The short tenure of Hornung's first marriage became fodder for speaking engagements, according to Peters.
Hornung would ask: "Anybody in here getting married?"
To the young men whose hands shot up in the air, Hornung advised: "Well, do yourself a favor: Get married in the morning because if it doesn't work out, you've still got the evening."
During their time together in Fort Riley in late 1961 and several months in '62, Peters sometimes gave Hornung a ride to the airport for his weekend leaves and picked him up on Sunday night.
"One night, I go down to pick him up and he comes off the plane with Kim Novak and he says, 'This is Kim Novak.' 'I know who she is, Paul,' " Peters said.
Novak, star of Alfred Hitchcock's "Vertigo," stayed at Hotel Muelebach in Kansas City, but bed check 133 miles to the west in Junction City prevented Hornung from doing the same.
The memories that Peters, a pallbearer at Hornung's funeral, shared of his friend illustrated how much the sporting world has changed. For example, imagine Tom Brady busing tables during the week and playing in the Super Bowl on Sunday. Picture someone telling Brady he couldn't play for the championship because he had to clean the kitchen. Even more difficult to imagine: What if Brady, who has built a business, TB12, around his plant-based diet and workouts replete with plyometrics and resistance-band training, supplemented his income by endorsing cigarettes? Hornung and many other athletes did.
Hornung spent the final weeks of the 1961 season stationed at Fort Riley and flew into wherever the Packers were playing to compete in the games.
"I went with Paul to a game in County Stadium against the Giants (Dec. 3, 1961) and was on the sideline," Peters said. "They ... won the game (20-17), and Lombardi said to me, 'Now Fox, you make sure that Paul trains during the week.' 'I will. I will.' Train? He was dating the homecoming queen at Kansas State and spent all his free time with her."
The won their rematch with the Giants, 37-0, in the NFL title game on Dec. 31. Thanks in part to President John F. Kennedy, according to Peters, Hornung was able to play in the game.
"The post commander was ticked at Paul and didn't want to let him go," Peters said. "Lombardi was friends with President Kennedy so he called him and President Kennedy called and said to let him out. The company commander still didn't want to let him go and told him he had KP (kitchen police) duty. I said I'd cover for him and the company commander said, 'You've got to pull it yourself.' 'No, look in the book sir, it says all you have to have is a replacement for him.' Paul always wanted to pay me, but I wouldn't take anything for that because every time we went out he picked up everything."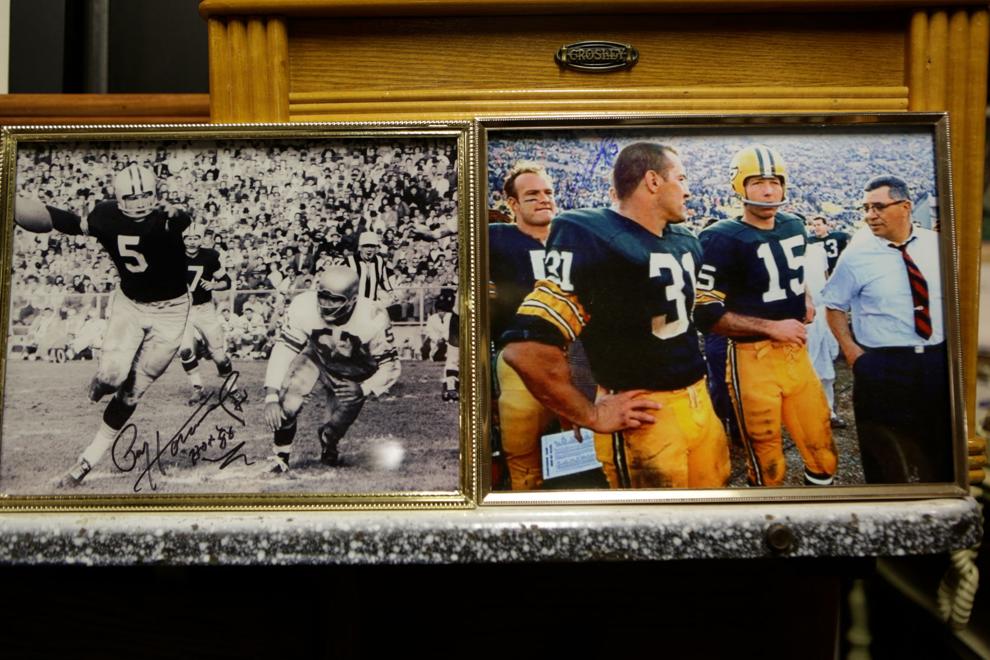 In the very basement where Peters told the stories, Hornung and late, great Bears running back Gale Sayers once held an autograph session in which they both pocketed well over $10,000, according to Peters.
"The line to get in our house wrapped around my house and down to the end of the block," Peters said. "A cop would be there just to make sure everything was fine. Then at the end, Paul would take a picture with the cop."
The photographs and the memories keep Hornung alive in Peters' mind, and he's happy to share them and other memorabilia — including a football signed by all seven Notre Dame Heisman Trophy winners and a photograph of Hornung playing basketball against the Harlem Globetrotters — with visitors.
Keeler was the 56th visitor, followed shortly thereafter by the 57th and 58th, to the shrine since Hornung's death, Peters noted. Some visitors through the years have even asked to see the bedroom where Hornung slept, Peters said.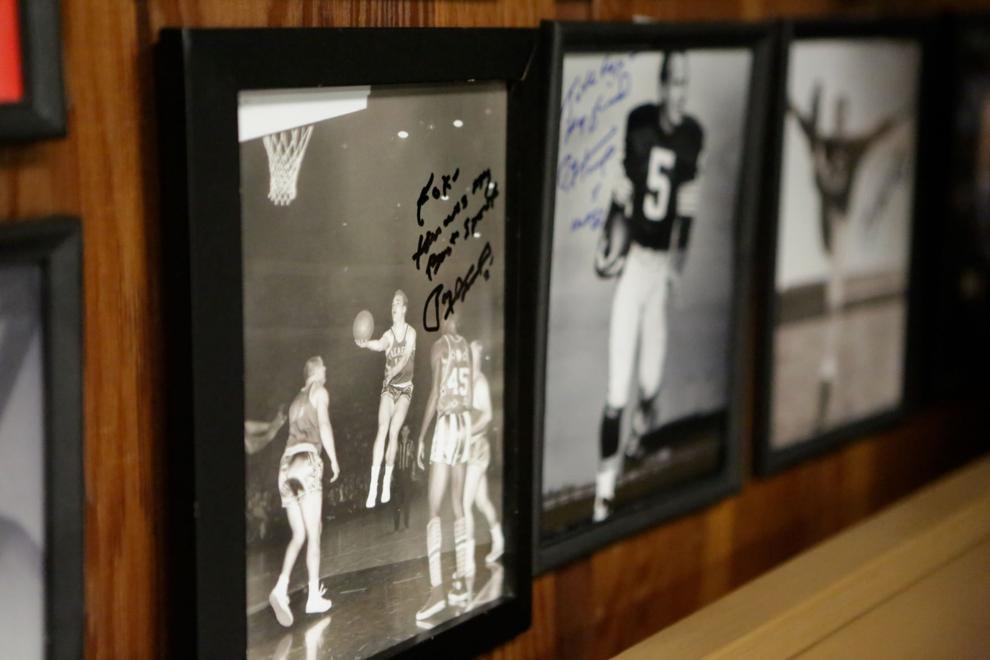 Reflecting on the day that the proprietor of Shine's Tap fainted upon meeting Hornung, Peters said, "The next day there's a big line at Shine's Tap, I can't even get into the joint. I finally get in and say, 'Shine, what's this?' He has the stool roped off and behind the bar he had a picture that says, "To Shine's Tap, from Paul Hornung." People were coming to see where he stood. There were only nine guys in the bar the night he was in there and everyone I saw after that says, 'I was there the night he was in here. I saw him.' We'd be playing softball and guys were saying they were there."
The Golden Boy is gone now, but take in the photographs on the walls of a Munster basement, shut your eyes, and you can almost hear John Facenda of NFL Films blending poetry with highlights of a past-his-prime Hornung regaining the brilliance of yesteryear: "In the second-to-last game of the (1965) regular season, in Baltimore's fog-shrouded  Memorial Stadium, a green-shirted ghost came out of the past to lead the Packers to victory. Hornung scored five touchdowns as the Packers defeated the Colts, 42-27. Two weeks later, in the NFL championship game against the Browns, the one-time gambler and all-time lover ran for 105 yards and scored the winning touchdown."
Of course he did. He was the Golden Boy.
---