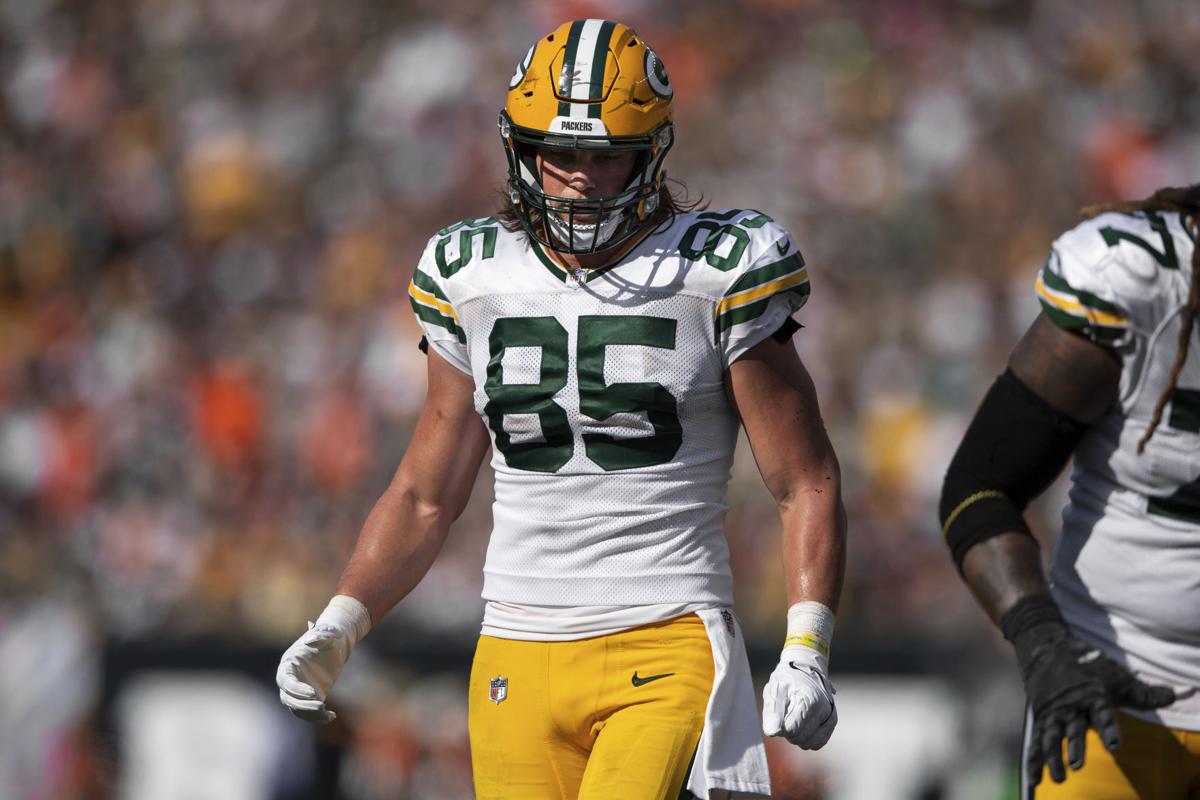 GREEN BAY — While Matt LaFleur's "stats are for losers" comment during his Wednesday news conference made for a good sound bite, that wasn't his intent.
The Green Bay Packers coach clearly had grown tired with a line of questioning about some of the areas on offense that need to improve for his 4-1 team. He seemed annoyed and was ready to move on to other topics.
"You guys can have a heyday with that," LaFleur said. "All I care about is wins and losses, and right now, (since) we lost our first game of the year, we've won four in a row and we're trying to go 1-0 this week."
Whether LaFleur chooses to admit it or not, there are enough red flags for the Packers that make it fair to wonder if they can continue to win at such a high rate once the schedule gets more difficult. That time is coming soon.
After playing the Chicago Bears (3-2) on Sunday at Soldier Field — no cakewalk — the Packers host the Washington Football Team (2-3) the following week. Arriving at that point with a 6-1 mark would be huge because a daunting stretch begins later this month with a game at unbeaten Arizona.
While Green Bay's defense has struggled to stop teams in the red zone this season, Joe Barry's unit has been solid overall since a forgettable performance in the opener against New Orleans. But its biggest tests are yet to come: The Packers will play five of the top 10 highest-scoring teams in the NFL — Arizona, Kansas City, Cleveland, the Los Angeles Rams and Baltimore — in a span of eight games.
Which brings us back to the offense, which, to be fair, has been operating at less than full strength. Aaron Rodgers and the Packers likely are going to have to win some shootouts over the final 10 games of the season, and getting to that point will require cleaning up some key areas.
Green Bay had a 300-yard passer (Rodgers), 200-yard receiver (Davante Adams) and 100-yard rusher (Aaron Jones) for the first time in franchise history during a 25-22 overtime victory at Cincinnati last week.
The key number there is 25, a modest scoring output considering the gaudy stat lines. That point total would have been higher had Mason Crosby not missed three field goals, but the offense didn't do a good enough job of finishing drives.
"I feel like part of what we do is try to keep (Crosby) off the field as much as possible, bring him on for those PATs and put points on the board," Adams said this week. "Not necessarily relying on that — not that we can't rely on him, because we 100% can — but our identity is putting points on the board, and that's how you put pressure on teams and really assert your dominance is by scoring touchdowns."
In other words, the offense has been pretty good but needs to be great for this team to get to — and win — a Super Bowl. Here are three ways it can make that step.
Red means stop
The Packers scored 48 touchdowns on their 60 trips to the red zone last season, an NFL-leading 80.0% success rate.
That number has dipped to 55.0% this season (11 of 20), the sixth-lowest mark in the league.
"You try to come up with a better plan," LaFleur said. "And better plays. I'm not as concerned as everybody else, I would say, about our red zone. I think we'll be fine. … We're five games into this thing and certainly we set a standard a year ago of what it should look like and we haven't lived up to that standard, and that falls on me. I've got to do a better job of giving our guys plays that can be successful versus whatever look the opponents come out in. It is what it is, and we'll continue to work on it, but I'm not going to panic over it quite yet."
Adams, for as dominant as he's been this season, only has two touchdown receptions. The good news? He only had two through five games last season — he missed two games with an injury — and finished the season with 18 scores.
What about Bob?
Tight end Robert Tonyan has gotten off to a slow start this season. Tonyan has nine catches for 82 yards and one score through five games a year after catching 52 passes for 586 yards and 11 touchdowns.
Injuries along the offensive line have forced Tonyan into a different role this season. He's doing more chipping at the line of scrimmage, delaying the start of his routes.
"I will say that says a lot about him in terms of just his willingness to buy into the total team concept because it doesn't come easily," LaFleur said. "I know he wants his targets and certainly we'd love to get him the football. But we've had to use him unfortunately in some other ways over the last couple weeks."
Getting Tonyan more involved also should help the red-zone issue highlighted above. Seven of his scores in 2020 came in that area.
Ground delivery
The Packers rank 20th in the NFL in rushing yards per attempt (4.0) despite having an explosive starter (Jones) and bulldozer backup (A.J. Dillon) at running back.
Jones finished with 103 yards on 14 attempts against the Bengals, but 57 of those came on one play late in regulation.
LaFleur needs to be better at finding creative ways of getting Jones the ball, something Rodgers hinted at while discussing the Packers' red-zone woes.
"I think we can keep being more aggressive in those areas," Rodgers said. "And more aggressive doesn't mean throw the ball more. It just means we have a ton of scheme down there and let's keep rolling it off the sheet."
One big reason LaFleur hasn't started to panic about the Packers' flaws is their injury situation on offense. They've played the entire season without left tackle David Bakhtiari (knee) and the past three games without left guard/left tackle Elgton Jenkins (ankle). Rookie center Josh Myers (finger) missed the game against Cincinnati and starting wide receiver Marquez Valdes-Scantling (hamstring) has been out since a win over San Francisco in Week 3.
Returning to full health should help the run game. And free up Tonyan. And perhaps even lead to more productivity in the red zone.
"Good things," Rodgers said, "are coming."
Photos: Packers' 2021 season in pictures
Check out photo galleries from every game of 2021 from the preseason through the end of the regular season and the playoffs.