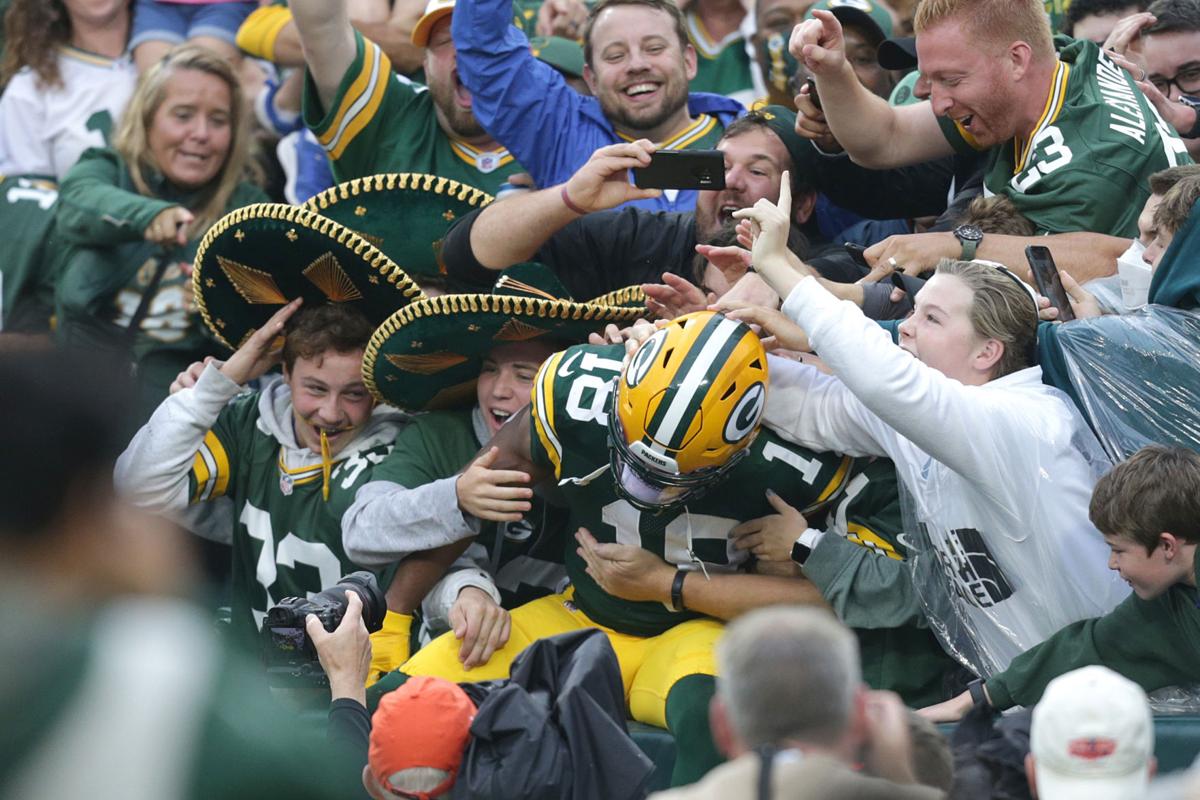 GREEN BAY — There were no I-told-you-so sound bites from Aaron Rodgers on Sunday night inside the Lambeau Field media auditorium, even though he had ample opportunity to provide one during an interview that lasted nearly 16 minutes.
So let me do it for the Green Bay Packers quarterback: He told us so and for those who were skeptical — myself included — it appears we were wrong about what kind of value veteran wide receiver Randall Cobb can add to this team at age 31.
Maybe Rodgers was content to just let Cobb's play speak for itself the way it did in the Packers' 27-17 victory over the Pittsburgh Steelers.
Cobb's line: 5 catches for 69 yards. Four catches on third down. Two touchdowns.
"He's still a really good player," Rodgers said.
Rodgers believed that back in July when he emerged from a controversial offseason and showed up at training camp despite a feud with the Packers front office. Compromises were made and one of them between Rodgers and the team was that general manager Brian Gutekunst would pursue a trade for Cobb, who played in Green Bay from 2011-18 before the Packers decided to move on from a player whose production had slipped after a career year in 2014.
Gutekunst made it clear at the time that he was only doing the deal because Rodgers wanted Cobb on the team. While that may have been seen as a sign of weakness on Gutekunst's part, giving in to his quarterback came at a low price: The Packers only had to give up a sixth-round pick to acquire Cobb from Houston, plus the Texans would be paying a huge chunk of Cobb's salary.
"At the end of the day, there are positives and negatives to everything. Having Randall Cobb in our building is a positive," Gutekunst said at the time. "There's no question about that. What he brings not only as a player but as a person to our locker room is a positive, specifically to our quarterback, which is a very important piece for what we're trying to accomplish in 2021."
That part I agreed with: Cobb was, at the very least, going to be a great leader and keep Rodgers happy. He wasn't some ego maniac who was going to create issues because he wasn't getting enough snaps or targets.
But Rodgers really seemed to be selling the idea that Cobb still could be a difference-maker on the field and, well, that part seemed far-fetched. And nothing in the first three games of the season backed up that belief: Cobb was targeted a total of five times, catching four passes for 58 yards.
And then came a series of I-told-you-so moments on Sunday, with Cobb working his old magic out of the slot. It started on Green Bay's second series, when Rodgers hit Cobb for eight yards on third-and-6 and continued three plays later with a 12-yard connection on third-and-4.
The next series, Cobb streaked across the middle of the field on third-and-10 from the Pittsburgh 23 and caught a pass at the 11, put his head down and eventually bulled his way into the end zone, the prelude to his first Lambeau Leap in nearly three years. Cobb added a 1-yard touchdown reception in the second half.
"The love and respect that everybody has, not only from the outside but from within our locker room for him is pretty special," Packers coach Matt LaFleur said. "He is a great player, great person, and he means a lot to this football team."
Every game isn't going to be like this for Cobb, but this effort came at the perfect time. The Packers placed Marquez Valdes-Scantling on injured reserve last week with a hamstring injury and the Steelers greeted Davante Adams with double teams most of the game in an attempt to keep the ball away from Green Bay's biggest playmaker.
That meant somebody else had to step up and this time it was Cobb.
"Like I said since I've gotten here, we've got a great room," Cobb said. "We have a lot of talented players, a lot of receivers who can do different things and we all have something special that we bring to the table. We're all going to be involved. We're all going to have opportunities throughout the season. And it's about all of us producing, because that's what's going to make us take that next step. I play a piece in that, part of the puzzle. I'm going to do my job and be where I'm supposed to."
Cobb stayed with Rodgers for about a week when he first arrived back in Green Bay this summer, the two spending nights going over play installs.
On Sunday, it was like they hadn't spent three seasons apart.
"It's kind of like riding a bike," Cobb said. "You've been around each other for so long and you understand, he understands how I move, so whenever I'm getting ready to break on my route, he knows. It's muscle memory. It's been a couple of years, but it's kind of like when you get back around your friends and you remember things that you hadn't even thought about in so long. It's kind of that connection that we have. When you see it so many times, it doesn't matter how long of a gap it is between."
I asked Cobb afterward if a game like this was what he envisioned when he rejoined the organization that drafted him.
"I have supreme confidence in myself, the value I can bring," Cobb said. "I'm going to do whatever I can whenever I get those chances. My body feels great. I'm excited to be here. I didn't know what to expect. I think it's kind of better that way, not to have any expectations."
As for Rodgers, he had plenty of expectations and he wasn't afraid to put his reputation on the line to get his buddy back on the team. He didn't need to say a single word in response to naysayers of that deal Sunday night because Cobb's play already had spoken volumes.