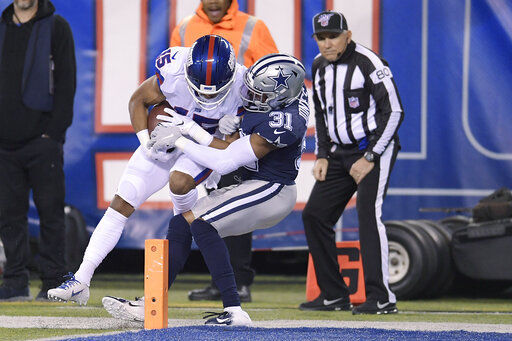 Two key Giants starters sustained serious injuries on Sunday: safety Jabrill Peppers (transverse process fracture) and wide receiver Golden Tate (concussion).
Peppers' injury refers to a fractured bone connected to the vertebrae that protect the spinal cord.
Head coach Pat Shurmur expressed hope Peppers might be able to play again this season "relative to pain tolerance." That would seem to indicate the injury will not require surgery.
Peppers also said Sunday before his Monday MRI: "I'm tough, man, so I just hope it's something I can tough through. That's what it is."
But he was struggling badly to manage the pain in the postgame locker room, and this is a serious injury that requires caution. So it could end his season depending on how he progresses.
Tate, meanwhile, was diagnosed with his second concussion of the year, including a preseason concussion also incurred against the Bears.
The Giants took the step of describing exactly when Sunday's concussion happened in a statement, saying: "The cause of Golden's concussion is the way he landed on the touchdown reception."
You have free articles remaining.
Tate went into the medical tent in the first quarter after taking a huge hit on his first punt return. He missed one offensive series before returning to the game. He caught that 23-yard touchdown pass from Jones late, landing hard and looking shaken up, but still played on the Giants' next and last drive of the game.
Now he's out for an indefinite period of time.
If Peppers can't play Sunday against the Green Bay Packers (8-3) and beyond, rookie Julian Love proved Sunday in Chicago that he's capable of stepping in.
Love, a fourth-round pick out of Notre Dame, played a season-high 42 defensive snaps against the Bears, recording his first NFL interception and narrowly missing another. At first he was playing in a three-safety look with Peppers and Antoine Bethea, then he replaced an injured Peppers in the second half.
"He did a good job," Shurmur said. "Our intention was to play him some, one of the (adjustments) coming out of the bye . Then he probably played a little bit more than we had planned when Peppers went down. But he had an impact, an interception. For the most part it looked like he did the right things."
Peppers added: "I already told y'all Julian is gonna be a player for us. He did a real good job of picking up the slack with not many reps in practice. That's tricky and he did a hell of a job."
Linebacker Deone Bucannon (ankle) was injured in the second half, and wide receiver Cody Latimer was seen walking out of the X-ray room postgame, but there were no updates as of Monday.
The Giants hope to get back tight ends Evan Engram (left foot sprain) and Rhett Ellison (concussion) against Green Bay after both sat out in Chicago, but there won't be an update until Wednesday.