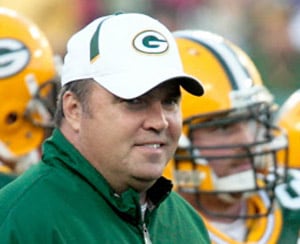 He couldn't resist. One night early in training camp, before his first game, Mike McCarthy made his way from his office to his gold Cadillac Escalade parked beneath Lambeau Field. As he pushed open the heavy green double doors down the hallway from the locker room, he happened upon a pair of stadium workers at the mouth of the tunnel that leads to the field.
"It was late, like 10 o'clock. I'm like, 'What the hell are you guys doing?"' McCarthy recalls, his Pittsburgh accent thickening as the sentence crescendos. "Turns out, they're putting these speakers in. They have speakers now all along the tunnel."
They were being added as part of the daily Lambeau Field tours the team gives during the week. As if the grand finale of the tour -- walking down the same tunnel as the players and into the stadium -- wasn't already exciting enough to the average fan, the team decided to add an extra twist: a soundtrack of public-address announcer Bill Jartz introducing the team, complete with recorded crowd noise and the requisite stadium anthems.
So who do you think took it for its first test run? That's right, Mike McCarthy, the Green Bay Packers' coach, as excited as you would be to do it. Which makes sense, because that's exactly who he is -- one of us.
"You should do it sometime. There's a little red button right by the door. Just push the button," McCarthy says, sounding no different than a local yokel who just took the tour. "It's pretty cool."\
Packers offensive coordinator Jeff Jagodzinski grew up in the industrial south-side Milwaukee suburb of West Allis. He went to college at UW-Whitewater. And he spent five years -- 1999 through 2003 -- as the Packers' tight ends coach, making him uniquely qualified to determine how McCarthy fits with the Wisconsin ethos.
"He's a guy's guy. He'd fit in good down in West Allis, Cudahy, South Milwaukee. He'd fit right in," Jagodzinski says. "He's a blue-collar guy with blue-collar parents. (People) can definitely relate to him. But I tell you, they all relate to you when you win. That's the way it works. It's a bottom-line business."
Indeed, Packers' fans loved the son of Henry and Matilda Lombardi of Brooklyn, N.Y., after Vince led the franchise to Super Bowl I and II titles. They loved the son of Lincoln and Barbara Holmgren of San Francisco, after Mike coached the team back to prominence and the Super Bowl XXXI title. And, they grew to like -- maybe not love, but definitely like -- the son of Frank and Claire Sherman of Norwood, Mass., after their Mike led the team to a 53-27 record his first five years as coach.
So if the son of Joe and Ellen McCarthy of Pittsburgh can return the Packers to the playoffs after last year's 4-12 finish, then the green-and-gold faithful will embrace him, too. But as he embarks on his first season as a head coach at any level, 42-year-old Mike McCarthy just seems to have an Everyman quality to him that his predecessors did not. Maybe that's because western Pennsylvania and Wisconsin aren't all that different of places to grow up.
"I think there's a lot of similarities," McCarthy says. "People from Pittsburgh, they're real proud that they're from there. They think it's better there than anywhere they've been. And I think people are brought up the right way."
The most vital component of being from Pittsburgh, according to McCarthy, is a strong work ethic. It's something he had ingrained him from a young age, growing up as one of five kids in a devout Irish Catholic family led by a man who worked as a police officer and a fireman, owned one of those everybody-knows-your-name kind of bars and was active in politics in the Greenfield neighborhood in Pittsburgh's east end.
"My father was hard on me. My mother was always the one I could talk to, but I was extremely close with my father because he used to take me everywhere," McCarthy says. (His parents declined to be interviewed for this story.) "They never missed a sporting event. I don't know how they did it. Five kids, and they're all good kids, too."
\General manager Ted Thompson interviewed seven men to be the 14th coach in the Packers' storied history -- McCarthy, Jim Bates, Sean Payton, Maurice Carthon, Wade Phillips, Tim Lewis and Ron Rivera, along with a behind-the-scenes overture to Iowa coach Kirk Ferentz -- and still can't explain exactly why McCarthy was his man.
"If you break it all the way down to the bitter end, it was probably an East Texas gut call," Thompson says in his signature drawl. "I talked to a lot of people, and the more I talked, the more I found that you're hiring a person. It's not really the coach, it's not really the Xs and Os, it's not really the plan or the strategy or the schedule. It's not any of that. It's the person you're looking for, and Mike was the person I was looking for.
"Every day, more and more, I feel more confident it was the right call. I don't know why. I just think it's going to be OK."
Maybe because of what it took McCarthy to get here.
He's not some wunderkind who coat-tailed a football genius like 35-year-old New York Jets coach Eric Mangini, the latest former assistant to New England's Bill Belichick to get a head coaching job. He's not a hotshot college coach making the jump to the NFL, like Miami's Nick Saban did last year. He's not a retread, like Buffalo's Dick Jauron. And he's not a legacy, like Atlanta's Jim Mora or San Francisco's Mike Nolan.
No, he is a self-made man, one who paid his dues -- and, oddly enough, collected them, in a Pennsylvania Turnpike toll booth -- to get to this point.
"He's worked his way up the ranks," says McCarthy's coaching mentor, Paul Hackett, who works as an assistant to Tampa Bay Buccaneers coach Jon Gruden but is better known as the former head coach at the University of Pittsburgh and Southern California. "To me, that's maybe as important as anything there is, that you've been at the beginning.
"Jon and I talk all the time about him breaking down the tape and drawing up plays in the early Green Bay days under coach Holmgren, really studying technical football. You can't get more prepared than starting at the beginning and learning the ins and outs of the game."
McCarthy's journey began when he left the comfort of his Greenfield neighborhood for Salem (Va.) College, only to return after a year and a half to come home and work for his dad at Joe McCarthy's Bar and Grill. After awhile, he decided to go back to school, first at Scottsdale (Ariz.) Junior College, then Baker University in Baldwin City, Kan., where he played tight end. From there, he went to Fort Hayes (Kan.) State, where he earned his master's degree and worked as a graduate assistant.
In 1989, he returned home to Pittsburgh, to be with his high-school sweetheart, Christine, and went to work as a volunteer coach at Pitt -- that's right, for free -- under Mike Gottfried.
"I wanted to go back to Pittsburgh. (Christine) and I had been dating forever and we wanted to get married," McCarthy recalls. "I was being very naive about the coaching profession, thinking I could just go back to Western PA and get a coaching job. Now I know it doesn't work that way. So I just volunteered at Pitt. But I wasn't making any money."
So he swallowed his pride and took a job working the graveyard shift collecting tolls at Exit No.5 on the turnpike, from 10 at night to 6 in the morning, so he could work at Pitt during the day.
"At a toll booth at 2 in the morning, it's kind of amazing what you see. Especially after the bars close," McCarthy remembers with a laugh. "Girls Gone Wild? You get a few of those instances.
"It's kind of funny. You'd never think you'd run into people you know. But every once in awhile, somebody'd come through, and just in the 5 seconds you have to take the toll, you're almost trying to explain why you just got your masters and you're sitting in a toll booth taking tolls. 'I'm just doing this part-time ...'"
When Gottfried was fired at the end of the '89 season, and Hackett, the offensive coordinator and quarterbacks coach, was promoted to head coach, McCarthy moved up to graduate assistant.
"And $5,000 a year," says McCarthy, who married Christine that year.\
Two years later, in 1992, Holmgren hired Gruden as his receivers coach, and McCarthy moved up to replace Gruden as the Panthers' receivers coach. When Hackett was fired after the 1992 season, Marty Schottenheimer hired him as the Kansas City Chiefs' offensive coordinator, and Hackett brought McCarthy along as a quality control assistant, allowing him to work alongside legendary quarterback Joe Montana, Hall of Fame running back Marcus Allen and a locker room full of talent.
"I knew then I was in a great situation. I knew it the day I walked in the door," McCarthy says. "That first year in Kansas City, I set a goal. I never really told anybody, but it was to be a head coach by the age of 40."
His career took off from there. In 1995, he was promoted to quarterbacks coach, then joined the Packers in the same capacity in 1999 under Ray Rhodes. After Rhodes and his staff were fired after only one season, McCarthy went to New Orleans, where he was the Saints' offensive coordinator from 2000 through 2004. He spent one year as San Francisco's offensive coordinator under Nolan, and even though the 49ers ranked last in the 32-team NFL in offense in 2005, he was Thompson's surprising choice to replace Sherman as Packers coach.
"I think he'll do well, but I have steadfastly said that nobody knows how a young man who's never been a head coach before is going to do," says Schottenheimer, now the San Diego Chargers' coach. Schottenheimer uses Pittsburgh's Super Bowl XL champion coach Bill Cowher, his defensive coordinator in Kansas City from 1989 through 1991, as an example.
"Bill, I thought would be a good coach, but I'd have never bet any money on it because there's so many factors that influence it. But Mike is extremely bright, did a terrific job for us in Kansas City. He has the ability to take in a lot of information and process it and then communicate it to his players. But until you're in that crucible, you just don't really know whether a guy is going to be able to do it or not."
Cowher, like McCarthy, Schottenheimer and Cincinnati Bengals coach Marvin Lewis, grew up in western Pennsylvania. He says McCarthy's biggest challenge will be "dealing with the unknown."
"You've never been in that situation before, dealing with both sides of the ball, and you have to deal with all the team issues that come up. But at the same time, stay focused, stay positive," Cowher says. "Dealing with that adversity you're going to face, I think (the challenge) is trying to be consistent but firm, and trying to establish credibility with your players."
Chiefs coach Herman Edwards, who worked with McCarthy in Kansas City, agrees.
"The thing that he'll face, and I think all head coaches face their first year, is how he's going to solidify who he is and what he wants to accomplish as a coach. His vision, how he does things," says Edwards, who left the Jets to take over the Chiefs from a retiring Dick Vermeil this offseason. "Green Bay has a great tradition, a history of winning and how they do things, but he can't be Vince Lombardi. He can't be any of those guys. He has to be Mike.
"You're going to make some errors. But in the end, you want to make sure you're doing it your way, and I'm pretty sure that's what he'll do."\
As McCarthy sits in his Lambeau Field office, the satellite radio in the background plays Dierks Bentley's "Settle For a Slowdown."
I know there's nothing stoppin' you now
But I'd settle for a slowdown
Bentley is one of country music's new heartthrobs, and his seems like an odd tune to be playing in the office of a guy whose "Pittsburgh Macho" -- Thompson's phrase -- helped get him the job. But like many closet country fans, McCarthy only admits to enjoying the genre after some prodding, and with an excuse.
"I've kind of gotten into it a little bit here of late," he says, a little sheepishly. "My daughter's in Austin, (Texas), so that's when I was exposed to it. Because country music when you're in Pittsburgh" -- he scrunches his nose, but in a tough-guy sort of way -- "that was unheard of."
But it's amazing what we'll do for our kids, isn't it? Just as Joe and Ellen McCarthy never missed a game when their son was growing up, he's doing everything he can to be the kind of father Joe was to him. Even though he and Christine divorced in 1995, they remain on very good terms, and he travels to Austin "every day off I have" to see their 14-year-old daughter, Alex. It is yet another way he is just like anyone else, making a challenging situation work as best he can.
"We were young, ambitious, and our priorities got out of whack and we couldn't fix it," McCarthy says. (Christine has since remarried, but McCarthy remains single.) "My job didn't help me as far as my marriage, but she's an outstanding mother, and she's still a close friend today. We've been able to parent together. So far, so good."
Of course McCarthy, just like any other dad, has his moments. It's not easy when your 14-year-old looks considerably older than her age and turns your players' heads on the sideline when she comes to camp for a few days. It's not easy when you want to see her off for her first day of high school, protect her, be there for her, and it's geographically impossible.
"What you find out is, your male ego when you're raising a daughter, it doesn't do any good. It really doesn't," McCarthy says, chuckling. "And all the parenting you've done to this point, there's a point in a child's life when you have to let them out there. I tell her all the time, 'You're going to make good decisions, not-so-good decisions and bad decisions. The ones you can't make are the bad decisions you know going in are wrong.
"But I just reassure her, especially not being with her, that, 'No matter what happens, I'll always be there for you.' She's all I have."
This segues into his lack of a personal life -- "Do you have to rub that in?" he shoots back -- and how he can instead devote himself completely to coaching. That said, he doesn't think the 18-hours-at-the-office approach works, so he's taking a decidedly different tack than Sherman, an admitted grinder who tried to out-work everyone.
"I've done that. I've worked all night, I've slept at the office. When I was here in '99, I slept at the office twice a week," McCarthy says. "I don't think I can say I'll never do that again, but that's not the way to go. I'm not a micromanager. I don't believe in that. If you have to sleep at the office, then your time-management isn't very good."
Will that approach work? Is he ready? No one knows. That's what we'll find out, starting with today's regular-season opener against Chicago. But know this: The same guy who'll still push the little red button to hear the crowd roar in the tunnel -- "Oh, I've done it more than once," he admits with a smile -- knows exactly who he is. And he likes the fact that he's not that different than the rest of us.
"Every guy you talk to about the first year (says), 'Don't get too far from who you really are. And that's important. I was hired to be the football coach of the Green Bay Packers. I need to maintain that.
"The bottom line is winning. I have hit speed bumps, without question. But I think I'm very, very fortunate. To get this job, I'm thankful. I just think it's a golden opportunity, because it is so special."
Be the first to know
Get local news delivered to your inbox!