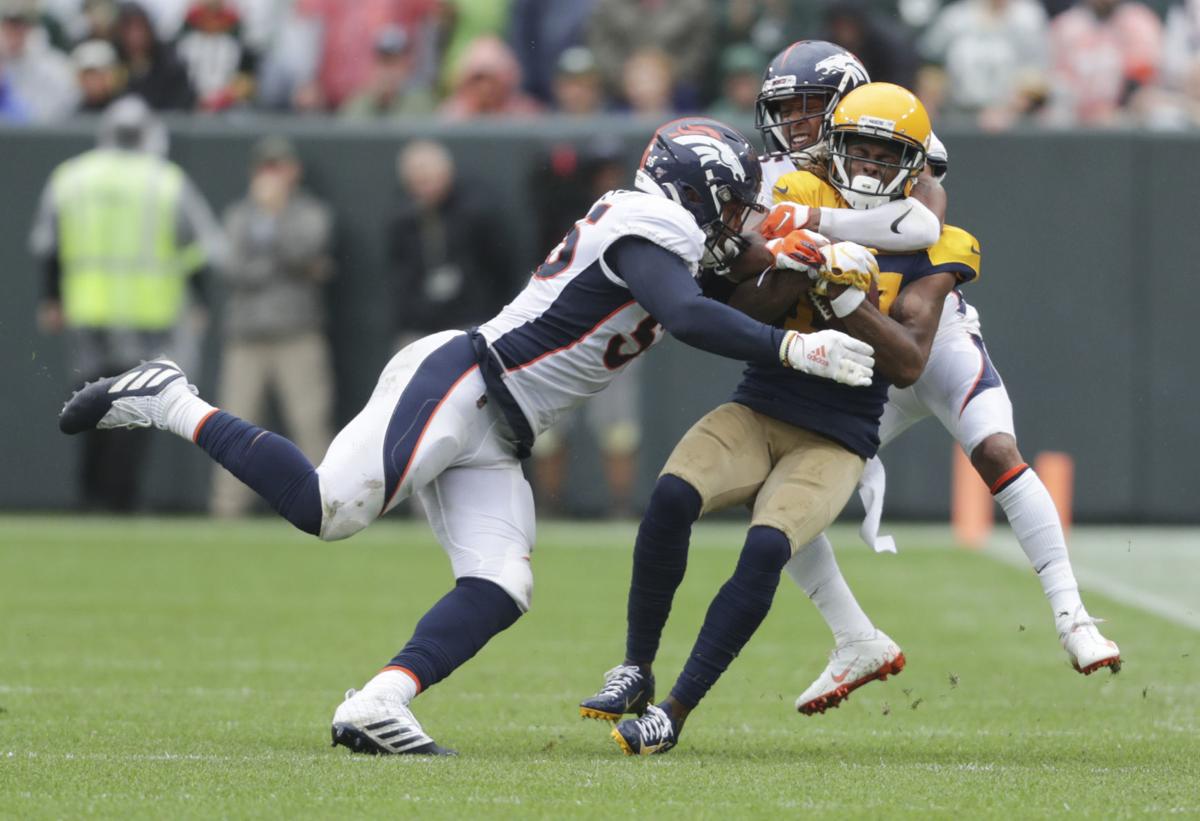 The Green Bay Packers No. 1 wide receiver more likely had Dr. Seuss and a few other childhood classics on his reading list at the time.
But make no mistake: Everyone knows Adams needs to get the you-know-what ball more than he did during Sunday's 27-16 victory over the Denver Broncos — from Adams to coach Matt LaFleur to quarterback Aaron Rodgers to the equipment staff.
"You always want to get your playmakers the ball, and Davante is a premier playmaker in this league," LaFleur admitted Monday night as the unbeaten Packers worked late in advance of Thursday night's game against the Philadelphia Eagles at Lambeau Field. "We've got to do a better job of making sure that we get those guys involved early in the game."
To get Adams more involved, LaFleur could dial up more plays where Adams is the primary read in Rodgers' progression. He can also continue to move Adams around the formation to make him harder to track for defenders while keeping him as the first option on the play.
At the same time, LaFleur did say the offense isn't designed to "force-feed" the ball to one receiver.
"We're pretty process-driven in terms of how we coach the quarterback. We don't ever want to just force-feed a guy the ball. The way we game plan, the way we coach, it's more coverage kind of dictates where the ball goes, and that's how we want the quarterbacks to (play)," LaFleur said. "We want them to see areas on the field. And if there's a guy in that area — a lot of our reads are pure progression reads, meaning they're across the board where we're going to sweep either left to right or right to left. That's the majority of the reads in our offense.
"Sometimes you'd like to get a guy a target and for whatever reason the coverage doesn't play out the way you want it to. So we expect the quarterback to go to No. 2 in the progression or have to get to the checkdown. I thought Aaron did an outstanding job (of that) yesterday."
If Adams didn't want to flat out publicly demand the ball more — or go against his brand and do it in a bombastic manner — he didn't really have to. His quarterback was happy to do so after Sunday's game.
"Four targets for Davante is obviously not enough — especially on a day like (Sunday) when there was a lot of soft coverage and some stuff to be hit outside," Rodgers said, pointing out the Broncos matched Chris Harris with Adams and didn't give Harris a ton of help in coverage. "We've got to keep finding ways to get him the ball more often, (especially) when it wasn't a ton of double (coverage).
"We came in thinking they might play what Chicago did in Week 1, with a lot of rolled coverage to Davante. That really didn't happen to be the case. There was a lot more one-high and off-coverage. We've got to keep finding ways to get him the ball."
You have free articles remaining.
While Adams certainly could have talked it over with LaFleur and the offensive staff privately, he was careful not to make any major proclamations after the game. While acknowledging he needs to be more involved, he certainly stopped short of saying anything inflammatory.
"Just figure out what's working," Adams replied after the game Sunday when asked what the offense needs to do to get going. "The old saying, 'If it ain't broke, don't fix it.' … That's something that we've got to lock in on a little bit more to make sure we're communicating, talking to coaches about what I want to run, what I'm seeing, things like that. Because obviously defense adjust, so it'll make it tougher throughout the game.
"Anybody can come out and score on the first drive, because it's really like you don't know what to expect as a defense. But as you start to see what the offense is aimed at and what they're trying to do — if we're trying to run the ball, if we're trying to establish our presence in the pass game — you've just got to balance it and do both. That makes it tough on a defense."
After coming within striking distance of two franchise single-season receiving records last year, Adams enters Thursday night's game having caught 15 passes for 198 yards (13.2 yards per catch) with no touchdowns. Last season, he finished with 111 receptions (one shy of Sterling Sharpe's 1993 team record of 112) for 1,386 yards (133 shy of Jordy Nelson's 2014 club record of 1,519) and 13 touchdowns. He put up those numbers in 15 games, having been forced to miss the regular-season finale against Detroit with a knee injury.
Adams was targeted 169 times last season, an average of 11.3 per game. So far this season, he's been targeted 21 times — eight times in the opener at Chicago, nine times against the Minnesota Vikings in Week 2 and four times on Sunday against the Broncos. Adams caught all four passes thrown his way for 56 yards.
The four targets were the fewest for Adams in a game since Oct. 16, 2016, when he was targeted three times and caught two passes for 34 yards in a 30-16 loss to the Dallas Cowboys.
Entering Monday night's Chicago-Washington game, Adams ranked 34th in the NFL in receiving yards, tied for 34th in receptions and tied for 39th in targets. His numbers so far put him on pace for 80 receptions for 1,056 yards on 112 targets.
Rodgers was vocal during the offseason when asked about the imbalance the Packers had with passing-game targets last season, their last under coach Mike McCarthy, who was fired with four games left in the season and replaced on an interim basis by offensive coordinator Joe Philbin.
"He's that open," Rodgers said at the time.
Of course, the Packers only ran 52 offensive plays against the Broncos, and getting Adams more involved could at least be helped by converting a few more third-down situations and extending drives. The Packers were just 2-for-9 on third down on Sunday and through three games are now 9 of 36 (25%, 28th out of 32 teams) on the year.
"It just left a sour taste in everybody's mouth," LaFleur said. "The offense as a whole, where we have to improve is third down. It's not been nowhere near the standard that we need to abide by."