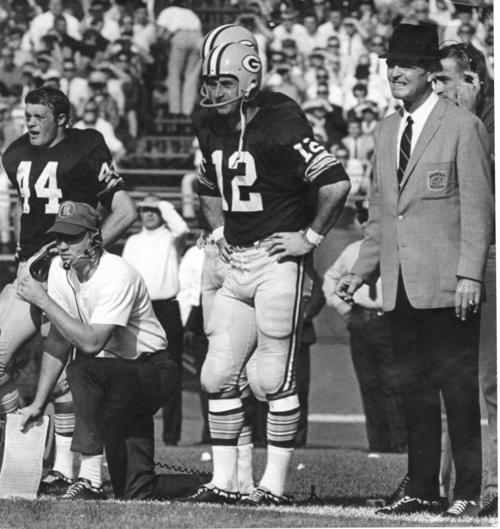 Another famous Green Bay Packers No. 12 was thrilled to learn that the Wisconsin Legislature had declared Wednesday, 12-12-12, "Aaron Rodgers Day" in honor of the star quarterback on his Green-and-Golden number day.
"He has been a very welcomed member to a special fraternity," said Zeke Bratkowski, one of the most notable of the 15 former Packers who wore No. 12 prior to Rodgers' arrival in 2005. He is one of three quarterbacks who wore No. 12 and are in the Packers Hall of Fame.
"Aaron Rodgers will be the next one," added the 80-year-old Bratkowski, joining him, Arnie Herber and Lynn Dickey in the Packers Hall.
Bratkowski, who lives in Coral Gables Beach, Fla., was Bart Starr's backup during the 1960s and led the Packers' 13-10 double overtime win over the Baltimore Colts in a 1965 playoff game. He also started 13 regular-season games for the Packers and had a 26-year career as an assistant coach that included two stops in Green Bay.
Bratkowski said Dickey holds a soft spot in his heart because in 1980 Dickey asked him for permission to wear the number before he switched from No. 10. But Bratkowski believes Rodgers could finish as the best No. 12 in the franchise's illustrious history.
"The time and place has been perfect for him," he said.
Here's a complete list of Green Bay Packers players to wear the No. 12 jersey:
George Abramson (G/T), 1925
*Rudy Rosatti (T), 1926
Tom Hearden (B), 1927-28
*Roy Baker (B), 1928
*Dave Zuidmulder (B), 1929
*Arnie Herber (B), 1930
*Frank Baker (E), 1931
*Bob Monnett (B), 1935-36
Zeke Bratkowski (QB), 1963-68, 1971
Jim Del Gaizo (QB), 1973
*John Hadl (QB), 1974
Don Milan (QB), 1975
Brian Dowling (QB), 1977
*Lynn Dickey (QB), 1980-85
T.J. Rubley (QB), 1995
Aaron Rodgers (QB), 2005-present
* — Player wore multiple numbers for the Packers
Source: Green Bay Packers 2012 Media Guide