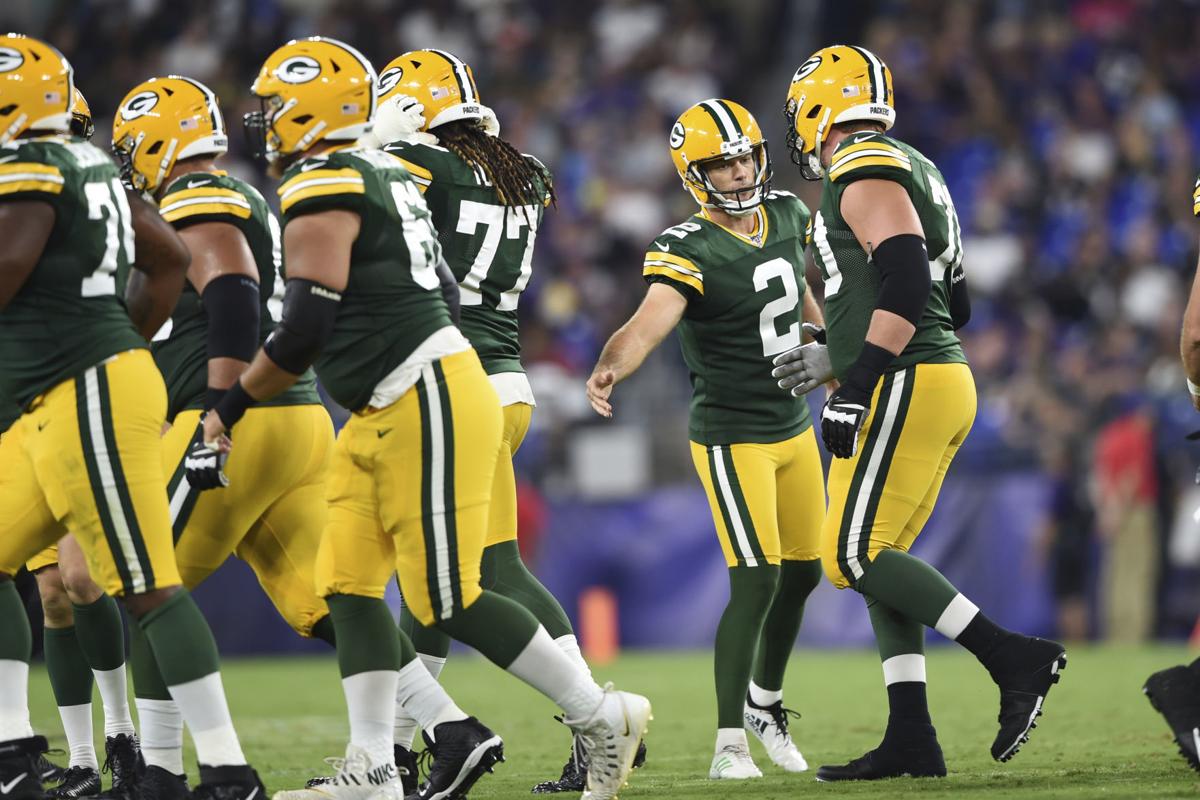 GREEN BAY — As Mason Crosby got ready for his Zoom call for Wednesday night's Vince Lombardi Cancer Foundation "Stronger Together" gala, an annual fundraising event forced to go virtual like so many others because of the COVID-19 pandemic, the Green Bay Packers veteran kicker had a decision to make.
"I'm not sure what I'm going to wear," he joked.
When it was suggested he should go with a full tuxedo, Crosby quickly pointed out that that's not how it's done with videoconferencing these days.
"You dress up up top, and then you're wearing shorts or you're in your underwear or something," Crosby responded. "It's a weird time period in life."
How weird? When the Packers veterans hold their weekly leadership council meetings, they're never quite sure where a few of them will check in from.
"David Bakhtiari is always in some weird spot," Crosby said of thePackers' franchise left tackle. "Like, he's been in his bathtub before, all that kind of stuff. So we're having fun with it. Honestly, it's kind of fun to show our personalities, show our homes and our personal lives through this trying time."
Yes, Crosby and his teammates have certainly been getting plenty of video chat practice during their virtual offseason program, which kicked off last month and will continue in its socially distanced form for the remainder of the month. Whether training camp will start in late July — or the regular season in early September — remains anyone's guess, which is why Crosby and his teammates are trying to conduct business as usual as best they can and not worry about the uncertainty that lies ahead.
"At this very moment I'm trying not to dive into those thoughts and worry about that. I'm preparing as if the season is going to start and go exactly as planned," Crosby said during an ESPN Wisconsin interview Wednesday afternoon. "Obviously seeing the schedule release, there was some hope and some positivity in that. So I'm just going to keep preparing and planning as if we're going to report at some point here, whether that be training camp or a little later, whatever that looks like.
"I'm going to be ready, stay focused, go through my process and whenever we get that call to come back, I'm going to be excited. I miss my teammates, I miss going in every day. We are still building something, we're just doing it from different locations."
That they are. Crosby said players have been having scheduled daily position group meetings during a window of 10 a.m. until 2 p.m. Central time – while Crosby is in the Green Bay area, the vast majority of his teammates are scattered about the country, including quarterback Aaron Rodgers, Bakhtiari and others who are in California and two hours behind – while head coach Matt LaFleur sends out a team meeting video every few days.
"So each position group gets on with their coach and does a Zoom meeting and you're able to chat and talk and interact and watch film," Crosby said. "Those Zoom meetings are awesome. You can put a Power Point up in the background and you can look at the plays and run through things and watch video all together – it's pretty exceptional."
Crosby said LaFleur, who had a regulation basketball hoop installed in the Lambeau Field team meeting room upon getting the job last year, has continued that tradition of having his players compete with each other by doing competitions remotely.
"He'll tab a couple guys to do a competition at their house, shooting free throws or something like that – something on par with what we were doing last year," Crosby said. "So it keeps some of those similarities going."
Crosby, who is set to turn 36 in September, is coming off the best statistical season of his career, having made 22 of 24 field goal attempts (91.7%) during a contract year. He was rewarded with a three-year, $12.9 million deal just before free agency opened that should keep the franchise's all-time leading scorer in Green Bay through the 2022 season.
Since he's not able to work out at Lambeau Field — all NFL facilities remain closed to players, coaches and staff, as well as to the public — he's been having two or three special teams meetings per week with coordinator Shawn Mennenga, punter/holder JK Scott, long snapper Hunter Bradley and members of the return and coverage units while working out on his own. Sometimes he's been able to kick at a local high-school field near his family's home; other times, he heads over to his home golf course and hits a few balls — footballs, that is.
"I think what we've learned to do and adjust and adapt has just been remarkable," Crosby said. "I'll run up the street on days I need to run. We've got some pretty good hills. I ordered in some weights and made an in-home weight room, so I have what I need there. And then just find some fields where I can kick. If I can't find an actual football field with uprights, I go to Oneida Country Club, where they have a wide field by their pool where I can go hit balls in as well. I just find ways to adapt.
"It's been interesting, going and finding different ways to execute all the things I need to do to get ready."
Meanwhile, Crosby remains committed to the charity causes he has become involved with during his 13 seasons in Green Bay, including the Lombardi Foundation, for which he chairs the annual golf tournament, which was postponed this year.
"When I first started getting involved (with the Lombardi Foundation), we'd had some cases of cancer in our family and we had friends who had been affected by it, but never directly where it was, 'What are we going to do?'" Crosby said. "I never envisioned Molly and I would be sitting in a room getting that news and trying to figure out those next steps.
"This last year's been trying. So many people have years like this, unfortunately. So, it's never-ending, so we continue to fight and continue to raise money to continue to find cures and find ways to beat this thing."