GREEN BAY — Mike Tannenbaum didn't spend his day following New York Jets owner Woody Johnson's plane on some flight-tracking website. He had other work to do.
But Tannenbaum did experience his share of déjà vu as the Jets' brass crisscrossed the country on Tuesday to sell Aaron Rodgers on the idea of playing football in Gotham.
After all, Tannenbaum had done the same thing 15 years earlier as the Jets general manager with another future Pro Football Hall of Famer and multiple NFL MVP-winning quarterback whom the Green Bay Packers were looking to trade.
The only two significant differences between 2008 and 2023 were the quarterback the Jets were wooing (Brett Favre instead of Rodgers) and the travel destination (Hattiesburg, Mississippi, instead of suburban Los Angeles).
There sure are, though whether the end result will be the same this time around is hard to say.
But the 39-year-old Rodgers still hasn't committed to even playing a 19th NFL season in 2023, and as headline-grabbing as the Jets' coast-to-coast courtship of Rodgers might've been, the sides must iron out trade compensation, contractual challenges with Rodgers' existing deal with the Packers and how general manager Brian Gutekunst and team president/CEO Mark Murphy can avoid the ugly spectacle created by the organization's messy divorce from Favre in the summer of 2008.
The Jets, too, have things to consider. While their visit to Malibu might've been described by some as a getting-to-know-you session with their prospective new quarterback, they also must decide just how much they're willing to give up for Rodgers — surely they're not going to pay the king's ransom the Denver Broncos gave the Seattle Seahawks for Russell Wilson a year ago — and if they can live with a potential one-year rental of Rodgers if he won't guarantee that he'll play at least the 2023 and 2024 seasons for them.
"I think for me, the biggest thing in this one is I would really want to make sure that I was going to have Aaron Rodgers for more than one year," said Tannenbaum, who now analyzes the NFL for ESPN and The 33rd Team.
It's hard to know what the Jets, who own the 13th pick in the first round of the 2023 NFL draft, will have to pay for Rodgers. Sports Illustrated's Albert Breer hypothesized Wednesday the Jets might be able to get Rodgers without giving up their first-round pick this year, suggesting New York's second-round pick (No. 43) and a conditional future pick might be sufficient.
"To me, what's going to be the most consequential issue is, I would structure Aaron Rodgers' contract (carefully). If it's $60 million (per year), I think that's a little bit of a premium, but it's Aaron Rodgers," Tannenbaum said. "So, let's say you agree to $60 million.
"I do want some protection in Year 2 that it's $120 million for two years but it may be $30 in Year 1 and $90 in Year 2. Just to know that he's there. What you don't want from the Jets' perspective is, let's say you give up this year's first-round pick. You don't want no player and no pick come next year. So, that's a real challenging situation."
When Tannenbaum acquired Favre from the Packers in August 2008, the conditional draft pick New York gave up turned out to be a third-round pick because the Jets missed the playoffs after an 8-3 start was undone by Favre suffering a torn biceps in his right (throwing) arm.
Had Favre led them to Super Bowl XLIII, the Jets would have owed the Packers a first-round pick.
"To give up a third-round pick on a one-year deal, that wasn't ideal, but it was something you could live with," Tannenbaum said.
The Jets also had another advantage: The Packers desperately wanted to keep Favre out of the NFC, and specifically they wanted to keep him from joining the archrival Minnesota Vikings — Favre's preferred destination and where he subsequently played in 2009 and 2010.
The Packers even inserted a poison pill into the trade which would have required the Jets to pay them three first-round picks if New York had flipped Favre to any NFC North team.
With division rivals out of the equation, Favre was hoping the Packers would trade him to the Tampa Bay Buccaneers, coached by ex-Packers assistant Jon Gruden at the time, and Favre actually went to bed the night of the trade thinking that's where he was headed.
Instead, they sent him to the Jets, who'd spent extensive time trying to sell Favre on the idea of playing in the Big Apple — and making it clear to him that his life wouldn't be vastly different than it had been in Green Bay, just as the 2023 Jets crew made their pitch to Rodgers on Tuesday.
"It was (quarterbacks coach) Brian Daboll, (offensive coordinator) Brian Schottenheimer, (head coach) Eric Mangini and myself that really worked hard to get to know Brett over three weeks," Tannenbaum said.
"(We) convinced him that, 'Hey, you come to the Jets, you're going to play football in the greatest city in the world, the biggest city in the world, but where you live and practice every day is actually not in Times Square.' And once we worked through some issues, we were fortunate enough to be able to get him."
For as much attention as the Jets' trip to the West Coast garnered, another quarterback-needy team could enter the picture still, too. And even if Rodgers doesn't really want to call it a career, the threat of retiring and subsequently unretiring is a valuable club for him to keep in his bag, too.
Then there's the issue of the Jets' roster. Not having to give up their first-round pick would clearly be huge for them, but even with the reigning NFL offensive (wide receiver Garrett Wilson) and defensive (cornerback Sauce Gardner) rookies of the year and a bevy of young talent on both sides of the ball, New York's offensive line is a major concern.
"If I was Aaron Rodgers, candidly, I'd be as concerned about their O-line as anything," Tannenbaum said. "Nathaniel Hackett being there is an obvious (positive). But that would be a concern, to protect this guy."
As for Gutekunst, Tannenbaum said he likes what he's seen from Love and emphasized Gutekunst must have the courage of his conviction if he's dead set on moving on from Rodgers despite all No. 12 has accomplished.
"Look, I've been there with tough decisions. None of them are easy," Tannenbaum said. "But what I would say is, if you believe in your process, you traded up for Jordan Love. You gave up a fourth-round pick (to move up).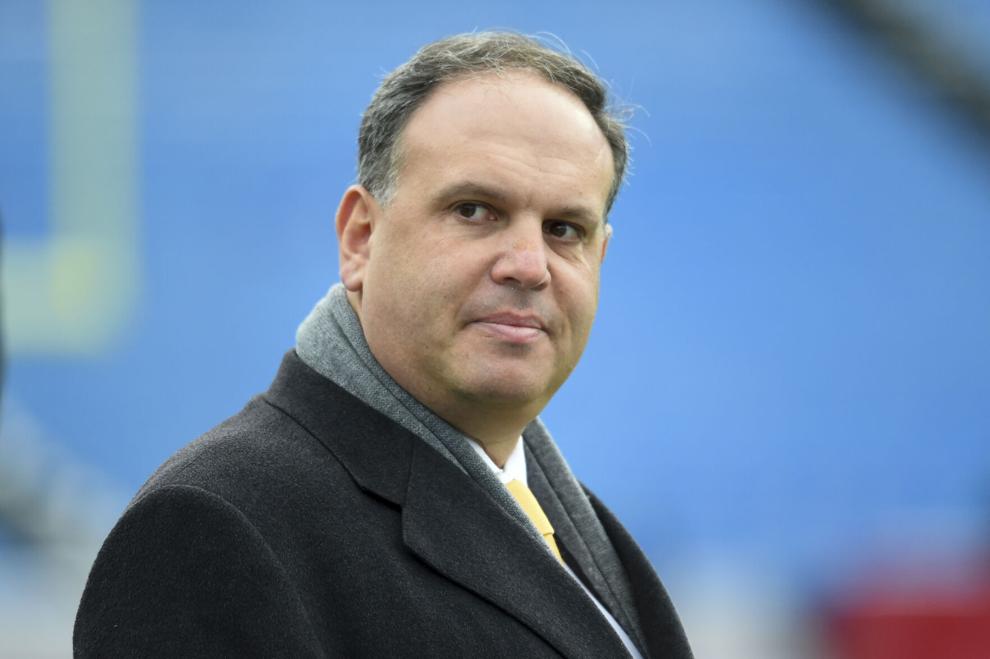 "So if you're Brian, you have to say to yourself, 'Look, I really made this decision three years ago. When I sign these trade papers, that's really the formality — that's crossing the t's and dotting the i's. I made this decision when we traded up for Jordan Love.' And if you believed in Jordan Love then, that's your future."
And if Gutekunst trades Rodgers and is wrong in his evaluation of him or Love — or both — then he'll be out of a job before he knows it.
"Been there, done that," Tannenbaum said with a laugh.
"Look, I had the privilege of running two different NFL teams. When you sit in that seat, you say, 'We're here to win a championship. We're not here to be middle-of-the-road.' You know what you're signing up for.
"You do the best job you can, do what you think is right — not popular — because public sentiment is going to turn on you regardless of what you do the moment there's a bump in the road. You have to have rare mental toughness and resiliency, you have to be able to handle the adversity and ignore the noise.
"Now, it's easy for me to say that because I'm not pulling the trigger on trading Aaron Rodgers. But they're going to have to make this decision sooner rather than later."