GREEN BAY — Jordy Nelson didn't have any speech prepared, and truth be told, he didn't necessarily want to answer many questions, either. He even admitted that the whole thing wasn't his idea.
Nevertheless, there the former Green Bay Packers wide receiver was Tuesday morning, signing a ceremonial one-day contract to retire with the team he came to embody with his down-home, hard-working, Midwestern-values personality.
For while Nelson set franchise records and won Super Bowl XLV during his 10-year career with the Packers, he always did his best to make it about the team instead of about him — even though that was tough to do, given the whole idea behind Tuesday's gathering was to celebrate his career.
But when asked how Green Bay fit the humble farm kid from Kansas State, Nelson's one-word reply said it all.
Then, after a pause, an admission: Spending last season with the Oakland Raiders, after the Packers cut him following the 2017 season, crystallized just how perfect things had been for him, his wife Emily and their family.
"I don't think you know until you've been somewhere else," Nelson said. "At the age with my wife and I moving up here, we got married going into my senior year at K-State. Green Bay was a big city to us from where we grew up but, obviously, still had the Midwest people. The rural area allowed us to be comfortable, and we didn't have an overwhelming transition of going to a ginormous city where we'd kind of get lost in it.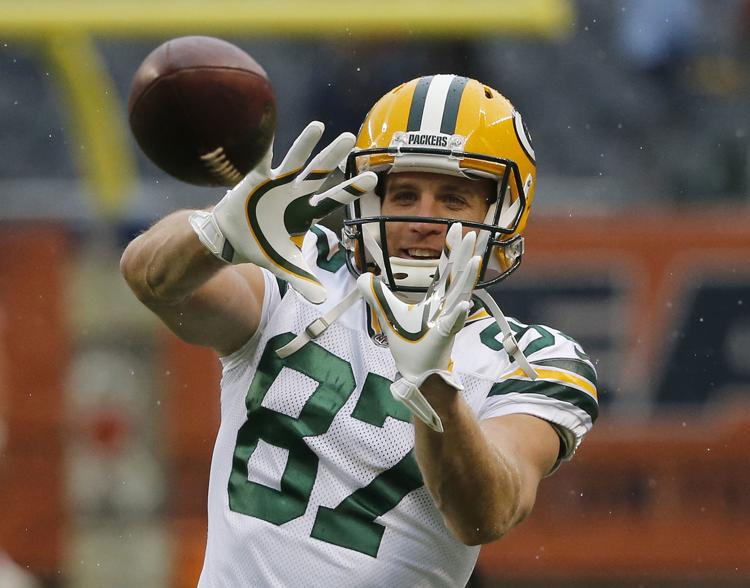 "It was a great opportunity to spend 10 years here, start our family here. We just moved back to Kansas, and I told my oldest (son) that we were moving home and he goes, 'Home, to me, is Green Bay.'"
Nelson, who opted to retire this spring despite garnering interest from a number of other NFL teams — although not the Packers — after the Raiders released him this spring, caught 550 passes (third-most in Packers franchise history) for 7,848 yards (fifth) and 69 touchdowns (second).
His 1,519 receiving yards in 2014 set the franchise's single-season record, and he won the NFL's comeback player of the year award in 2016 when he bounced back from missing all of 2015 with a knee injury by catching 97 passes for 1,257 yards and a league-leading 14 touchdowns. Forced to play most of the 2017 season without his best friend and quarterback after Aaron Rodgers broke his collarbone in Week 6, Nelson caught just 53 passes for 482 yards and six touchdowns in 2017, prompting his release three months after the season ended.
He caught 63 passes for 739 yards and three TDs for the Raiders last year, and while he could still play at age 34, only a reunion with the Packers and Rodgers would have gotten him to return this year.
"I think it's too late now, right?" Rodgers joked after Tuesday's joint practice with the Houston Texans, which Nelson attended. "It's great seeing him. Nobody personified class and what it means to be a Packer that I played with more than that guy. He's incredible in the community. Obviously, a fantastic player. A lot of great memories together. Obviously, some corner-post (touchdowns) over the years that were pretty fun, Super Bowl memories, my first touchdown pass — a big third down (completion) in the fourth quarter to set up what ultimately was the winning score.
"And then just the little things, the unspoken connection, the back-shoulder throws, the ability to throw it out to a spot and know he's going to be there. We just always had that little ability to click on the field."
More joint practices?
Coach Matt LaFleur loves the thought of more joint practices — and even floated the idea of having more than one NFL team come visit during camp. Rodgers? Not so much.
"Absolutely, 100 percent I want to do this again," LaFleur said after Tuesday's second joint practice with the Houston Texans. "I'd like to do it multiple times if we could."
When he got a surprised reaction to the idea of holding joint practices with multiple teams, LaFleur pointed out that the Texans, for example, have another set of joint practices slated with the Detroit Lions. The Lions just had joint practices with the New England Patriots.
"There's teams that do it. I know it's kind of foreign up here," LaFleur said, acknowledging that the Packers hadn't had a team in for joint practices since the Buffalo Bills visited in 2005 — Rodgers' rookie year. "
I think you get a lot of good work out of it. As long as you can keep everyone's temper in check and not let it escalate to skirmishes, I think there's a lot of good work that could be had."
Rodgers didn't agree. Asked how he felt about the practices, Rodgers' first reply was, "I'm glad it's over."
Rodgers' chief complaint, apparently, was that neither team showed the other much — kind of like a preseason game — and that limited the productivity of the workouts. LaFleur did acknowledge that he held back some of the offensive playbook because John Pagano, the brother of Chicago Bears defensive coordinator Chuck Pagano, is on the Texans' staff. The Packers open the regular season against the Bears on Sept. 5 at Soldier Field.
"The tough part is they're not trying to show a whole lot, we're not trying to show a whole lot, so it wasn't a ton of diversity in plays or the defensive schemes," Rodgers explained. "The physicality is a good thing. Going against somebody else is a good thing. But schematically, there wasn't a lot shown."
Extra points
The Packers claimed running back Keith Ford off waivers from Indianapolis and waived offensive tackle Jason Spriggs with an injury designation. Spriggs, a second-round draft pick in 2016, made nine starts in three seasons with the Packers. ... Outside linebacker Preston Smith dropped out of practice with what LaFleur termed "back tightness." … With running backs Jamaal Williams and Aaron Jones still out with hamstring injuries, Tra Carson had been getting extensive work with the starters on offense. Not on Tuesday, though, when he was out with neck spasms — leaving the Packers with only three halfbacks and two fullbacks for practice. … Wide receiver Trevor Davis (stinger) did not practice after leaving Monday's session with the Texans after absorbing a hit on special teams. Rodgers not-so-subtly pointed out that those periods of practice weren't beneficial enough to merit having them and was clearly annoyed that Davis was injured during one. … Rookie tight end Jace Sternberger, who absorbed the hit from Texans safety Lonnie Johnson that touched off Monday's fight, did not practice after showing some concussion symptoms. Sternberger was symptom-free immediately after the hit and finished practice on Monday. Johnson also did not practice. … The one fight Tuesday came when Packers pass rusher Za'Darius Smith and Texans tackle Matt Khalil mixed it up and the sides came together for some pushing and shoving.