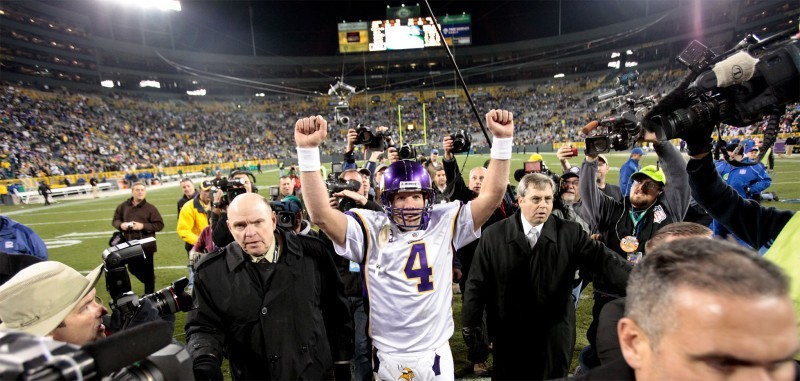 GREEN BAY - The good news for the Green Bay Packers?
After Sunday, they're likely done having to answer questions about Brett Favre for the remainder of the regular season.
The Packers showed there are still plenty of questions to be asked about them.
The bulk of the largest regular-season crowd in Lambeau Field history (71,213) may have come to boo and jeer Favre in his return to Green Bay, but they also came no doubt hoping to see the Packers hoist themselves back into the NFC North race with a win over the Minnesota Vikings.
Instead, they watched as Favre carved up the Packers defense for the second time this season while the Vikings defense once again battered Aaron Rodgers in a 38-26 defeat.
"It was a big game for us," Green Bay linebacker Nick Barnett said. "Not because of the Favre implications and all that stuff, just because we had a chance to redeem (ourselves) against them and put (ourselves) in a good position in this division. Now we're going to have to take the long route, but we're up to it."
The loss dropped the Packers to 4-3, leaving them 2½ games behind the Vikings (7-1) in the division race, one that no longer looks like it will be hotly contested. Minnesota also holds the first tiebreaker over Green Bay after sweeping the season series - the Vikings won 30-23 in Minneapolis last month - leaving the Packers in all likelihood already playing for a wild card berth.
If the season ended today, they wouldn't be in line for one of those, either. Had Green Bay won Sunday, it would have been even with Minnesota in the loss column and in position to pull into a tie with the Vikings with a win next week.
"It's definitely tough," cornerback Tramon Williams said. "You never want to talk about a must-win, but it was."
Just as he did in the teams' first meeting at the Metrodome, Favre was nearly flawless.
He completed 17 of 28 passes for 244 yards and four touchdowns against no interceptions to finish with a quarterback rating of 128.6. And, while the Packers generated more pressure on Favre than they did the first time around, they still didn't sack him.
"To play this team (twice) and not have a sack, our offensive line is outstanding," Favre said. "… To not throw any picks was pretty special."
The only gaffe involving Favre was a botched shotgun snap midway through the first quarter that gave the Packers the ball at the Minnesota 21-yard line. But Green Bay had to settle for a field goal, and the Vikings dominated the first half from there.
Minnesota running back Adrian Peterson scored from 1 yard out on fourth down on the ensuing drive - it was set up by a 77-yard kickoff return by Percy Harvin - and Favre found tight end Visanthe Shiancoe from 12 yards out on the Vikings' next possession to make it 14-3.
By halftime, Minnesota held a 17-3 lead, while Green Bay had managed just 47 total yards and Rodgers had been sacked four times.
"I missed a couple of throws I should have hit," said Rodgers, who finished 26-for-41 for 287 yards and three touchdowns against no interceptions but was sacked six times. "When we get into a rhythm on offense, we're tough to stop."
That finally happened in the second half, though not until after Favre looped a pass to Harvin that the rookie turned into a 51-yard touchdown to make it 24-3.
The Packers got a 26-yard field goal from Mason Crosby on their next drive, and recovered a fumble on the ensuing kickoff off a squib kick. Rodgers found tight end Spencer Havner from 16 yards out five plays later to pull Green Bay within 24-13 with 6 minutes, 30 seconds left in the third quarter.
Another Rodgers-to-Havner connection - this time a 5-yarder to cap an 84-yard march - made it 24-20 with 1:57 left in the third.
And there was still hope after Favre threw his third score - a 2-yarder to fullback Jeff Dugan - because Rodgers tossed his third on the Packers' next drive, connecting with receiver Greg Jennings from 10 yards out. A missed two-point conversion left Green Bay in a 31-26 hole, but the Packers defense forced a Vikings punt on their next possession.
Green Bay had second-and-3 from the Minnesota 28, but Vikings defensive end Jared Allen - he had three sacks - dropped Rodgers for a 5-yard loss, and Crosby missed a 51-yarder two plays later with 5:38 remaining.
"I'll be OK in a couple of days," said Rodgers, who has been sacked 31 times this season. "This one will hurt for a couple of days, though, physically and mentally."
Favre ended any late drama with a 16-yard strike to receiver Bernard Berrian four plays after Crosby's miss. It also ended any real hope of the Packers reclaiming the division title.
"It's a difficult road, but it is what it is at this point," cornerback Charles Woodson said. "You've got to keep playing football. You're going to lose some games in this league, and the thing you've got to do is just come out and just prepare for the next week. So that's our task."
Be the first to know
Get local news delivered to your inbox!