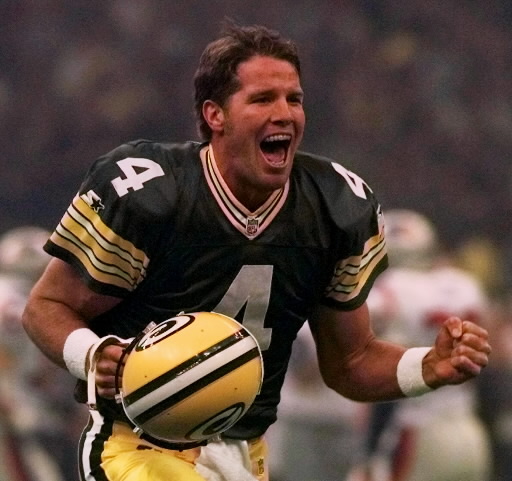 A chronological review of Brett Favre's performances in playoff games during his 16 years with the Green Bay Packers, and this year's run with the Minnesota Vikings.
Favre will make his fifth appearance in the NFC Championship game on Sunday when the Vikings face the New Orleans Saints.
Favre is 13-10 all-time in the playoffs, including a 1-0 mark this season with the Vikings.
He is making his second NFC Championship game appearance in three seasons but has not played in the Super Bowl in 12 years, since the Packers' loss to Denver in Super Bowl XXXII.
Here is his breakdown by round:
Conference championship: 2-2
---
Jan. 8, 1994
Wild card
In his first playoff game, a scrambling Favre finds receiver Sterling Sharpe for a 40-yard touchdown pass in the game's final minute as the Packers stun the NFC Central champion Lions at the Pontiac Silverdome.
Favre completes 15-of-26 passes for 204 yards and three touchdowns - all to Sharpe.
---
Jan. 16, 1994
Divisional round
At Cowboys 27, Packers 17
Favre completes 28-of-45 passes for 331 yards, but the eventual Super Bowl champion Cowboys outscore the Packers 17-0 in the second quarter en route to the win.
Favre threw two touchdowns, but also was picked off twice. Cowboys QB Troy Aikman (302 yards passing, three TDs) and wideout Michael Irvin (nine catches, 126 yards, 1 TD) were just a little better than Favre and Sharpe (six catches, 128 yards, 1 TD).
---
Dec. 13, 1994
Wild card
The Packers win the defensive battle in the team's first home playoff game since the 1982 season. Favre comples 23-of-38 passes for 262 yards. And although he didn't throw any TDs, he helped direct several long drives which helped Green Bay hold the ball for 37-plus minutes during the game.
Running back Dorsey Levens scored the Packers' only TD, while Chris Jacke booted three field goals.
---
Jan. 8, 1995
Divisional round
The Cowboys jump out to leads of 21-3 and 28-9, and the Packers - despite rolling up 327 yards of offense - never really challenged after that.
Favre completes 18-of-35 passes for 211 yards, with no touchdowns and one interception. The Cowboys' Troy Aikman , meanwhile, throws for 337 yards and two scores.
---
Dec. 31, 1995
Wild card
At Packers 37, Falcons 20
Although Favre completes 24- of-35 passes for 199 yards and three touchdowns, his efforts are overshadowed somewhat by running back Edgar Bennett , who rushed for a Packers postseason record 108 yards.
Green Bay also got a big 76-yard punt return for a touchdown by Antonio Freeman.
---
Jan. 6, 1996
Divisional round
Favre completes 21-of-28 passes for 299 yards, with two touchdowns and no interceptions as the Packers pull off a shocking upset of the defending Super Bowl champs on the 49ers' home turf.
After rookie cornerback Craig Newsome returns a fumble 31 yards for an early 7-0 Packers lead, Favre and the Green Bay offense mount 62- and 72-yard scoring drives on their next two possessions for an insurmountable 21-0 lead. Favre's two first-half TD passes go to tight ends Keith Jackson and Mark Chmura.
---
Jan. 14, 1996
NFC championship
At Cowboys 38, Packers 27
Favre, who completes 21-of-39 passes for 307 yards, with three TDs and two interceptions, hits Robert Brooks on a 1-yard scoring strike to give the Packers a 27-24 lead entering the fourth quarter.
But Green Bay - one win from its first Super Bowl in 28 years - can't slow the Cowboys' offense, which was led by running back Emmitt Smith's 150 rushing yards and three TDs. Favre also had a crucial interception in Dallas territory in the fourth quarter.
---
Jan. 4, 1997
Divisional round
Favre completes 11-of-15 passes in a slopfest at Lambeau, but throws for just 79 yards and one score.
Yet the Packers still cruise to the easy win thanks to punt returner Desmond Howard , who returned the first punt of the game 71 yards for a touchdown, then returned Tommy Thompson's second punt 46 yards to the San Francisco 7-yard line, setting up a 4-yard Favre scoring pass to flanker Andre Rison.
---


Jan. 12, 1997
NFC championship
At Packers 30, Panthers 13
Favre shrugs off two early turnovers which led to 10 of Carolina's 13 points, to direct three scoring drives of 70-plus-yards and ultimately carry the day in the NFC title game.
Favre completes 19-of-29 passes for 292 yards and two touchdowns, while running back Dorsey Levens enjoys a career day, amassing 88 yards rushing and 117 yards receiving.
---


Jan. 26, 1997
Super Bowl XXXI
At New Orleans, 35-21 win vs. Patriots
Using several momentum- turning big plays, the Packers hold off resilient New England to capture their first world championship in 29 years. Favre completes 14-of-27 passes for 246 yards and two touchdowns, without an interception.
The Packers take an early 10-0 lead when Favre, sensing a Patriots blitz, audibled on Green Bay's second play from scrimmage, hitting late-season pickup Andre Rison on a post pattern for a 54-yard touchdown.
New England rallied for a 14-10 advantage at the end of the first quarter before Favre, seeing Patriots strong safety Lawyer Milloy at the line of scrimmage in tight coverage on Antonio Freeman , watched Freeman elude Milloy's bump and lofted a perfect toss to Freeman along the right sideline. Freeman, able to out-run New England's late-arriving free safety, covered 81 yards for the longest reception in Super Bowl history. Favre added a 2-yard touchdown run just before halftime on a bootleg to help the Packers to a 27-14 lead at the intermission.
Howard helped put the game out of reach with a 99-yard kickoff return for a touchdown in the third quarter.
---
Jan. 4, 1998
Divisional round
At Packers 21, Buccaneers 7
The Packers defeat the Bucs for the third time in the season in a defensive struggle. Favre completes 15-of-28 passes for 190 yards and one TD, but is intercepted twice. He also was sacked four times.
Favre provides one of the afternoon's highlights when, moments after scoring a 2-point conversion on a quarterback draw which put Green Bay on top 21-7, he exuberantly attempts to dunk the football over the crossbar after charging into the end zone.
---
Jan. 1, 1998
NFC championship
Favre throws no interceptions and is sacked only once in a remarkably efficient passing performance under the soggy circumstances in San Francisco. He completes 16-of-27 passes for 222 yards and one touchdown as Green Bay secures its second straight trip to the Super Bowl.
Dorsey Levens powers the Packers' ground attack with 114 rushing yards and one score.
---


Jan. 25, 1998
Super Bowl XXXI
At San Diego, 31-24 loss vs. Broncos
Despite Favre completing 25-of-42 passes for 256 yards and three touchdowns, the Packers fail in their bid to win back-to-back Super Bowl titles. The Green Bay defense has no answer for Broncos standout running back Terrell Davis , who rushes for 157 yards and three touchdowns.
The ease with which the Packers score their first touchdown on the game's opening drive may have lulled them into a false sense of security in a game in which the Broncos are listed as 12-point underdogs. Taking over on their own 24-yard line following the opening kickoff, the Packers go 76 yards in eight plays to take the quick 7-0 lead when Favre hits Antonio Freeman for a 22-yard score.
But that would be the Packers' only lead, as the Broncos scored 17 straight points - with the help of a Favre interception and fumble - and never trailed the rest of the way.
---
Jan. 3, 1999
Wild card
Favre completes 20-of-35 passes for 292 yards and two scores, but most remember this game for the way it ended. With three seconds left and the Packers leading 27-23, 49ers quarterback Steve Young hits receiver Terrell Owens over the middle for a 25-yard game-winning TD.
Moments earlier, Favre hit rookie receiver Corey Bradford on a fly pattern to get into scoring position, and then connected with Antonio Freeman for his second touchdown of the game to give Green Bay a late lead.
---
Jan. 13, 2002
Wild card
In the Packers' first home playoff game since 1997, Favre connects on 22-of-29 passes for 269 yards and two touchdowns to help propel Green Bay.
"I don't think a quarterback could have a better game than he had today," GM/coach Mike Sherman said of Favre. "He took total control of the football game."
---
Jan. 10, 2002
Divisional round
Favre has the worst game of his pro career, throwing six interceptions. Favre completes 26-of-44 passes for 281 yards and two touchdowns, but his picks doom any chances the Packers have of getting to the NFC title game.
The three interception return TDs set a Rams postseason record.
---
Jan. 4, 2003
Wild card
A number of streaks come to a halt for Favre and the Packers on this night. Not only do the Packers lose a home playoff game for the first time in franchise history, but Favre - who had been 35-0 when the game-time temperature was 34 or below - falters on a day when the kickoff temperature is 31.
Favre completes 20-of-42 passes for 247 yards, with one TD and two interceptions. On a positive note, Favre throws a TD pass in his 13th straight playoff game, tying Dan Marino's NFL record.
---
Jan. 4, 2004
Wild card
At Packers 33, Seahawks 27 (OT)
Favre thrives in the cold - 20 degrees, with a wind chill of 7. He sets a record by throwing for a touchdown in a 14th straight playoff game. Overall, he completes 26-of-38 passes for 319 yards and one score, with no interceptions.
But Packers cornerback Al Harris was the hero. He sprinted down the sideline with a 52-yard interception return for a touchdown, the first defensive score to win an overtime playoff game in NFL history.
---
Jan. 11, 2004
Divisional round
The game is remembered most for the Eagles converting on fourth-and-26 late in regulation en route to forcing OT.
But with one desperation heave, Favre also played a role in throwing away Green Bay's dreams of a return trip to the Super Bowl. Although Favre completes 16-of-28 passes for 180 yards and two scores - both to Robert Ferguson in the first quarter - Brian Dawkins' interception of a high Favre heave in overtime sets up David Akers' winning field goal.
---
Jan. 9, 2005
Wild card
Vikings 31, at Packers 17
After leading the Packers to two regular-season wins over the Vikings during the regular season, Favre runs out of magic in the playoffs, throwing four interceptions in a rare playoff loss at Lambeau Field.
Overall, Favre completes 22-of-33 passes for 216 yards and one score, but the four picks were too much for a poor Packers defense to overcome. It didn't help that Favre lost Pro Bowl receiver Javon Walker to a shin injury in the first half.
"It would be easy to walk off the field after that game, and say, 'I've had enough,' " Favre said. "But I'm going to try to be as fair to myself and my team as possible. I've had a lot of great games. This obviously was not one of them."
---


Jan. 12, 2008
Divisional round
At Packers 42, Seahawks 20
Playing in heavy snow for the first time in his career, Favre guides the Packers to scores on six consecutive possessions to erase an early 14-0 Seattle lead.
In the process, Favre churns out one of the most memorable plays of his career. On third-and-8 at the Seahawks' 14-yard line, Favre escaped from rookie Brandon Mebane and, while stumbling for several yards, managed to one-hand flip the ball to Lee for an 11-yard gain.
"I'm not quite as nimble as I once was," quips Favre, who finished 18-of-23 for 173 yards, with three touchdowns and no interceptions.
That play set up one of three scores by Ryan Grant , who rebounded from a pair of fumbles in the first four minutes that led to two Seahawks touchdowns. Grant sets a team postseason record with 201 yards, and scores three times.
---


Jan. 20, 2008
NFC championship
Giants 23, at Packers 20 (OT)
Favre, seeking a return to the Super Bowl after a decade's absence, struggled throughout Ice Bowl II, as it was called, with the minus-3 degree temperature and wind-chills that reached minus-24. He wound up 19-for-35 for 236 yards, with two touchdowns but also two interceptions. The second, by Corey Webster in overtime, set up Lawrence Tynes' game-winning 47-yard field goal. That pick was the final throw of his illustrious career with the Packers.
---


Jan. 17, 2010
Divisional round
In his first playoff appearance with the Vikings, Favre emphatically answers questions not just about the team's late-season difficulties but also his age, becoming the first quarterback at least 40 years old to win a playoff game.
"I feel like I'm playing the same way. I have the same enthusiasm," said Favre. "As long as I'm out there, the enthusiasm and the passion that you see is real. And I know the guys feed off of that. Fans enjoy that, because it is real and genuine."
Many regard this as his best career postseason performance, and the numbers would back that up.
Favre threw four touchdowns for the first time in his 23-game postseason career, including three to Sidney Rice and an 11-yard, fourth-down heave to Visanthe Shiancoe on the first play after the two-minute warning.
He finished 15 of 24 for 234 yards and didn't commit a turnover.
"Probably the most fatigued I got today was celebrating," Favre said, smiling.