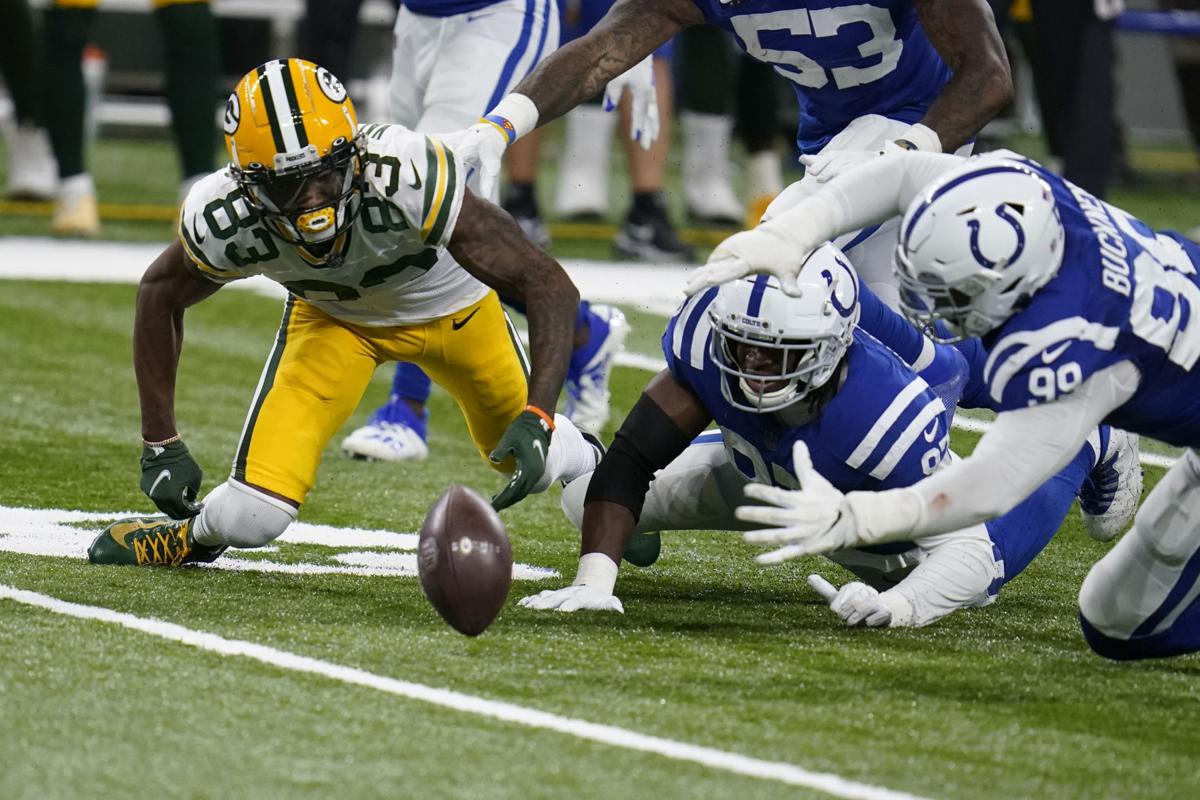 Aaron Rodgers admitted it probably sounded "weird." And frankly, it did, especially considering what had just transpired.
The Green Bay Packers had just suffered what seemed — from the outside, anyway — to be a demoralizing loss, a 34-31 overtime defeat at the hands of the Indianapolis Colts on Sunday at Lucas Oil Stadium.
But it wasn't that they lost. It was how they lost.
The Packers blew a two-touchdown halftime lead, turned the ball over almost as many times in the game (four) than they had all season (five), ran exactly six offensive plays during the third quarter, rallied to force overtime in the final 2 minutes after starting their final possession of regulation at their own 6-yard line, and ultimately lost because of a Marquez Valdes-Scantling fumble in OT that set up Rodrigo Blankenship's game-winning 39-yard field goal.
And afterward, having fallen to 7-3 and once again come out on the losing end of a game against one of the NFL's top teams, Rodgers was asked to evaluate what kind of team the Packers are with six games left in the regular season, starting with a showdown with the rival Chicago Bears next Sunday night in a matchup of the NFC North's top two teams.
"Today actually gave me a lot of confidence in our guys," Rodgers replied to close out his Zoom video conference call with reporters following the game. "That might sound weird, when we lost and we turned the ball over four times.
"But there was a different type of energy this week at practice. I thought it carried over to today. Obviously, the atmosphere helped having a bunch of Packer fans there — even though it was obviously significantly less than it would be in a normal year. But I did get a lot of confidence based on the way we practiced this week. I felt like this was the first week all season where we practiced like a great team — and not just a good team. So that was encouraging.
"I figured the performance would be really solid based on that, and that's how it goes sometimes. The mistakes can happen, regardless of how you practice. But I was encouraged by the focus that we had, I was encouraged by the defense and the confidence that they were brimming with. I just think we need to be an all-three-phases football team to go as far as we want to go.
"I still feel really good about our chances and our squad. This will be an important week, obviously, playing the second-place team in the division and giving us a chance to really put some cushion between us and the rest of the division with a win."
Rodgers isn't generally prone to inauthentically putting a happy face on situations, so he deserves the benefit of the doubt from those who might question his motives for talking up his team after a performance like Sunday's.
There's also the troubling reality that the Packers have basically beaten one good team this season — the New Orleans Saints, who they beat 37-30 in Week 3 on Sept. 27. While that victory improved the Packers to 3-0 at the time, the Saints have since reeled off seven straight wins while the Packers have now lost to the Tampa Bay Buccaneers (7-3 entering their Monday night game against the Los Angeles Rams) and the Colts (7-3 with back-to-back wins over the Tennessee Titans and the Packers).
Told of his quarterback's sunny outlook about his team, head coach Matt LaFleur replied, "I totally agree with it. The guys, you could tell just right from the first day on Monday that they were locked in ready to go. And then we get to Wednesday, implementing the plan, there was great energy throughout all our practices. And it translated today.
"That's why it hurts so bad when you get exactly what you're trying to get done and you don't get the results you want. But we're going to need more of that moving forward. We know we have a very good team coming in with the Chicago Bears. It's a big division game, a big rivalry game, and we're going to need that same type of effort. We're just going to need better execution in order to beat a really good team."
Disagree with the quarterback and the head coach all you want, but there's no disputing that final sentence — because the Packers' execution during the second half and overtime was nowhere near good enough.
They'd built a 28-14 halftime lead by turning two defensive takeaways (a fumble forced by safety Raven Greene and an interception by linebacker Christian Kirksey off a Philip Rivers pass that Billy Winn tipped at the line of scrimmage) into two touchdowns and by overcoming a pair of turnovers of their own (a fumbled exchange between center Corey Linsley and Rodgers, and Rodgers' fourth INT of the year).
Rodgers, who finished the game having completed 27 of 38 passes for 311 yards with three touchdowns and one interception (110.7 rating), threw first-half TD passes to tight end Robert Tonyan, wide receiver Davante Adams and running back Jamaal Williams, whose 4-yard score with 16 seconds left until halftime was set up by a 51-yard pass interference penalty drawn by Valdes-Scantling and seemingly put the Packers in control.
Then came the third quarter, when the Colts embarked on a 7-minute, 17-second opening drive that ended in a field goal to make it 28-17. The Packers went three-and-out on their next possession, when Valdes-Scantling ran up the sideline on third-and-4 and Rodgers was expecting him to stop the route for a back-shoulder throw, and the Colts followed with a touchdown drive that ended in Jack Doyle's 6-yard touchdown catch and Nyheim Hines' 2-point conversion run to make it 28-25.
The Packers once again went three-and-out, with Rodgers and Adams failing to connect on third-and-1, and after ex-University of Wisconsin star Jonathan Taylor's 14-yard run on the final play of the quarter, the Colts drove for the tying field goal to begin the fourth.
"I mean, 14 points isn't that much, to be honest with you. And there was plenty of time," said Colts coach Frank Reich, whose offense in the third quarter consisted of 13 runs for 78 yards and five pass completions for 48 yards. "To be able to come out and run the ball the way we did, I just think builds momentum. I just think even though we ended up having to kick a field goal (at the end of the first drive), it just establishes a physical presence that we need and that we want." 
The Colts took a 31-28 lead when they turned kick returner Darrius Shepherd's fumble into Blankenship's 43-yard field goal with 8:56 left in the fourth quarter. And although the Packers' ensuing drive ended in a fourth-and-1 failure when Adams was double-covered and Rodgers threw incomplete to Williams, the Green Bay defense got the offense the ball back — with the help of an astonishing five holding penalties (three enforced) against the Colts — with 1:25 left in regulation and one timeout remaining at the Green Bay 6.
After two incompletions intended for Allen Lazard, Rodgers dropped back into his own end zone on third-and-10 and hit Valdes-Scantling for 47 yards. After 14- and 18-yard completions to Adams, Rodgers missed Adams on third-and-3 from the Indianapolis 8-yard line, and the Packers settled for Mason Crosby's 29-yard field goal.
Backup quarterback Tim Boyle won the overtime coin toss, but Valdes-Scantling's fumble on the second play of OT set Blankenship up for his 39-yard game-winner.
"We're disappointed. We don't do a lot of the 'silver lining' losses. It's about real critiques," Rodgers said. "That's a good defense. I feel like we moved the ball great in the first half. Obviously, the third quarter was two three-and-outs. It wasn't great, but when you had to have it there at the end of the game, we moved the ball down in scoring position and tied it up. Obviously, you know what happened at the end.
"So, disappointing for sure. A good chance for us to take a three-game lead in the division. But we're two games up, and we've got a big game coming up against Chicago."
---
Photos: Colts overcome Packers' early lead
Be the first to know
Get local news delivered to your inbox!