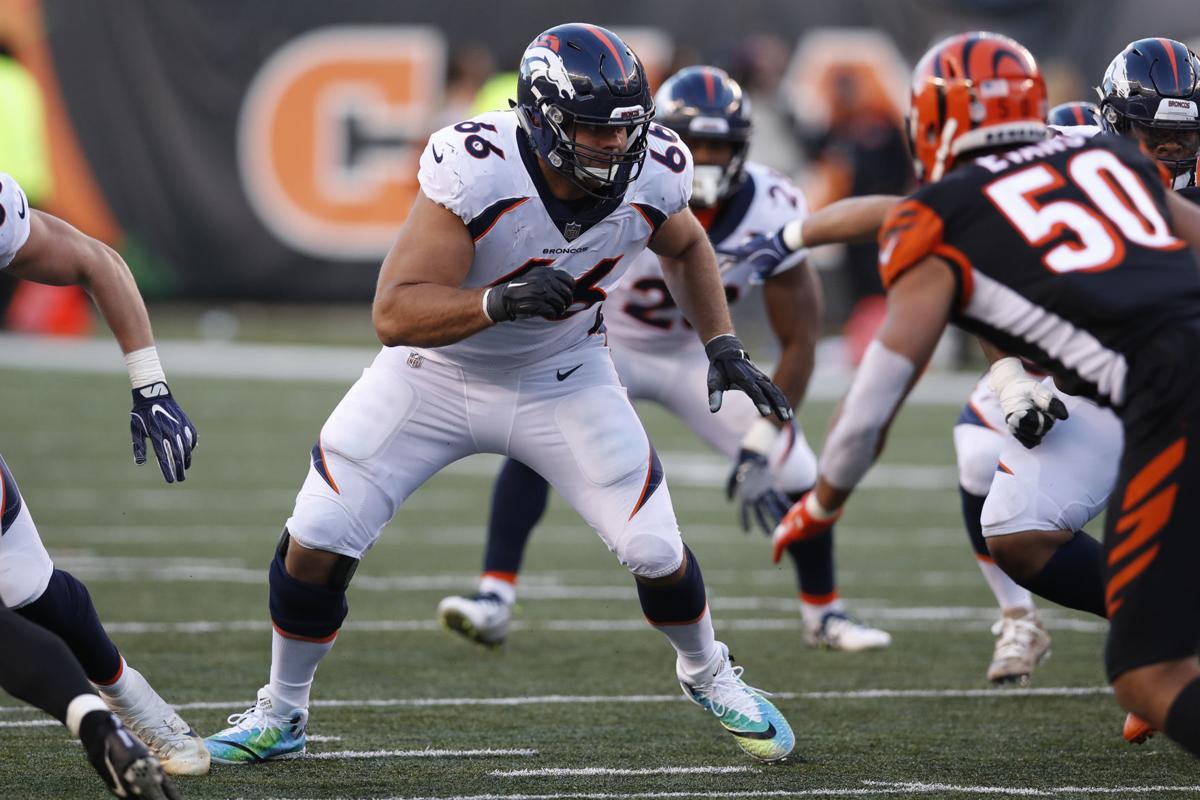 GREEN BAY — While Matt LaFleur is most interested in what the Green Bay Packers' best option at right tackle will be for Sunday's game against the New York Giants — and he's not yet ruling out the possibility of it being a hobbled Bryan Bulaga — the Packers first-year coach may also be getting a preview of how the offensive line could look in 2020 and beyond.
With Bulaga, the team's veteran right tackle who left last Sunday night's 37-8 loss at San Francisco with a right knee injury, unlikely to play against the Giants, LaFleur reiterated Wednesday the team is mulling a variety of options to replace him.
Among them? Shifting veteran right guard Billy Turner out to right tackle and bringing guard Lucas Patrick off the bench to fill Turner's right guard spot.
"We'll look at everything. Our goal is just to put our best five out there and we'll go from there," LaFleur said before Wednesday afternoon's light practice, which Bulaga did not participate in. "And we'll take the week to figure that out."
Asked if he really was still undecided about what to do at right tackle or if he just didn't want to tell the Giants his plan, LaFleur insisted he and the offensive coaches haven't made up their minds.
"Like I said, we're going to go through the week of practice and see what combination works the best," he replied. "And I also wouldn't rule Bryan out at this point."
Adding to the intrigue at right tackle, the Packers claimed veteran tackle Jared Veldheer on waivers, an NFL source confirmed. Veldheer, 32, retired unexpectedly in March and was released by the New England Patriots from the reserve/retired list on Tuesday. The claim was first reported by NFL Network.
Veldheer signed a one-year, $3.5 million deal with the Patriots this spring but retired after taking part in one organized team activity practice. A third-round pick by the Oakland Raiders in 2010, Veldheer has started 113 career games at tackle, having spent four seasons in Oakland and four with the Arizona Cardinals before being traded last year to the Denver Broncos. He started 12 games at right tackle for the Broncos but was not re-signed after the season.
It's highly unlikely Veldheer could spend nearly nine months out of football and be ready to play against the Giants, but he would give the Packers another option if Bulaga's injury lingers.
You have free articles remaining.
"I am going to see if someone needs help for the remainder of the season," Veldheer said Wednesday in a text to MLive.com.
Whatever they do at right tackle in the short term, given that the Packers have seemingly winnable games against the Giants (2-9) and Washington Redskins (2-9) the next two weeks, it would seem the smartest play would be to let Bulaga recover from his injury and be ready for the Chicago Bears (5-6) and Khalil Mack on Dec. 15 at Lambeau Field.
If Bulaga can't go, it would mark the first time the Packers will have started a line that wasn't David Bakhtiari at left tackle, Elgton Jenkins at left guard, Corey Linsley at center, Turner at right guard and Bulaga at right tackle since Week 2, when veteran Lane Taylor started his final game at left guard before suffering a torn biceps in practice on Sept. 19. Jenkins took over after that and while Bakhtiari, Linsley and Bulaga have missed snaps with various injuries, none of the five has missed a start since.
While the Packers could still use second-year man Alex Light, who played 71 snaps in Bulaga's place after Bulaga left the game after only nine offensive plays, Light struggled mightily against the 49ers. A week of practice with the No. 1 offense and LaFleur having time to devise a game plan that accounts for his inexperience might help, but Turner and Patrick would give the Packers more experienced options.
Patrick has six career NFL starts and filled in for Linsley earlier this year when Linsley sustained a concussion, while Turner has 36 career NFL starts and before arriving in Green Bay had started games at right guard (12), left guard (eight), right tackle (four) and left tackle (one) for his previous teams.
Plus, when the Packers signed the 28-year-old Turner to a four-year, $28 million deal ($9 million signing bonus) in free agency in March, they did so knowing the 30-year-old Bulaga was in the last year of the five-year, $33.75 million deal he signed to stay with the Packers in March 2015. A first-round pick in 2010, Bulaga has started 106 of a possible 155 regular-season games during his 10-year career in Green Bay, overcoming a 2012 season-ending hip injury and ACL tears in 2013 in training camp and in 2017 with eight games left in the season.
Bulaga was having a turn-back-the-clock season before the injury against the 49ers, but it's unclear whether the team will bring him back for a third contract, as general manager Brian Gutekunst must weigh Bulaga's high level of play against his injury history. If they do move on in the spring, Turner would be a logical replacement.
But if Turner struggles at right tackle while Bulaga is out, it could be a sign he's better at guard and would mean other right tackle options would have to be explored if Bulaga didn't come back next year.
Extra points
Still wanting to be smart about his players' recovery from a long flight from the West Coast and with a trip to the East Coast coming up fast, players spent most of Wednesday in meetings and LaFleur made the practice little more than a walkthrough, with players not even wearing helmets. "Most of practice will be above-the-neck," he said before practice. "We'll get some movement in, because I think it's important to get movement, but these guys probably didn't go to bed until after 5 a.m. (on Monday), and I do think being rested is equally important as it is to go out there and get the practice reps." … In addition to Bulaga not practicing, veteran tight end Jimmy Graham (calf) and safety Will Redmond (foot) also did not participate. … Tight end Marcedes Lewis and cornerback Tramon Williams were listed as limited participants in practice while on LaFleur's veteran rest program. … Linebacker Blake Martinez (hand), tight end Robert Tonyan (hip) and fullback Danny Vitale (knee) were all listed on the injury report but all three practiced in full. … For the Giants, tight end Evan Engram, who has missed the past two games with a foot injury, didn't practice and his status for Sunday is unclear. The Packers have struggled defending tight ends throughout the season and Engram leads the Giants in receptions (44) and receiving yards (467) this season.