With the 2019 NFL regular season rolling along, here's a look at some notable performances from former Wisconsin Badgers players in Week 2.
Vince Biegel — Dolphins
Despite being on the losing end of 43-0 decision on Sunday, Miami linebacker Vince Biegel achieved a longtime goal during the Dolphins' brutal loss to the defending champion New England Patriots. 
Biegel registered his first sack of future Hall of Fame quarterback Tom Brady, and the former Badger wasn't shy about sharing what the moment meant to him — despite the lopsided score at Hard Rock Stadium in Miami Gardens, Fla.
"When I first got in the league, I said, 'If there's one guy I want to sack, it's (Tom) Brady,' " Biegel said Monday, according to Dolphins.com. "He's a great player. So to be able to kind of check that one off the box is big. (I was) definitely excited."
Biegel — acquired by the Dolphins in a trade with New Orleans just before the regular season kicked off — is in his third year in the NFL after being drafted by the Packers in 2017 and playing his rookie season in Green Bay before spending last season with the Saints. 
Corey Clement — Eagles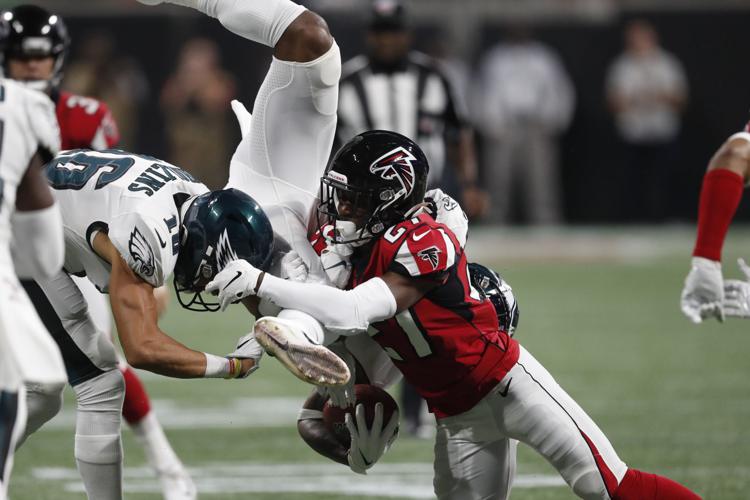 Philadelphia running back Corey Clement was forced out early with a shoulder injury Sunday before the Eagles fell to the Atlanta Falcons, 24-20, at Mercedes-Benz Stadium in Atlanta. 
Clement didn't pick up any yards from scrimmage Sunday, but he gained a total of 73 yards on three kick returns, but he did surrender a fumble on the opening kick of the second half while being injured. 
According to Ian Rapoport of the NFL Network, Clement underwent an MRI on his injured shoulder Monday and is expected to miss "a week or two."
#Eagles RB Corey Clement, knocked out with a shoulder injury yesterday, had an MRI today and is likely out a week or two, I'm told. The team will know more later in the week, but that's the early read.

— Ian Rapoport (@RapSheet) September 16, 2019
Leon Jacobs — Jaguars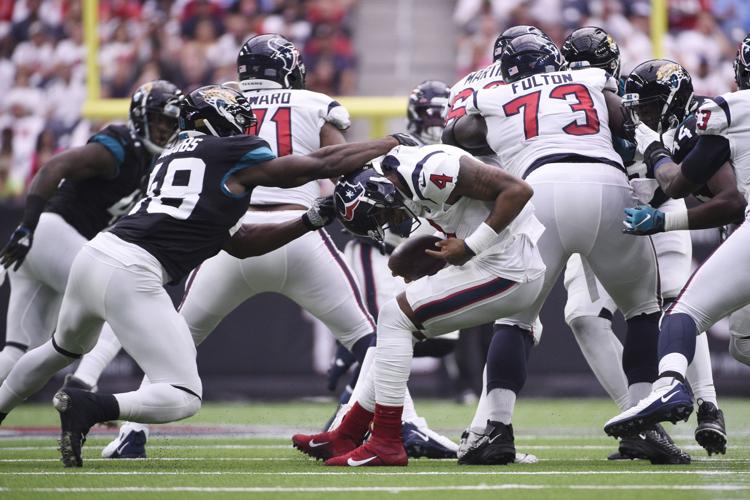 Jacksonville linebacker Leon Jacobs (above left) had one solo tackle and four assisted tackles, including a shared sack of Houston quarterback Deshaun Watson, on Sunday in Texans' 13-12 win over the Jaguars at NRG Stadium in Houston. 
Jacobs, in his second NFL season since being drafted by Jacksonville in the 7th round in 2018, has seven tackles through the first two games.
Dare Ogunbowale — Buccaneers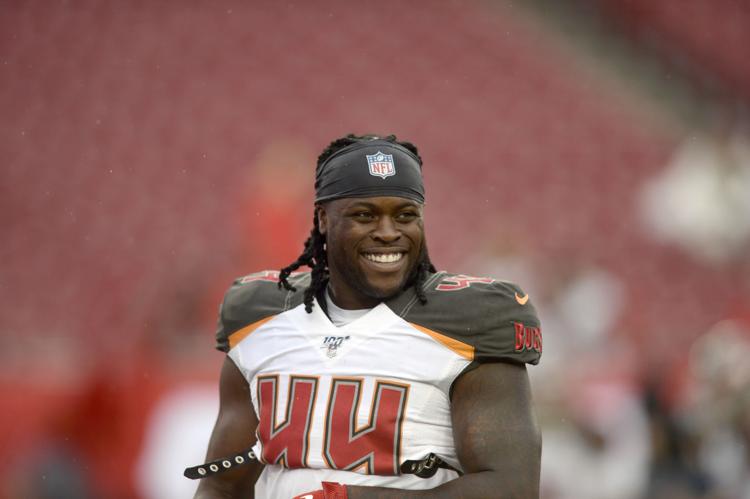 Buccaneers running back Dare Ogunbowale caught one pass for 9 yards on Thursday night in Tampa Bay's 20-14 win over the Carolina Panthers at Bank of America Field in Charlotte, N.C. 
Tampa Bay quarterback Jameis Winston found Ogunbowale on the left side with 6 minutes and 23 seconds left in the first half with the Buccaneers trailing, 6-3, and facing a 3rd and 14 from their own 35. Falling 5 yards short of the first down, Tampa Bay punted. 
Ogunbowale hasn't had a carry through the first two games of the season, but he's caught five of the seven passes targeted to him, picking up a total of 42 yards for an average of 8.4 yards per reception.  
Joe Schobert — Browns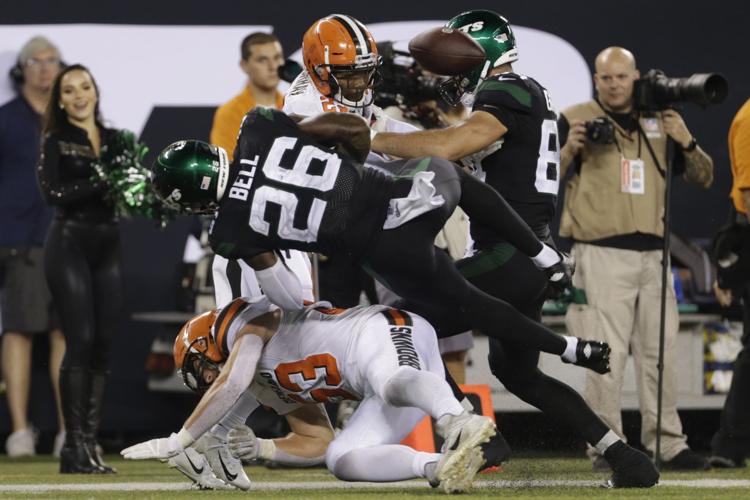 Cleveland linebacker Joe Schobert had 10 solo tackles and three assisted tackles while also forcing a fumble by New York Jets running back Le'Veon Bell on Monday night in the Browns' 23-3 win over the Jets at MetLife Stadium in East Rutherford, N.J. 
Schobert, in his fourth NFL season since being drafted by Cleveland in the 4th round in 2016, had five solo tackles and three assists in the Browns' Week 1 loss the Tennessee Titans at home. 
J.J. Watt — Texans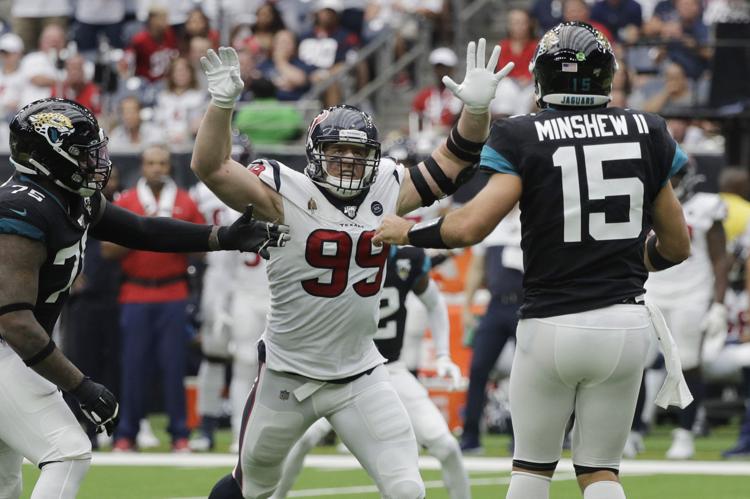 Even though Houston came away with a narrow win over Jacksonville on Sunday, defensive end J.J. Watt did not leave the field happy. 
Watt's complaint came with the officiating during the Texans' 13-12 victory over the Jaguars at NRG Stadium in Houston, specifically what the three-time NFL defensive player of the year felt were missed holding calls, including one by rookie tackle Jawaan Taylor that Watt says a ref admitted to seeing and not calling.
"The ref literally admitted to me that guy held me on one play, and he didn't throw the flag," the former Badger told the Houston Chronicle. "I don't know what I'm supposed to do with that after a play. I look over at the ref and he says, 'Yes, I saw him hold you, but I didn't throw the flag.'"
After being shut out of the box score in Week 1 when Houston fell in the closing seconds to New Orleans, 30-28, Watt recovered a fumble Sunday and had two assisted tackles. 
T.J. Watt — Steelers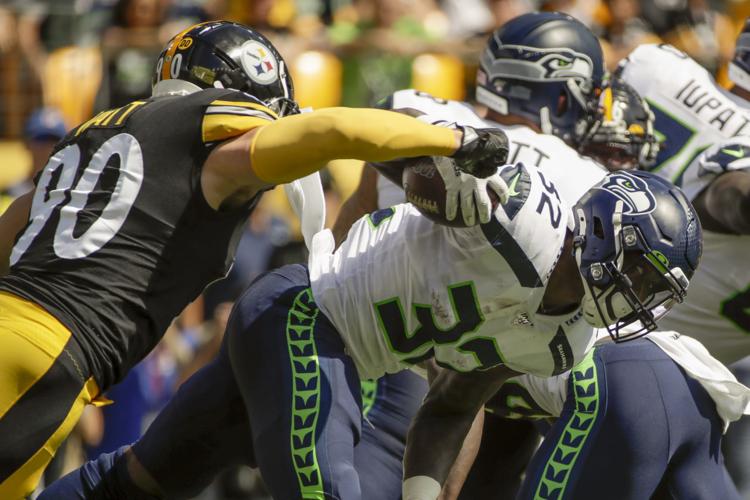 Pittsburgh outside linebacker T.J. Watt recorded his first sack of the season and recovered a fumble while turning in another strong defensive performance Sunday, but it wasn't enough as the Steelers fell short against the Seattle Seahawks in a 28-26 loss at Heinz Field in Pittsburgh. 
Watt, in his third season since being drafted by Pittsburgh in the first round in 2017, also had three solo tackles and three assisted tackles. 
James White — Patriots
New England running back James White carried the ball three times for 10 yards and caught three passes for 19 yards and a touchdown on Sunday as the Patriots blew out the Miami Dolphins, 43-0. 
In the week leading up to the game, there was some question about White's availability with his wife expecting a child, but he made the trip to Miami and continues to play a key role in the Patriots offense.
In his sixth season with New England since being drafted in the fourth round in 2014, White has seven carries for 36 yards and eight receptions for 75 yards and one score through the first two games.  
Russell Wilson — Seahawks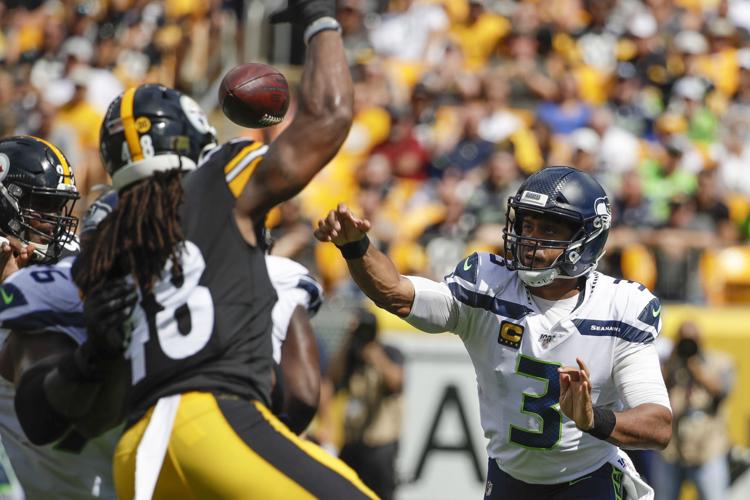 Seattle quarterback Russell Wilson took a hard hit to the helmet in the fourth quarter Sunday but hung in the game to lead the Seahawks to a 30-28 win over the Pittsburgh Steelers on the road.
Wilson completed 29 of 35 passes for 300 yards and three scores with a passer rating of 130.9, while also rushing the ball six times for another 22 yards. 
Despite the success, Wilson surrendered a fumble and took some hard hits from the Pittsburgh defense, which registered four sacks on the veteran quarterback, costing Seattle's offense 26 yards. 
According to the Tacoma News Tribune, Seahawks coach Pete Carroll plans to send a video clip of a helmet-to-helmet hit Wilson took from Pittsburgh's Bud Dupree to the NFL offices for further review. 
Dupree was not flagged on the play, which came with Seattle facing a 2nd-and-20 in the fourth quarter, but Steelers safety Terrell Edmunds drew a 38-yard pass interference penalty at the end of the play.