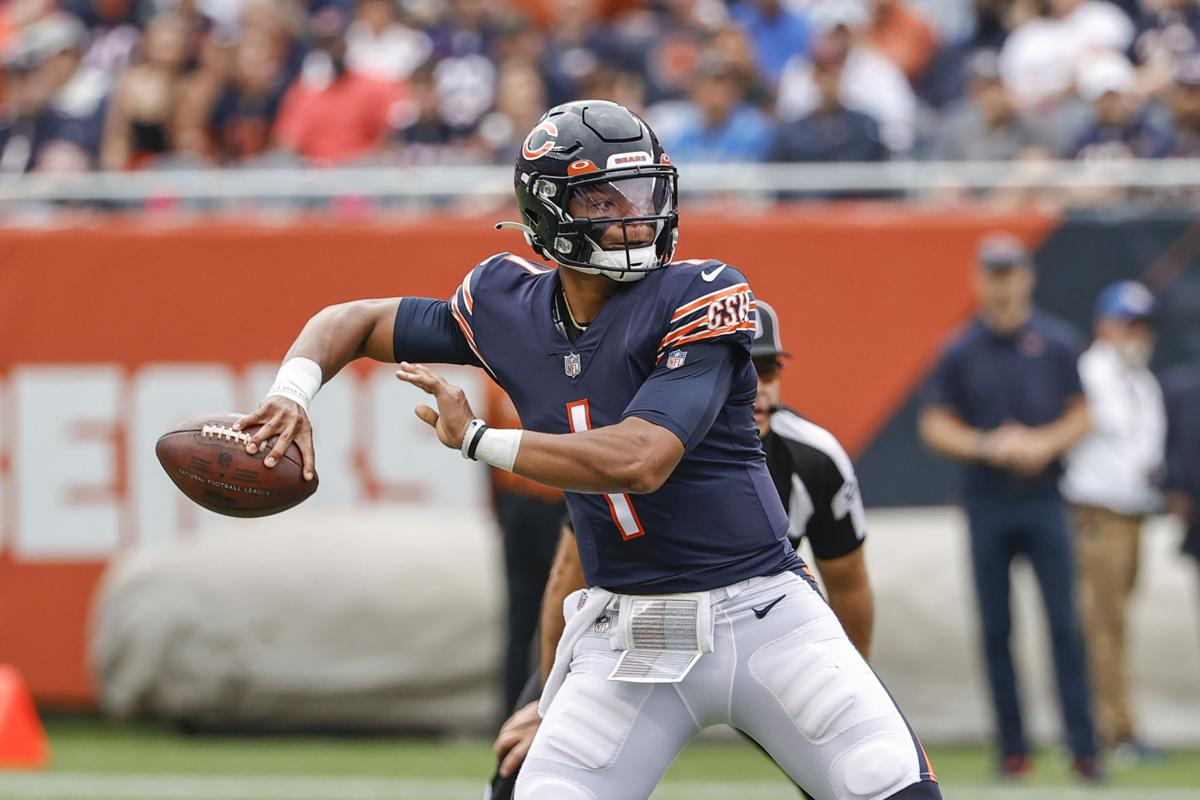 GREEN BAY — Brett Favre tried a lot harder back in 2007 than Aaron Rodgers did on Wednesday afternoon.
But in the end, both of the Green Bay Packers' legendary quarterbacks essentially illustrated the same point: That having consistency at the quarterback position — and maybe, you know, back-to-back Pro Football Hall of Fame-level play — can make all the difference in an NFL team's fortunes.
During Favre's 16-year run as the Packers' starting quarterback, the archrival Chicago Bears started 21 signal-callers, from Jim Harbaugh, who had the job when Favre arrived in Green Bay in 1992, through Kyle Orton, who led the Bears to a 35-7 victory in minus-18 degree temperatures at Soldier Field on Dec. 23, 2007 — Favre's last Packers-Bears game.
In the days leading up to that game, Favre was asked how many of those 21 he could name, and after a confident start ("I probably could name a pretty good bit, because I consider myself a historian ...") he petered out quickly, delivering five correct answers and one wrong answer (Jim McMahon, who was gone from the Bears before the Favre era began and actually backed up Favre on the Super Bowl XXXI-winning 1996 team) before surrendering ("I'm struggling here ..."). 
Meanwhile, during Rodgers' now-14 years as the starter, which will continue with Sunday's game against the Bears at Soldier Field, the Bears have started 16 quarterbacks, from Orton and Rex Grossman, who both started for Chicago during Favre's tenure as well, to rookie first-round pick Justin Fields, who'll make his fourth NFL start on Sunday and first against the Packers.
Given the chance to put his remarkable memory to the test Wednesday afternoon and name all 16, Rodgers started similarly confident ("I could come close, probably") but quit after just four and claimed that Packers public relations staffer Tom Fanning had given him all 16 before his Q&A session with reporters and he didn't want to move forward under false pretenses.
"I'm giving up. I got a meeting to go to. Can't rack the memory banks," Rodgers said, tongue firmly planted in cheek. "Tom already cued me up, so I already know 'em. I just didn't want to show off."
For those want to impress their Packers fans friends — or, perhaps, depress their Bears fans friends — the 21 Favre-era (1992-2007) quarterback starters in Chicago were, chronologically by their first starts: Harbaugh, Peter Tom Willis, Will Furrer, Steve Walsh, Erik Kramer, Dave Krieg, Rick Mirer, Steve Stenstrom, Moses Moreno, Shane Matthews, Cade McNown, Jim Miller, Chris Chandler, Henry Burris, Kordell Stewart, Grossman, Craig Krenzel, Chad Hutchinson, Jonathan Quinn, Orton and Brian Griese.
And the 16 Rodgers-era (2008-present) starters in Chicago have been: Orton, Grossman, Jay Cutler, Todd Collins, Caleb Hanie, Josh McCown, Jason Campbell, Jimmy Clausen, Matt Barkley, Brian Hoyer, Mitch Trubisky, Mike Glennon, Chase Daniel, Nick Foles, Andy Dalton and Fields, who will be the eighth that Rodgers will have actually faced in a game.
That's 35 total quarterbacks who've started at least one game for the Bears since Favre replaced an injured Don Majkowski as the Packers' starter in Week 4 of the 1992 season. Over that same span, the Packers have had just six starters: Favre (253 starts), Rodgers (195), Matt Flynn (six), Seneca Wallace (one), Scott Tolzien (two) and Brett Hundley (nine).
When Favre arrived, the Packers trailed the Bears in the all-time series, 55-79-6. But as they ready for the 201st regular-season meeting in the NFL's longest-running rivalry, the Packers hold 100-94-6 advantage, thanks to Favre's teams going 22-10 against the Bears and Rodgers' teams going 20-5 — plus a 2017 win led by Hundley while Rodgers was sidelined with a broken right collarbone. That's a 30-game swing (45-15) in the Packers' favor over that three-decade span.
"I was looking at the all-time series when Favre started and then when I started," Rodgers said Wednesday, recalling some of the aforementioned numbers. "We've had a good run.
"We've had the upper hand for the last stretch, with Favre and I. It's been battles, though. It's still a rivalry, still some great back-and-forth games."
That's true, with Rodgers being especially fond of the team's 2013 win in Chicago on the last day of the season, when Rodgers returned from a broken left collarbone and threw a fourth-down, fourth-quarter, 48-yard touchdown pass to Randall Cobb in the final minute to beat the Bears and send the Packers into the postseason.
But at this point, the Bears are back to developing what they hope will be their own great QB in Fields, after moving on from Trubisky, the No. 2 overall pick in the 2017 NFL draft, following last season. And while Fields has shown flashes, he's also been inconsistent, as young players always are.
"I think we have a good feel of who he is and how he's growing each week," Bears coach Matt Nagy said of Fields on Wednesday. "I think we feel good about that and how we can continue to help grow him. We want to make sure that he is doing what we're asking within the scheme, but then also letting his personality show and his play show.
"As we grow, I think that's where you start to see more of the good and less of the bad. But it takes a little bit of time."
Meanwhile, veteran Bears wide receiver Allen Robinson, who chose the Bears over the Packers in free agency in 2018, was asked Wednesday if he ever wonders what it would have been like to play with Rodgers instead of the Bears' myriad quarterbacks.
"When you sit there and watch guys, I think that any player can imagine when you see the different things that a person like Aaron Rodgers does, or a person like Tom Brady," Robinson replied. "You just sit back and watch them, and these are some of the greatest players to ever play that position.
"You're kind on in awe of those guys. I mean, they've done it at such a high level for so long."
Unfortunately for Robinson, he's unlikely to get that chance — at least in Chicago. In the aftermath of Rodgers' offseason of discontent, and with questions about where he'll play in 2022 still percolating below the surface, someone asked Rodgers on Wednesday if he could picture himself as the Bears quarterback someday.
"No," he replied. Asked why not, Rodgers shook his head dismissively and said simply, "It's just not going to happen."
But Rodgers did say moments earlier that he appreciates the city of Chicago, Bears fans and his past experiences there.
"I've always enjoyed the city, enjoyed the fans — even though they haven't enjoyed me," Rodgers said. "I get it. Maybe there'll be a little more love when my time comes to an end playing here. But I do have a lot of respect for the city and the sports."