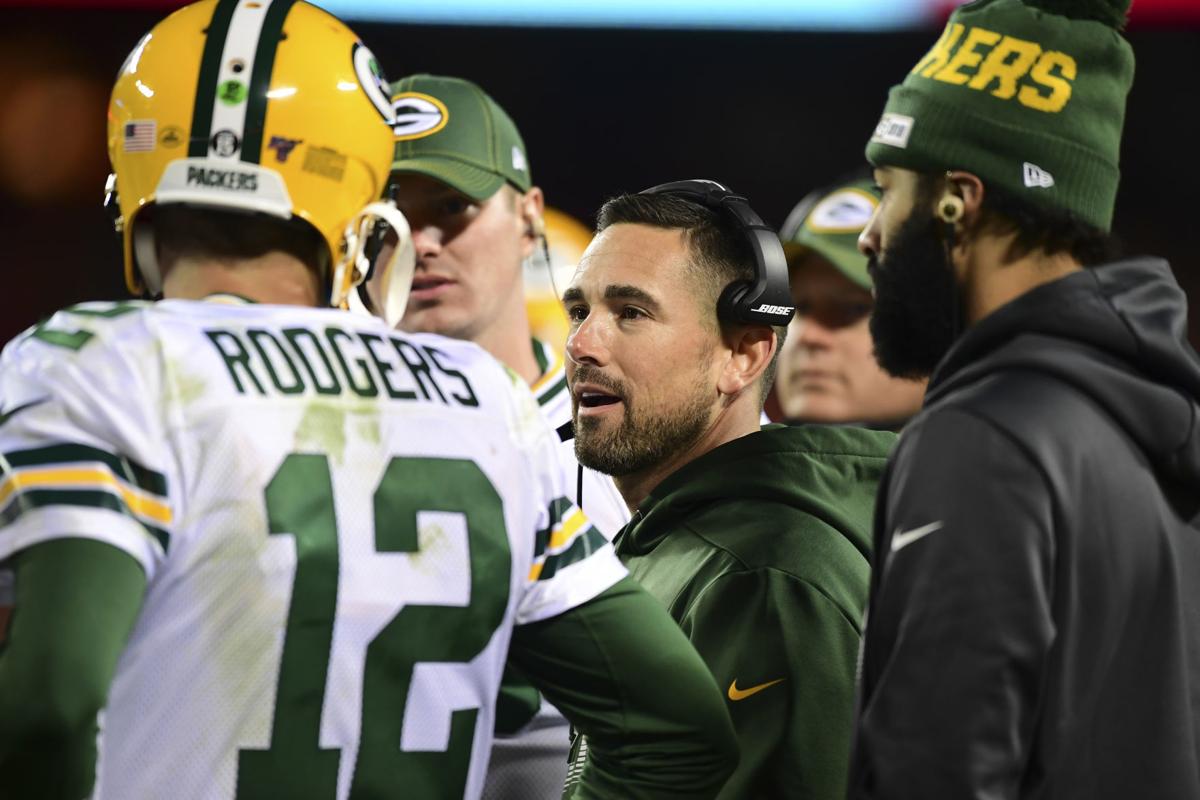 GREEN BAY — Matt LaFleur's wife BreAnne and sons Luke and Ty arrived in the San Francisco Bay Area on Wednesday night, where they're staying with Uncle Mike, Aunt Lauren and their two kids.
So, as the Green Bay Packers coach had joked last week, let the reconnaissance mission begin.
"I told (BreAnne), 'Go steal his backpack or something,'" LaFleur said with a smile Thursday afternoon, referring to Mike, his younger brother — and also the San Francisco 49ers' offensive passing-game coordinator.
Of course, had LaFleur had his hiring druthers this offseason, his kids wouldn't have had to travel so far to see their two cousins. They'd all be in a different Bay Area — the Green Bay area — together.
And during a conference call this week in advance of Sunday night's showdown between Shanahan's 9-1 Niners and LaFleur's 8-2 Packers at Levi's Stadium in Santa Clara, California, Shanahan made no apologies for preventing the family reunion that will happen on a smaller scale this weekend.
"Um, no, I was never tempted," Shanahan said. "It was very easy, and I looked forward to saying 'no' very quickly."
Asked why it was such an easy decision, Shanahan, who would admit later in the call that he enjoys "messing with" his buddy and longtime coaching colleague, replied: "Because he's my coordinator. I mean, and I get the family stuff and everything, and I'm sure if things got pretty rough for awhile (as LaFleur tried to fill out his coaching staff), eventually I would've softened up and given in — maybe.
"But Mike's my coordinator, and he does a hell of a job. He's a really talented guy, and we put a lot of work in together. I feel very fortunate to have him this year, and I plan on staying that way until he gets a head coach job."
The LaFleur brothers spent two years working together with the Atlanta Falcons in 2015 and '16, when Shanahan was the Falcons' offensive coordinator, Matt was the quarterbacks coach and Mike worked as the assistant wide receivers coach and assistant tight ends coach. The elder LaFleur also was interested in Mike McDaniel, the 49ers' run-game coordinator, but Shanahan denied that request as well.
But to hear LaFleur tell it, everything worked out in the end. Asked about his brother on Thursday, LaFleur instead turned the conversation into a soliloquy of appreciation for Nathaniel Hackett, whom he wound up hiring as offensive coordinator even though the two had never worked together and barely knew one another.
You have free articles remaining.
"I'll tell you what, I think everything works out for a reason and I couldn't be more pleased with the guys we have working here," LaFleur said, praising not only Hackett but quarterbacks coach Luke Getsy, whom he might not have hired if not for Shanahan's blocks. "Nathaniel Hackett has been a big support, a big help. He really sets the table for our offense. It didn't work out, but I have no regrets about it. It's been great."
Asked if he'd like to one day work with his brother again, LaFleur dodged the question, saying: "That's not even in my frame of mind to be honest with you. Especially where we're at right now, we're focused on just what's in front of us. And what we have in front of us is a 9-1 football team. So that's where my mind is."
Told of LaFleur's comments, Hackett said working for LaFleur has been "awesome" — a word he used six times during his response — and that the two have hit their stride along with Getsy, quarterback Aaron Rodgers and the rest of the offensive staff in their game-planning and preparation.
"We work real hard in this business. I think to be able to keep it light and fun but still be able to work is critical, and I think that getting along with Matt has been awesome," Hackett said. "It's always hard, on a first-year staff, to get to know each other. (But) it's been awesome, everybody getting to know each other. The relationship with Matt is awesome. I just can't say (enough). It's awesome working with him and working for him, so it's fun."
I scream, you scream …
The big debate in the Packers' locker room Thursday afternoon wasn't about which team's defense is better or whether 49ers star tight end George Kittle will be able to play Sunday night. Instead?
"Is ice cream frozen?" running back Aaron Jones asked reporters gathered at his locker after practice.
Apparently, that was a big bye-week disagreement at the Jones family kitchen when he returned home to El Paso, Texas, for the week off.
"I would say no," Jones argued. "My sister brought it up and we kind of got into it. At first, I said it was frozen, but if you think about it, it's not. It's not solid. Cheese melts, butter melts, deodorant melts, ice cream melts. (It's kept in a freezer) but it doesn't freeze. Ice is frozen. If you try to stick a spoon through ice, you can't. Ice cream never freezes solid. I guess it would be somebody's definition of freeze."
One thing not up for debate? How well Jones is playing. He enters Sunday night having rushed 135 times for 589 yards (a 4.4-yard average) with 11 touchdowns while also catching 35 passes for 354 yards and three more TDs. His 943 yards from scrimmage put him on pace for 1,508 total yards on the season — and have been enough to lead Rodgers to make the case for Jones as an NFL MVP candidate.
"It means everything to me, coming from a former MVP (who) feels I'm good enough or performed well enough to be in those shoes or even in that conversation," Jones said. "It does a lot and I'm glad he got my name out there. I'm just going to make him right."
Extra points
The 49ers got good news on their injury front when tight end George Kittle (knee, ankle) took part in practice on a limited basis. Kittle, who has missed the 49ers' past two games, said after practice he was encouraged about his chances of facing the Packers, telling Bay Area reporters, "Every game is a big game, but definitely an 8-2 Packers team coming, it's definitely a battle for the NFC, definitely a massive game. It's one I don't want to miss." … Wide receiver Emmanuel Sanders (ribs) also practiced on a limited basis, while running back Raheem Mostert (knee) practiced in full. Mostert's availability is crucial for San Francisco with starting running back Matt Breida (ankle) missing his second straight practice and seemingly unlikely to play. … The ultra-healthy Packers did add one player to the injury report: backup offensive lineman Cole Madison (knee), who has yet to be active for any games this season. Otherwise, the only players not practicing or doing limited work have been players on veteran rest schedules — tight end Jimmy Graham, right tackle Bryan Bulaga, cornerback Tramon Williams and tight end Marcedes Lewis, who was given Friday off.