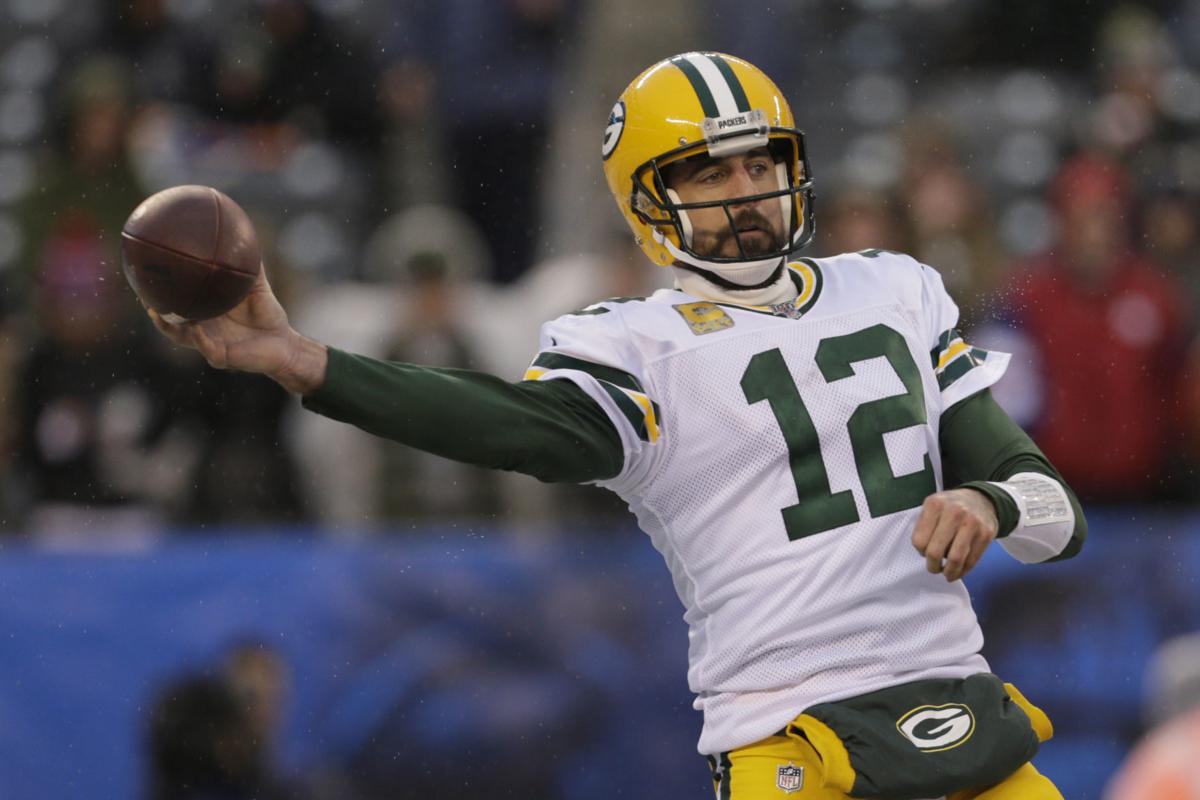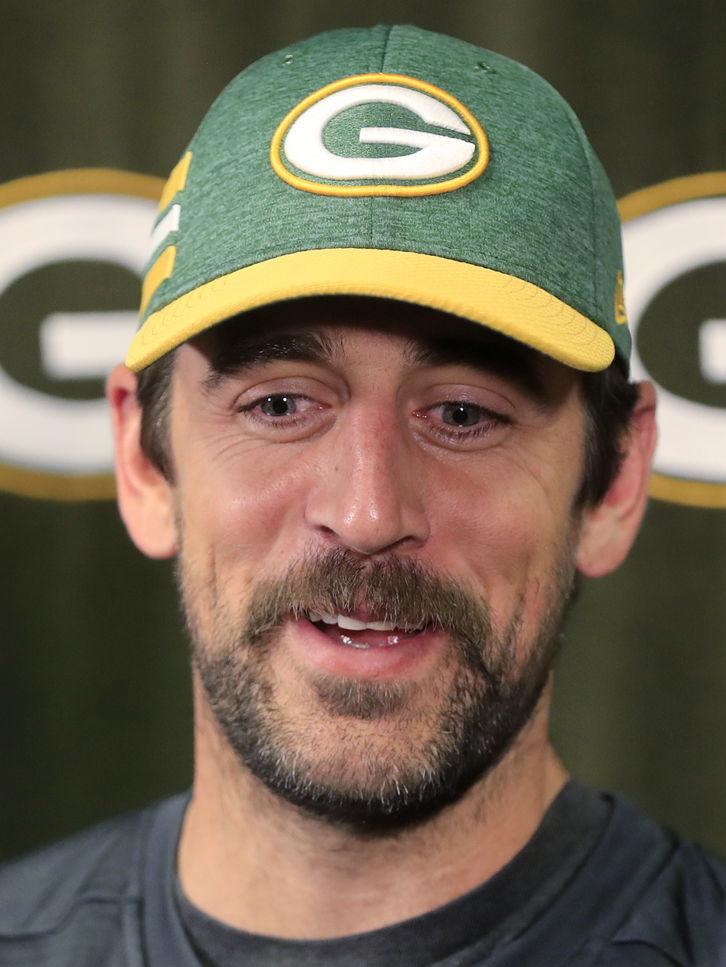 GREEN BAY — Ten days ago, Aaron Rodgers stood at his locker before the usual mob of lights, cameras and questions and smiled.
It looked very much like the knowing smile the Green Bay Packers quarterback had worn back in 2014, when he went on his weekly radio show and told fans to "R-E-L-A-X" after the team's 1-2 start. And it looked a lot like the believe-me-when-I-say-this grin he had on his face back in 2016, when he suggested his team was able to "run the table" in the season's final six weeks after a 4-6 start.
Both times, Rodgers led the Packers to a berth in the NFC Championship Game, with the 2016 team getting within one win of the Super Bowl by virtue of Rodgers' sheer force of will — and one of the greatest quarterbacking stretches in NFL history.
And so, as Rodgers spoke with reporters during his usual Wednesday media gathering in the wake of a demoralizing 37-8 loss to the San Francisco 49ers three days earlier, he tried to be honest while optimistic. He acknowledged what a poor performance it had been — himself included — but still emphasized the good things the team had done during an 8-2 start and the potential it had for a special season, despite the setback.
"The key is for us is, we just have to stay healthy, but also, we have to play a little bit better in all three phases," Rodgers said calmly. "Offensively, I've got to take the lead and get hot in December here, and we've got to start finding ways to get the ball to our guys all the time. And then the defense has to do their part, and special teams has to play well.
"If we do those things, I like the talent of our football team, I like the spirit and chemistry, and I think we've got a chance to be in the mix."
That's when the smile appeared. For Rodgers with this team and at this point in his career, it's not all about him in terms of carrying this team, but it certainly starts with him.
Asked at midweek in advance of Sunday's game against the Washington Redskins at Lambeau Field what it would look like for him to "get hot," Rodgers' answer was telling. He was coming off a game in which he'd thrown four touchdown passes in a 31-13 road victory over the New York Giants, but he cited two plays — a fourth-and-10 conversion to Geronimo Allison on a tough pass across the middle with the pass rush all over him, and a 1-yard touchdown pass to Marcedes Lewis that came off an at-the-line audible and with a defender draped all over him — as examples of what he must do during the final four regular-season games and going into the playoffs.
"It's the efficiency, it's being good with the checks and making some plays," Rodgers replied. "I think there were a few plays through the game (against the Giants) where I kind of had to make something happen — the fourth-and-10 throw, obviously, to G-Mo, and the check to 'Big Dog' on the goal line. I'm going to have to make some of those plays, too, especially in some of these big games we have coming down the stretch."
That's not exactly the same as what he had to do in 2014, when the Packers went 7-1 in their final eight regular-season games with Rodgers completing 172 of 270 passes (63.7%) for 2,289 yards with 19 touchdowns and two interceptions (110.9 passer rating).
And it's certainly not the same as what he did in 2016, when the Packers won six straight games to close the regular season with Rodgers completing 142 of 200 passes (71.0%) for 1,667 yards with 15 touchdowns and no interceptions (121.0 passer rating).
Rather, having just turned 36 on Monday, Rodgers seems instead to be embracing the fresh start first-year coach Matt LaFleur — famous for emphasizing to his players the importance of "going 1-0 every week," of "hitting the reset button" and doing "your 1/11th" to help the team — while acknowledging his own football mortality.
"(I'm) seeing the 18th hole coming up, realizing I can't play forever and the opportunities don't come along all the time," Rodgers admitted, although he later claimed he's still just "making the turn" on the golf course that is his 15-year NFL career.
Interestingly, Rodgers said the feeling he had about this team when it reconvened for its first offseason program under LaFleur in the spring might've given a glimpse into why Rodgers may not feel like he must bear the entire burden of the Packers' playoff hopes on his own shoulders this time around.
During 2018 offseason, Rodgers visited the Dalai Lama in India and also traveled with girlfriend Danica Patrick to New Zealand. This past offseason, he spent most of his time in Southern California, Arizona and Wisconsin, closer to home.
"I could feel the energy of this team early in April and May, and it was a different feel," Rodgers explained. "And that's what spurred me in the summertime to forgo some of the traveling I would usually do and make sure I was dialed in once training camp came around. Because I felt like we could do something special this year."
Rodgers himself has had some special moments this season, but his statistics have been up and down. He comes into this game having completed 266 of 413 passes (64.4%) for 3,065 yards with 22 touchdowns and two interceptions for a 102.4 passer rating.
Those stats aren't as gaudy as his NFL MVP-winning numbers in 2011 (4,643 yards, 45 TDs, six INTs, 122.5 rating) or 2014 (4,381 yards, 38 TDs, five INTs, 112.2 rating), which may be why Redskins linebacker Jon Bostic told The Washington Post this week the Redskins' game plan defensively is to shut down running backs Aaron Jones and Jamaal Williams and force Rodgers to beat them.
"It is (crazy to say that). It really is. Even just saying that," Bostic said. "You always preach going in stopping the run, making a team one-dimensional. But it's like, making a team one-dimensional and putting the ball in the best player's hands? Like, do you really want to do that? But that's what it's going to take to beat them."
Rodgers has had multiple games where he did put up monster numbers and carried the offense — against Philadelphia in Week 4 (34 of 53, 422 yards, two touchdowns, one interception 93.4 rating) and against Oakland in Week 7 (25 of 31, 305 yards, five touchdowns, one rushing touchdown, a maximum passer rating of 158.3).
But LaFleur's hope is a consistent running game with Jones and Williams and an opportunistic defense led by edge rushers Za'Darius and Preston Smith will lessen the load on his quarterback.
"Just to do your absolute best each time you're out on that field. And I think we get that from him each and every week," LaFleur replied when asked what he needs from Rodgers in the final four weeks. "There were so many plays in that game (against the Giants) that you just don't see guys make those types of plays. The one to G-Mo on fourth-and-10, Aaron hung in the pocket and then drifted and was getting hit as he released that ball. You don't see many people that are physically capable of making that play. And there were a number of other plays in that game where you're just like, 'Wow.' You know? But that's the standard that he's set because he's done it so many times.
"(But) I think it's not only the quarterback. It's the other 10 guys around him have to be playing at a high level in order to be able to do some of those types of things. We always talk about 'all 11,' and it truly is going to take everybody to be at their best in order for us to go to where we want to go."
Be the first to know
Get local news delivered to your inbox!