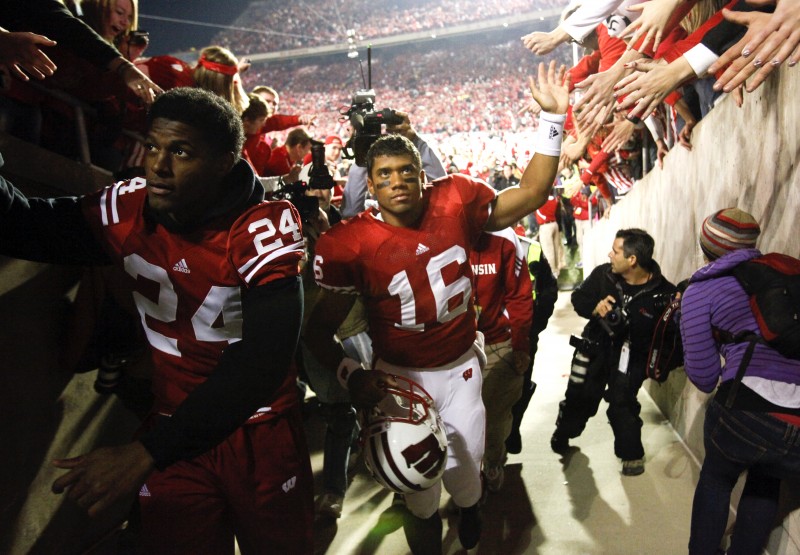 Since the day he was introduced as coach of the University of Wisconsin football team, Bret Bielema has never been afraid to think big.
Whereas his predecessor, current UW athletic director Barry Alvarez, never publicly embraced national championship expectations for his otherwise successful program, Bielema made it known early and often that his goals for the Badgers exceeded the Big Ten Conference title and the Rose Bowl.
For that reason, it came as no great surprise that Bielema went merrily along with the unprecedented (for UW, anyway) national hype leading up to the Badgers' historic Big Ten opener against conference newbie Nebraska Saturday night at energized Camp Randall Stadium.
This wasn't UW's first appearance on a national stage by any means, but not even last year's upset of No. 1-ranked Ohio State drew a spotlight as bright as the one that illuminated the game matching the undefeated division favorites in the now-partitioned Big Ten.
"We're here," Bielema said during the week, "and we don't plan on leaving."
For the time being, they won't have to.
With flashbulbs popping at the kickoff like it was the start of a Super Bowl and thousands of black-shirted Nebraska infiltrators sitting in the seats, the seventh-ranked Badgers broadcast a statement from coast to coast by following the lead of quarterback Russell Wilson and dominating the eighth-ranked Cornhuskers for a 48-17 victory.
By the time UW got through with Nebraska, it had put on a more impressive show than even Bielema could have hoped for.
And now, like never before, the national stage belongs to the Badgers. Nothing seems out of their reach anymore.
"I just knew there was a lot of hype going into this game," Bielema said. "That's why I challenged our players to embrace it all week because I knew if we went out and played well and did what we did, we would get a lot more attention."
Attention shouldn't be a problem for UW from now on. Even before the game, the fallout, win or lose, figured to have more impact on the Badgers' national profile than on their future in the Big Ten race.
If UW is going to make a Bowl Championship Series game or - go ahead and say it, Badgers fans - the national championship game, it must go undefeated and it must score style points when the college football world is watching.
Saturday, in just such a game, the Badgers won in the same spectacular fashion they had shown while powering through a flimsy four-game non-conference schedule that looked better on paper than it did on the field.
UW turned quarterback Russell Wilson loose on a Nebraska defense that has three preseason All-Americans and, for the most part, the offense was unstoppable.
The Badgers defense shut down the Cornhuskers' powerful running attack after the first quarter and forced Taylor Martinez to throw, a development that led directly to three game-turning interceptions.
In retrospect, the visiting Cornhuskers fans should have stuck with their traditional red clothing because it would have matched their faces after UW treated Nebraska like it was UNLV or South Dakota.
"We've been doing a heck of a job as a ballclub pulling out these wins and doing them in a fashion that's known as sexy in Wisconsin," safety Aaron Henry said. "Guys are just playing great football, all in all."
Wilson, the senior transfer, had been creeping into the Heisman Trophy discussion, but his candidacy took a quantum leap Saturday. The only knock on him was that he hadn't done it against good or even average defenses. Well, Wilson did it against Nebraska's fabled Blackshirts, throwing for 255 yards and two touchdowns while running for another score.
The biggest reason UW dominated the game is that it exposed Nebraska's one-dimensional offense while revealing a rare three-dimensional offense itself.
Three-dimensional? That's right, hard running by Montee Ball, pinpoint passing by Wilson and -- this is new -- Wilson's ability make plays with his feet even against a fast defense like Nebraska's. As he has been all season, Wilson was a third-down machine against the Cornhuskers.
As for the consequences of UW's victory in the Big Ten race, the split into divisions largely rendered this outcome meaningless. The second tiebreaker is now the record within the division, which means that if the Badgers and Cornhuskers take care of business in their respective divisions, they could well meet again in the first Big Ten championship game.
The Leaders Division is almost a quarterback-free zone this season and UW has the quarterback, and the team, to win its title.
But the Badgers want so much more than that this season and now they've put themselves in position to get it.