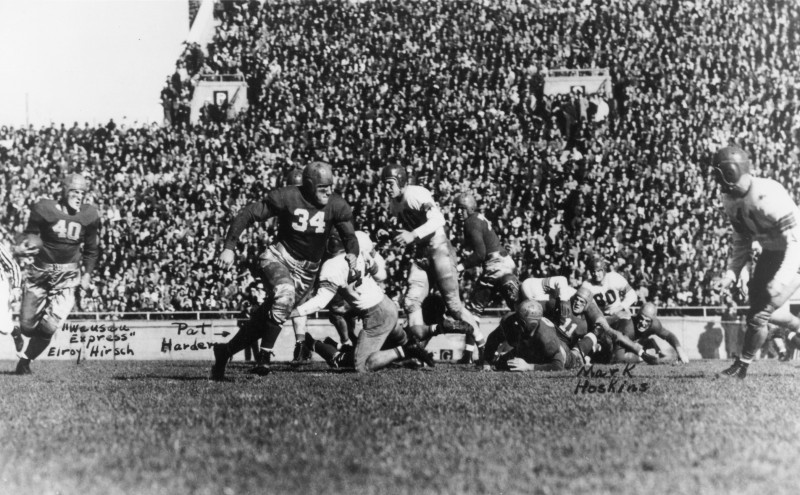 First impressions, second thoughts and the third degree:
If Alabama can sift through its musty archives and claim 15 national titles, then what should we do about the University of Wisconsin and its moment atop the college football mountain?
According to the NCAA record book, UW was identified as the national champion in 1942 by the Helms Foundation, one of 15 sundry outlets that weighed in on the matter way back in the day.
The Badgers, featuring three future College Football Hall of Fame inductees in Pat Harder, Elroy Hirsch and Dave Schreiner, went 8-1-1 that season. They tied Notre Dame, which finished sixth in the final Associated Press poll, and defeated Ohio State, which finished ranked No. 1.
But UW stakes no claim to that national championship.
Ohio State does, though. The Buckeyes wound up going 9-1 and list '42 as one of their seven national titles. Georgia does, too. The Bulldogs went 11-1 overall and claim '42 as one of their two national crowns.
While the Badgers had that one championship endorsement — the Helms Foundation was involved in the anointment process from 1941 to '82 — the Bulldogs had nine (Berryman, Billingsley, DeVold, Houlgate, Litkenhous, Poling, Sagarin, ELO-Chess and Williamson) and Ohio State had five (AP, Boand, Dunkel, Football Research, National Championship Foundation).
It's probably best UW doesn't try to muscle in on that national championship territory seven decades after the fact — the week after the Badgers knocked off then-No. 1 Ohio State they went on the road and dropped a 6-0 decision at second-division finisher Iowa — but it sure seems tempting given the criteria used by Alabamans.
Among the national titles claimed by the Crimson Tide over the years is from 1941 when they finished 9-2, third in the Southeastern Conference and ranked 20th in the final AP poll. The only rating to say they were the national champions was Houlgate, a math-based formula utilized from 1927 to '58. Unbeaten Big Ten Conference champion Minnesota was the overwhelming pick of the other outlets, but researchers for Alabama maintain Houlgate correctly picked the team that was playing the best at the end of the season.
Since Alabama followers can keep a straight face while taking ownership of that national title, perhaps Badgers fans should lobby for a banner, a trophy and some commemorative gear to celebrate a 70-year-old moment many didn't know about until now.
No tiebreaker: The NHL lockout might be over, but any attempt to define the winners and losers is, for now, an empty exercise.
The league got its precious 10-year collective bargaining agreement and coaxed the players to take a smaller cut of the revenue pie. The players, meanwhile, got an upgraded pension plan and concessions regarding individual contract value.
But the NHL brand took an immense financial and PR hit during the 113-day hostage crisis. Roughly $1 billion was lost because 510 of 1,230 regular-season games were canceled. Corporate sponsors are peeved and many fans have been alienated to the point of desertion.
The condensed season, which begins Jan. 19, and Stanley Cup playoffs may produce exceptional theater, but there will be fewer eyes watching and those that left may never return.
Emotion on his sleeve: Packers quarterback Aaron Rodgers is one of the most enlightening interview subjects in any sport. His weekly radio show is must-hear — former State Journal reporter Jason Wilde is the able host and conversational guide — especially when Rodgers launches into fascinating detail about various play-calls and the minutia woven into each snap.
Insight from Rodgers should be even more compelling this week as Green Bay prepares to face San Francisco in the NFC playoffs. It will be the first time he'll play at Candlestick Park, a place he dreamed of as a kid growing up a 49ers fan in Northern California. It will be the first time in his NFL career he'll go home and play before family and friends.
There will be a lot of hot-button topics for a guy who famously nurtures professional grudges. Rodgers made no secret of his desire to be drafted by favorite club, only to have San Francisco opt for Alex Smith. Curiously, Rodgers has been an outspoken supporter of Smith this season after Smith lost his starting job due to a concussion.
Remember what Rodgers said last February when he won the Most Valuable Player award? He rattled off the names of greats Joe Montana, Jerry Rice and Steve Young during his acceptance speech and said he was a huge 49ers fan.
"Thanks for drafting me," he said.
The only thing more prominent than the sarcasm is the sense of intent Rodgers will carry into the game Saturday night.
---