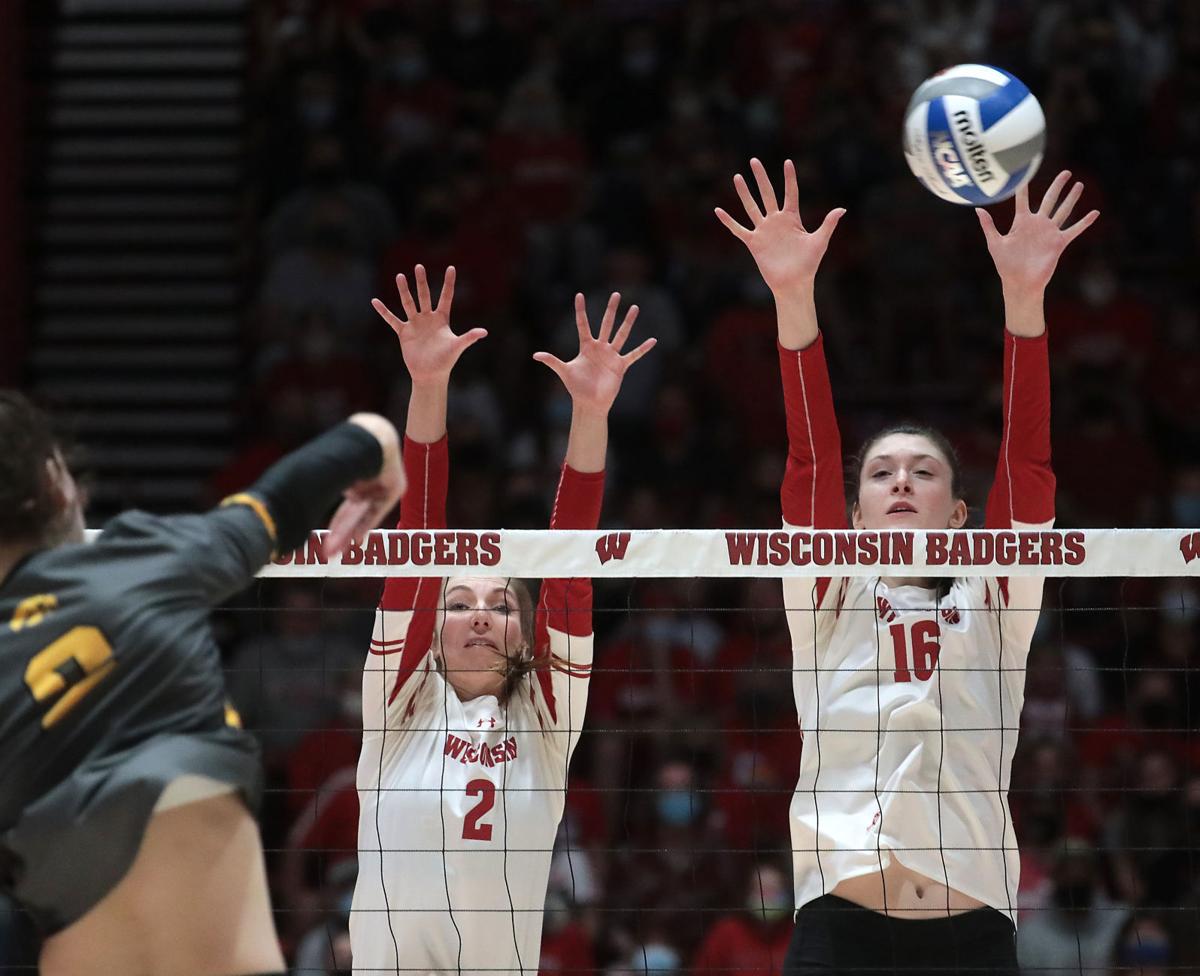 They are the super seniors.
That's the term coined for the student-athletes who took advantage of the COVID-19 bonus year to return to play a fifth season in their sport.
It's also the perfect description of the University of Wisconsin volleyball team's class of seniors and grad students that will be honored following Saturday night's match against Indiana.
It is a group that has been at the center of the greatest run of success in the program's history — back-to-back Big Ten Conference titles and NCAA final four appearances. And they are in position to add to that resume, with a third conference crown in reach with a victory over Nebraska on Friday.
That group is headlined by middle blocker Dana Rettke and setter Sydney Hilley, two members of the program's Mount Rushmore. They have a combined six first-team All-American honors, which almost certainly will grow to eight in a few weeks.
But it doesn't end there, with Grace Loberg, the other five-year member of the group and a two-time honorable mention All-American; Lauren Barnes, who took her game to a new level in joining the list of superior liberos and earning a second-team All-American honor last season; and Giorgia Civita, like Barnes, a transfer who provided backcourt stability and inspired the team with her physical toughness in the face of her fourth torn ACL this season.
They will be joined by Julia Wohlert, a fourth-year front-row reserve, who will graduate in May and plans to grad transfer for her fifth season.
"This group will be remembered as not just one of the best volleyball classes in school history, but one of the best classes in any sport in school history," coach Kelly Sheffield said. "The mark that they've made, the number of All-American awards they've gotten, the individual accomplishments, the school records, the final four appearances, the Big Ten championships, you've got to put that class up there with anybody.
"I know Badgers fans don't take that for granted. It's a special group."
With two matches remaining, the Badgers have compiled a 113-28 overall record (.801 winning percentage) and a 72-19 Big Ten mark (.791) since the arrival of the 2017 recruiting class.
It's a group that bore a heavy load from the start, ranked as the No. 2 recruiting class in the nation by both PrepVolleyball.com and Volleyball Magazine and No. 1 by Flo Volleyball. The original class also included Danielle Hart, who will return for her bonus season next year after suffering a season-ending knee injury; Mariah Whalen, who switched to beach volleyball after repeated knee injuries and transferred to Cal Poly-San Luis Obispo; Riley Bell, a walk-on who medically retired after three seasons and Nicole Shanahan, another walk-on who grad-transferred to Tennessee for this season.
With the end in sight, Rettke finds herself reflecting on the ride that began with a seventh-place tie in the Big Ten and a Sweet 16 loss at Stanford. The next season saw a tie for third place and advancement to the Elite Eight. The past two seasons have seen conference titles and a national runner-up in 2019.
"I just think the senior class has always been the one to set the tone, from freshman year to senior year," Rettke said. "I think we've constantly put one foot in front of the other and saw the trajectory of where we wanted to go. And we're going to do everything in our power to make sure we stay on that trajectory.
"We've been able to do it together. It's just crazy to think how much we've grown together and how much better we've gotten. And how we've set the tone for when we leave.
"I think we've all appreciated that it's not been easy. There's not a single part of it that's been easy. We worked as a team, worked on ourselves individually, constantly trying to get better in whatever aspect we needed to as a class."
Rettke, who most assuredly will become the first five-time first-team All-American in history, will leave as the program's leader in hitting percentage (currently .425, far surpassing the previous mark of .375 held by Haleigh Nelson) and No. 2 in kills (1,709) behind Sherisa Livingston.
Hilley, who as a freshman in high school embraced the prospect of following the incomparable Lauren Carlini as setter, has more than lived up to that challenge by providing elite level setting and leadership.
"You look at Sydney, who's been a four-year captain," Sheffield said. "I mean who's a four-year captain? And she got enough votes her freshman year to be a captain. Could've been a five-year captain. She came in here and has been a leader from Day 1."
Hilley said her group's focus always has been to leave the program better than when she arrived.
"We're trying to make sure that our culture stays even after we're gone and the people that are going to be taking over, we're trying to mentor them and teach them everything we can before we're gone," Hilley said. "I think a lot of our class has been trying to find the joy every single day and appreciate every opportunity that you have to play.
"A lot of us didn't think we would have five years to do this, so it's hard to be sad when we already got a whole extra year to be here. It's definitely going to be weird when I'm not here, but I'm just grateful that I got another shot at accomplishing our goals."
Of course, there's that one goal that has yet to be achieved — a national championship. And while that never will be the measuring stick for this class, it does provide plenty of motivation.
"We want to win a national championship and that still hasn't happened yet," Hilley said. "That's something when we committed here, all of our class, we wanted to make history and do something that this program has never done before. That's something that's really motivating."
With great success comes greater and greater expectations. That's something this group relishes, said Loberg, a four-year starter at outside hitter who ranks 19th on the all-time kills list with 1,111.
"I think that's a good thing," Loberg said. "We've put ourselves in that position to have people expect greatness from us."
At the same time that they're trying to add to their championship resume, the veteran players also embrace their role as mentors for their younger teammates.
"They've set a standard," sophomore Jade Demps said. "They've shown how this program should be run, how this program runs to keep it at the place where we're at. Just seeing their chemistry in the gym day in and day out, they're all just so connected. On the court and off the court they just have this great connection, and I love to see that. That's 100% why they're so good and they've had this success."
That success is not just measured by the win-loss record. A key element of the program's culture is the personal growth of the individuals.
Loberg credits her experience with the Badgers as making her a much more confident person.
"I walk into a room and I know I can own that room," she said. "I know how to speak confidently, I know how to stand tall. I think the main thing I'm going to get from this experience is having lifelong friends and role models and a lot of memories."
Rettke, who passed up prospective lucrative professional opportunities to return to UW for one last season, said the program has made as big of an impact on her as she has on it.
It's all a matter of culture.
"You live your life to a standard here in this program, to make sure that everyone follows you and you leave the program better than what you walked into it as," Rettke said. "I know the younger kids are watching us, and I want to be able to set a great example for them. And I know everyone else in my class also wants to do the same because they want to see Wisconsin succeed beyond our years here.
"This is part of who we are. The 'Motion W' means so much to me that when I see people that went to other schools, I'm like, what is wrong with you? It's one of those things where you dedicate so much time, so much energy and so much passion and commitment to this program that you just want it to take off and win national championship after national championship.
"That's honestly the goal here. It comes down to recruiting. You want to make sure you recruit the right kids to the program and you want to make sure that when they are here you set the standard for them because it is a culture. We want to maintain this culture of excellence. We want to maintain this culture of greatness."
Maintaining or exceeding what this class has accomplished will be quite a challenge.
"It's a special group and they've all done it the right way," Sheffield said. "You look at what they're doing in the classroom, what they do in the community, their character. These guys are the epitome of what a student-athlete should be. And when you put consistency over time on top of it, man, it's an unbelievable group."