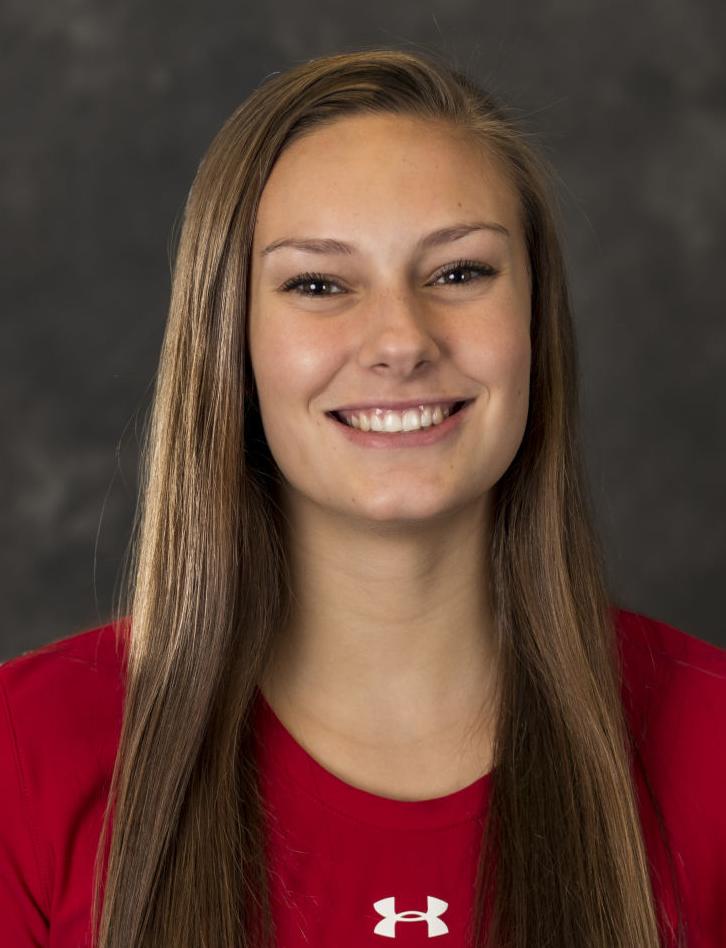 Izzy Ashburn clearly isn't the type to let conventional wisdom dictate her choices.
That's true whether you're talking her favorite food, French toast — which she douses with a bizarre concoction of maple syrup and ketchup — or whether it's a more consequential matter like choosing which college volleyball opportunity to accept.
When it came to making that decision, Ashburn didn't let the prospect of playing time determine her direction. If she had, she wouldn't have picked the University of Wisconsin.
When Ashburn committed to UW at the end of her sophomore year at Champlin Park High School in Brooklyn Park, Minnesota, she knew the Badgers would have an All-American (Sydney Hilley) playing her position, setter, for her first two years. And she also knew they already had a commitment from a highly regarded setter (M.J. Hammill) coming in the next recruiting class.
Early returns suggest she made a good call. Ashburn, a 5-foot-11 freshman, has stepped right into a key role with the No. 4 Badgers as a serving specialist and backcourt defender. She was dynamic in both roles in opening weekend sweeps of Florida State and North Carolina, impacting both matches with her serve and ranking second on the team in digs in each match.
Ashburn set the tone for the North Carolina match with an eight-point service run that included her first two collegiate aces and she closed it out with a four-point run that included her fourth ace of the night.
While it is her impactful serve that helped Ashburn force her way into the lineup, coach Kelly Sheffield was especially pleased with her defensive play.
"I'm not used to giving setters compliments for their defense, especially early on in their career," Sheffield said. "She has a lot of pride in that part of her game and she's fighting to keep balls off the ground.
"Izzy doesn't flinch. She wants to be out there. As I've watched her over the years, she doesn't shy away from big moments."
Nor is she afraid to have to compete for playing time, wherever it happens to be on the court.
"I came in with the mindset of, I'm going to do the best I can for this team," Ashburn said. "And if just working hard in practice and making the people around me better is what I can do to help this team achieve what we want to achieve, then that's what I'm going to do.
"I was happy to get to play (right away), but whatever this team needs to get to where we want to get to, that's what I'm in for."
When Ashburn committed to UW she was aware her path to playing time, especially at setter, had some obstacles. Of course, she knew all about Hilley, having grown up in the same area and playing on the same high school and club teams. So she understood the setter spot was spoken for, at least her first two seasons, and with Hammill coming onboard there were no guarantees the next couple years.
"All that was definitely going through my mind," Ashburn said. "But I don't think Sydney was ever a negative as far as coming here. People always ask me that: 'Why would you want to go play behind the same person?' But we have such a good relationship that that was never in my mind. It was never like I can't go there because Sydney is also there and also is a setter.
"And I definitely knew that there was a setter coming in the year after me, but I don't think that changes much. We're all here to compete and do whatever the team needs to get better and win that championship we're all looking forward to."
Always a good server in high school and club, Ashburn was encouraged by to Sheffield to really focus on that skill in preparing for the season. That work has paid off.
"Her serve is awfully good," Sheffield said. "Statistically, it's been one of our better serves. She goes back there with confidence and puts some pace on it and gets that ball to dance. It can eat you up in a hurry as a passer."
Defense, however, is another matter, and Ashburn has been working with assistant coach Gary White to address some of her fundamental shortcomings.
"They always say setters don't play defense," Ashburn said. "I came in with a really weird posture and just not the best defense and Gary has been working with me a lot. I think defense is a lot of grit and I'm feeling a lot better about it now, a lot more confident."
Ashburn also knows that if she ever needs a sounding board for advice, she can always go to Hilley. The families have always been close — Syd's parents, Mike and Christy, teach at the same middle school as Izzy's dad, Dan — and Ashburn has played on the same teams as Syd's younger sister Sami.
"Syd is my big sister on this team and she always was in high school, too," Ashburn said. "I like talking through things with Syd, just getting a very rational solution to things. It's definitely what I need her here for."
Their friendship even survives some dubious taste in French toast condiments.
"She goes along with it," Ashburn said. "She's always known about it and doesn't try to change me. Other people have, though."
Rettke, Hilley honored
Junior Dana Rettke was named Big Ten Player of the Week and Hilley was chosen Setter of the Week, the conference announced.
Rettke averaged 5.83 kills per set and hit .534 in the sweeps of Florida State and North Carolina. It is her fifth career Player of the Week honor.
Hilley averaged 13 assists per set in the two matches. She had six kills against the Tar Heels and a career-high six blocks against the Seminoles in earning her sixth career setter honor.