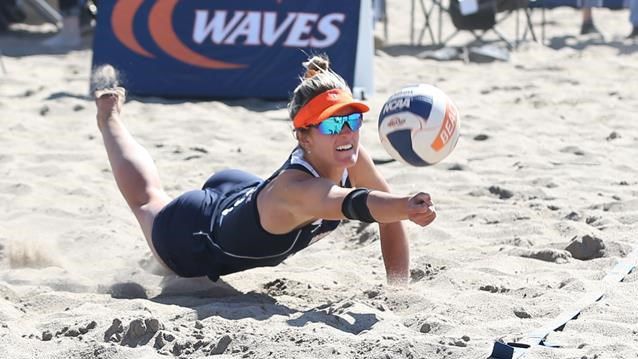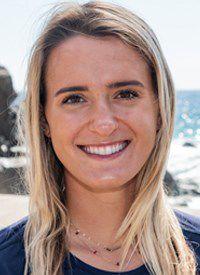 The path from indoor volleyball to beach volleyball is a fairly well traveled one. In recent years dozens of indoor players have taken the graduate transfer route to finishing off their collegiate careers with a year on the beach.
Deahna Kraft is taking the opposite road.
"I want to be a pioneer for more beach volleyball players to go play court volleyball," said Kraft.
Kraft figures to be among the first handful of beach players to move indoors when she joins the University of Wisconsin volleyball team next season after finishing her career with the Pepperdine beach team in the spring.
Kraft officially set that course for herself Sunday when she committed to coach Kelly Sheffield at the end of her weekend visit to UW. Kraft likely will be an outside hitter or defensive specialist for the Badgers.
"I know a couple people who have done it, but there's less than four or five people who have done it," Kraft said. "Indoor has always been my original passion and it's something I've wanted to explore. So I thought why not? Beach volleyball is always going to be there and waiting for me to come back. Indoor isn't always going to be waiting for me so I decided to take the initiative and take the chance while I could."
Kraft, a 6-foot six-rotation middle blocker and right side hitter during her prep and club career in Seattle, had been recruited some by UW back then before shifting her focus to beach. So it was only natural when she decided to look into a return to the court that she would contact Sheffield and gauge his interest.
That led to the weekend visit and, to her own surprise, a quick commitment. Part of the equation was academic. Kraft will graduate with a sports administration degree and will pursue a master's degree in educational leadership and policy analysis.
Another big factor was the level of communication she observed between the coaches, training staff and players. But what really sealed the deal was the time she spent with the players.
"Something hit me," she said. "I spent the night with the girls and I got along with them really well. I just liked the girls and the culture of the program. You could tell that they really did care about each other and they really care about who is coming into their program.
"I was like, you know, this is a pretty special place and I feel like I should commit and tell Kelly in person. I just went with my gut."
That was pretty much the same approach she took in switching to beach for her undergrad career. Strictly and indoor player in her youth, she was encouraged by friends to give beach a try and attended a camp at Pepperdine "just for fun."
You have free articles remaining.
Soon she was being recruited by the Waves, quickly emerging as a power in the fast-growing sport.
"It changed the course of what I wanted to do," Kraft said. "I loved it. It was a really good decision and I never regretted it."
With a season to go, Kraft ranks 11th in Pepperdine beach history with 64 career wins with a 64-26 record (.711), helping the Waves to the NCAA tournament each season. She's been a first-team All-West Coast Conference selection the past two seasons, earning second-team All-American honors both years.
While the two versions of the sport are vastly different, Kraft figures the skills she's developed on the beach will make her a better player when she returns to the court.
"In beach volleyball, you have to have a high IQ and a good court awareness because you're placing shots and you have to look at the whole court before you swing," she said. "Ball control is tougher because you're playing outside with the wind and the sand.
"I think I'll be able to be a lot more explosive and have a lot more ball control, which I look forward to. The pace of the game is going to be faster. It's going to be big girls hitting hard fastballs, fast sets and that's something I'm going to have to get used to.
"But I've always been up for challenges. I love challenges. That's something we pride ourselves here at Pepperdine. Let's approach challenges positively. Let's love the challenge. That's the culture I grew up with here and that's the culture I want to be a part of. That's just who I am."
Pepperdine coach Marcio Sicoli could not be reached for comment, but Kraft's club coach, Dave Weitl of the Washington Volleyball Academy, is confident she will have a positive impact on the Badgers.
"Deahna Kraft is one of the most focused and motivated players I've ever had the privilege to coach," Weitl said. "Deahna has courage and passion and loves to compete. She definitely hates losing a lot more than she enjoys winning. I think all great competitors share that trait.
"I think she found a great culture for her personality at Wisconsin to finish her college career in. She will help their effort regardless of her role. I can't wait to see her on the hard court again."
Although she grew up in Seattle, Kraft has strong ties to Wisconsin. Her mother grew up with six brothers on a dairy farm near Sturgeon Bay and each summer Deahna would spend a week or two on the farm. While she is eager to perform in front of that large contingent of aunts, uncles and cousins, Kraft has some unfinished business to take care of first at Pepperdine.
"I want to win a national championship," she said. "My freshman year we played in the national championship and we lost by two points so if we can win a national championship before I leave that would be great."
And if that happens, she just might be in position to win two national titles in the same year.
"That would be great," she said.