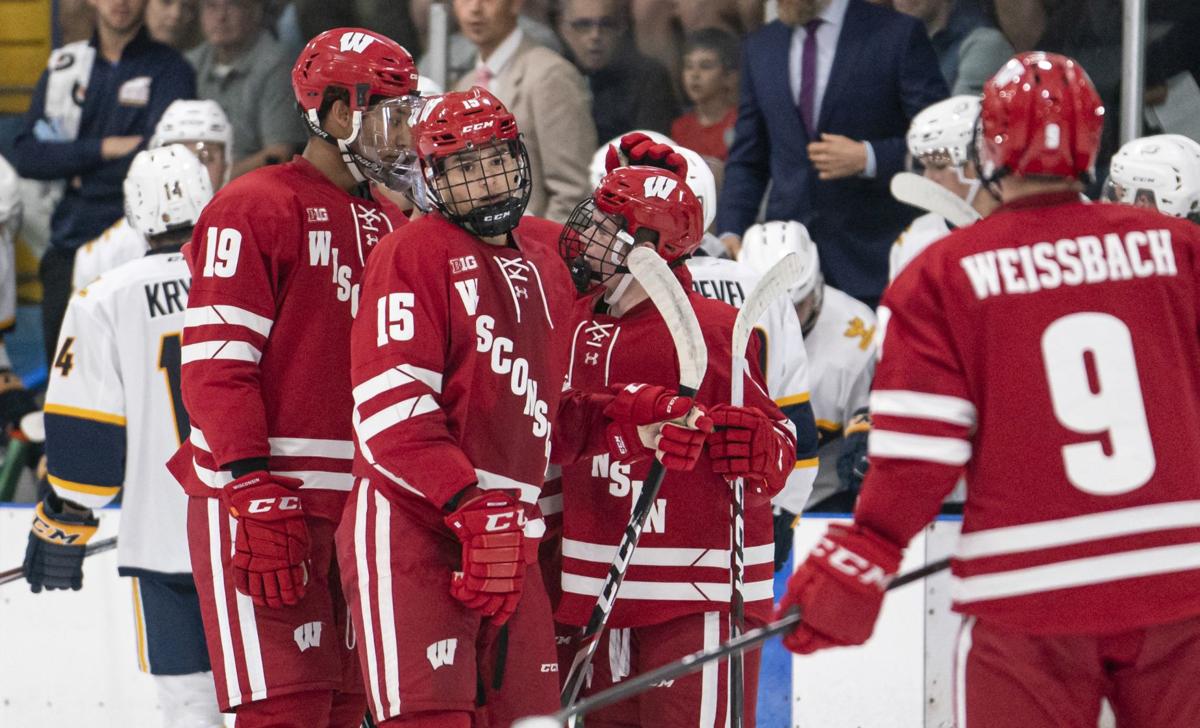 In assembling the University of Wisconsin men's hockey team's power play, associate head coach Mark Strobel has employed a straightforward strategy.
"I had a philosophy of putting my five best players, in my mind, out there on that first unit," he said.
Over the course of a season, things rarely turn out to be that simple. Injuries change the available personnel. Scoring droughts and a desire for a different feel can prompt alterations.
Wisconsin State Journal reporter Todd Milewski takes a position-by-position look at the 2019-20 University of Wisconsin men's hockey roster. 
In the lead-up to this season, though, Strobel and the Badgers have been consistent in the five players that will get most of the power-play time.
And there are signs that the Badgers can expect a lot out of forwards Cole Caufield, Alex Turcotte and Linus Weissbach and defensemen K'Andre Miller and Wyatt Kalynuk if that group stays together.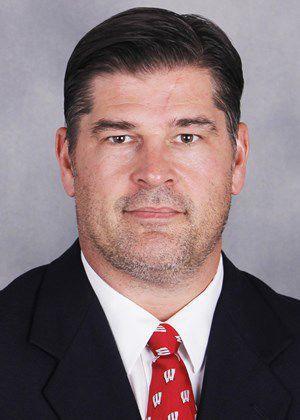 "When you have that much talent, I think you've got to find spots for them," Strobel said. "And organically, holistically, they're going to move to the spaces where they belong."
The top unit was responsible for four of the six power-play goals the Badgers scored in two exhibition games at British Columbia over Labor Day weekend, and a slightly remodeled group converted three times in Sunday's intrasquad game.
Ty Pelton-Byce took Miller's spot while the latter was suspended for a violation of team rules. The length of the suspension hasn't been disclosed so it's not certain whether Miller will play Friday when No. 16 UW visits No. 10 Boston College in the season opener.
The days of the big-name schools being locks to get into the NCAA men's hockey tournament are long gone.
Power-play success has waned over the past two seasons as the Badgers fell from eighth nationally (21.5%) in 2016-17 to a tie for 30th (18.8%) in 2017-18 to 37th (16.7%) last season.
You have free articles remaining.
Two members of the group that ended last season as the top unit, juniors Sean Dhooghe and Tarek Baker, have moved to the second group to make way for freshmen Turcotte and Caufield.
"The power play is really the difference in those one-goal games," Dhooghe said. "With the strides that we've made on the power play so far just this summer, I think it can really give us an edge."
Freshman Dylan Holloway has joined Dhooghe, Baker, Pelton-Byce and either Ty Emberson or Josh Ess most often in practice with the second unit. Max Zimmer, Ryder Donovan and Roman Ahcan also have rotated into that group.
The first unit, made up of three first-round NHL draft picks (Turcotte, Caufield and Miller) and two seventh-rounders (Weissbach and Kalynuk), has the talent to do damage when given the chance. Caufield often sets up shop on the left side for a cross-ice pass that catches the goaltender in a left-to-right slide; he scored on that play Sunday and twice in British Columbia.
"The one-timer, I think it's kind of a 50-50 chance for a goalie," Badgers goalie Daniel Lebedeff said. "And especially when he catches the puck and has a little more time, he can easily put it into places where a goalie can't reach. It's going to be a dangerous play for the year."
Kalynuk isn't afraid to shoot from near the blue line in the 1-3-1 formation. He led the team with 102 power-play shot attempts last season — more than double Miller's second-place 50 — and 43 on goal.
The arrival of a third consecutive deep and talented recruiting class — this one even better than the first two — has ramped up expectations that this could be the year the Badgers return to college hockey's upper echelon.
Miller largely played on the perimeter of the power play last season but has been stationed between the circles as the bumper that supports surrounding players and offers a big body in the middle for screens and redirections.
"I think you're going to see a lot more movement on this power play," Strobel said. "Before, a couple guys got too sedentary and stayed there. Power plays don't work very well that way unless the penalty killers are just not that intelligent. But movement, I think, is going to be the biggest key. And then using that bumper, that middle space, as a guy that can pull the killers out of the play."
5 in draft rankings
Led by Holloway, five UW players or recruits were included in the first NHL Central Scouting rankings for the 2020 draft.
Holloway was one of 26 players assigned an A grade that translates to being a first-round candidate. Last season's Canadian junior player of the year has been projected to be selected in the upper to middle part of the first round.
The other four have made oral commitments to UW for future seasons. Forward Zach Urdahl got a B grade that equates to the second or third round. Forward Sam Stange and defensemen Daniel Laatsch and Casey Roepke earned C grades that mean the player is projected for the fourth, fifth or sixth rounds of the seven-round draft.
The 2020 NHL draft is June 26-27 in Montreal.