MILWAUKEE — What's beautiful to one hockey coach is blah to another.
The quick nature of the game on a small rink is appealing to University of Wisconsin men's hockey coach Tony Granato. The lack of possession caused by bodies and sticks coming together more easily can be ugly, UMass coach Greg Carvel said.
College hockey is played on rinks across the U.S. that vary in width from the NHL standard of 85 feet to the Olympic measurement of 100 feet. There has been a tug-of-war over the last 30 years on which extreme produces a better standard of play.
That spectrum was in play with the four teams at the Holiday Face-Off on Wednesday and Thursday. UW and UMass have home rinks closer to the large end; Clarkson and Lake Superior State are on the small side.
Clarkson won the championship on Fiserv Forum's 85-foot rink Thursday night with a 3-1 victory against the Badgers but Granato was unequivocal about the experience of playing on the small sheet during the tournament.
"It's great hockey," he said.
Don't expect any changes to what's in place at the Kohl Center soon. There has been interest by the Badgers in shrinking the rink width going back to the Mike Eaves coaching era that ended in 2016 but it's a costly change.
UW senior associate athletic director Jason King said cost estimates of changing the Kohl Center configuration for a smaller ice sheet are between $2.5 million and $3 million. A reworking has been discussed, King said, but there are no specific plans.
Hockey can seem leisurely at times when there's extra width to the rink, especially compared to the hitting and frenetic pace that comes more with the NHL size.
UMass, which won the 2021 NCAA championship, has a 95-foot home rink. Carvel said it's a bigger adjustment for opposing teams to play there than it is for the Minutemen and others who have large home ice surfaces to play small.
And he wasn't shy about saying the game can be unattractive on small sheets when the puck is bouncing around uncontrolled.
"You're hoping the puck goes in off your ankle," Carvel said. "Whereas in our rink you can be creative. You can hold onto a puck and I think it's better for development."
Clarkson tied and won low-scoring games against the Badgers on the bigger ice at the Kohl Center in November 2021 before getting another tight victory Thursday. The Golden Knights used to play ECAC Hockey championship games on the Olympic rink in Lake Placid, New York, before a recent renovation there put in an adjustable-width system.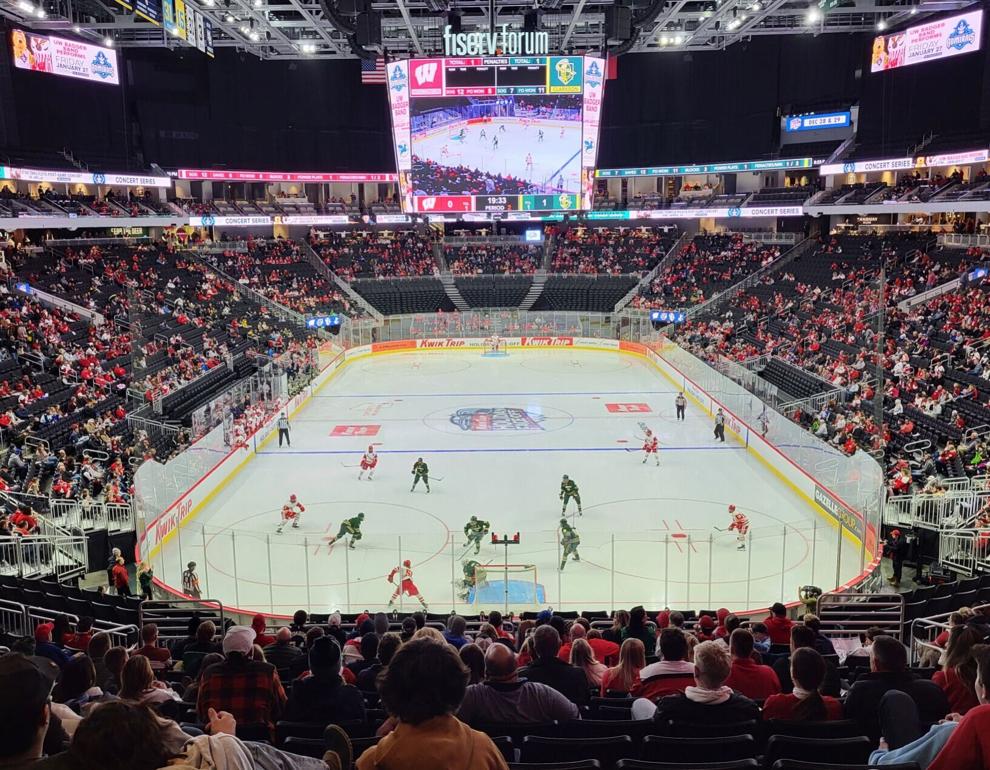 Coach Casey Jones said it's harder for players to get to the quality scoring areas on bigger rinks.
"For us to go to big ice, it's a lot of empty space outside," he said. "I think you can defend easier because you can get inside the dots and people don't get to the net as much. You can settle the game down."
Lake Superior State coach Damon Whitten said there's less urgency on the big sheet.
"You slow everything down, and it really hurts you that way," he said.
Being a big-ice team can hurt in other ways, too.
"Everybody you recruit wants to play in the National Hockey League, and obviously there's no Olympic sheets in the National Hockey League," Whitten said. "So my gut would be to continue to attract elite players, you have to play on a sheet that mirrors the highest level."
UMass and UW can counter with Hobey Baker Award recruiting efforts to teams that play on larger rinks: defenseman Cale Makar for the Minutemen in 2019 and forward Cole Caufield for the Badgers in 2021.
Decisions have to be made faster on small ice and there's a greater risk for costly turnovers. On special teams, Badgers forward Mathieu De St. Phalle said there's less time and space to work the puck around.
The NHL rink is still his preference.
"I think we're a smaller rink kind of team," De St. Phalle said. "But at the same time we've had some great games in the Kohl Center when we're allowed to play our game and we get to our game early and use our speed. But, yeah, I personally prefer small ice because it's not as much up and down and easier on the lungs."
A trend at the time
UW's history with wider ice goes back to 1994 and what then was a trend in college hockey. A renovation at the Dane County Coliseum brought a new locker room and training facility and expanded the ice on the game and practice rinks from 85 feet to 97, the widest that the Coliseum could accommodate without more intensive reconstruction.
Newer rinks at that point at Minnesota, St. Cloud State and Alaska Anchorage had been built at the full, 100-foot Olympic width. Colorado College had a 100-foot rink when it opened a new arena three seasons later. When Minnesota State joined the Western Collegiate Hockey Association in 1998, half of the 10-team league played on rinks 97 feet or wider.
"It's just a more interesting game on bigger ice," then-Badgers coach Jeff Sauer said before the 1994-95 home opener. "Guys will hang on to the puck longer and there will be a lot more passing."
When UW officials decided to buy out the lease with Dane County for the Badgers to play at the Kohl Center starting in 1998, they constructed the new building's ice sheet at 97 feet to match the practice rink connected to the Bob Johnson Hockey Facility at the Coliseum.
The years since, however, have produced a move away from big ice around college hockey and toward the quicker game of rinks at or close to the 85-foot NHL standard. Minnesota State moved its boards in to 90 feet. Colorado College opened an on-campus arena at 85 feet. Alaska Anchorage, plagued by financial troubles that shut down the hockey program for a year, departed Sullivan Arena for an on-campus facility with an 85-foot rink.
Minnesota's iconic 3M Arena at Mariucci has plans to tear up its floor as soon as this season is over and add seats along the sides of what will be an 89-foot rink.
The era of big ice in college hockey is over. The Badgers and UMass are two of the six left playing at 95 feet wide or more, a group that will drop to five with Minnesota's departure.
LaBahn Arena opened adjacent to the Kohl Center in 2012 with a 91-foot rink for Badgers women's hockey games and as a practice rink for both men's and women's teams. That hybrid size appeals to UW women's coach Mark Johnson, who said a rink wider than 85 feet would be better for pro games.
"You give the skill players and the better players that the fans really want to watch an opportunity to have a little more space," he said. "The tough thing about our game, the smaller the ice sheet, the less space and time for players. And certainly over the last 15 or 20 years on the men's side and even on the women's side, players are getting bigger, they're getting stronger and, importantly, they're getting a lot faster. That space that maybe you once had, you don't have right now."
More ice, more possession
UMass' Mullins Center opened in 1993, during the big-ice boom, but when Carvel became coach in 2016 he had no experience coaching on the larger sheet. It didn't take him long to enjoy the opportunities it opens in the game.
Having more room leads to more time with player possession, he said.
"We verbalize it in recruiting — we say we think it's going to help your development," Carvel said. "You're going to have the puck more often. You're going to make plays and develop plays, possess the puck, have the puck on your stick. I believe in that."
The Badgers play most of their games on big ice but an occasional small-sheet experience in Wisconsin has been well received.
UW played at LaBahn Arena in 2020-21 because fans weren't allowed at games during the COVID-19 pandemic and the school could save money by not converting the Kohl Center between basketball and hockey. The Badgers went 10-5-1 at home and won the Big Ten title that season, although credit likely goes to the cast of talented players as opposed to the rink size.
They're 6-16-1 (.283) on rinks 90 feet or less and 12-20-2 (.382) on bigger sheets over the last two seasons, with a road disadvantage factoring in more to the former. The numbers may not bear it but an eye test lends evidence to the argument that playing in tighter quarters sometimes better suits UW.
"I'll tell you, yes it does," Granato said. "It's just a better game. Guys like playing on smaller sheets better. They came in after warmups (on Wednesday) and they were going, man, this is awesome. Everything happens so fast. You get in the offensive zone, the scoring chances, the 1-on-1 battles, it's more of a hockey game.
"Certain guys that are skaters might say I like a little bit more space and all that. But when it comes down to it, this is a better game of hockey on a rink like this."