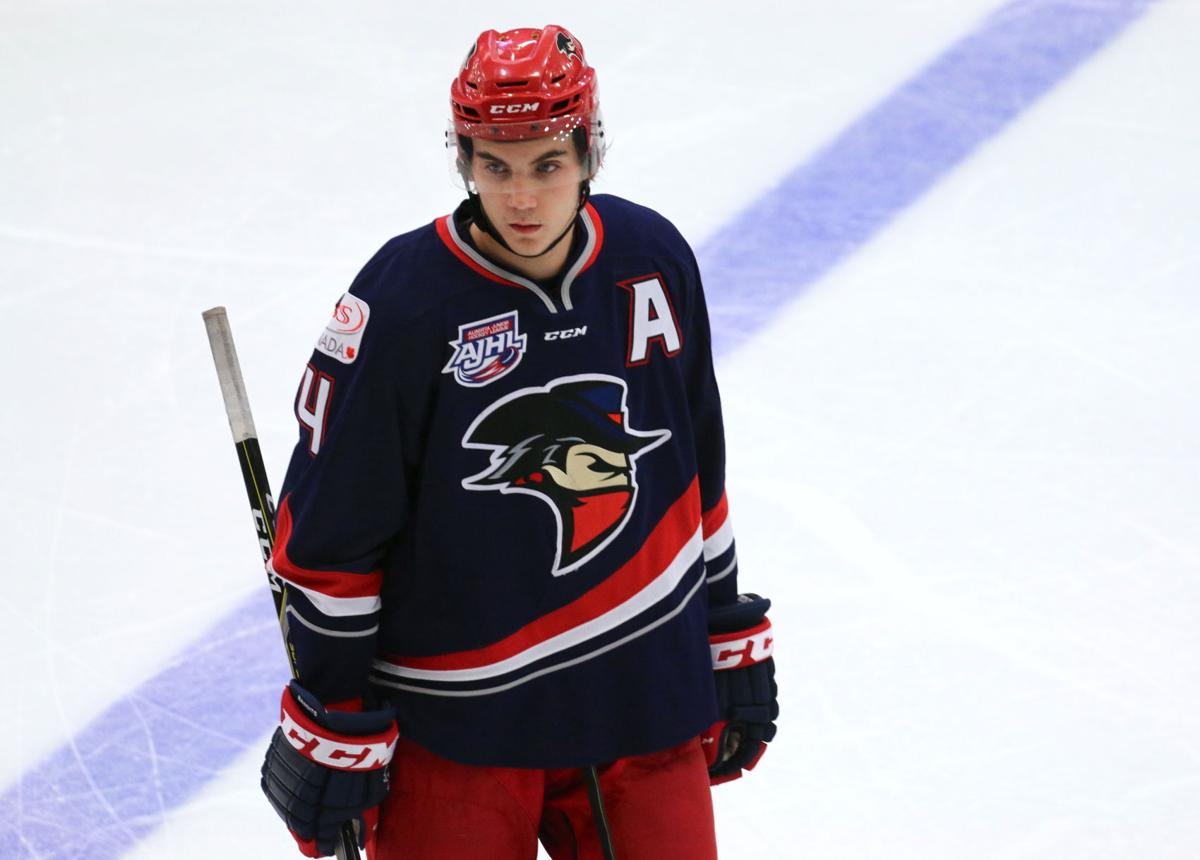 In the NHL draft, timing is everything.
The statement applies on two levels as it connects to University of Wisconsin men's hockey players and recruits this week.
Freshman defenseman Corson Ceulemans is a first-round prospect who hopes he has good fortune with timing. He wants to be taken among the opening 31 picks and he also wants to avoid being a meme of awkward reactions in a virtual event.
For others connected to the Badgers, there's an importance on the good timing of being selected in the first four rounds. That, UW's draft history dictates, provides a better chance at playing in the NHL during their career.
The first round takes place Friday and rounds two through seven go off Saturday in a draft that will be conducted virtually for the second straight year.
Ceulemans recently let his mind wander to what might happen if his name is called on Friday.
"I think I'll probably just be super excited, super overwhelmed," said Ceulemans, who returned home to Alberta this week to watch the proceedings with family and friends. "Right away probably just get up, hug the parents, be super excited. Hopefully the timing works out so I'm not sitting there awkward for a minute where all of national TV's watching me."
A Badgers player has been picked in the first round in a program-record three straight drafts. Many projections have Ceulemans extending that to four, but it's not a universal belief.
Ceulemans said he has read a lot of the scouting reports, some of which have been critical of his consistency and decision-making. His skating strength and offensive puck-handling aren't in question.
"I don't read too much into it," he said. "I'm not going to criticize myself for anything that those guys are saying. It's really up to the team once I get drafted and the team tells me what I need to work on or what they like about me. Then that's the important thing."
Uncertainty because of a decrease in scouting opportunities is one of the general topics in this year's draft. Ceulemans got to play only eight games with the Brooks Bandits of the Alberta Junior Hockey League last season because of the pandemic. The Ontario Hockey League canceled its season altogether.
The team officials that have chatted with Badgers coach Tony Granato have given a wide range of possibilities for Ceulemans.
"Corson has done what he's needed to do to be in the discussion to be one of those players in the mid first round," Granato said.
Recruits were the next-highest-ranked players connected to the Badgers in the Central Scouting rankings. Defenseman Joe Palodichuk and forward Luke Levandowski were 109th and 112th, respectively.
Both are headed to the United States Hockey League next season before a likely UW entrance in the fall of 2022. Palodichuk will be with the Fargo Force and Levandowski with the Chicago Steel.
History favors top four rounds
It's logical that the higher a player is selected, the greater the chance he reaches the NHL. But for UW players, history shows there's a cutoff after the fourth round that makes the odds much longer.
Among one-time Badgers players selected in the first four rounds, 82% have skated at least one NHL game. For players chosen in the fifth round or below, it's only 29%. The figures don't include players who were still playing NCAA hockey in 2020-21.
Goalie Brian Elliott was a ninth-round pick before joining UW in 2003 — the draft was scaled back to seven rounds two years later — but has built a 14-year NHL career.
Four players had NHL careers of more than 500 games despite not being drafted at all: Curtis Joseph, Brian Rafalski, Rene Bourque and Steven Reinprecht.