With four teams in the NCAA tournament and three in the Frozen Four, the Big Ten Conference at last showed last season it can be a power league in college men's hockey.
Now the question that will start to be answered in the 2018-19 season: Was it a fleeting occurrence or the continuation of a sustainable trend?
The Big Ten took its lumps nationally over its first three seasons for getting a combined four teams in the national tournament. In 2017, the momentum started to build with three participants, but still no Frozen Four qualifiers.
When Notre Dame, Michigan and Ohio State made it to St. Paul, Minnesota, last April, it was seen as a potential coronation of the league. Minnesota Duluth had other ideas and won a third straight championship for the National Collegiate Hockey Conference.
No one's disputing there still will be fans who long for the old rivalries of the Western Collegiate Hockey Association. But those inside the Big Ten hope there's a gradual acceptance of things that comes with being more of a force nationally.
"What I think people gotta realize is, jump on board because it is a great league," Ohio State coach Steve Rohlik said at the Frozen Four last season.
Here are five things to know about the Big Ten in the 2018-19 season:
1. A HOPEFUL SIGN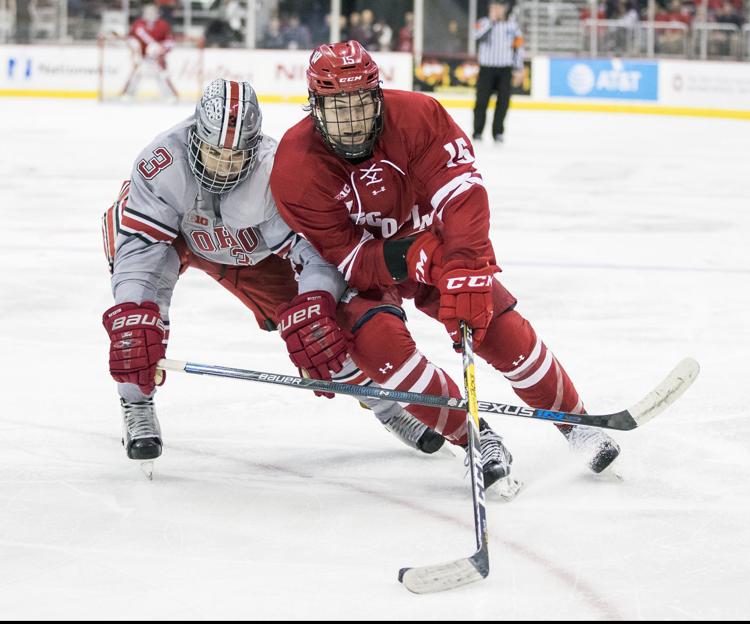 If a three-year trend holds, the 2019 NCAA champion will be either Notre Dame, Michigan or Ohio State.
Before you rush to the sports book with that not-so-inside information, consider the background. The past three NCAA champions — Minnesota Duluth last season, Denver in 2017 and North Dakota in 2016 — were part of the Frozen Four the season before.
That makes it worth following the Fighting Irish, Wolverines and Buckeyes as they eye the Big Ten title and beyond.
Ohio State, in particular, seems ready to make a run with four first- or second-team All-Big Ten selections returning. Forwards Tanner Laczynski and Mason Jobst, the nation's active career leader entering the season with 128 points, are the big names to follow.
But the back end is solid, too, with defenseman Sasha Larocque and goalie Sean Romeo coming off impressive seasons.
2. A NEW ERA AT MINNESOTA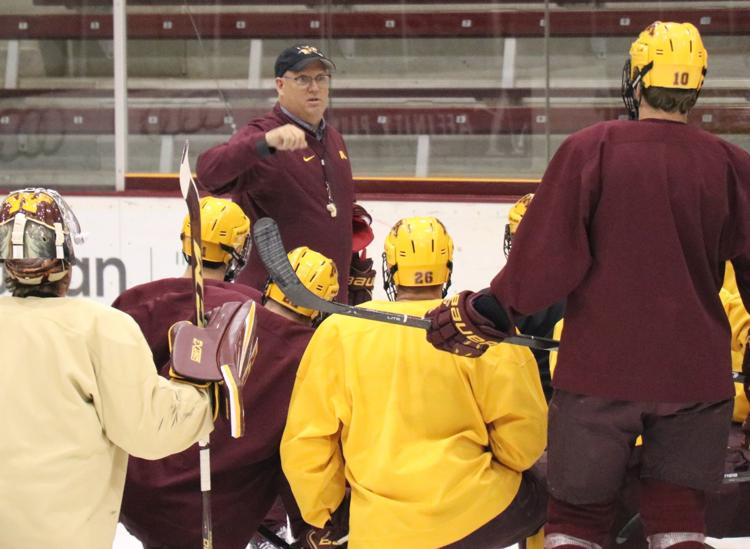 Coaching changes don't happen often at Minnesota — about every 11 years on average since the John Mariucci days in the 1950s and 1960s — so when they happen, they're pretty monumental affairs in the State of Hockey.
So it goes this season with the starting of the Bob Motzko coaching era. Don Lucia stepped aside after 19 years last March, opening the door for his former assistant to move southeast from St. Cloud State.
Motzko's Huskies teams have been known as offensive powers that get to the NCAA tournament but fall short. That may sound familiar to Golden Gophers fans, who haven't seen their team win an NCAA game since 2014.
The spotlight is hotter in Minneapolis for Motzko, who, at 57 is the oldest of eight new head coaches around Division I men's college hockey. He's due to make $525,000 in his first season at Minnesota; he made $302,000 last season in St. Cloud.
But, as is customary with the Gophers, there's talent on the roster and more coming.
3. CAN CALE MORRIS DO THAT AGAIN?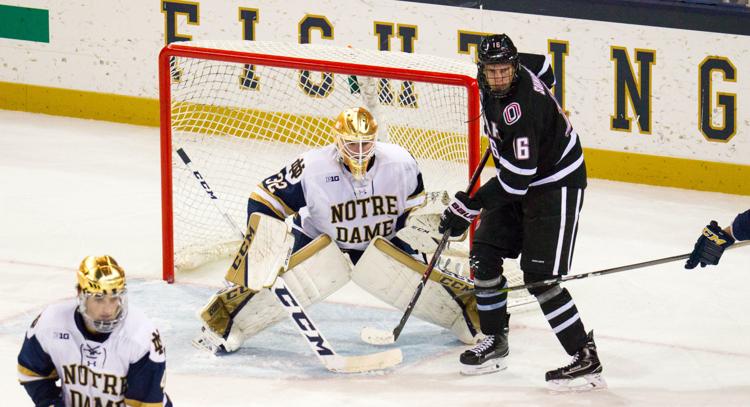 The stretch Notre Dame goalie Cale Morris put together over a span of three months last season was remarkable. From Oct. 20 to Jan. 19, he didn't lose, allowing only 23 goals in 18 appearances (17 starts).
"I don't think Patrick Roy could have had those numbers in college hockey," University of Wisconsin coach Tony Granato said.
A 16-game winning streak by the Fighting Irish built a nearly insurmountable lead in the Big Ten standings, and they ran away with the championship in their first year in the conference.
Notre Dame missed out on capping off the season in style when it lost the national championship game, but Morris and Co. are back for another go at it. Mainstays Jake Evans and Andrew Oglevie up front and Jordan Gross and Dennis Gilbert at the back are gone, but if the Irish can even get close to their defensive success from a year ago, they'll be in good shape.
4. UNDER THE RADAR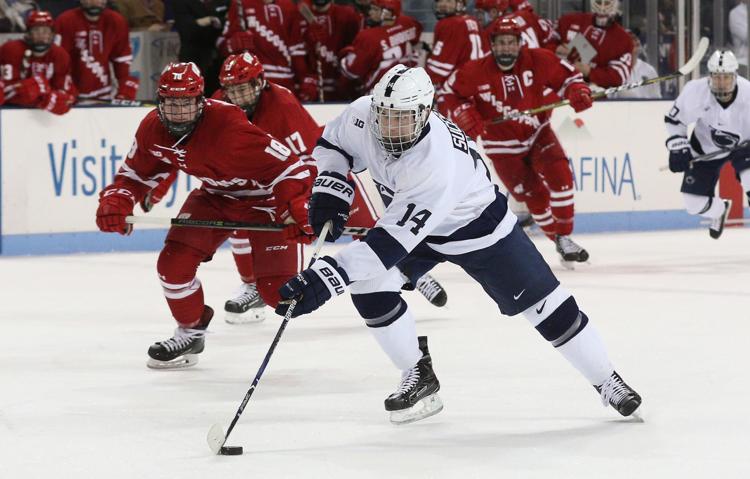 Teams know what they're in for when they play Penn State. They're going to face a lot of shots, spend a lot of time in their own zone and have to deal with a physical group.
So it probably doesn't matter the Nittany Lions don't have a returning all-league player this season. It remains to be seen how they'll deal with losing leading point-scorer Andrew Sturtz, who signed a free agent deal with the NHL's Ottawa Senators.
But they return players who combined to score 109 goals last season for the nation's third-ranked scoring team. Five returning players scored at least 10 goals a year ago.
Penn State may end up closer to the race to secure home ice than the race for the Big Ten championship, but it should have the firepower to compete.
The regular-season champion earns a bye to the league semifinals, while teams in second, third and fourth place host first-round quarterfinal series. Minnesota, UW and Michigan State had to go on the road for the playoffs last season, but each has reason to believe it'll be able to reverse that in 2018-19.
5. PLAYING 3-ON-3
After an offseason of many moving parts, the Big Ten joined up with the other Western conferences in a 3-on-3 regular-season overtime format.
The NCAA hockey rules committee initially removed 3-on-3 overtime play and shootouts from the acceptable ways to finish games that remain tied after the 5 minutes of sudden death, 5-on-5 overtime that's required in deadlocks. That was reversed after an outcry from the NCHC and Western Collegiate Hockey Association, who have used 3-on-3 play to award an extra point in the standings to the winner.
The Big Ten previously used a shootout for the same purposes. Big Ten coaches sounded united in wanting to join the other Western leagues – and most amateur and pro leagues - with 3-on-3 play after it was reinstated as an option, and administrators finally signed off.