What's the highlight that Sam Cogan wants to act as a memory of her four years with the University of Wisconsin women's hockey team?
The question made Cogan pause. She hasn't been on any nightly top-10 lists like some of her teammates. She doesn't have any overtime goals in 141 games with the Badgers.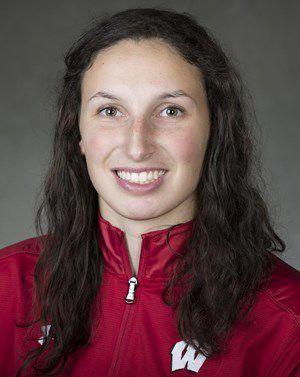 Maybe the highlight is still to come in the season's final seven weeks as the Badgers pursue the program's fifth NCAA championship. Or maybe the forward's value is measured more in substance than in sizzle.
"I'm not a standout player," Cogan said. "I don't do all those cool dipsy doodles that people love to see. I just try to play my hockey game and battle hard and do the little things. And hopefully it pays off for my other teammates. If they can get a goal, I'm happy. I don't need to be the one to get all the goals."
The second-ranked Badgers, who host Minnesota State at 2 p.m. Saturday and Sunday at LaBahn Arena, were happy that she scored some important goals last weekend.
After failing to capitalize on opportunities in a 2-1 loss at Bemidji State last Friday, the Badgers had suffered losses three times in a span of seven games — something that last happened at the end of the 2013-14 season.
A day later, the Badgers rebounded with a a 4-0 victory over the Beavers, with Cogan scoring the first two goals to end a 22-game scoring drought.
"When she scored on Saturday night, I think the bench and her teammates were probably more excited than she was," Badgers coach Mark Johnson said. "She hadn't scored in a while, and it certainly was a big goal for us."
The Badgers fell out of the top spot in the national rankings this week, leaving them at No. 2 for the first time since October. Their margin for error over No. 1 Minnesota in the chase for the Western Collegiate Hockey Association regular-season title is almost non-existent over the final six games.
UW (24-4, 14-4 WCHA) has suffered losses at Ohio State, Minnesota and Bemidji State in the past four weeks that the team now is taking as prompts to refocus.
After hosting Minnesota State (9-12-5, 3-11-3-2), against which the Badgers are 82-2-3 and have won 23 straight, UW plays two games at Minnesota Duluth and closes the regular season with a home series against Ohio State.
"I think our team realizes now coming into games, every single one is going to be that much more challenging because it's getting down to the wire here," Cogan said. "In past seasons, we've gone a long time without losing. This season, we haven't done that. I think that might actually be a good thing for us, just to realize that we can't just expect to win. It actually takes a lot of hard work."
Cogan has been one of the Badgers' most versatile players over her four seasons. She has mostly been on the left wing this season but she has been put at center in some games and played defense earlier in her career because of injury absences.
Her goals last Saturday brought her up to just four this season. She scored nine as a junior, 11 as a sophomore and 10 as a freshman, when she played on a line with Emily Clark and Annie Pankowski.
"I think with a lot of players, you might look at their statistics and you say she probably could have had more of this or more of that," Johnson said. "But I think, overall, she's done a real good job. I was happy to see her score, and hopefully that'll continue because if she's able to do that, that'll help us win some games down the stretch here."
Cogan enters the series against Minnesota State at 99 career points. One more will make her the 25th Badgers player to reach 100 points — unless teammate Abby Roque, a junior who also has 99, beats her to it.
And who'd get the puck if they both get their 100th point on the same goal?
"We'd share it," Cogan said. "Just cut it right down the middle."
That would be a highlight to remember. And there are others that Cogan can envision playing in her mind over and over again in the years to come.
"Hopefully, if we win a Frozen Four this year, that would be a pretty big team highlight," she said. "I would want that repeated. Just that one moment of us celebrating at the end, throwing our gloves."