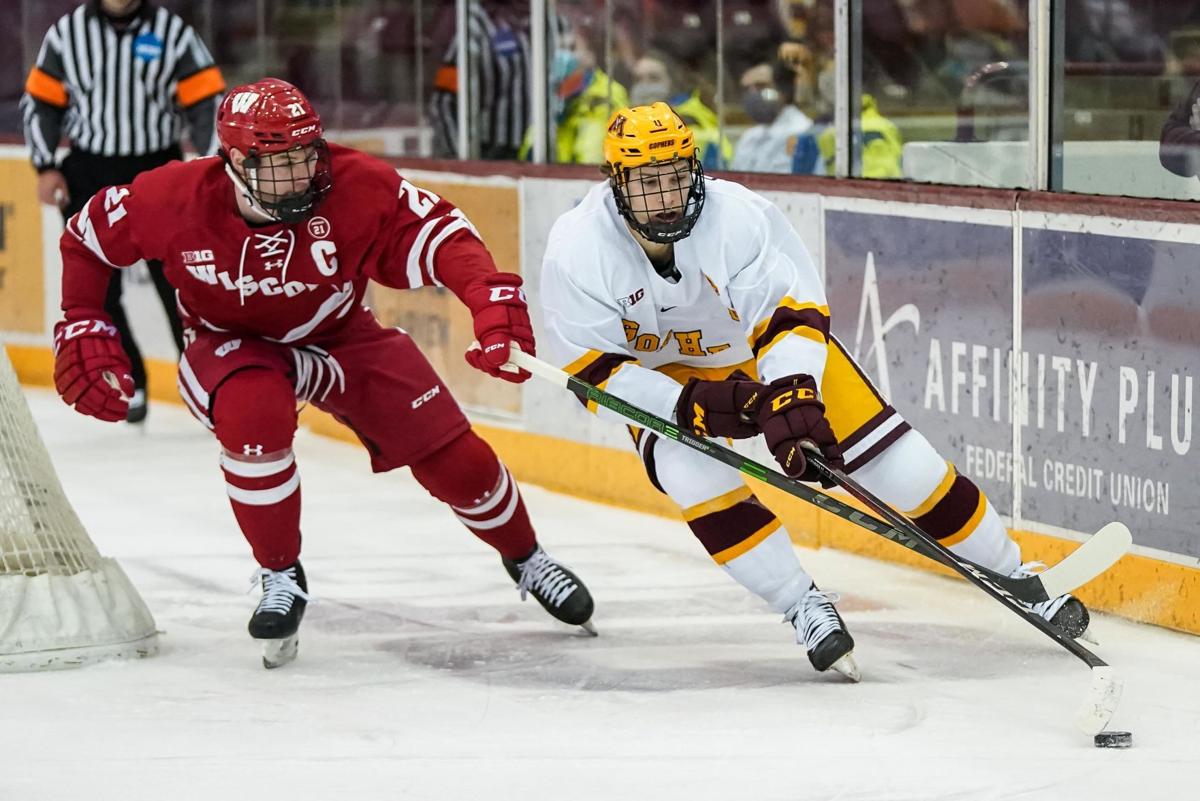 MINNEAPOLIS — Perhaps the best three minutes of the season gave the University of Wisconsin men's hockey team the opportunity to play for first place in the Big Ten.
Considering the heat that has been coming from their sticks lately, it was anything but surprising that Cole Caufield and Dylan Holloway were front and center in that third-period stretch against No. 2 Minnesota on Friday.
Caufield broke a tie with seven minutes remaining and Holloway figured in two goals in the following 2:18. The sudden surge produced a 4-1 victory at 3M Arena at Mariucci.
"It's definitely big for us," Holloway said. "But I think it's just important we stay level-headed here. We've got a job to do tomorrow. The goal is to sweep for the weekend, not just one game."
Second-place UW, 8-2 in its last 10 games, pulled within two points of league-leading Minnesota and can grab the top spot in the Big Ten with a regulation victory Saturday.
A year ago, the Badgers were on their way to a last-place finish in the conference and might not have taken the patient approach that got the job done Friday.
"The way we're closing out games now ... shows the maturity and the drive that our team has to play a full game," Caufield said.
It helps when you have Caufield and Holloway driving the offense when the game's at stake.
Caufield took a pass from Linus Weissbach on a 2-on-1 and hit an empty side of the net before Gophers goaltender Jack LaFontaine could recover.
Added to a first-period goal, it gave him a third straight two-goal game. In a streak of six consecutive games with a goal, he has converted nine times and leads the nation with 16 for the season.
With Caufield, there's no stepping back to appreciate the kind of run he's on.
"I just forget about the past," he said. "I'm already focused on tomorrow. We had a great team win tonight; it's big for us. But moving forward I'm focused on the next one. The boys are rolling right now. As long as I can lead the way, the charge, I'll keep doing that."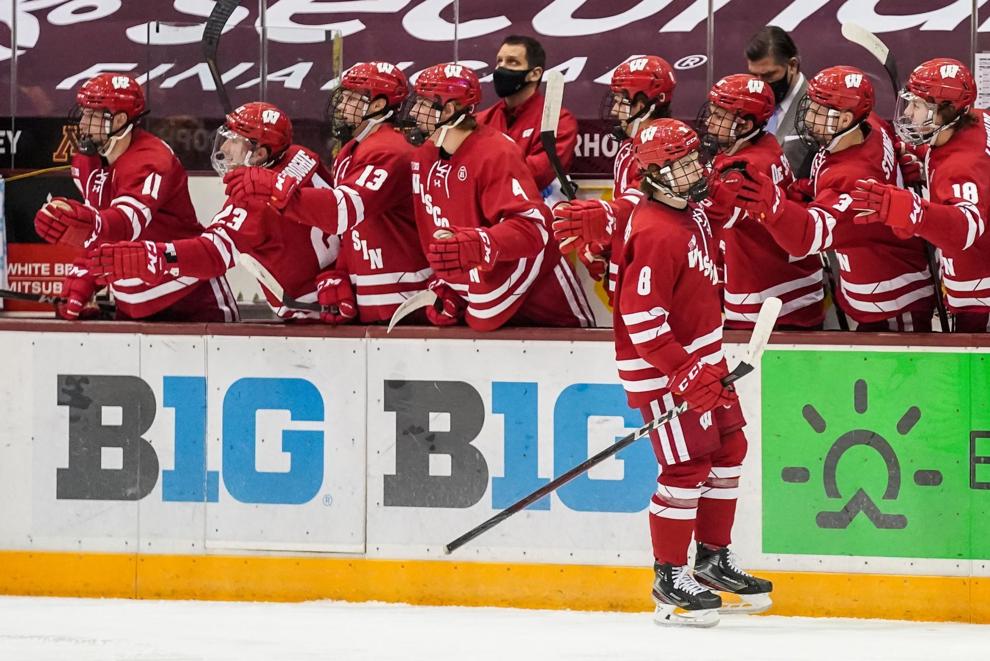 Just 42 seconds after the Badgers took the lead, Holloway made it 3-1 with his fourth goal in his last four games. He cut in front of a rink-wide pass from Brock Caufield that appeared to be headed for Dominick Mersch on the left boards and made his way to the net with speed.
Hooked by Minnesota defenseman Brock Faber, Holloway still got the puck through LaFontaine's pads. On the ensuing power play, Holloway's shot hit Roman Ahcan in the face mask and bounced into the net.
"That was probably our best three minutes of the season as far as being able to make the plays when a big game was on the line," Badgers coach Tony Granato said.
A goal and an assist gave Holloway his sixth straight multiple-point game. The sophomore has 16 points in a seven-game scoring streak.
Robbie Beydoun made three saves on an extended Gophers 5-on-3 power play in the first period to preserve a 1-0 lead, one of them a stretch of his left leg to deny former Badgers recruit Sampo Ranta.
"Our (penalty killers) did a good job but our best PKer was our goalie," Granato said. "Robbie frustrated them at that time."
Beydoun, who finished with 24 saves, also got help on the two-man disadvantage from a Tyler Inamoto blocked shot, one of 11 by the Badgers in the first period. They had 22 blocks for the game, six of them by Inamoto.
"The energy we got from those blocks was huge," Granato said.
Beydoun and the defense held down a Gophers team that had scored 30 goals in its last four games.
UW has been on a scoring binge of its own. It had been nearly 26 years since the Badgers (12-7, 10-4-0-1 Big Ten) scored four goals or more in seven straight games but they reached that number Friday against the nation's second-best defense.
Minnesota (15-4, 11-4) suffered its largest defeat of the season and has lost three straight Big Ten home games.
Cole Caufield needed just 64 seconds to make an impact. Ty Pelton-Byce collected a loose puck in the defensive zone and sent a lead pass for Caufield, who did the rest on a breakaway.
The Gophers pulled even in the second period when Sammy Walker got a good bounce off the left post from the slot.
With the game tied 1-1 in the third period, Ranta missed a shot at an open net from point-blank range. That cost the Gophers later when the Badgers' big guns got to work.
"We were just playing our game the whole game and it finally let loose there in the third," Holloway said.
---
Former Badgers men's hockey players in the NHL in the 2021 season
Former Badgers men's hockey players in the NHL in the 2021 season
Brian Elliott, Philadelphia Flyers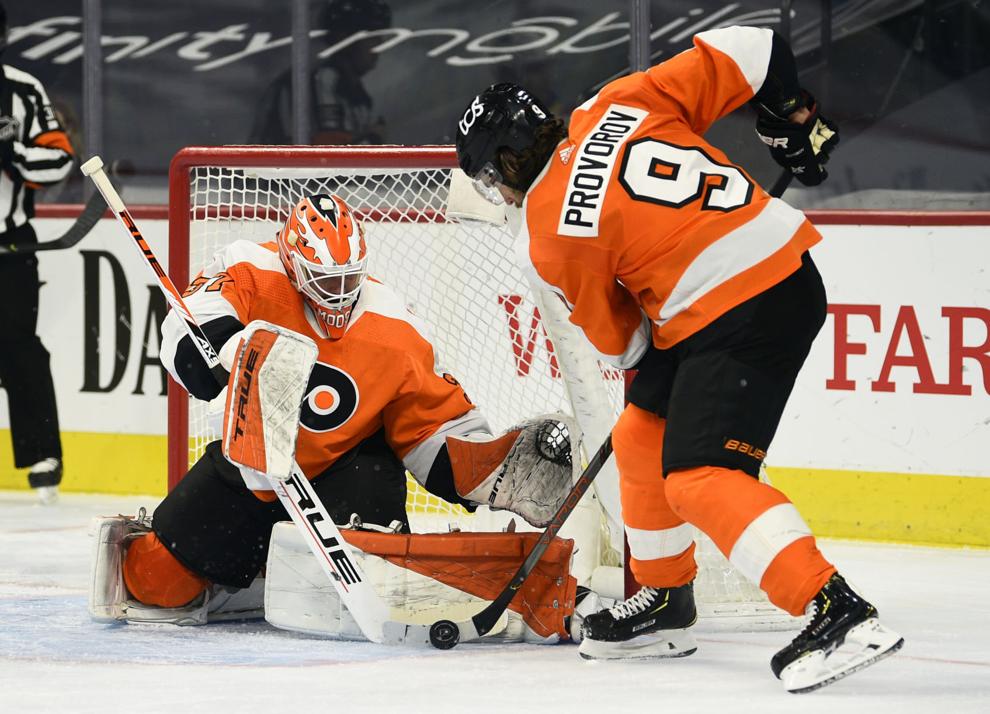 Trent Frederic, Boston Bruins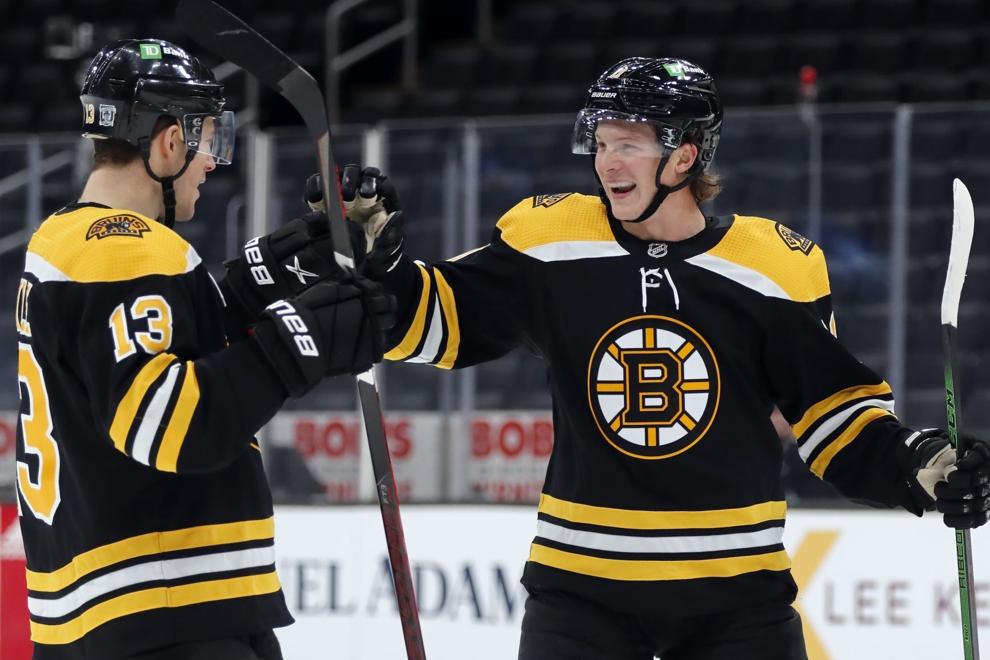 Jake Gardiner, Carolina Hurricanes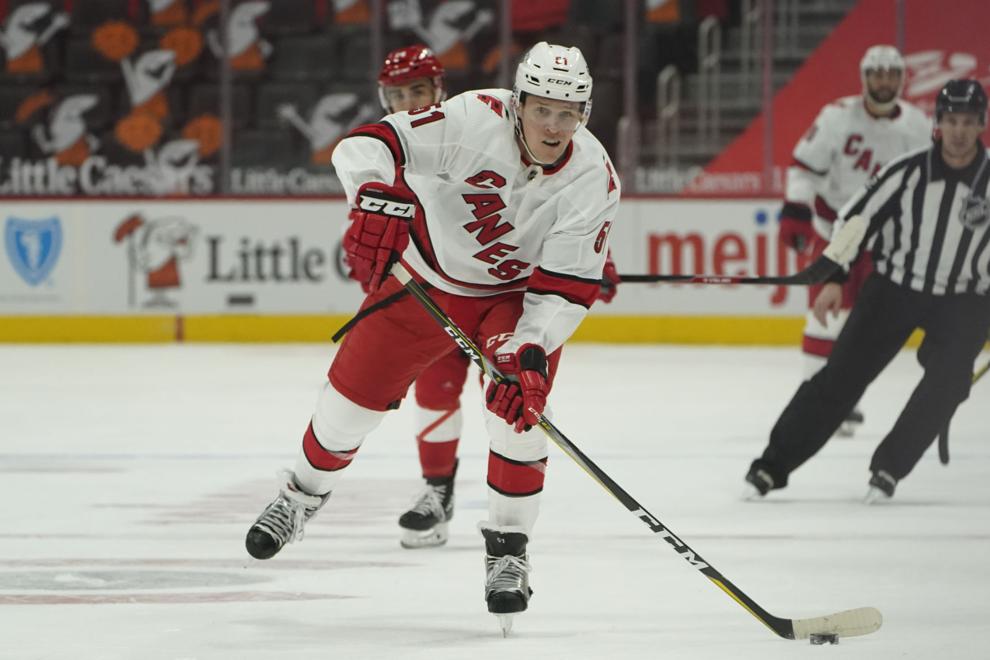 Wyatt Kalynuk, Chicago Blackhawks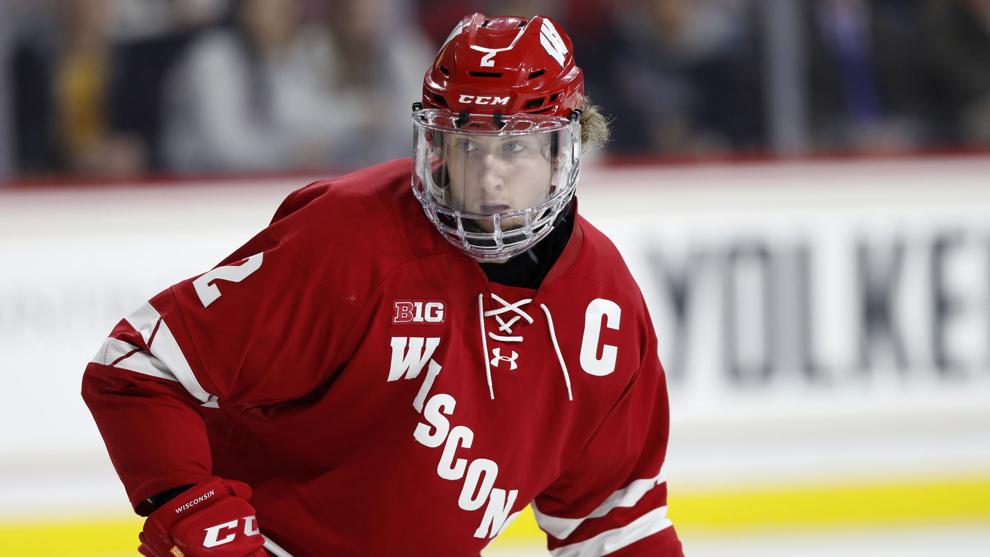 Luke Kunin, Nashville Predators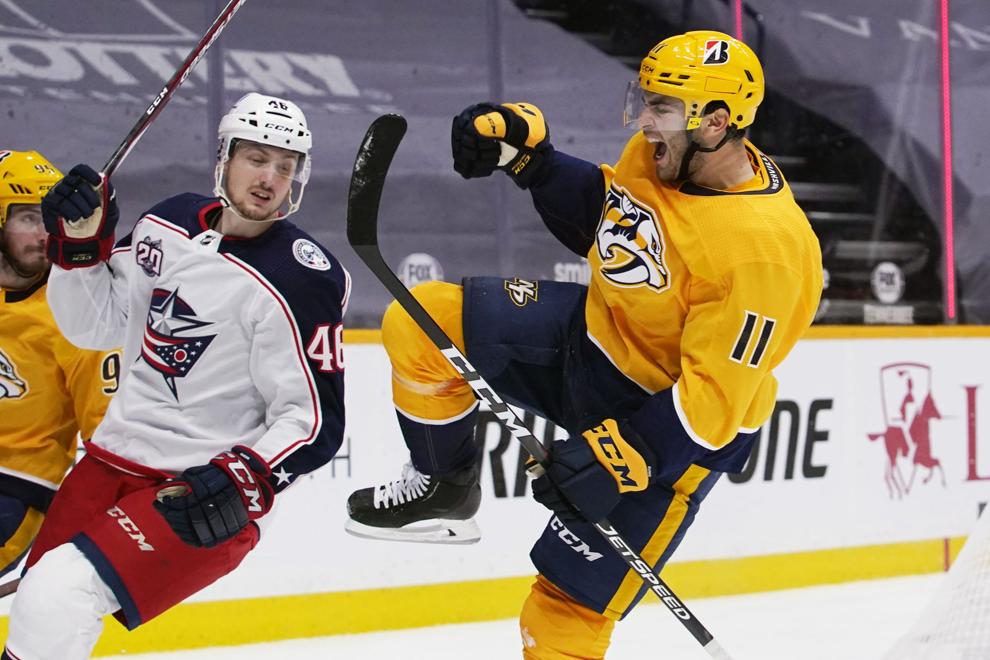 Jake McCabe, Buffalo Sabres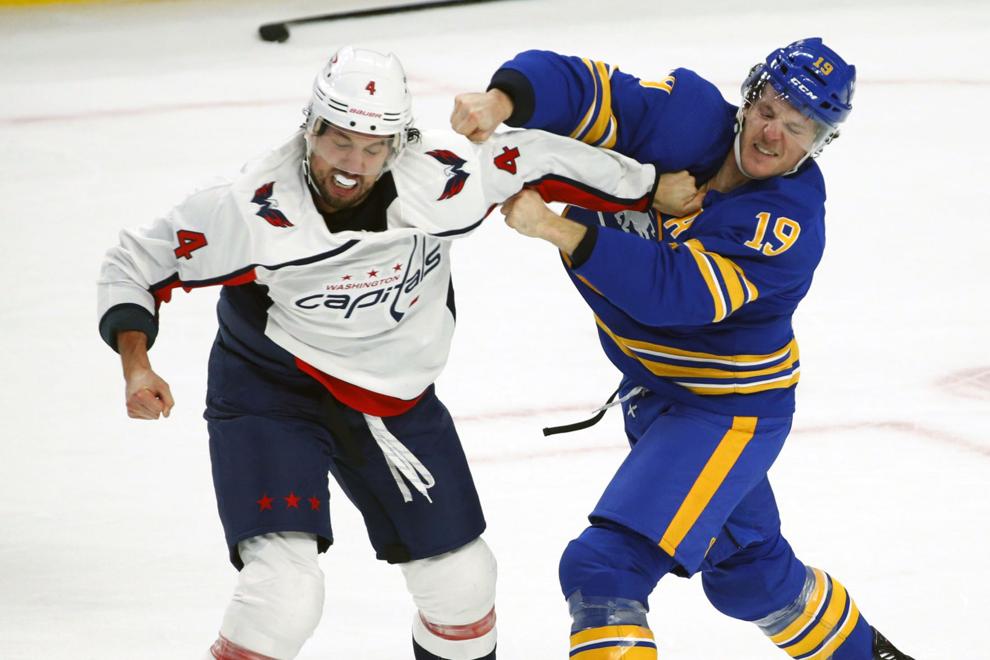 Ryan McDonagh, Tampa Bay Lightning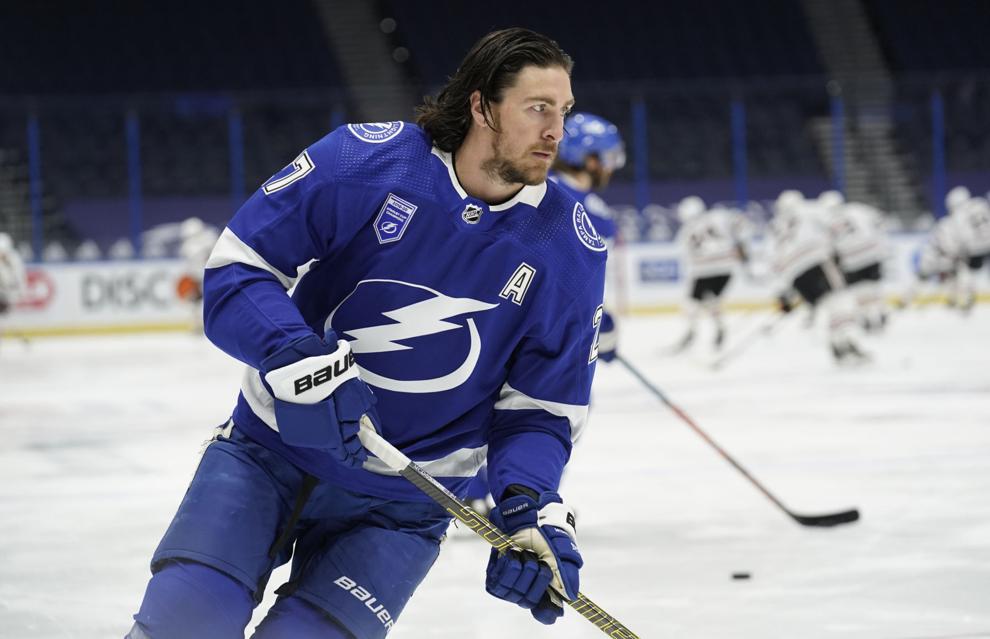 K'Andre Miller, New York Rangers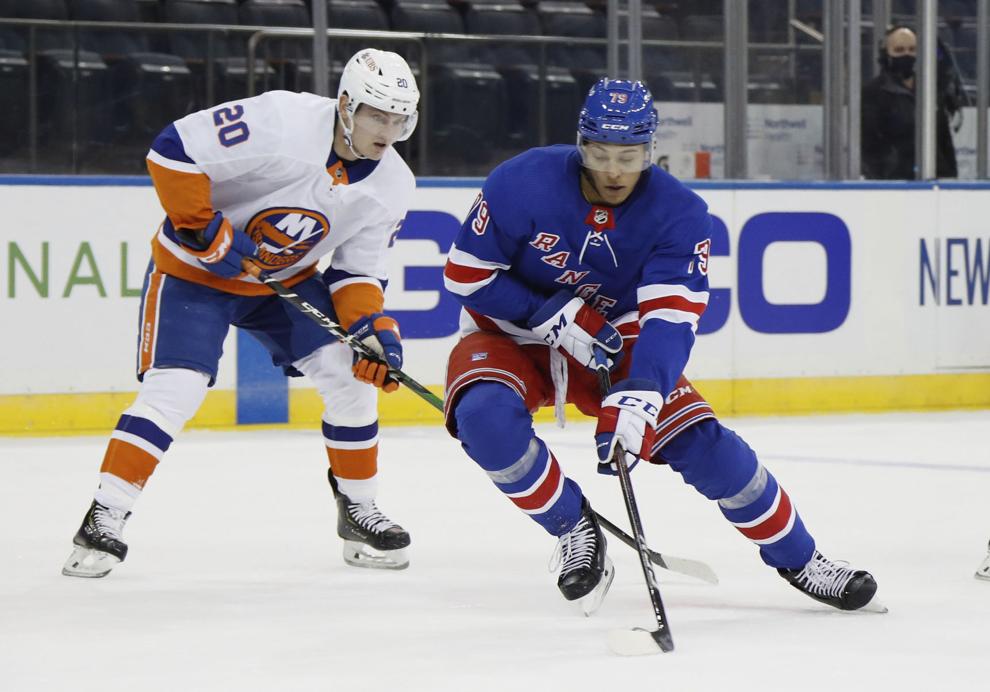 Joe Pavelski, Dallas Stars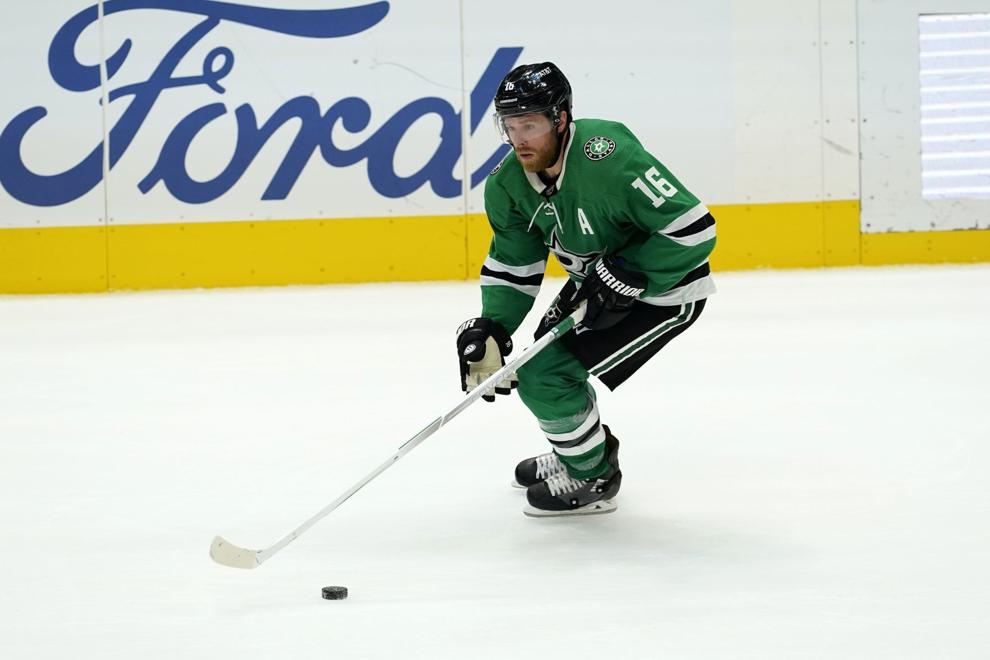 Justin Schultz, Washington Capitals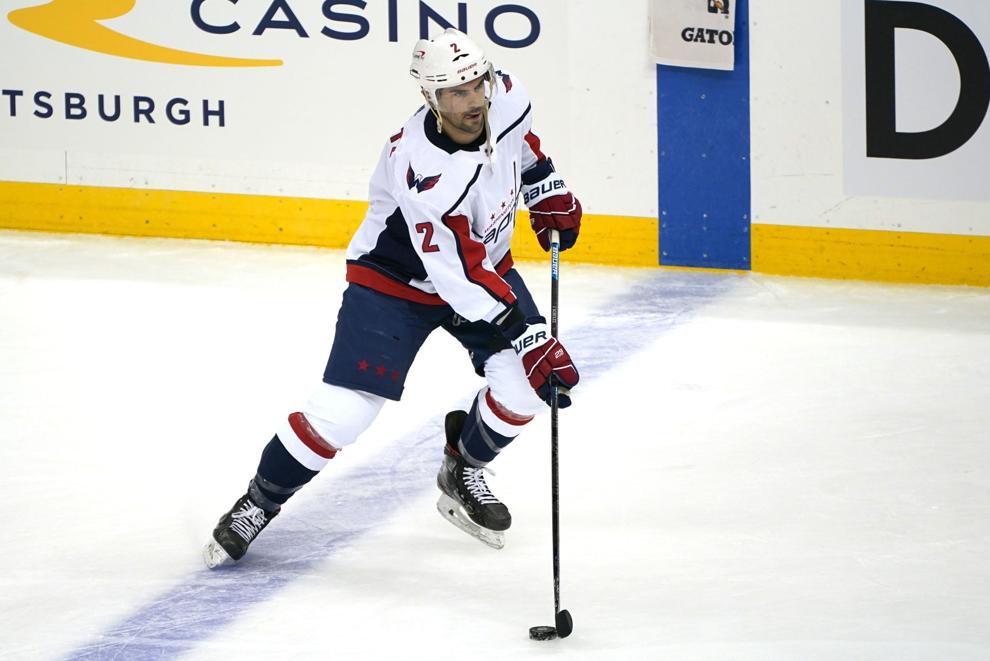 Brendan Smith, New York Rangers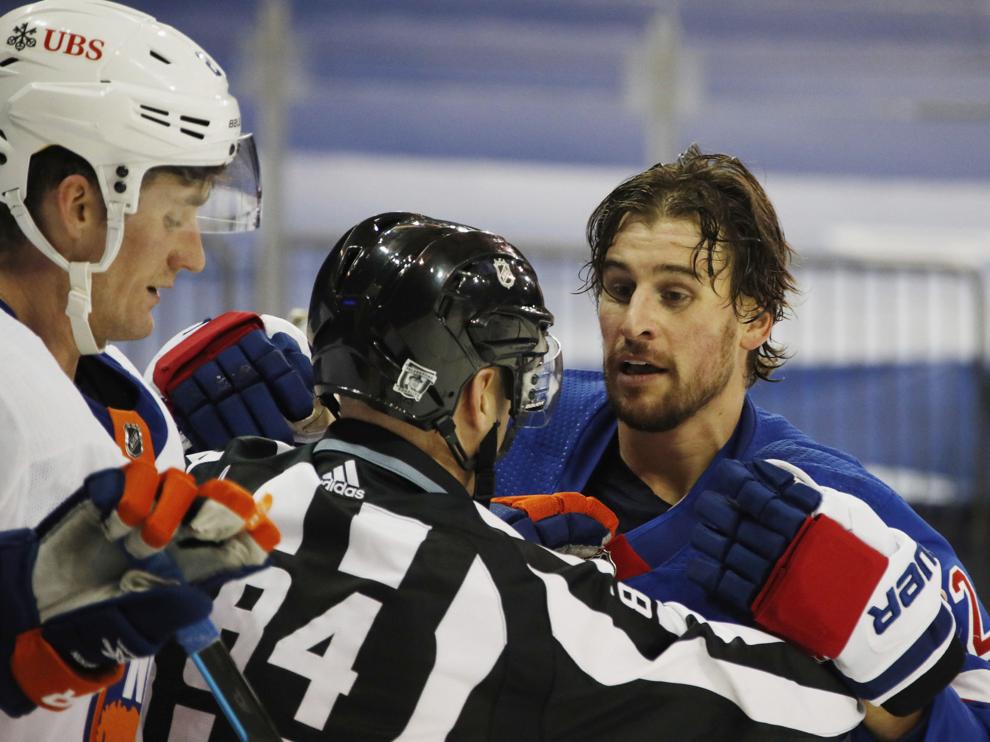 Craig Smith, Boston Bruins
Derek Stepan, Ottawa Senators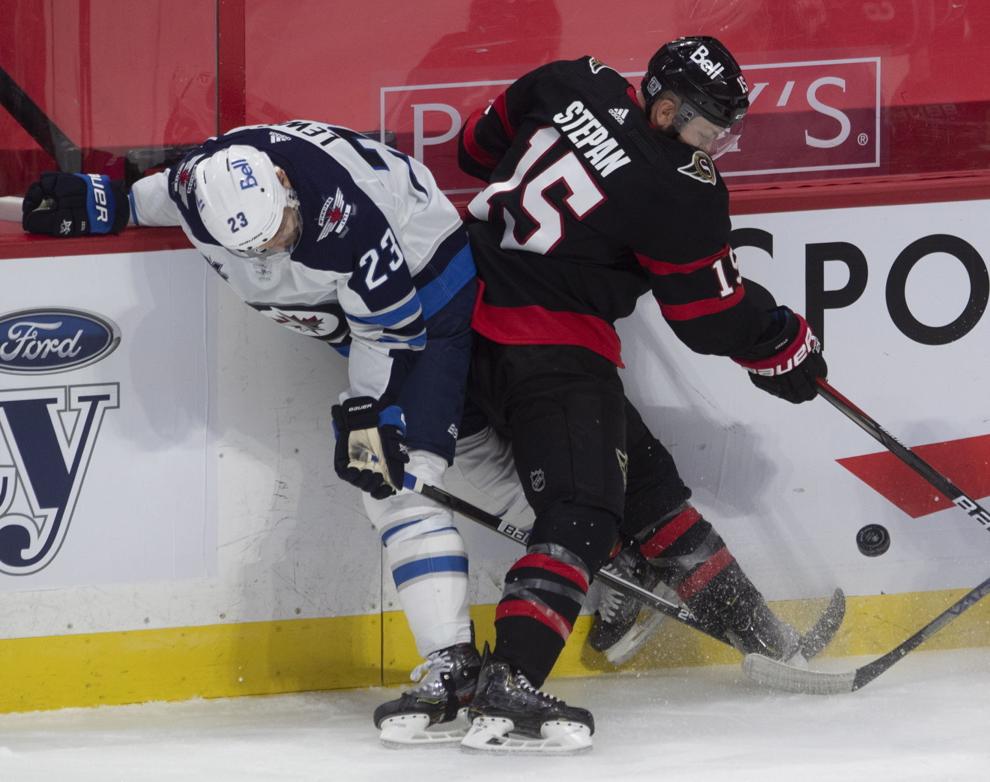 Ryan Suter, Minnesota Wild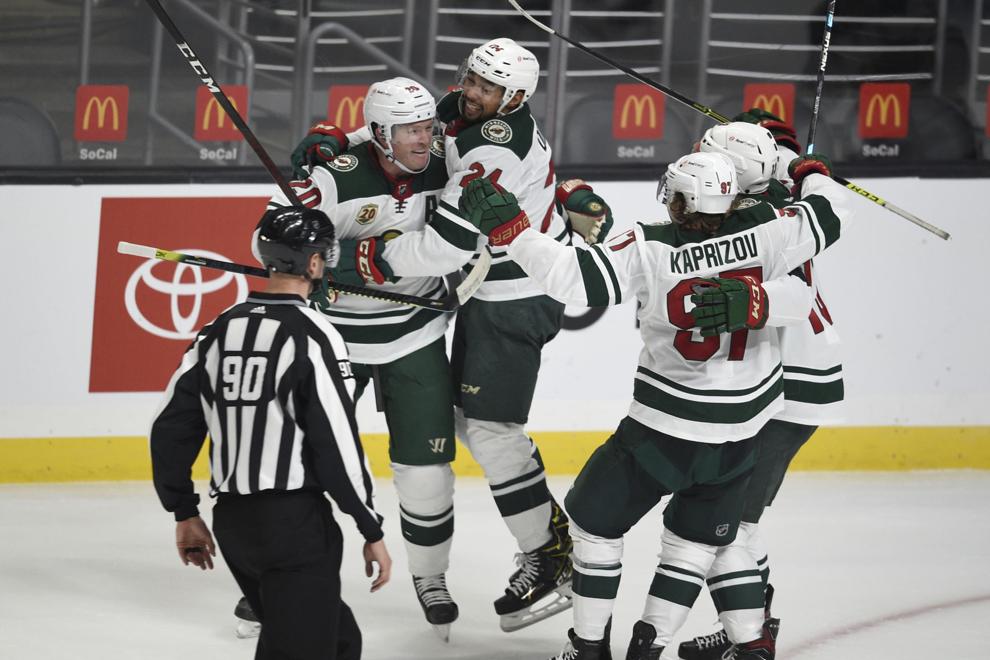 Kyle Turris, Edmonton Oilers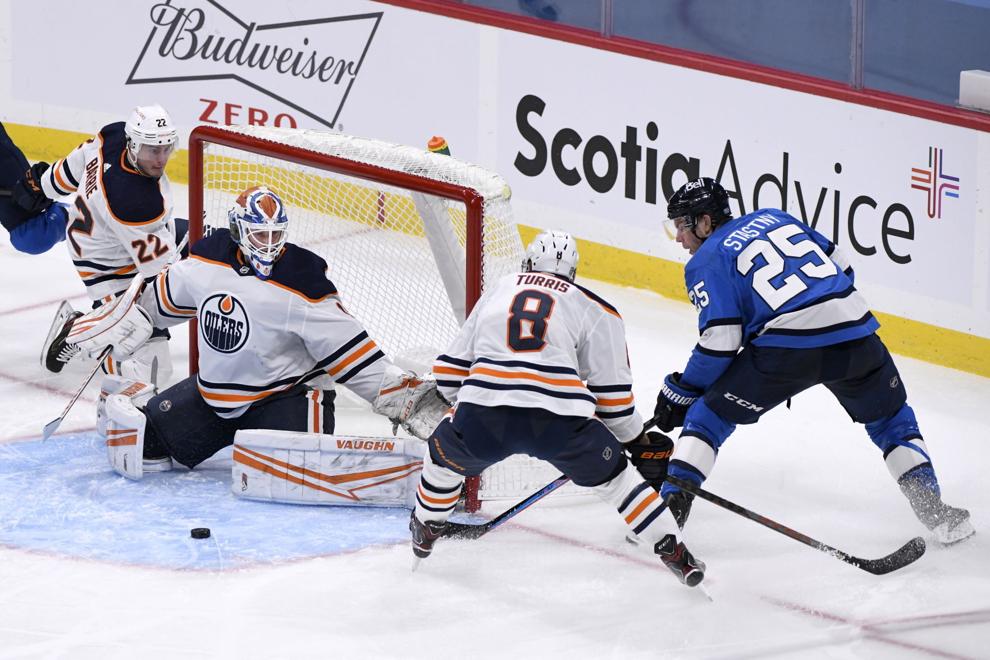 First period: W — C. Caufield 15 (Pelton-Byce), 1:04. Penalties: Holloway, W, 9:04; Team, W, 10:02; Perbix, M, 18:13.
Second period: M — Walker 10 (Reedy, McLaughlin), 8:01.
Third period: W — C. Caufield 16 (Weissbach, Pelton-Byce), 13:00; Holloway 6 (B. Caufield, Ess), 13:42; Ahcan 3 (Holloway, Weissbach), 15:18 (pp). Penalty: Faber, M, 13:42.
Saves: W (Beydoun 11-4-9) 24; M (LaFontaine 10-12-7) 29. Power plays: W 1-for-2; M 0-for-2.