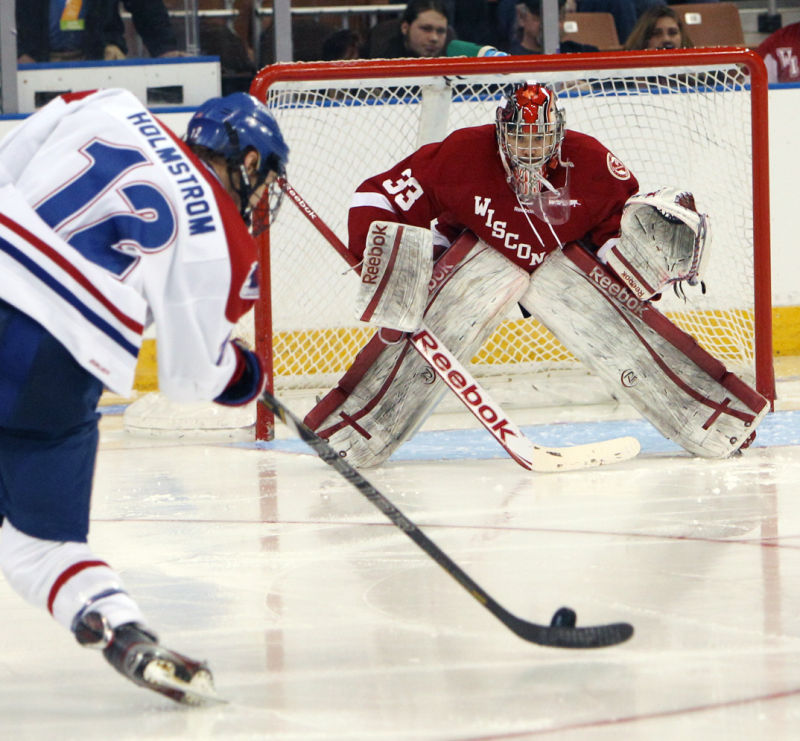 MANCHESTER, N.H. — You don't need a ton of analysis to understand why the University of Wisconsin men's hockey team had its compelling season come to an abrupt end Friday night.
The Badgers simply neglected to play the smart, structured, opportunistic game that got them out of a massive early-season hole and into the national tournament.
Part of that is certainly their fault, but a 6-1 loss to Massachusetts-Lowell in the NCAA Northeast regional semifinals before an announced crowd of 8,049 at Verizon Wireless Arena involves an unmistakable truth.
The third-ranked River Hawks created a lot of the issues that UW was unable to manage, resulting in one of the most one-sided NCAA tournament setbacks in program history.
Lowell repeatedly victimized the eighth-ranked Badgers (22-13-7 overall) with its aggressiveness, team speed, transition game and, ultimately, its ability to capitalize on a series of odd-man rushes.
"I saw more 2-on-1s against us than I've seen in a while," UW coach Mike Eaves said. "I was surprised by that."
The result is that the Badgers allowed more goals in 60 minutes — a single-game high for the season — than they did in 180 en route to knocking off Minnesota State-Mankato, St. Cloud State and Colorado College over three days last weekend to win the Western Collegiate Hockey Association playoff title.
"They were doing things we haven't seen in a long time," Eaves said of his players. "In some instances they tried to do too much and it caught up with us and (Lowell) took advantage of those moments."
The Badgers simply didn't perform like the club that was 21-5-5 since Nov. 30. They came into their first national tournament since 2010 fresh off winning the Broadmoor Trophy and showing no outward signs of fatigue after playing games for 12 consecutive weekends. They were properly proud and self-assured after finding a way to salvage a season that had begun with them in a 1-7-2 cavern.
"Nothing changed in our game. Nothing changed in our routine. It was the same as any other game for us," UW senior defenseman and captain John Ramage said. "We didn't come out and play the game we needed to play to win."
En route to building leads of 3-0 and 4-1, then scoring twice in the last minute, the River Hawks scored half their goals off odd-man rushes or major breakdowns in transition. They had a handful of other high-grade chances that sophomore goaltender Joel Rumpel (20 saves) turned aside.
The Badgers came into the tournament having outscored opponents 90-54 even-strength, but were outdone 5-0 on a night in which their losing margin in an NCAA game was eclipsed only by a 7-0 loss to St. Lawrence in 1988.
Freshman left winger Nic Kerdiles pushed his brilliant point streak to 12 games with a goal on the power play in the third, which cut the deficit to 3-1. UW had subsequent chances to pull even, but Ramage punched an open short-handed try over the net and Kerdiles had a high-grade chance fizzle when a pass from junior center Mark Zengerle hopped over his stick.
The Badgers had an opportunity to alter the course of the game early, but with Lowell holding a 1-0 lead late in the first period, junior center Jefferson Dahl had a penalty shot turned aside by goaltender Connor Hellebuyck (31 saves).
Hellebuyck, a freshman, is one of the reasons why the River Hawks (27-10-2) won the Hockey East Association regular-season and playoff titles and is 23-3-1 since Dec. 8. He ranks in the top five nationally in save percentage and goals-against average.
"We tried to focus on taking his eyes away," UW junior right winger and leading scorer Michael Mersch of Hellebuyck. "Obviously he played pretty well tonight and gave them the best chance to win."
Asked what concerned him about the Badgers going into the game, Lowell coach Norm Bazin said his primary focus was on his own dressing room, especially after his club was outshot 11-4 in the first.
"We concentrate on our own game," he said after getting goals from three of his four lines, led by left winger Ryan McGrath who had a goal and an assist. "We feel if we play our game we have a chance against anybody."
But Bazin offered some insight into a game plan that proved effective and devastating for those who follow the Badgers.
"We were certainly trying to transition a little quicker because when they get in their structure and they have three
(defenders) back, it's awfully tough to penetrate," he said. "If we transition as quickly as possible they might not be able to get into their structure. Fortunately it worked for us tonight. We got a few guys to slash through that."
Ramage, who was on the ice for four goals and was one of three UW defensemen who was minus-3, said the scouting report on the River Hawks dealt with their ability to swarm the puck and shift gears quickly.
"I think at times we played it well," he said. "Sometimes we did not play that very well.
"I think it's more of an onus on the defensemen reading off the play and make sure we always have two guys back at all times.
A couple times we were caught (up ice) and they got a few odd-man rushes and they capitalized on a couple of them."
Ending what was a great story and a good season for UW.