Over the last year, Alex Turcotte and Cole Caufield have shown that there's more than one way to impress hockey scouts enough to be valued as a potential top-five pick in the NHL draft.
Caufield's approach could be considered more direct: He has overcome questions about his height at every stage by continually pumping in goals.
Turcotte had to go about things in a different fashion during a season that had calamities pop up more than anyone would hope during his draft year.
Badgers incoming freshmen Ryder Donovan, Owen Lindmark and Mike Vorlicky and 2020 recruit Sam Stange are potential second-day selections at the NHL draft Saturday.
Together, they could be in line to accomplish a feat unprecedented in University of Wisconsin men's hockey history on a draft weekend that might end up as the program's best in more than 30 years.
Turcotte and Caufield are sure-fire first-round picks when the NHL draft goes off Friday night in Vancouver, British Columbia.
The Badgers have had multiple first-round picks before, including three in 2007. But it's possible — bordering on likely — that the incoming freshman duo will be the first from UW to be selected inside the top 10 in the same year.
Sophomore defensemen Ty Emberson and K'Andre Miller, and incoming freshman forwards Cole Caufield, Owen Lindmark and Alex Turcotte were among 44 players named to participate in the World Junior Summer Showcase.
Some prognosticators have seen them both as top-five selections. Only once has a college hockey team had two players taken in the first five picks in one year: Minnesota in 2006, with Erik Johnson at No. 1 and Phil Kessel at No. 5.
It's out of Turcotte and Caufield's hands now, but they are confident in the resumes that they left with NHL teams over the last year.
"I think I did the best I could when I played last season and at the combine," Turcotte said. "It's up to the teams now. I'm not too worried about it."
Turcotte, a center from Island Lake, Illinois, played behind likely No. 1 pick Jack Hughes at the USA Hockey National Team Development Program but still made his mark. He did so in less time than everyone else had.
He missed 27 of the Under-18 Team's 64 games last season, first with a back injury that was initially misdiagnosed as a hip issue. In the second half, he was sidelined by mononucleosis and pneumonia, a setback that almost cost him a spot in the Under-18 World Championship.
As players give oral commitments to the University of Wisconsin men's hockey team, we'll add them here with their stats.
After both absences, he returned like he had something to prove, and he did it. In his first 11 games after the back injury, Turcotte paired 10 goals with 10 assists. Eight of those contests were against college teams.
He had nine points in seven games at the U18 tournament despite lingering fatigue from not being fully healthy. In 37 games overall, he had 62 points, a 1.68 point-per-game average that was second on the team only to Hughes.
Turcotte is a blend of silk and sandpaper, said U18 coach John Wroblewski, eliciting the visual of a player who can alternate between darting through opponents and leaving an impression with physical contact.
"He's got the ability to slow things down and play a skill game," Wroblewski said. "But he's got the determination and the motor and the engine to play the speed game. It's a very remarkable package."
The hard times gave Turcotte a different outlook.
"It was definitely a crazy season," he said. "I think, mentally, I'm way stronger than I was last year."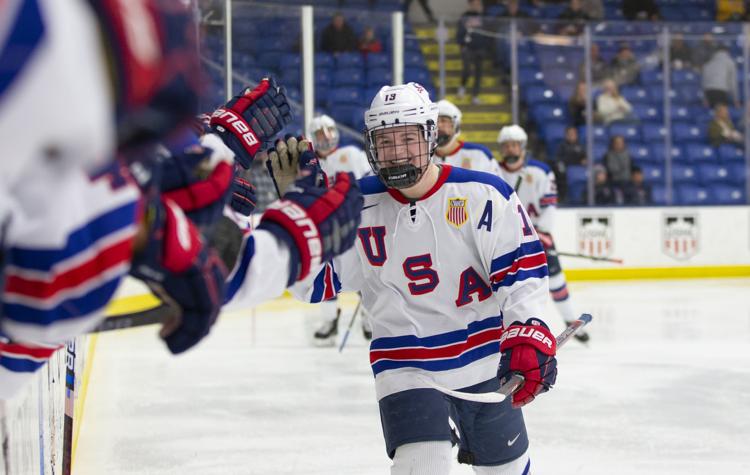 Caufield, a right wing from Mosinee, has continued to defy the logic that small players can't excel as goal-scorers into the late teen years. He tied Alex Ovechkin's U18 championship record with 14 goals in the April tournament, giving him an NTDP record 72 for the season and 126 for his two-year career.
Proving himself over and over has become part of the game for Caufield, who was measured at 5-foot-7¼ at the NHL scouting combine last month.
"I've learned to like it," he said. "I love the pressure. I love people saying I can't or I'm too small. I've never really taken it as a disappointment in myself or anything. ...
The NCAA allows teams to take a foreign trip for exhibition games once every four years, and the Badgers men's hockey team will play twice against the University of British Columbia in Vancouver over Labor Day weekend.
"Obviously, I've had to prove a lot of people wrong. But I'm only going to continue to keep doing that because I think it's just in my blood now and it's something I want to prove to everyone."
After Caufield scored twice and added an assist in an exhibition victory over the Badgers in January, Wroblewski dished out the plaudits.
"I can't praise enough how pure his hands are," he said. "His release and the way that every touch is important to him, I've never seen anything like it."
Some mock drafts have Turcotte being selected after this year's big two — Hughes and Kaapo Kakko — by the Chicago Blackhawks at No. 3. The connections are easy to make for a kid from the Chicago area whose game has drawn comparisons to Blackhawks captain Jonathan Toews.
There's buzz about Caufield going to the Los Angeles Kings at No. 5 or to the Buffalo Sabres at No. 7. Other predictions have him slipping out of the top 10.
"I'm really looking forward to the experience," Caufield said. "It's a once-in-a-lifetime thing."
Center Alex Turcotte is fourth among North American skaters, according to NHL Central Scouting, while right wing Cole Caufield is eighth.
With the potential for four others connected to the Badgers being drafted in rounds two through seven Saturday — incoming freshmen Owen Lindmark, Ryder Donovan and Mike Vorlicky and 2020 recruit Sam Stange also are ranked by Central Scouting — it could be a landmark draft for UW.
It has been 31 years since the team had six players drafted, and that 1988 class had two players selected in a supplemental draft that no longer exists. The UW high water mark is eight drafted players in 1982, a group that included current coach Tony Granato.
Turcotte and Caufield will make the first two marks for the Badgers in 2019.
"When you get two players like that, that are respected, that are thought of to be drafted as high as they are, you realize how you recruited the right kids," Granato said. "We also know that they have an opportunity for us to really get a lot of attention for our program."