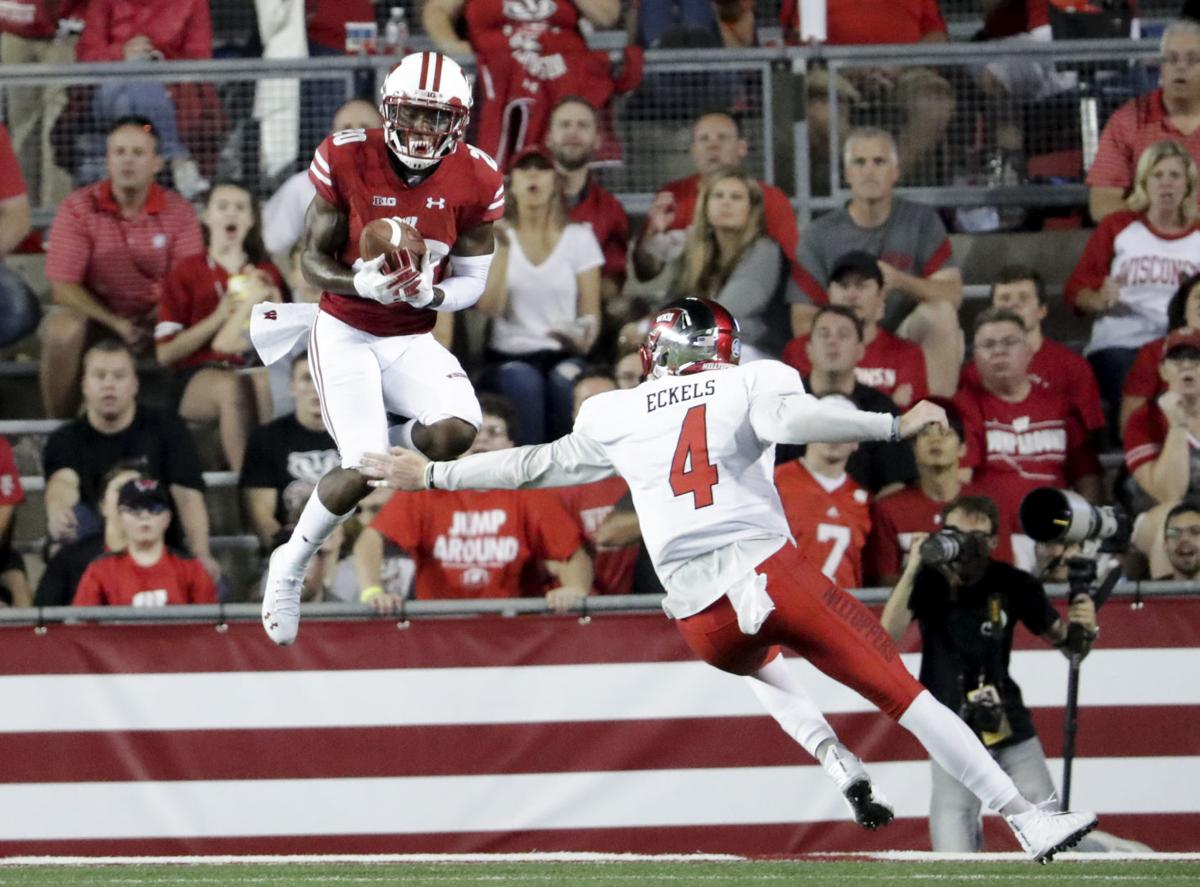 Leading up to the start of fall camp Aug. 1, State Journal beat writer Jason Galloway will break down the University of Wisconsin's top five position battles for the upcoming season. Today, in Part 4, he takes a look at the Badgers' cornerbacks.
The Badgers return every cornerback from last year and still have no seniors on the roster at the position.
Caesar Williams, Jr.
Faion Hicks, So.
Rachad Wildgoose, So.
With no junior or senior cornerbacks on the roster last season, UW broke in plenty of its talented youngsters at this position. Fans were never quite sure how the rotation would play out from week to week, and a whopping six corners started at least one game.
Hicks notched more starts than anyone (11) but did endure a few rough games as a redshirt freshman. He's in position to maintain his spot atop the depth chart, though first-team reps were shared among a number of players this spring.
Williams started the first three games of last year and only two more since. However, he spent part of last season working his way back from an injury, and spring practice reps would indicate he's got a great chance to enter his junior year as a first-team player.
Arguably no one on the Badgers' roster surprised more than Wildgoose last season. He barely played the first four games as a true freshman before starting the final seven regular-season contests. His first-team reps were lacking during spring practice, so he'll be looking to earn his place again during fall camp.
Only two can sit atop the depth chart, but the Badgers will play enough nickel to make it feel as if three cornerbacks are starters. Wildgoose essentially replaced Madison Cone as UW's primary slot corner over the second half of last season, and Hicks took reps in that spot during spring practice.
You have free articles remaining.
Deron Harrell, So.
Madison Cone, Jr.
Harrell certainly can't be counted out of joining the "favorites" group, depending on how snaps develop during fall camp. There were practices this spring where Harrell took exclusive first-team reps over Hicks and Wildgoose.
Harrell, who moved from wide receiver last offseason, is a bigger corner at 6-foot-2 and actually started five games last season, the same number as Williams. He has all the physical tools needed to excel as a corner and the potential to jump up a level from what he showed in 2018.
Cone's snaps dipped once Wildgoose began playing in the slot. Cone only played on the inside last season, and it'll be interesting to see if he earns any reps on the outside during fall camp.
Donte Burton, Fr.
Alex Smith, Fr.
Burton and Smith each played four games last season as true freshmen and still redshirted. Burton even started UW's triple-overtime victory at Purdue in November.
With a crowded depth chart, it'll be tough for either to earn a first-team role, but the pair could have bright futures ahead in the coming years.
This group went through some growing pains last year but played surprisingly well for stretches as well. There's plenty of depth, and a number of players who saw their first bits of playing time last season could be more polished in 2019.