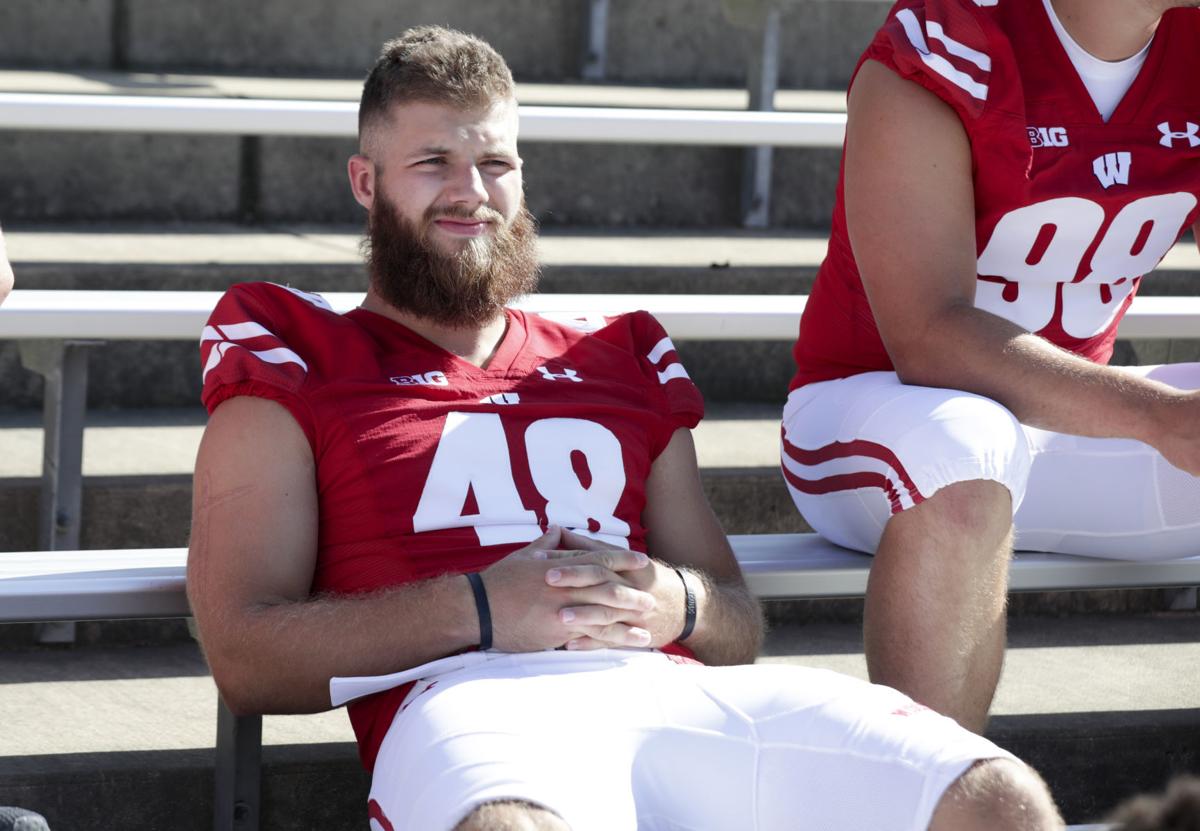 Four months ago, Travis Wiltjer had closed the book on football.
The inside linebacker graduated in three years from Division-II Northwood University, where he amassed 152 career tackles. With one year of eligibility remaining, he briefly considered entering the NCAA transfer portal to see where it could take him, but he felt more ready than ever to start a career.
After working at Northern Reflections Construction in Traverse City, Mich., he planned to join his boss, Ted Moore, in starting a contracting company in Florida. The two even flew south in March to market the new business and get a feel for the area.
On the way home, however, waiting out a long layover at a Chili's inside O'Hare Airport, University of Wisconsin athletic director Barry Alvarez took a seat at the bar next to the pair, ready to take in some NCAA Tournament action while waiting on his own flight.
"Just by chance, Coach Alvarez sat down next to me and we started talking," Wiltjer said. "Coach was wearing one of his bowl rings and my boss pointed it out. He was talking about Bo Schembechler and all the cool stories."
Alvarez encouraged Wiltjer to send some of his film. The Badgers' coaching staff liked what they saw, and Wiltjer showed up in Madison three months later, ready for summer conditioning as UW's latest graduate transfer.
He joined as a preferred walk-on and will be eligible to play immediately.
"Crazy story," Wiltjer said Wednesday on the Camp Randall Stadium turf during UW's local media day. "I've just got to take it all in. It's an honor to be here."
Wiltjer, who also recorded 16.5 tackles for loss and five forced fumbles during his three years at Northwood, said the biggest difference for him when jumping up to the FBS level will come from playing in front of much larger crowds and dealing with offensive linemen who are quicker and more athletic.
The 6-foot-2, 225-pound inside linebacker's up for the challenge, however, and he's had the summer to acclimate and settle in to a new city and situation.
"That was nice for him, to get a chance to be around the guys," UW coach Paul Chryst said. "We're excited he's here. ... He's a good football player, and we'll see how he adjusts and what he does here."
What he does here may be a tough question to answer just four weeks out from the season opener at South Florida on Aug. 30, even for the coaching staff. He'll participate in his first practice at UW when the Badgers open fall camp Thursday morning.
Senior Chris Orr and sophomore Jack Sanborn enter as the heavy favorites to start at inside linebacker. True freshman Leo Chenal impressed during spring practice and looks a solid bet to be included in the rotation right away.
Wiltjer may need to beat out either Chenal or junior Mike Maskalunas in order to see playing time on defense.
"Obviously, I'm hoping, the coaches saw something in me," Wiltjer said. "That's why they called me. I'm an asset to the program just as much as anyone else is, whether that be scout team, playing on special teams, playing on defense."
Wiltjer's studying in UW's Department of Educational Leadership and Policy Analysis and could take a career path that makes him a future athletic director or superintendent. He and Moore, though, still have aspirations of opening Florida Building Repair after pushing their plans back a year.
"My boss' kids are going down (to Florida) to play baseball, so I was going to live with them and start the business from scratch and learn the reins," Wiltjer said.
"I figured might as well play one more year of football at the University of Wisconsin."
Be the first to know
Get local news delivered to your inbox!