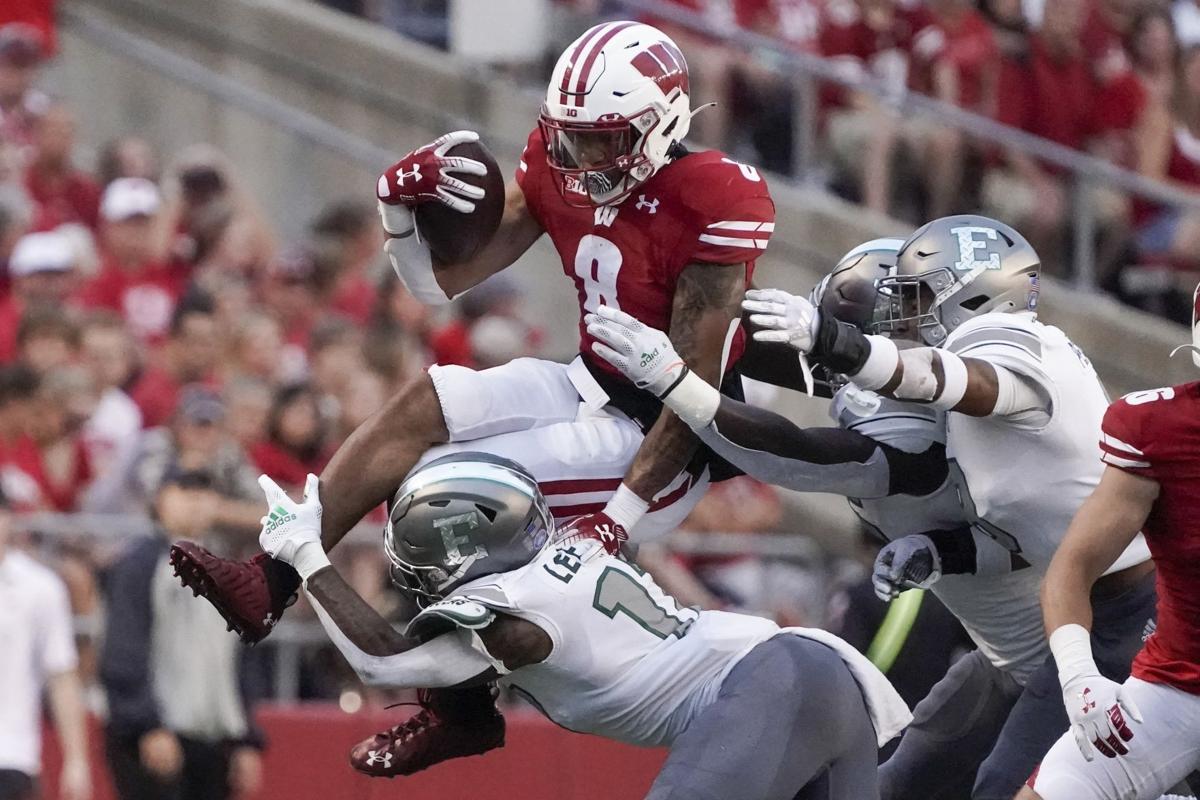 Most University of Wisconsin football players found out about the dismissal of running back Jalen Berger the same way many fans did — via social media.
Coach Paul Chryst told reporters at his news conference Monday that he didn't tell the full team about his decision to cut the redshirt freshman, one of the few direct answers Chryst gave on the subject during his 13 minutes fielding questions.
"I spoke with Jalen yesterday and I'm going to keep that between me and Jalen," Chryst said.
A number of UW players said they were surprised by the move and their job was to move forward and focus on the game ahead of them. The running backs found out about Berger's dismissal in a meeting Sunday with position coach Gary Brown.
"It was difficult for me because he's my friend, we're brothers," said Chez Mellusi, a junior tailback who supplanted Berger as the team's starter during training camp. "It was just one of those things where I'm going to continue to support him."
Sources told the State Journal that Berger didn't react well to the Badgers bringing in Mellusi in the transfer market, and it was a starting point of Berger's unhappiness and defiance of team rules despite being friends and roommates with Mellusi.
Berger missed meetings and workouts, according to two sources who wished to remain anonymous because they weren't permitted to speak publicly about Berger's dismissal.
A message left with Berger seeking comment on Monday wasn't returned.
Senior safety Collin Wilder, one of the team's vocal leaders, said he believed what happened reflected UW's mindset after a 2-3 start to the season and heading into its matchup with Army (3-2) at 7 p.m. Saturday.
"We handle all this stuff as a team," Wilder said. "Especially with the way that our start has been this season, it hasn't been ideal for us, and if you're not all-in, then just get out. That's the mentality. And clearly you can see it's being put into action and I think that's good for our team.
"I think it's good to have guys who want to be here. At this point, we just focus on the guys who want to be here and want to make an impact for the rest of the season."
Berger was a four-star recruit out of Newark, New Jersey, and the No. 15 running back recruit in the nation with offers from almost every Big Ten Conference program and the likes of Alabama, LSU, UCLA and Oregon. Berger waited to make his college decision public until the 2020 Army All-American Bowl, where he was flanked by future Badgers teammates and offensive linemen Jack Nelson and Trey Wedig. He was slated to play in the game but was held out due to an injury.
Berger didn't play in UW's first game of 2020, but carried the ball 15 times in each of the next three and became the team's starter. He tested positive for COVID-19 the Friday before UW played against Iowa and missed the final two regular-season games, then played sparingly in the Badgers' win over Wake Forest in the Duke's Mayo Bowl.
Chryst told reporters on Sept. 9 that there was not a "sideshow" going on when asked about why Berger didn't play against Penn State. Berger played a total of 47 snaps this season, according to Pro Football Focus, with a season-high 23 against Eastern Michigan. He did not play against Illinois despite traveling with the team and dressing for the game.
With Berger's dismissal, UW has lost three scholarship running backs since the start of training camp. Freshmen Loyal Crawford (dismissed) and Antwan Roberts (suspended, then entered transfer portal) were disciplined the week of the opener for an altercation between the two in a residence hall.
Chryst, who speaks often on finding the right fit when recruiting players, said Monday he didn't believe any of the three tailbacks to be bad fits at UW.
"I think when you go back and look at each one," he said, "I think it'd be unfair to say that, to be that definitive on it."
UW's running back position got a boost from a breakout performance by freshman Braelon Allen against Illinois, giving the coaching staff a group of Mellusi, Allen, Isaac Guerendo and Brady Schipper to deploy on Saturdays.
Chryst said sophomore Julius Davis has been playing well on the scout team and in his opportunities in practice, but so far Davis hasn't had chances during games.
"I know that (losing three backs is) kind of a distraction for the outside world, people kind of think our running back room is falling apart, whatever that means," Mellusi said. "And I don't think that's the case whatsoever. It definitely doesn't look great, but I'm very fortunate and very happy for the guys that we do have."
Schipper, a junior, was oftentimes UW's only healthy running back during spring practice, which in part prompted the coaches' decision to look to the transfer portal to add depth and experience to the group. He played his most snaps of the year against the Illini (16), mostly when UW was in its 11 personnel with three receivers and one back.
His role could grow if Guerendo, who was unavailable against Illinois and has a history of injuries, can't play again this week.
"I thought we played really well and ran the ball really well," Schipper said. "I think we've just got to keep going from here with who we got. I think we've all got confidence in each other, we'll all get the job done. I think that's the most important thing, just knowing we trust each other and trust the brother next to you to go get it done."
---