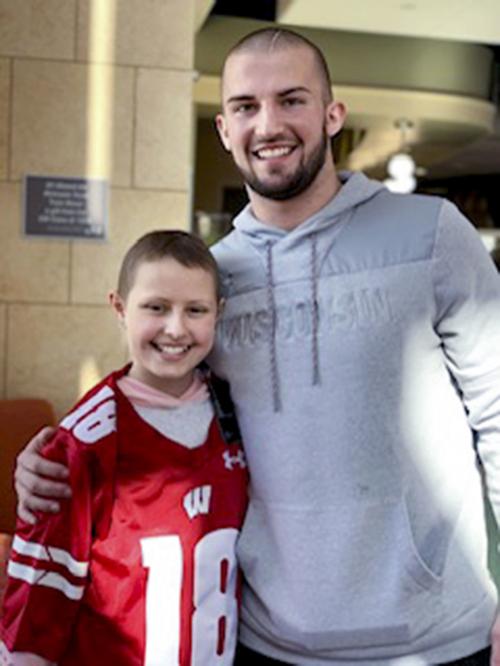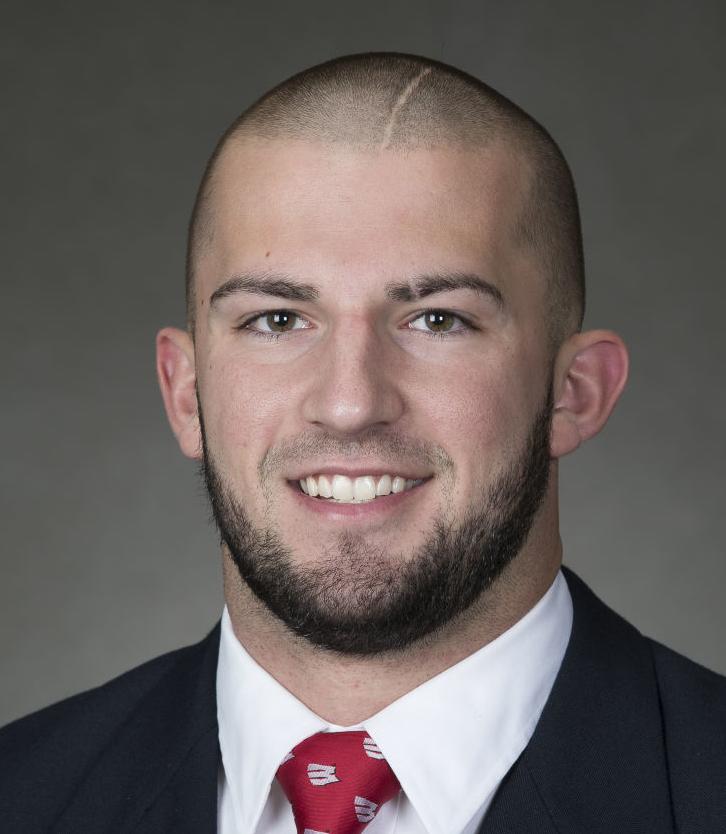 The meeting was intended to be brief — a hello, a handshake, a group photo, some words of encouragement — but Collin Wilder lingered after others had left.
There was something about Aubrey Wayman that made Wilder, in the early stages of his first season with the University of Wisconsin football program after transferring from Houston, want to stick around a little longer.
Here was this 10-year-old girl, so full of joy and energy. Her smile was so contagious. Her family — father Adam, mother Nicole and younger sister Hadley — were so grateful for the kindness being shown to them. Her courage was so inspiring.
Aubrey, a Sun Prairie native, was at Camp Randall Stadium that Saturday afternoon last September as UW's special guest for Childhood Cancer Awareness Month. Just a few weeks earlier, she had been diagnosed with Non-Hodgkin's Lymphoma, a cancer that originates in the lymphatic system.
Wilder met Aubrey while his teammates were going through pregame warmups. He listened to her story and couldn't help but be impressed by her positive attitude. He walked away feeling a connection with her.
"She kind of took my heart," Wilder said.
Aubrey and her family eventually were escorted to their seats and watched the Badgers roll to a 45-14 victory over New Mexico. She had a blast but one thing made her sad: No matter hard she looked, she couldn't find Wilder anywhere on the field.
Wilder, of course, had to sit out the 2018 season because of NCAA transfer rules and was forced to watch from the sidelines. Naturally, he used the season to learn a new system and do everything he could to be ready to contribute once he became eligible.
But Wilder's first year at UW was about more than football and academics. A native of Katy, Texas, Wilder arrived in Madison in search of something more.
"I believe God led me here for a purpose," Wilder said recently following a training camp practice. "One was to play football here and develop and enjoy my college experience. But off the field as well, I know that I can make an impact through this game with the platform that I have. The fan base loves Badger football players and I think we can use that platform for some really good things."
Wilder was proud to participate in Badgers Give Back, an outreach and mentorship program in which UW student-athletes volunteer in the community. He could tell the program did a great job of making kids such as Aubrey feel loved in the moment.
"But once that game is over, do they still feel it?" Wilder said. "I didn't know."
Wilder decided to find out. A few weeks after the New Mexico game, Wilder reached out to Nicole Wayman via Facebook. He asked if there was anything he could do for Aubrey.
His timing was perfect. Aubrey was in the midst of intense chemotherapy treatment that included painful shots in her legs. "They hurt like crazy," Nicole said, "and she'd have to hype herself up for them."
You have free articles remaining.
Nicole told Wilder that Aubrey needed some positive energy and encouragement and asked him to reach out to her.
"He was on the phone right away texting Aubrey, 'You can do this, you've got this, we're cheering for you,'" Nicole said. "That gave her a little more strength to be brave and overcome that part of her treatment."
The treatments made Aubrey sick and she had to miss a lot of school, but random texts from Wilder would always seem to cheer her up. He'd try to take her mind off the illness by asking about her favorite candy and what she was going to dress up as for Halloween. He'd send her pictures of him with his dog. He showed up at the hospital and presented her with a home No. 18 jersey, his number.
Nicole was impressed by Wilder's ability to put a smile on her daughter's face. When pictures of Aubrey were shown on a video at the Buckingham Awards last spring, Wilder was in the crowd at the Overture Center and immediately sent Aubrey a text to tell her she was famous.
A few minutes later, Aubrey appeared on the stage to present an Individual Impact Award to UW women's basketball player Lexy Richardson, a former Verona athlete who also had developed a bond with Aubrey. After the show, Wilder found Aubrey and told her how beautiful she looked in her white dress.
"He's made her feel quite special," Nicole said. "I feel like we're fortunate that he chose her."
'Special relationship'
Aubrey, who is now 11 and will start middle school next month, is about 12 months into a 2½-year treatment plan. She's advanced to maintenance therapy, which means she's down to one hospital visit a month for chemo in addition to oral treatments at home. Her mother is happy to report Aubrey is full of energy and recently earned her brown belt in karate.
"She's in a much better place than she was a year ago," Nicole said.
There is one question that's been coming up a lot lately with Aubrey: When can she put on her No. 18 jersey and go watch Wilder play in a game?
The answer: soon. UW opens the 2019 season Friday at South Florida before beginning a stretch of five consecutive home games.
Wilder is a backup safety who also is expected to contribute on special teams. As anxious as Aubrey is to see him on the field, imagine how Wilder feels after not playing in almost two years.
Prior to sitting out last season, Wilder missed most of the 2017 campaign after sustaining a torn ACL during his sophomore season at Houston. He's itching to play.
"I've put in a lot of time making sure I'm prepared for this season," Wilder said. "I'm just waiting for whenever my number is called and hopefully I'll be prepared."
Nicole says Aubrey is Wilder's biggest fan. The admiration is mutual.
"We just have a special relationship," he said.