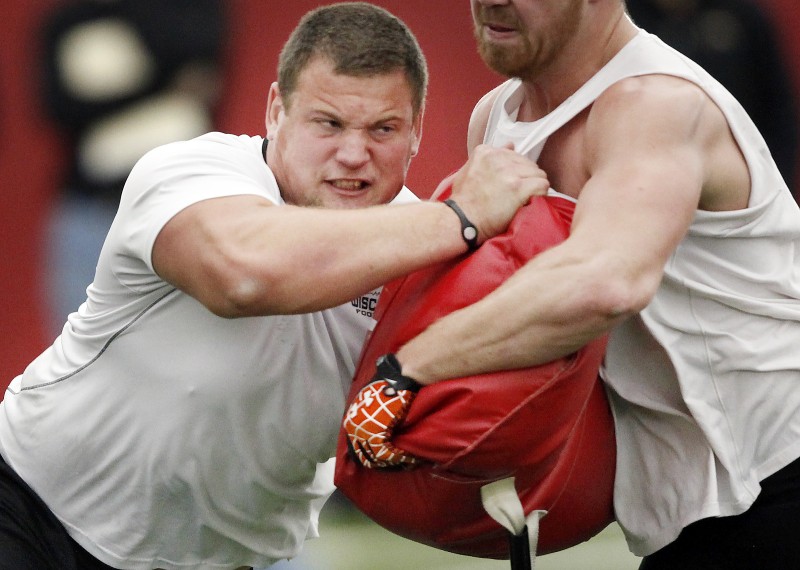 Right tackle Josh Oglesby had a talk heading into his senior season at the University of Wisconsin with Bob Bostad, who was the team's offensive line coach at the time.
"I told coach Bostad at the beginning of the season, 'Just give me a chance and I'll show you I'm still a good football player,'" Oglesby said. "That's what I have to do again."
Oglesby was true to his word, starting 13 of 14 games for the Badgers and being selected to the All-Big Ten Conference first team.
Now, he is one of several former UW players just hoping for another chance going into the NFL draft. The first round will be held on Thursday night, the second and third on Friday night, and Rounds 4 through 7 on Saturday.
Two of Oglesby's teammates in the offensive line, center Peter Konz and guard Kevin Zeitler, are expected to be the first Badgers selected, possibly as early as late in the first round.
Then comes wide receiver Nick Toon and quarterback Russell Wilson, who are projected to be mid-round picks.
After those four are another eight Badgers who could be late-round picks or possible free agents: cornerback Antonio Fenelus, fullback Bradie Ewing, punter Brad Nortman, free safety Aaron Henry, defensive tackle Patrick Butrym, defensive end Louis Nzegwu, kicker Philip Welch and Oglesby.
Since the draft went from 12 rounds to seven in 1993, the largest number of UW players to be drafted was eight in 2001.
It's fitting the offensive linemen lead the way, given the recent history at the position. UW had three offensive linemen taken in last year's draft — left tackle Gabe Carimi (first round), guard John Moffitt (third) and guard Bill Nagy (seventh) — and all three were starters in their regular-season openers.
"We have the tradition of the O-line here at Wisconsin," Zeitler said. "We're just trying to keep it going and be the next three in."
The success of the UW linemen picked last year should benefit this year's group.
"It gives NFL coaches an idea of the type of players they get when they draft from here: NFL-ready guys who have been in a complex offense, who play in big games every week," Oglesby said.
Konz is on most draft boards as the top center. He has impressed NFL scouts and coaches with his intelligence and athleticism.
Zeitler is regarded as one of the top three guards and has been compared favorably to New England Patriots guard Logan Mankins. Sports Illustrated's Peter King had Zeitler going to the Pittsburgh Steelers with the 24th pick in the first round.
"I would love to go in the first," said Zeitler, who also has worked out for teams at center. "What I've been trying to get across is my character, my off-the-field work ethic, that can push me past other people who don't take the same (approach).
"I'm getting better at snapping; I work hard. If anyone's questioning my pass blocking, I've never given up a sack (at UW). I'm just trying to prove to people I can play."
Oglesby has to overcome what he terms the "baggage" of five knee surgeries. He had the slowest 40-yard dash time (5.8 seconds) at the scouting combine in February. But he also measured 6-foot-7 and weighed 338 pounds, with the longest wingspan and biggest hands.
"I knew going in it was going to be an issue," Oglesby said of his knee surgeries. "It's sort of like buying a car if they told you the engine's been rebuilt. I completely understand where clubs are coming from. It's a lot of stuff to gamble on."
Wilson also is perceived as something of a gamble, given his height (5-1058) and the lack of success of NFL quarterbacks who are less than 6 feet. But the more NFL coaches are around Wilson, the more they seem to like him.
Former NFL quarterback Chris Weinke worked with Wilson for seven weeks at the IMG Madden Football Academy in Florida. Weinke also worked with first-round picks Cam Newton and Christian Ponder last season, as well as Texas A&M's Ryan Tannehill and Michigan State's Kirk Cousins in this draft.
"(Wilson) was one of the best I've ever seen in the classroom," Weinke said. "He didn't ever stop working. … He's the consummate pro. He just does everything right. Whoever gets a chance to get him is going to be very lucky."
The 6-foot-3 Toon, from Middleton, should benefit from the recent trend toward bigger receivers. Last season, 20 NFL starting wideouts measured 6-3 or taller.
Toon helped himself by running the 40 in 4.43 seconds at UW's pro timing day in March, to go along with a 39-inch vertical jump.
"I've never doubted my speed," Toon said. "I've always known I was faster than what people thought. For whatever reason, it could have been how we ran our offense at Wisconsin, I don't know. I just think I dispelled any doubts on my speed. Hopefully, it's a positive thing moving forward."
Prior to the Rose Bowl, NFL Network senior researcher Chad Reuter, a Waunakee native, analyzed the draft and free agent prospects for the University of Wisconsin football team. Here are his evaluations of each prospect, along with projections he made this week in his seven-round mock draft, and the player's actual destination.
C Peter Konz: A rare talent who can be both an anchor and mobile, but injuries may take him out of first round. Ravens, first round (has yet to be picked)
WR Nick Toon: Has the size to shield NFL cornerbacks and shows flashes of good hands, but inconsistency and injuries an issue. Projects as a No. 2 receiver. Bears, fourth round
G Kevin Zeitler: Decent mobility, especially for a thick guy. A good fit for zone-blocking teams. Colts, second round (Selected by Bengals in first round)
S Aaron Henry: Will be the most athletic of the guys picked outside the Top 50 but awareness in coverage is an issue. Will wow NFL teams in interviews.
QB Russell Wilson: Tough, has a good enough arm to throw the cross-field out. Makes enough tight throws to show he's got enough accuracy. Obviously mentally strong, and character counts with QBs. Eagles, fourth round
CB Antonio Fenelus: Feisty as hell. Gives no quarter to receivers, even on balls in the air. Can help on special teams.
RB Bradie Ewing: Will get a shot because he can catch, block and play special teams. Chiefs, seventh round
RT Josh Oglesby: Don't know how many teams will take a chance, given his injuries and inconsistency. But when he lengthens out, you basically can't do anything against him in pass rush.
DT Patrick Butrym: May stick on an NFL roster for years. In the 4-3, he's a good tackle you can really rely on.
LB Kevin Claxton: Special teams contributor. Could follow path of Lions' DeAndre Levy; if you get into the right system, like the Eagles, you can play there at 6-0.
K Philip Welch: One of the top 2-3 kickers in the draft. Will be getting a lot of Saturday phone calls.
DE Louis Nzegwu: Not a great pass rusher but an effort guy. Could back up at end on either side.
P Brad Nortman: Consistent; must improve delivery time but he's not terrible in that area. A priority free agent.