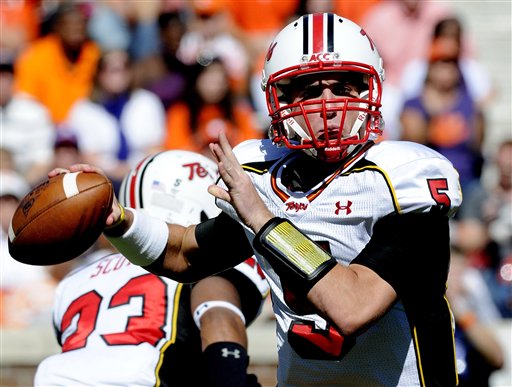 As he loaded up his car Thursday and jumped in the driver's seat — with his mom riding shotgun — quarterback Danny O'Brien felt like he was embarking on a great adventure.
O'Brien and his mom left the family home in Kernersville, N.C., for the roughly 15-hour, 850-mile drive to Madison.
After graduating from Maryland on May 20 with a degree in business administration, O'Brien is scheduled to join his new teammates at the University of Wisconsin for the start of summer workouts on Monday.
"I'm very excited," O'Brien said in a phone interview, once he cleared the West Virginia mountains and their spotty cellphone coverage. "It's a new chapter, a fresh start.
"I'm really excited to get off on the right foot, kind of get right in there and get right to work, honestly. But it does feel kind of like a new chapter in my life."
After graduation, O'Brien texted a picture of himself in his cap and gown, with family members, to Badgers coach Bret Bielema. They all were making "Ws" with their fingers.
"I didn't put it anywhere else but I did send him one" picture, O'Brien said.
Bielema previously said he believed O'Brien might have access to a UW online playbook before arriving. O'Brien said it turned out the rules did not allow him to look at any form of the playbook.
"I actually can't get it until I get up there," he said. "That's the first thing I've got to take care of is actually getting the playbook, because they're not allowed to give it to me until I'm actually enrolled there and everything.
"Luckily, I'll have all summer to get into it. I'll be in it all day, every day, for sure."
Despite the late start in getting a playbook, O'Brien is not worried about learning the offense by the start of fall camp. Having played in a West Coast-style offense two years ago at Maryland, he expects considerable carryover.
"I'm not concerned," he said. "We ran a lot of the same stuff, it was just called different things. So it's not going to be all new stuff, it's just me getting the terminology down."
O'Brien signed with the Badgers more than two months ago, selecting them over Penn State, Mississippi and Vanderbilt. He started 17 games in two seasons with the Terrapins, ranking fifth in school history in career passing touchdowns (29), eighth in career passing yards (4,086) and eighth in career completions (342).
He will have limited contact with UW coaches over the next two months, other than the strength and conditioning staff, which monitors summer workouts. When the Badgers signed transfer quarterback Russell Wilson last year, he arrived a month before camp opened after playing minor-league baseball.
"Kind of a little different from Russell to be here the full two months," Bielema said. "To get incorporated with our players, especially when we can't be around, I think that's special."
O'Brien described the next two months as "crucial" to his success in the fall.
"Just getting around the guys, getting a feel for the chemistry of the team and learning the playbook, I think it's going to be a real big two months for me," he said.
One of the first things Wilson did after arriving was stand up in front of the team at a meeting and introduce himself, telling his new teammates he was here to work. O'Brien still was formulating his game plan, but made two trips to Madison to meet his teammates and has had ample time to speak to them over the past two months.
"I'll kind of play it by ear and get a feel for it, but certainly I'm going in there with a plan for myself, just to get to know the guys and let them know where I am and where they are and make it a nice transition," O'Brien said.
He will live with center Travis Frederick, guard Ryan Groy, linebacker A.J. Fenton and defensive tackle Ethan Hemer, as well as former player Sam Edmiston
"We just really got along well when he came in," Frederick said. "He got along with everybody that lives with us. He was looking for a place to stay and we didn't want to have to shove him in with somebody and stick him on a couch or something. We had an extra room and we offered him a spot."
O'Brien will have all summer to throw to his receivers and get comfortable with them.
"You learn how guys run routes, you get a feel for how they come in and out of breaks," he said. "I think the summer is a really good time to get that chemistry down, where it's kind of second nature once camp starts."
UW senior running back Montee Ball is as anxious as anyone to see O'Brien on the field.
"Obviously, I expect him to come in and want to win and practice like he wants to win," Ball said. "I'm just as excited as (reporters) to see what he can do."
O'Brien has to take a physical, before he is cleared to work out with the team. But he can't wait to get on the field and start to earn his new teammates' trust.
"I don't think it's a whole lot of words," he said. "I think it's coming in and showing by example, I'm here to work hard and sacrifice with the team and just be one of the guys."