The Big Ten continues to live in an upside-down world.
Northwestern and Indiana keep chugging along. Penn State and Michigan continue to struggle.
And Wisconsin still waits on the sideline.
Three weeks into this shortened season, teams seem to be coming into definition. It's just not the picture we expected for many of them.
While they were awaiting election results, Big Ten fans might have missed some of Saturday's excitement. Here are five takeaways.
1. Wisconsin is in a predicament.
The Badgers are probably the best team in the West. But will they get to prove it?
A COVID-19 outbreak caused Wisconsin to cancel games against Nebraska and Purdue. To compete in the Big Ten championship game, teams must play at least six games, unless the conference average drops below eight games played. That means Wisconsin must play the rest of the games on its schedule, starting Saturday at Michigan.
The Badgers returned to limited on-field conditioning Friday as their active COVID-19 cases decreased. They had 14 cases (nine players and five staff members), down from 27 earlier in the week.
Wisconsin never reached a positivity rate above the Big Ten threshold not to play, athletic director Barry Alvarez has said, but the program decided to cancel the games anyway to help contain the spread.
Unless there is another spike on the team, the Badgers are likely to resume their season this week against the Wolverines. But their hopes can be undone if an opponent has to cancel because of a COVID-19 outbreak.
The logistical problems the pandemic presents might mar the season.
The Hoosiers' schedule looked stacked against them. Penn State and Michigan were two of the first three opponents.
But Indiana has beaten both, along with a victory against an improved Rutgers team, to start 3-0 in conference play for the first time since 1988.
Is Indiana now a football school?
Despite Michigan's severe issues, Indiana's 38-21 victory Saturday further legitimized coach Tim Allen's squad. The Hoosiers had not beaten Michigan since 1987.
Michael Penix Jr. looks like the Big Ten's second-best quarterback after Ohio State's Justin Fields. He threw for a career-high 342 yards and three touchdowns as the Hoosiers picked up 460 yards of offense.
The offensive line deserves credit. Michigan never sacked Penix, and the Hoosiers converted 9 of 18 third downs.
A Nov. 21 game at Ohio State could be a surprisingly interesting showdown.
3. Penn State's problems are proliferating.
Penn State is having the opposite start of Indiana. The Nittany Lions are 0-3 for the first time since 2001 after their 35-19 loss to Maryland.
They fell behind 21-0 and never led against the Terrapins, eliciting media and fan accusations that the team has thrown in the towel with little to compete for at this point.
It's a perplexing season so far.
There's no excuse for a talented defense to be unable to get any pressure on quarterbacks. Maryland's Taulia Tagovailoa looked relaxed as he went 18 of 26 for 282 yards and three touchdowns.
Offensively, quarterback Sean Clifford has struggled to find open receivers. Don't let the 340 passing yards against Maryland deceive you. He didn't start finding his targets until the game was out of hand.
Surely the losses of linebacker Micah Parsons, who opted out, and running back Journey Brown, who is out for medical reasons, have had an impact. But Penn State should be more competitive than what it's displaying.
"We're not as one right now," receiver Jahan Dotson said. "We're not a unit right now. "
It seems like a lost season, and it will be a challenge for coach James Franklin to rally his players for a strong finish.
4. Is it too late for Iowa?
The Hawkeyes finally looked like themselves in a 49-7 victory against Michigan State, their first win of the season.
Was that because the Spartans are struggling? Or has Iowa turned a corner?
And if the Hawkeyes (1-2) have, do they have time to make up any ground?
Iowa built a quick 14-0 lead, received steady protection from the offensive line, forced key turnovers and held Michigan State to 59 rushing yards.
In an abbreviated season, Iowa can't afford another stumble.
5. Illinois is back . to the bottom.
Illinois is in a free fall. The Illini losing streak, dating to last season, reached six games with Saturday's 41-14 loss to a previously winless Minnesota team that gave up 94 points in its first two games.
The Illini have looked thoroughly outmatched, unprepared and undisciplined this season.
And this was supposed to be coach Lovie Smith's best squad.
After weathering the storm of a bare cupboard left by his predecessors and managing rosters full of underclassmen, Smith's fifth team is finally experienced, supposedly more talented and has depth at key positions.
Yet Illinois (0-3) is alone at the bottom of the Big Ten West.
"I thought they dominated us on both sides, offensive and defensive," Smith said after the Minnesota game. "Couldn't do anything offensively. Not much happened, terrible performance. When you play like that, you can't wait to get to the next game. Last week we lost (31-24 to Purdue), but we didn't lose like this. We are better than this."
It's hard to believe they are.
There were signs last season, with upset victories against Wisconsin and Michigan State and a bowl appearance, that Illinois finally was turning the corner.
But there's no sign Illinois knew how to build off those achievements.
To be fair, the Illini secondary was depleted Saturday because of injuries, and they couldn't contain Gophers star receiver Rashod Bateman (139 yards on 10 catches).
But the Illini couldn't stop the run either, as Big Ten rushing leader Mohamed Ibrahim amassed 224 yards on 30 carries (7.5 per carry) with four touchdowns.
Illinois is allowing 39 points per game. It looks no better than in Smith's previous seasons.
Are there any wins on the remaining schedule?
---
You asked, we answered: 8 key questions about the Wisconsin football team's COVID-19 outbreak
How many Badgers have contracted COVID-19?
As of Nov. 7, the Badgers football program has 30 active cases of COVID-19 — 17 student-athletes and 13 staff members — since Oct. 21.
The program only identified one of those cases, saying head coach Paul Chryst has contracted the virus. Sources told the State Journal that offensive coordinator Joe Rudolph and quarterbacks Graham Mertz (above) and Chase Wolf were among those to test positive.
UW athletic director Barry Alvarez said during a news conference that the program had one positive test in the first few weeks of daily testing. Then one student-athlete tested positive on Wednesday, Oct. 21, followed by 29 more people within the program from Oct. 24-Nov. 7.
Why are the canceled games no contests if the Badgers aren't at "red/red" levels?
Because UW's decision was based on its COVID-19 testing numbers, the games are considered no contests and won't be counted on the team's records.
Big Ten protocols state that games are considered no contests if they're canceled due to a program reaching what has been called "red/red" levels. Those levels are defined as a seven-day rolling average of a team's positivity rate over 5%, and a seven-day rolling average of a team population positivity rate over 7.5%
UW officials have stated that the Badgers are at "orange/red" levels, meaning they have an average team positivity rate between 2-5% and an average team population positivity rate over 7.5%.
Per Big Ten protocols, a program must "proceed with caution and enhance COVID-19 prevention" and "consider viability of continuing with scheduled competition" if it reaches "orange/red" levels. Alvarez said UW decided to pause its team activities and cancel the games to stop the spread of the virus and "get their arms around it."
Will they schedule make-up games?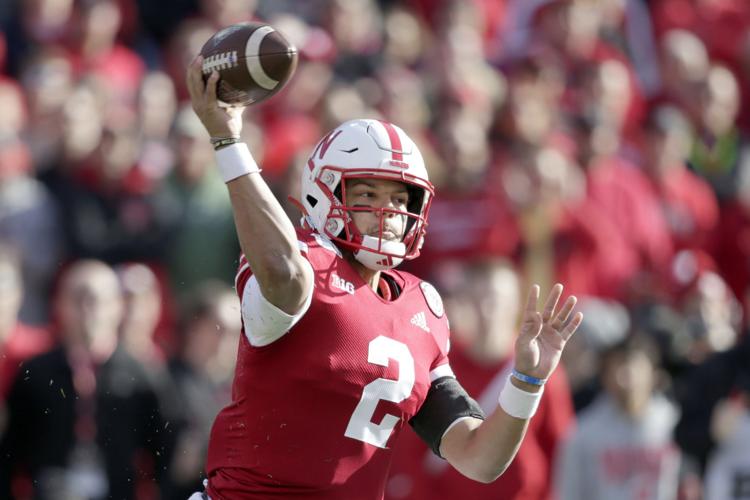 When the Big Ten debuted its truncated schedule calling for nine games in nine weeks, the lack of open dates eliminated chances to reschedule games during the regular-season window. 
The canceled game against Purdue will also not be rescheduled. 
Does Illinois' team have COVID-19 cases after playing the Badgers?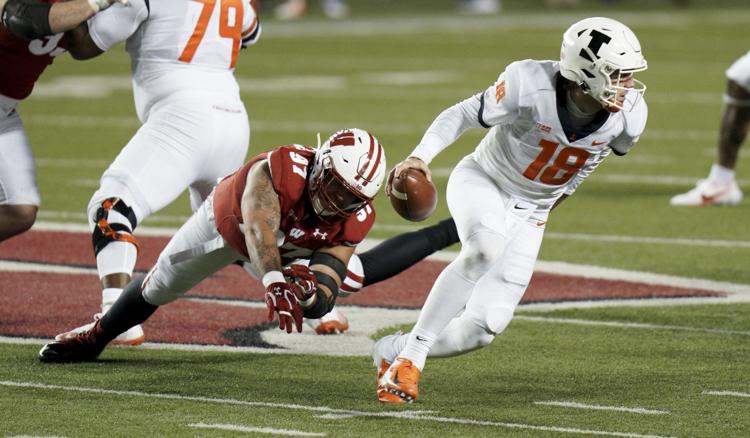 Illinois announced Saturday morning that quarterback Brandon Peters and tight end Griffin Moore tested positive for COVID-19 on Thursday, Oct. 29. Both players will be out of game action for 21 days.
"Contact tracing also sidelined several other players for (Saturday) and next week's game against Minnesota," a release from the program read.    
Will the Badgers play next week?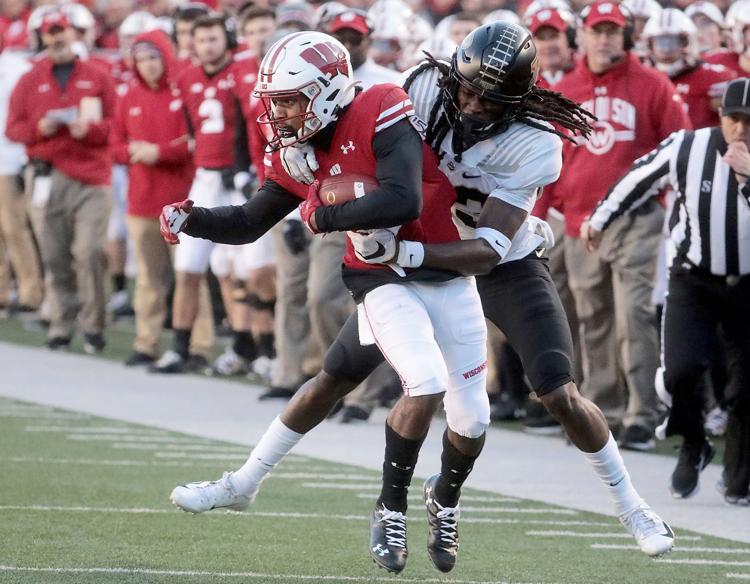 UW is slated to play at Michigan on Nov. 14. If that game will be played is still being decided. 
Why do the players who have contracted the virus have to sit out 21 days?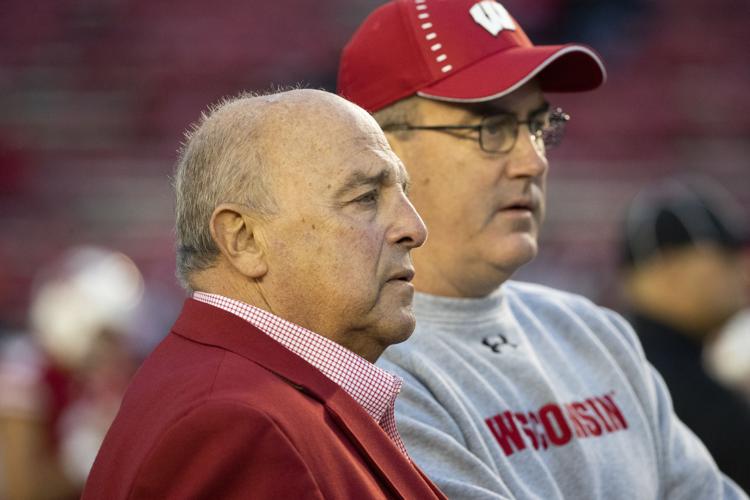 The Big Ten requires that players wait at least 14 days from their initial diagnosis to go through a cardiac screening that can clear them to start working back toward competition. The league also built in seven more days for players to build back toward competition after being cleared in the cardiac testing.
Jim Borchers, the team physician at Ohio State who was co-chair of the Big Ten's return to competition medical subcommittee, said experts told the conference that cardiac testing and evaluation couldn't start until two weeks after diagnosis.
However, this 21-day layoff has come under scrutiny this week.
A report published in the Journal of the American Medical Association found little evidence of myocarditis in COVID-positive college athletes who had mild or no symptoms. The report didn't recommend cardiac testing to the level the Big Ten is conducting.
Alvarez (above) told Sports Illustrated that the Big Ten should "reevaluate" the protocol.
Can the Badgers still make the Big Ten championship game?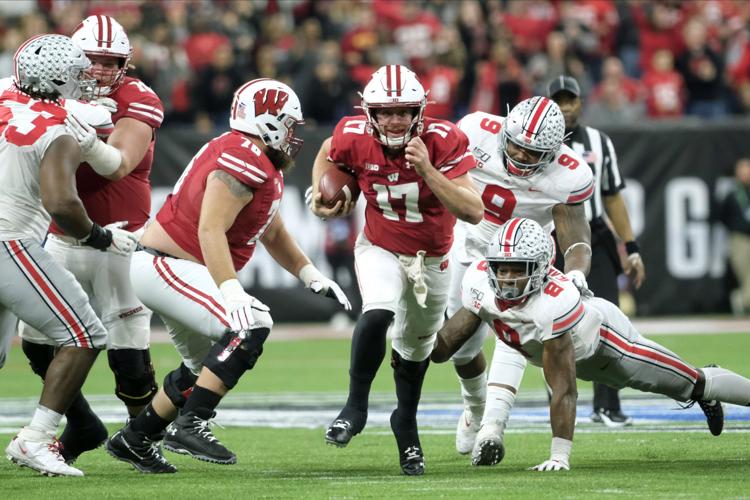 Yes, but they can't miss any more games.
The conference changed its divisional tiebreakers for this season, and those modifications will now be necessary considering at least two teams — UW and Nebraska — won't complete the eight-game regular-season slate.
According to a Big Ten policy put in place this season, "a team must play at least six games to be considered for participation in the championship game. However, if the average number of conference games played by all teams falls below six, then teams must play no less than two fewer conference games than the average number of conference games played by all teams to be considered."
How are the players doing? Are they symptomatic?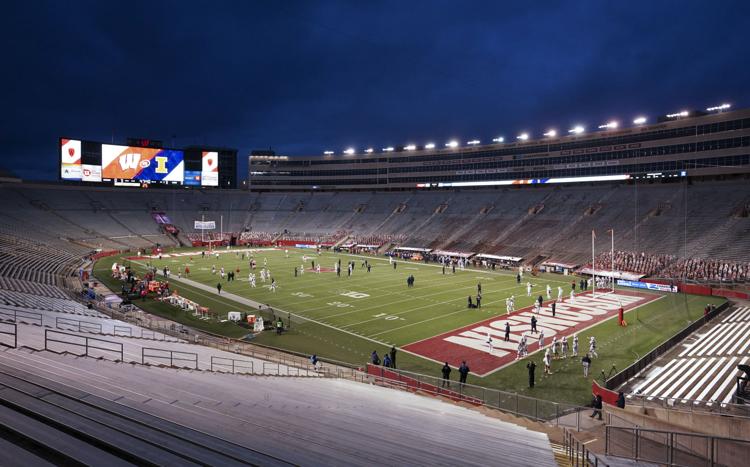 UW is not releasing updates regarding individual players' illness and has not said whether some or all have experienced symptoms of COVID-19. Michael Moll, the program's Chief Infection Officer for the Big Ten, said no players or staff members have had severe symptoms or required hospitalization.
During a Zoom call with reporters, Chryst said he felt fine physically and he completed his isolation period without symptoms. 
In an effort to stop the spread of the virus, players are isolating themselves in their living spaces. UW has secured hotel rooms to separate those who live together.