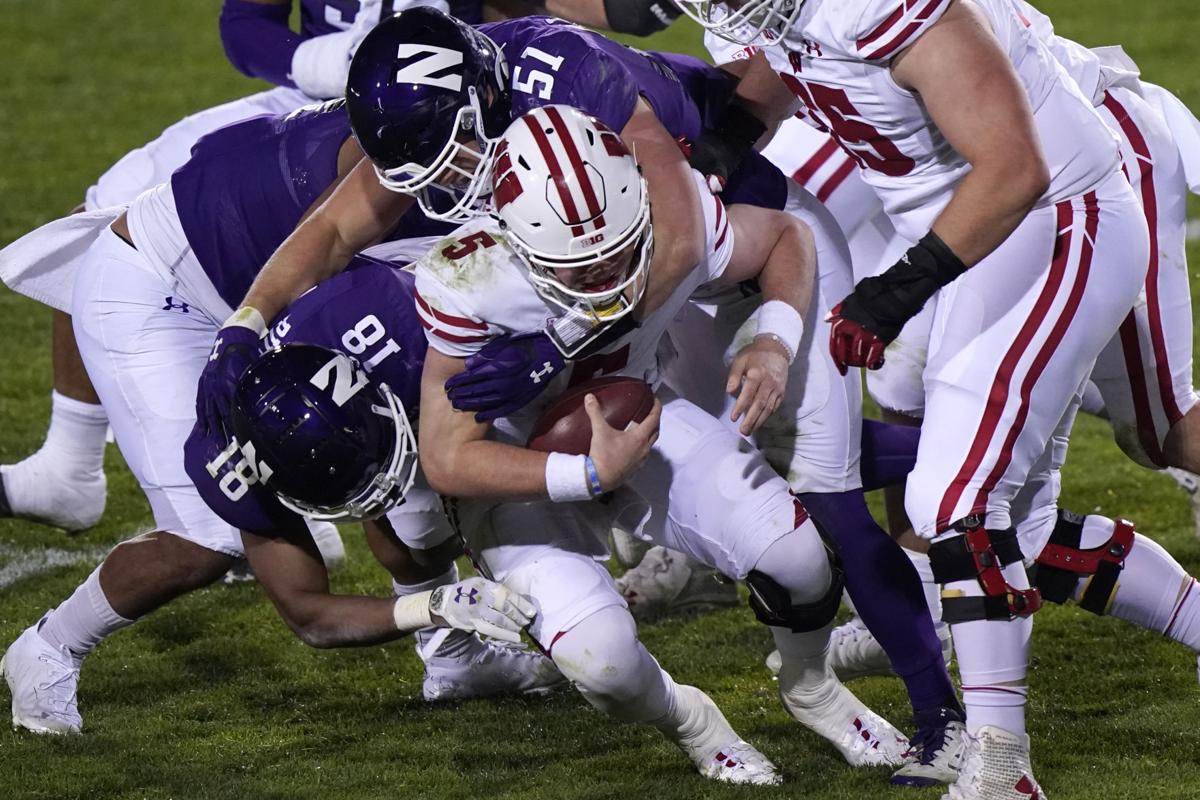 It's no secret that Ryan Field in Evanston, Ill., is where University of Wisconsin football seasons go to die.
It started in 1992 when an emerging Badgers team played at Northwestern needing a victory to clinch its first bowl bid under coach Barry Alvarez and fumbled the game away in the closing minute. From 1990 through 2018, UW had a 4-8 record at the dreariest stadium in the Big Ten Conference, including a 1-5 mark since 2003. In most of those years, the ranked Badgers saw a promising season get sidetracked by the unranked Wildcats.
Well, Ryan Field claimed another UW victim Saturday.
OK, so it wasn't just Ryan Field. Northwestern's veteran, well-coached defense, injuries and ailments that left UW short-handed at wide receiver, referees that can't properly call pass interference or read replay reviews and freshman quarterback Graham Mertz finally showing his inexperience combined to doom the 10th-ranked Badgers as they dropped a 17-7 decision to the No. 19 Wildcats.
Normally, one loss wouldn't eliminate a team from contention. But in this shortened season turned upside-down by the COVID-19 pandemic, UW now will have an extremely difficult time winning the West Division and advancing to the Big Ten Championship Game, a goal that seemed quite reachable after the Badgers opened the season with blowouts of Illinois and Michigan.
Northwestern, which has gone from last to first place in the division with the addition of grad transfer quarterback Peyton Ramsey, raised its record to 5-0 and has games remaining against Michigan State, Minnesota and Illinois, all teams with losing records. UW is still in second place in the West at 2-1, but it must win its final three games and hope the Wildcats lose two of three.
Of course, we've seen this all before. UW had five turnovers Saturday; the last time that happened in a game was at Northwestern in 2014. UW lost that day 20-14.
Indeed, UW's loss followed a pattern established over three decades but particularly since Pat Fitzgerald became coach of the Wildcats. Fitzgerald's defenses usually have been able to slow UW's bread-and-butter running game, then force turnovers when UW has to pass, especially in games at Ryan Field.
That makes Northwestern a bad matchup for UW. Just as UW's entire game plan is built around a power running game, Northwestern's formula for success is built around an extremely physical front seven.
Coming into the game, Northwestern had held UW under 200 yards rushing in the teams' last four meetings, with UW averaging 3.8 yards per rush in those games. Though UW ran the ball well at times Saturday, especially freshman running back Jalen Berger, it finished with only 136 yards on 40 carries, or 3.4 yards per carry. That wasn't enough even though UW's defense did its best to keep the Badgers in the game and limited the Wildcats to 24 rushing yards on 23 carries.
"I think they're a good football team, first of all," UW coach Paul Chryst said. "You've got to give them credit. If you look at the games we've played before, we turned the ball over. That's going to make it hard against any team but particularly a good team. I think it comes down to, you still have to play the game and execute. We didn't tonight well enough offensively. You go back two years ago and we really didn't. Last year (in Madison) we struggled a little bit and I think we had two defensive scores in the victory. They're a good defense and a good team. We've got to play better to beat them."
Still, Northwestern's style of play is no excuse for UW's performance Saturday. The Badgers thrive on disciplined play and simply can't win against a good team when they commit five turnovers and eight penalties, even if three early pass interference calls were bogus.
But UW's inconsistency on the ground put the onus on Mertz, who was throwing to an inexperienced group of wide receivers because senior starters Danny Davis and Kendric Pryor missed the game with injuries. Outstanding and seemingly unflappable in his first two games, Mertz committed four turnovers, including three interceptions. Often, he couldn't find open receivers. Other times, he took chances, as young quarterbacks tend to do. It didn't help that he had few playmakers on a day when UW needed downfield playmakers to make Northwestern pay for using its safeties to stop the run.
"Northwestern is really smart, they play hard and they know where they're supposed to be at the right time," freshman wide receiver Chimere Dike said. "It challenges you on the offensive end to be disciplined and execute your game plan."
Since Northwestern now has the inside track to the championship game, UW's mettle will again be tested. The Badgers have already lost two games to COVID-19 and next week play Minnesota for Paul Bunyan's Axe.
"We've dealt with adversity off the field a lot this year and and now on the field," linebacker Jack Sanborn said. "We've just got to come together as a team. We can't let Northwestern and this week beat us again next week. We've got a big game next week for the Axe, so we've got to be prepared, got to be ready."
UW is good at bouncing back from games like Saturday's. Then again, it's had a lot of practice at it following games in Evanston.
---
Photos: Badgers offense stalls against stingy Wildcats defense
Be the first to know
Get local news delivered to your inbox!