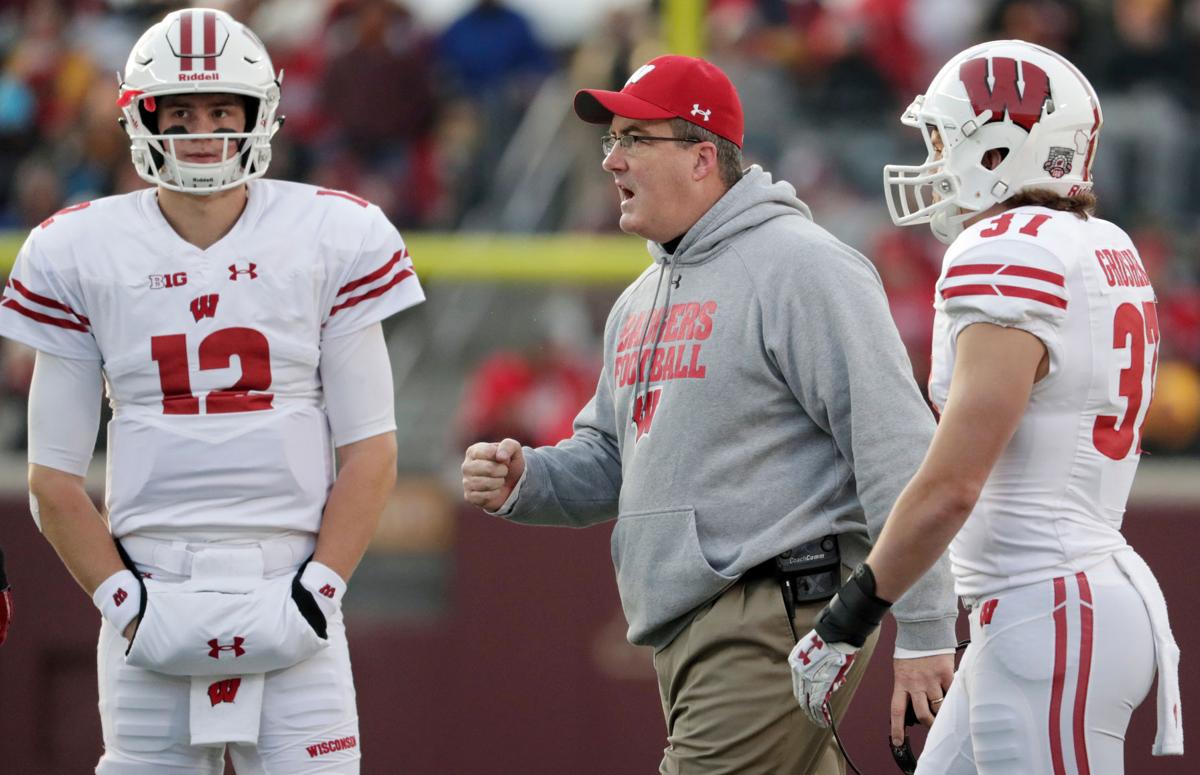 They've been through this before.
Maybe the pain wasn't quite as acute or the disappointment didn't cut quite as deep, but the University of Wisconsin football players know how it feels to fall agonizingly short of their ultimate goal and then have to regroup and play a high-quality team on a national stage four weeks later.
It happened just last year.
During the week leading up to their Big Ten Conference championship matchup with Penn State last year, the Badgers were 10-2 and ranked sixth in the next-to-last set of College Football Playoff standings behind Alabama (12-0), Ohio State (11-1), Clemson (11-1), Washington (11-1) and Michigan (10-2). Penn State, also 10-2, was slotted seventh, just behind UW.
Since UW had lost to both Ohio State and Michigan and those schools had finished regular-season play, it was a long shot for the Badgers to reach the playoffs. They had to beat Penn State and hope both Clemson and Washington lost in their conference championship games to have any hopes of reaching the four-team field. And even that would have required putting three Big Ten teams in, something the CFP selection committee likely would have struggled with.
It became a moot point, however, when Washington whipped Colorado in the Pac-12 title game on Friday night, slamming the playoff door on UW 24 hours before it played Penn State. Still, the Badgers jumped out to a 28-7 lead over the Nittany Lions before losing their momentum and losing 38-31, a horribly disappointing setback given that they had control of the game until suffering some uncharacteristic defensive breakdowns.
That painful outcome landed UW, which dropped to eighth in the final CFP rankings, in the Cotton Bowl against No. 15 Western Michigan, which was 13-0 and qualified for a New Year's Six bowl as the highest-ranked team from the so-called Group of Five conferences. But if people thought the Badgers would lose interest playing a Mid-American Conference team after falling to Penn State, they were badly mistaken. UW never missed a beat in the Cotton Bowl, controlling the game from the outset and going home with a 24-16 victory over Western Michigan.
This year followed a strikingly similar pattern for UW, though everything was magnified a bit because the opportunity was even greater. Going into the Big Ten championship game against Ohio State, UW was 12-0 and ranked fourth by the CFP committee. Only the eighth-ranked Buckeyes stood between the Badgers and a long-awaited chance to compete for the national championship.
Alas, it wasn't to be. After struggling to adjust to Ohio State's offensive speed in the first half, UW was still only 45 yards away from a game-winning touchdown in the closing minutes. But the Badgers couldn't get any closer than that and dropped a 27-21 decision to the Buckeyes in what many thought was the biggest game in UW football history.
Just like that, UW's Big Ten and national championship hopes were dashed. It was a bitter defeat for a team that had talked openly about going where no UW team had gone before.
"I still haven't accepted it," cornerback Derrick Tindal said recently. "But we've got to move on. The world doesn't stop rotating for anybody. We've still got another game to play."
You have free articles remaining.
If the disappointment from the Ohio State loss is similar to last year, UW's response should be, too. Indeed, it would be a major surprise if UW didn't bounce back and play well when it meets ACC power Miami (Fla.) in the Orange Bowl on Saturday night.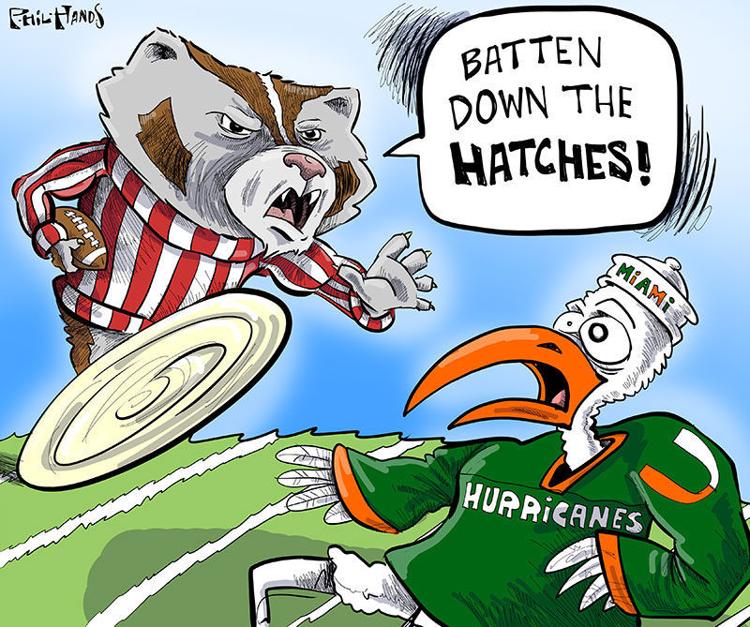 "It is similar in the sense that it was a tough loss and guys put it out there," coach Paul Chryst said. "And yet I feel like I know this team, so they'll be ready to go. We talked about it after the game. The thing that's fortunate is that there is one more game with this team and knowing this group, they'll (respond)."
Responding to adversity within games and delivering a consistent effort from game to game have been the characteristics of a UW team that won its first 12 games. The Badgers will call upon those traits against Miami, a once-great program that bounced back into the national spotlight with a 10-2 record this season, its second under long-time Georgia coach Mark Richt.
UW was ranked sixth and Miami 10th in the final CFP standings. If the Badgers are suffering from a hangover following the Big Ten title game, they will be in for a long day against the Hurricanes. But if they view this game as an opportunity, they should beat a Miami team that isn't as good now as it will be once Richt's recruiting prowess kicks in.
The Badgers don't sound like a team that has lost interest in the season. Tindal insisted there is "no doubt" they will be ready for the Hurricanes.
"We've got a bunch of dogs on this team," he said. "And when you've got a lot of grit, it ain't nothing to bounce back. I feel like we're going to do a good job of that."
One thing the Badgers have done is kept a laser-like focus all season, treating every game and every opponent the same. Heck, they've done it throughout Chryst's three-year tenure, a big reason UW is 33-7 since 2015.
"You don't want to dwell on a loss too long," defensive end Alec James said. "If you dwell too much on the past, it's not going to end up well for us. A lot of guys have moved on by now, and we're just focused on Miami."
The Badgers certainly have plenty to play for. A victory would give them 13 for the season, the most in program history. They want badly to win the final game for the seniors, a group that has already set a program record with 44 wins. And they will be playing a brand-name opponent on national television on Saturday night with no competition from other games, so all eyes will be on them.
Mostly, the Badgers want to win because that's what they do, rain or shine.
"Losses hurt," defensive coordinator Jim Leonhard said. "The effort, the energy, as much as our kids put into football, it hurts when they lose. I think our kids are resilient and they bounce back. Obviously, they have high goals and high expectations, just as the coaches do, just as all the fan base does. But they know how to work and they know they have a great opportunity ahead of them. The beauty of sports is a lot of times you get more opportunities. We're going to the Orange Bowl and we're excited to be there and our guys will be ready to play once that ball's kicked."