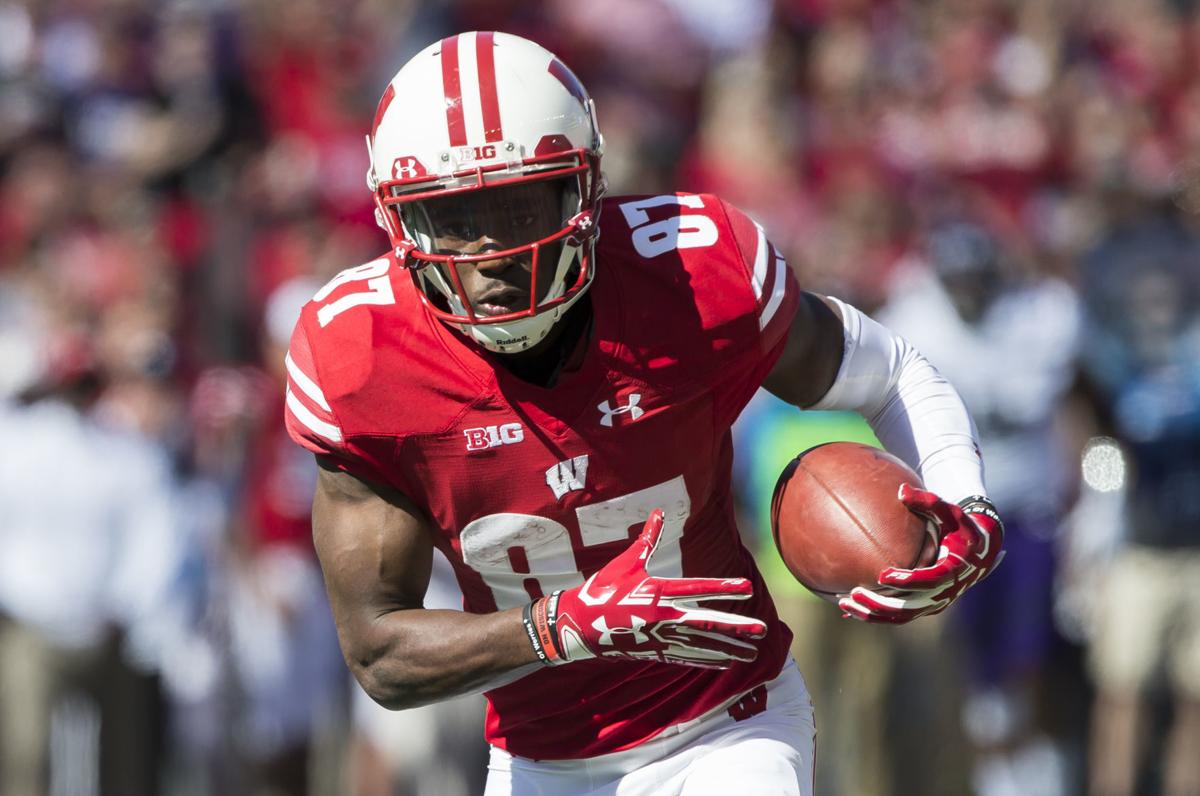 The University of Wisconsin did the right thing in reinstating Quintez Cephus as a student and football player.
Now it's up to the NCAA to do the right thing and restore Cephus' eligibility in time for him to play this season.
And if that happens, it'll be up to Cephus, a junior wide receiver with NFL potential, to get up to speed in time to give the Badgers the deep threat they missed last season.
Cephus was suspended from the team last August when he was charged with sexually assaulting two female students at his apartment earlier in 2018. While suspended, he completed the first semester of school last fall and was four weeks from completing the second semester in the spring when UW, saying Cephus violated its non-academic misconduct policy, expelled him and removed him from the campus.
Cephus was acquitted of the alleged crimes by a jury three weeks ago, however, and UW chancellor Rebecca Blank properly reinstated him as a student and athlete Monday. On Wednesday, Cephus was back on the practice field with his teammates for the first time.
"(It was) exciting," tailback Jonathan Taylor said. "Just good to see his face smiling, running around full of energy. Just like the old days."
Well, not quite. Before Cephus can play in a game for the first time since he suffered a broken leg against Indiana late in the 2017 season, he must clear up an eligibility issue with the NCAA.
Coach Paul Chryst declined to elaborate on the issue Wednesday, saying only that it was related to a lack of credits. Chryst said UW officials are working on resolving the issue but wasn't able to offer a timetable.
Although it is dangerous to predict what the NCAA will do or how quickly it will act, it would seem that Cephus, an academic All-Big Ten pick in 2017, has a solid case for an appeal because he was a student in good standing and wasn't allowed to complete the second semester when he was expelled — unfairly, as it turned out.
If Cephus' eligibility is restored, the questions will then turn to football: How much and how soon can he help a Badgers team that opens its season next week at South Florida?
The answers: Cephus can be a game-changer for UW, and probably sooner than you think, though it might take him a little while to find his rhythm.
You have free articles remaining.
"I know what he did the last time we played (with him)," Chryst said. "He's got to get back to playing, but I think he's a guy that can bring (a lot). He's a really talented receiver. He's really good in the run game. I think there's an energy that he brings. ... And yet, he still hasn't played for awhile now and he's got to get back into it. But I think you set the bar. I know he has and we all have a high bar for him."
Cephus said Monday he expects to play "at a very high level" and, according to Chryst, the 6-foot-1 receiver did a good job of staying in shape during his time away from campus. However, Cephus hasn't played a game in 22 months and has yet to test his leg in live action. He also must learn an offense that has made changes since his departure.
"He looked great, in shape, excited, full of energy, ready to run every play," Taylor said. "You could tell he was eager to get back."
Limited to nine games as a sophomore in 2017, Cephus was still UW's best receiver. Despite missing the final five games, he was third on the team in catches (30), second in receiving yards (501) and first in touchdown catches (six). More important, he provided explosive plays as seven of his 30 catches went for 20 yards or more.
Asked if it was too much to think Cephus can be better this season than he was in 2017, tailback Garrett Groshek said, "No, and if you know Quintez, you know that he's thinking the same way. He's not looking at this as, I've got to shake the rust off or I've got to work myself back into it. He wants the same as anyone. He's competitive. He wants to come in and compete and win games."
If Cephus does that, he would give UW's offense a boost in multiple ways.
Veterans A.J. Taylor, Danny Davis and Kendric Pryor already formed a promising wide-receiver corps, but adding a unique talent such as Cephus would make it an elite group. Plus, it would create depth at the position as the other scholarship receivers have been inconsistent this fall. It also could allow Chryst to use more wide receivers in his sets since there is a shortage of healthy tight ends.
Mostly though, Cephus would give UW a deep threat. UW had only one completion of longer than 36 yards to a wide receiver last season, a 44-yarder by A.J. Taylor against New Mexico. In all, UW ranked 114th in the nation with 27 receptions of 20-plus yards and 125th with eight receptions of 30-plus yards. The Badgers were one of five teams that didn't have a pass play of 50 yards all season.
Some of that was quarterbacking, some of it was blocking and some of it was not having Cephus in the lineup. He could rectify at least part of that equation this season.
Known as a hard worker, it's possible Cephus won't miss a beat. Whatever he did in his return Wednesday, though, Chryst wasn't drawing any conclusions.
"It was not a long practice and he certainly didn't get a ton of reps," Chryst said, "but I think he can add a lot to this offense."
Getting eligible is the first step. The rest is up to Cephus.