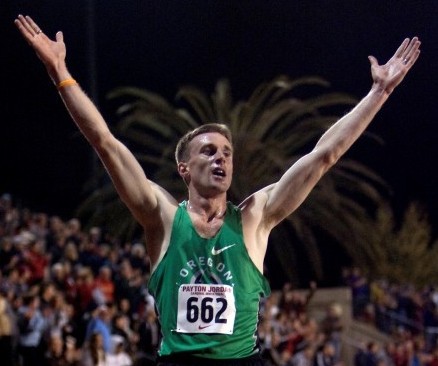 As a proud graduate of the University of Wisconsin who now lives in Portland and runs professionally for Nike, the clothier for the University of Oregon, Chris Solinsky has an interesting perspective on the upcoming Rose Bowl.
During a recent interview for an article about his road back from hamstring surgery and Olympic aspirations heading into the 2012 London Games, Solinsky talked about his love of Badgers football and his perspective on the Ducks, whose No. 1 fan is Nike co-founder Phil Knight. 
Q: It's frequently pointed out that you don't have they typical runner's build, and an article I saw compared your physique to that of a Division III safety. Did you ever play footbalI growing up?
Solinsky: I wanted to play football, but before I ran, I was really big into soccer, and that kind of played into running. I was just more passionate about other sports. But I always loved football, and when I pplayed flag football I had a good time playing.
Q: You are pretty public on Twitter and Facebook about your passion for Badgers football. Are you able to keep close tabs while in Oregon?
Solinsky: It's sporadic ... when I had the (hamstring) surgery, I was able to catch the first three-quarters of the season. Once I got more mobile, and began cross-training and traveling for Nike, I would watch the stats online in real time on ESPN.com. I watched the Michigan State game and was heartbroken. My wife had a party to go to, and I told her, "Unless I can sit and watch the game at your party, I'm staying here to watch." She left and it was 14-0, and I said I'd be a happy camper if they win. As soon as she walked out the door, that's when the trouble started. I didn't think there was any way we were going to lose that game after the first quarter, and then all of the sudden it just fell apart.
Q: So are you saying your wife, Amy, may be key to the Badgers' chances in Pasadena?
Solinsky: That's what she said, too: "Maybe I'm the good luck charm." I was like, "How in the world can you be the good luck charm?" She's around the house but she'll be doing other stuff while the game's on, or she'll want to watch something else, and usually I'll lose that (argument) and record it on DVR. But for whatever reason, she must be the good luck charm. So hopefully having her around on Jan. 2 will get us the win.
Q: You're surrounded by Badgers at Nike. Are UW sports a constant topic of conversation?
Solinsky: We've got seven Badgers at Nike, including our coach and strength coach. When we kicked around how they won the Big Ten championship, some of them were saying, "Oh, it kind of stinks that we won that way at the end -- it was kind of controversial." I was like, "I love it -- that's how we lost the first game, so they get a taste of their own medicine." Besides Nike, I have a brother-in-law who went to Michigan State; his wife (Solinsky's wife's sister) went to Wisconsin. The rest of her family went to Iowa, so there's a lot of Big Ten talk.
Q: I read that when the UW men's cross country team was competing in Oregon this year, you and the Nike crew met up with them and went to a restaurant to watch the Badgers football team play Nebraska in the Big Ten opener. Was that a great bonding experience?
Solinsky: It was nice to get a little more firepower to our group, but also to meet the current Badgers squad that went on to win it all. I'm hoping these guys have the same momentum and juice behind them to take down the Ducks.
Q: With all the success in UW sports in recent years, you've certainly had a lot to stick out your chest about, haven't you?
Solinsky: My sister actually went down to Madison -- her boyfriend's sister graduated in December -- and they were walking around the Kohl Center and first she said, "There's a lot of pictures of you around here." She was talking about how the Kohl Center has done a really nice job of honoring each decade. There's just stuff everywhere. As soon as she said that, I was just like, "Yeah, they've been doing really, really well in sports the last few years."
It's been exciting to be a Badger fan. I feel like when I was at school, you didn't hear Wisconsin getting talked about a lot on SportsCenter. They're getting the name out there a lot more, and getting talked about a lot more. Obviously it was a big deal to get Russell Wilson. That's why I was ticked off this year. I kept saying, they almost wasted their chance -- finally had a great quarterback, and this was the year of all years to be able to pull something off. We missed our chance a little bit there, but I think we can redeem it by winning the Rose Bowl.
Q: What's the Rose Bowl outlook among Oregon fans?
Solinsky: I think a lot of the Oregon people, they're a little bit nervous but they have the same perception everyone else has of the Big Ten -- that it's just slow, that we're too fast and we're going to walk all over them. It's kind of good to hear -- hopefully the football team is hearing that, too, with people underestimating our team. The Oregon team is a fast, explosive team, but Wisconsin isn't the Wisconsin of old. I think Wisconsin matches up a lot better with Oregon than Michigan State did. I definitely think it'll be a close game and fun to watch.
Q: From a fashion perspective, what are your thoughts on the extensive Oregon football uniform choices?
Solinsky: Sometimes they're a little questionable. Sometimes they're pretty darn cool, but sometimes they try a little too hard. Hopefully they don't get those special spikes that TCU did for the Rose Bowl last year. Hopefully they'll come out with somewhat of a conservative uniform choice.
Q: Did you have any thoughts of attending the game?
Solinsky: I almost had my wife convinced to go to the game in person. We'll be in Palm Springs the day before, and then we're heading back to Portland. It would have required changing our flight, getting a ticket, renting a car, and convincing some pals to go. But the rest of the group is preparing for the Olympic marathon trials, which is just a couple of weeks later, and they're too focused. There's a couple people at Nike who are from Oregon who I thought might go, but I decided I didn't want to be surrounded by Oregon people.
Be the first to know
Get local news delivered to your inbox!