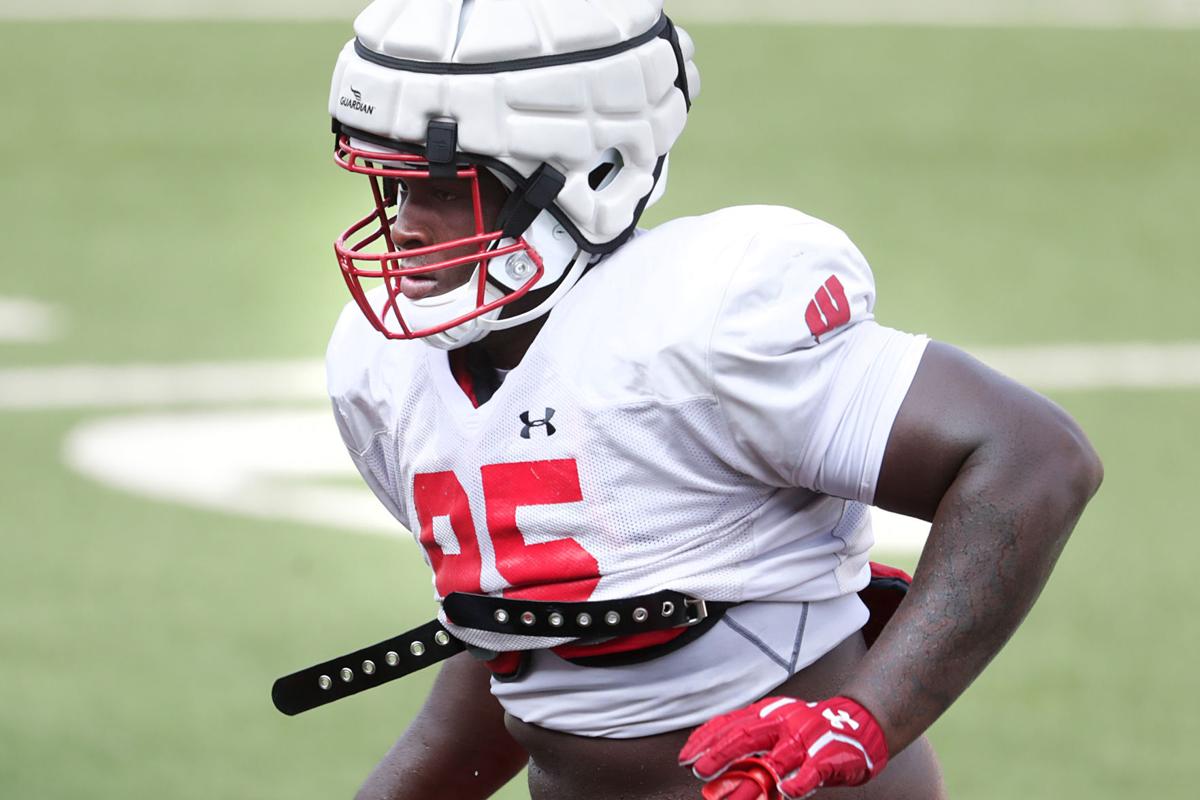 I began this week by turning the tables on University of Wisconsin football fans and asking them a question: What do you think the Badgers' record will be this season?
The runaway winner was 10-2, and that tells me most fans are realistic about the team's chances in 2021. The Badgers will be good but once again struggle to make the step to great.
I tend to agree and 10-2 is where I would have landed as well.
Here are the final results from almost 900 votes:
Now on to your questions. As always, thanks for reading and for those who submitted questions, keep them coming.
If you haven't already, please click this link to become a print and/or digital member. We have some great deals going on right now.
---
Best and worst case scenarios for Badger football this year?

— Craig Smith (@smithcp1) August 30, 2021
Craig gets things started by asking me to look inside my crystal ball.
Best-case scenario: The defense is what we think it can be while Graham Mertz develops into the blue-chip quarterback fans have been waiting for since Russell Wilson left town. UW wins close games early against Penn State and Notre Dame and builds momentum while running the table during the regular season. It plays the perfect game against Ohio State in the Big Ten title game and earns the program's first-ever bid to the College Football Playoff, where the Badgers fall to either Alabama or Clemson in a semifinal.
Worst-case scenario: Mertz and the offense struggle with consistency and the defense can't carry the load. The Badgers exit September with two defeats and lose another early in October, either to Michigan or — close your eyes, UW fans — Bret Bielema and the Fighting Illini. UW takes a couple more hits along the way and limps to the finish line of the regular season with a 7-5 record, which keeps alive the bowl streak but leaves the Badgers with back-to-back disappointing seasons.
---
What's more likely: 11-1 regular season or 7-5? 3 of the 1st 4 games are against more talented teams on paper. I could easily see a scenario where they are 1-3 after the Michigan game and then struggle to stay motivated through the rest of the season.

— John Hermansen (@johnhermansensf) August 30, 2021
The good news for the Badgers is that two of those games are at home and the other — against Notre Dame at Soldier Field in Chicago — is at a neutral site. UW absolutely has to take care of business at Camp Randall Stadium to get this season off on the right foot.
I'm going to be optimistic here and say that 11-1 is more likely than 7-5. I think the return of fans will be a big boost in those early matchups against Penn State and Michigan. I'm on the record as saying Mertz will take a big step and the offense will be much better this season. And I'm buying into the notion that the people inside this program realize there's unfinished business and now is the time to take care of it.
---
Are we going to see more of "Illinois game Mertz" this season?

— Edward Niedfeldt (@ENiedfeldt) August 29, 2021
Is Mertz ever going to have another game like the 2020 opener, when he completed 20 of 21 passes for 248 yards and five touchdowns against the Fighting Illini? Probably not.
---
Which Big Ten team is on upset alert this weekend?
How about Nebraska, a 40-point favorite against Fordham?
Just kidding. It's easy to pile on the Cornhuskers these days.
Former Minnesota coach Glen Mason apparently said on a Twin Cities radio show this week that the Golden Gophers, a 14-point underdog, are going to upset No. 4 Ohio State on Thursday night.
I don't see that happening.
If a 5½-point line can be considered an upset, then I have two solid options:
Penn State over UW, and UTSA at Illinois. For the uninitiated, that's the University of Texas-San Antonio Roadrunners, who were 7-5 last season and played in a bowl game. The Fighting Illini, coming off an impressive win in Bret Bielema's debut, could be ripe for a letdown.
---
Which coaches will be in the box on Saturday? Assume the GA's plus maybe Mickey Turner?? Does UW have any analysts? If so, who are they and what are their roles?

— Jay Blasi (@jayblasi) August 31, 2021
You are correct, Jay. Tight ends coach Mickey Turner is the only full-time coach who will be in the booth and will be joined by graduate assistants.
The Badgers have four analysts on staff and each of them helps out with a different position group: Taylor Mehlhaff (special teams), James Rodgers (wide receivers), Ryan Bright (inside linebackers) and Alvah Hansbro (cornerbacks).
---
Is there a defensive star we should be looking for from the Badgers on Saturday?

— Reggie's hooman (@Sjkenyo) August 31, 2021
I've been beating the Keeanu Benton drum for about a month, so why stop now?
As I've said, I just think he's poised for a big jump as a junior. He's going to play more on third down and will be asked to make more impact plays. I expect his sack and TFL numbers to rise significantly.
But keep an eye on senior cornerback Faion Hicks as well. Hicks and the rest of the UW secondary have a tough matchup out of the gates with Penn State's 1-2 combo of Jahan Dotson and Parker Washington at wide receiver.
---
Will Rodas Johnson or Spencer Lytle make more noise on defense this year?

— Matt Scott (@MattScott66) August 31, 2021
Both had good moments in camp, but I think Lytle is the choice here for a couple reasons.
First, the position he plays. Outside linebackers usually are going to stand out more than defensive ends in this defensive system, though there's been talk during the offseason that more is going to be asked of the defensive linemen.
Lytle is going to be used in pass-rushing situations — likely in place of Noah Burks — and the sophomore is explosive enough to make an impact in that role. And that's good because UW didn't do a good enough job putting pressure on the quarterback in 2020.
Johnson, a defensive end, has Matt Henningsen and Isaiah Mullens ahead of him at defensive end. We'll probably see a lot of the Benton-Henningsen pairing as the two down linemen in UW's nickel package.
The point here is I'm not sure how many snaps Johnson is going to get each game, barring injuries. But I do think he has a bright future with the Badgers.
---
What are your thoughts on the coaching changes this year?

— Jeff (@bluehighway15) August 31, 2021
I've hit on this a little bit in a previous Open Jim mailbag, but so far I like what I see from the three new assistants on Chryst's staff.
Running backs coach Gary Brown is an energetic guy with an interesting background, and I think he has instant credibility with a young running backs room after playing and coaching in the NFL.
Cornerbacks coach Hank Poteat has drawn raves from veterans such as Hicks and Caesar Williams, and his addition has allowed defensive coordinator Jim Leonhard to focus on the safeties.
And Ross Kolodziej, who moved from strength and conditioning coach to overseeing the defensive line, is a natural fit for that position group. It was fun to watch Kolodziej, who played defensive line at UW, during camp from our spot in the parking ramp overseeing the practice field outside Camp Randall Stadium. Kolodziej seems to have a way of keeping things fun for his players during individual drills while also getting a lot of work done.
I've said previously that UW's three outgoing coaches — Inoke Breckterfield, John Settle and Jon Budmayr — were highly respected and did a good job with the Badgers. But sometimes a fresh set of voices and ideas can be a good thing for a program.
---
How is thw WR room doing injury wise?

— Pat Richards (@pgrichards0407) August 30, 2021
Looks to be in good shape, Pat.
Senior Danny Davis missed time in camp with a head injury, but he was at media availability Monday and said he's good to go.
One noteworthy item not related to injuries: When I asked what true freshmen will see the field Saturday, Chryst said wide receiver Markus Allen is "in the depth." Does that mean we should expect to see Allen a lot in the opener? Probably not. The Badgers have a lot of players back at that position, a group that includes Davis, Kendric Pryor, Chimere Dike, Jack Dunn, A.J. Abbott and Devin Chandler.
Still, it was interesting that Allen's was one of three names dropped by Chryst, with tailback Braelon Allen and safety Hunter Wohler being the others.
---
What is your Big 10 Power Rankings going into Saturday?

— whitey (@Whiteywilhelm) August 30, 2021
1. Ohio State; 2. Indiana; 3. UW; 4. Penn State; 5. Iowa; 6. Michigan; 7. Minnesota
8. Maryland; 9. Northwestern; 10. Rutgers; 11. Illinois; 12. Purdue; 13. Nebraska; 14. Michigan State.
Frankly, the Indiana-UW-Penn State trio could go in any order. Ditto for spots 7 through 10. I was higher on Illinois to start the season than most, and Bielema delivered in his first game back in the Big Ten. I can't imagine being a Nebraska fan and watching the dream of Scott Frost resurrecting the program seem more and more unlikely by the day.
---
What do you think the RB rotation looks like?

— Adam (@asb613) August 30, 2021
Adam asked this before the release of the depth chart Monday morning and, as I mentioned in my column that ran later that day, I was surprised that UW announced Mellusi as the starter. I really thought they'd list Mellusi OR Jalen Berger atop the depth chart.
I think Mellusi will get ample opportunities to get in a rhythm, with Berger getting at least a couple series during the game. And I'd expect Isaac Guerendo to get some touches at some point during the opener.
---
Many people are predicting the Big Ten championship game to be OSU Vs Wisconsin again. If that were to hold true, would it take for the Badgers to be able to win that game and get over the hump?

— Chris Davis (@cdavis20000) August 30, 2021
This is easy, Chris: All it would take is for UW to score more points than Ohio State that night.
OK, dad jokes aside, there's a blueprint that is easier said than done. UW would need to limit big plays in the Ohio State passing game, hog the ball on offense with a strong running game, avoid turnovers and hold its own on special teams.
Can I just say it feels a little strange to be breaking down a potential matchup that won't take place for another three months?
---
I leaned over to our UW football beat writer Colten Bartholomew early in camp and said the Badgers are going to have to win some low-scoring games, especially against tough opponents early in the season, and the score example I used at the time was 17-13.
So I'm going to stick with that in the opener: UW 17, Penn State 13. It's not going to be pretty, but the defense and the return of a big crowd to Camp Randall Stadium should be enough to help the Badgers hold off the Nittany Lions.
---
Who will be the most impactful Badger Men's Basketball Player not named Davis?

— Brad Lutes (@BALutes) August 30, 2021
The easy answer here is Brad Davison, who is UW's leading returning scorer at 10.0 points per game. Davison shot a career-high 39.1% from 3-point range but was awful inside the arc, going 28 of 102 (27.5%). That part of Davison's game obviously has to improve during a season in which scoring may be hard to come by for the Badgers.
I'd really like to go out on a limb and pick someone from a group of young players, but I can't decide who would be the most likely breakout performer from that group: Is Tyler Wahl ready to make a sophomore-to-junior jump? Can Ben Carlson and/or Steven Crowl make big jumps after playing very little as true freshmen? Will Chucky Hepburn — don't rule out him starting as a true freshman, even though I doubted that possibility in one of the early Open Jim mailbags — be an instant star?
I'll say it again: It's going to be interesting to watch this team progress this season. There are going to be growing pains, but there's some young talent on this roster that just needs time to develop.
---
Are there any likely prospects for the basketball recruiting class?

— DJ Bauer (@WisconsinFB) August 30, 2021
The 2022 class was going to be small anyway after UW signed five scholarship players and a preferred walk-on in the 2020 class and four scholarship players the following cycle.
But it's September and the Badgers still are looking for their first commitment in 2022 despite extending offers to nearly a dozen prospects. Four of those players have chosen Big Ten programs: point guard Rowan Brumbaugh (Northwestern), forward Braeden Moore (Rutgers), wing Camden Heide (Purdue) and point guard Tre Holloman (Michigan State).
Here's what's left on the Badgers' list of targets:
Josh Dix, a 6-foot-4 shooting guard from Council Bluffs, Iowa, is scheduled to make an official visit to UW on Sept. 10. But Dix visits Iowa this weekend and the Hawkeyes are considered the frontrunner to land him.
Braden Huff, a 6-9 forward from Illinois, is scheduled to visit Oct. 29. He's already visited Northwestern, Vanderbilt and Virginia Tech.
Connor Essegian, a shooting guard from Indiana, was offered by UW last month but it's not clear if he'll visit UW.
So to answer your original question, DJ, I'd say there are some possibilities but I'm not sure I'd go as strong as labeling any of them as "likely."
---
Are the Brewers better off losing this Giants series, locking up the 2 seed and avoiding the Wild Card team in the Division Series?

— Chris Mulhern (@therealcmully) August 31, 2021
I see where you're going here, Chris, but I'd still prefer home-field advantage throughout the run to the World Series. I realize that didn't work out in 2018, when the Brewers lost to the Dodgers at home in Game 7 of the NLCS. I also realize Milwaukee has been better on the road (45-23) than at home (36-29) this season.
Do I think the Brewers will be the top seed? No. I still think the Dodgers are the team to beat in the NL and they'll eventually pass the Giants and win the NL West. This Brewers-Giants series we're watching this week could be a preview of the NLDS round.
---
Does your curse on Brewers spill over to Badgers?

— Dan Coyne (@Swimdad5) August 31, 2021
Jinx? I'd say I'm a good-luck charm, Dan.
Badgers roster breakdown: Everything you need to know about every position on Wisconsin's football team
As the University of Wisconsin football team prepares to kick off the 2021 season, the Wisconsin State Journal is offering an unprecedented inside look at this year's roster.
From players breaking down their teammates' performances in camp and what to expect this season, to beat reporter Colten Bartholomew sharing his expertise on key position battles and players to watch, we've got Badgers fans covered.
Check out the complete 11-part series below: