In a moment of honesty, Kayden Lyles said he doesn't feel like he used a major opportunity to the fullest.
The University of Wisconsin redshirt sophomore is starting to make amends.
Lyles has been a bit of a nomad for the Badgers, joining as an offensive lineman for his redshirt season in 2017 but switching to the defensive side in 2018 to address a team need.
It was in the move back to offense last spring that Lyles thinks he missed a few beats. With starter Tyler Biadasz out injured during that period of time, Lyles took snaps in the first-team center role.
"Spring ball, I don't think I really took advantage of the opportunity that I had," he said. "It's just really difficult to step in that position after coming from defensive line. And looking back at that point, I mentally did not get it."
A narrowing of Lyles' world ensued, and offensive line coach Joe Rudolph said it has put the former Middleton athlete back on track.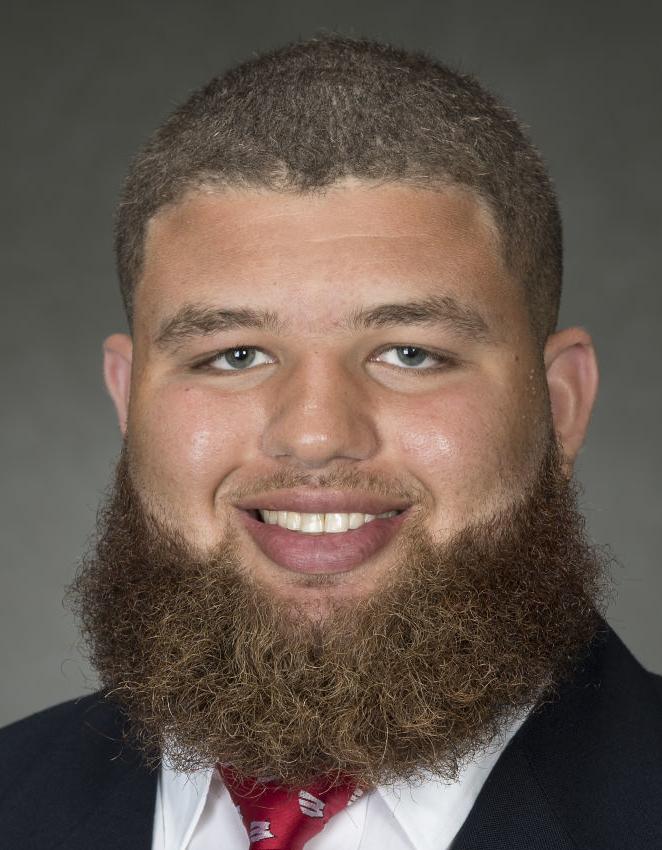 Instead of working with Lyles at both center and guard, the Badgers have focused on the latter.
"That's helped him immensely," Rudolph said. "I thought doing both, he needs to know it. I think that helps you to know it more. That might be where his future lies, but it just stifled him.
"He was just happy to get on a guy, not execute the way we necessarily had hoped. So that was the emphasis to him this whole period of time ... and he's done remarkably better."
Lyles started seven games at defensive end last season and appeared in 12 after that position's depth took a hit with an offseason injury to Garrett Rand.
Despite that spell, the Badgers always considered Lyles' future to be on offense, where he was a standout in his only season at Middleton in 2016 after moving from Arizona.
The brief stay on the other side of the ball, however, is helping Lyles understand more of what he should be doing on offense. In watching video, he makes a note of what techniques the defense is using and how he should be reacting.
"I feel like the transition from defense to offense is at its best right now," he said. "I'm fully understanding everything on offense, connecting all the defense, what I've learned on defense to offense, and just fully understanding the game as a whole."
Lyles saw some first-team time on the line earlier in camp when senior left guard Jason Erdmann moved to center with Biadasz out.
Rudolph said that he has seen the coaching points emerge in Lyles' practice reps.
"I'm really happy with the way he's progressed," Rudolph said. "He's put himself right in the mix. ... He's fighting for a starting job at guard. And I just see a different guy. I continue to see him get better."
An understanding of what's expected of him on the offensive line is helping to accelerate his growth, Lyles said.
"I feel like I'm getting better at stuff at a quicker rate right now," he said. "I'm definitely slowing the game down in my mind and everything. My goal is to just not really look into the future but to try to just better myself each and every day to give me the best opportunity to be successful."
Taylor, Biadasz honored
Junior tailback Jonathan Taylor and Biadasz, a junior, were named to The Associated Press preseason All-America first team on Tuesday.
Taylor was a consensus All-America pick last season after rushing for 2,194 yards and 16 touchdowns. He also won the Doak Walker Award and finished ninth in the Heisman Trophy voting after coming in sixth the previous season.
In two seasons at UW, Taylor has rushed for 4,171 yards.
Biadasz has started 27 consecutive games over two seasons. He was a consensus first-team All-Big Ten pick and was graded as the top center in the nation by Pro Football Focus as a sophomore.
Taylor and Biadasz were joined by five other Big Ten Conference players on the first team: Michigan offensive lineman Ben Bredeson, Purdue's Rondale Moore as an all-purpose back, Ohio State defensive end Chase Young, Iowa defensive end A.J. Epenesa and Michigan State linebacker Joe Bachie.
Witt flips to UW
Aaron Witt already has made a couple of enemies in the Big Ten West Division.
Witt, a 6-5, 230-pound defensive end from Winona, Minnesota, orally committed to UW on Monday night. He's the 14th known commitment in the 2020 recruiting class.
A three-star recruit, Witt had 18 tackles for loss, seven sacks, four forced fumbles and an interception as a junior last season, according to the Winona Daily News.
The recruiting process has been, well, eventful for Witt.
He originally committed to Minnesota last November but changed his mind in May. After a visit to Iowa in June, he committed to the Hawkeyes.
But Witt changed his mind again and went with the Badgers.
While Witt is listed as a defensive end, he could play outside linebacker at UW, according to Rivals.com.