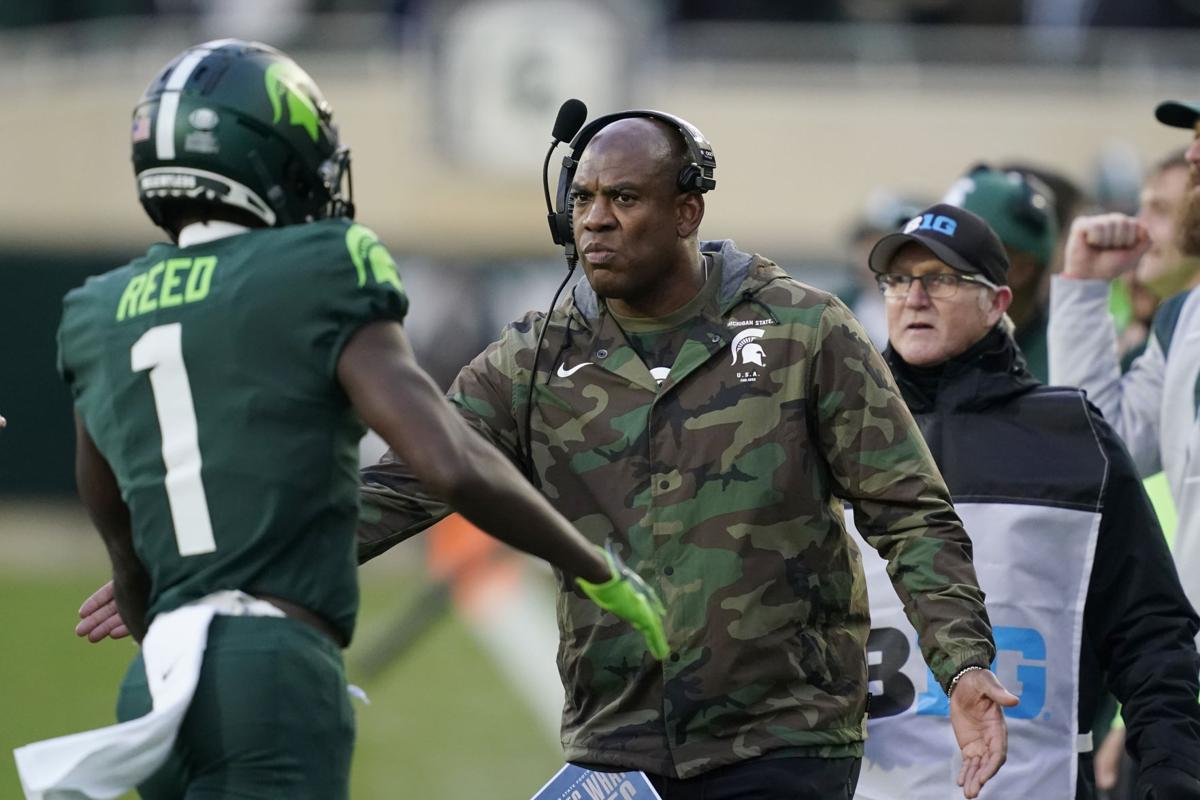 Michigan State is giving Mel Tucker a $95 million, 10-year contract, making an aggressive move to keep a football coach who potentially could have left for LSU or the NFL.
"I am honored to be a part of the Spartan process today, and for years to come," Tucker wrote Wednesday in a post on Twitter.
Tucker's contract establishes him one of the riches coaches in college football.
Only Alabama's Nick Saban, one of his mentors, who makes $9,753,221 a year, is paid more on an annual basis, according to the USA Today coaches' salaries database.
Tucker's 10-year deal puts him in select company with two coaches with the same term: Clemson's Dabo Swinney and Texas A&M's Jimbo Fisher. Swinney's contract is worth $92 million and Fisher's deal will pay him more than $9 plus million a year, starting in 2022.
Tucker's deal that expires Jan. 15, 2032, will have a $5.9 million base salary, $3.2 million in supplemental compensation for media and personal appearances along with a $400,000 contingent annual bonus.
"We're excited to have Mel here for the next 10 years," United Wholesale Mortgage president and CEO Mat Ishbia, one of the donors funding Tucker's new deal, told The Associated Press in a telephone interview. "He's a winner. He represents Michigan State in a fantastic way and we're excited for the future.
"We got a winner and we're not letting a winner leave Michigan State. Mel didn't want to leave, but the reality is he's the hottest name in football."
The 49-year-old Tucker is getting a boost in pay as part of a long-term deal because of what he has done so far, and what has happened in the past at Michigan State.
After winning just two games in his debut during the pandemic-shortened season, Tucker has led one of college football's most surprising teams. The Spartans started the season unranked and overlooked and now have a chance to win 10 games and earn a spot in a New Year's Six bowl game.
Even before the championship-caliber program in Baton Rouge, Louisiana, announced it was parting ways with Ed Orgeron earlier this season, Tucker was mentioned as a candidate in part because he coached the Tigers' defensive backs under Saban in 2000 and has an impressive resume with stints on staffs at Ohio State and Georgia.
Tucker's ties to the NFL also made it likely that pro teams with coaching openings would try to pry him away this winter. Tucker was 2-3 a decade ago as an interim coach in Jacksonville, where he was defensive coordinator, a role he also had with his hometown Cleveland Browns and Chicago over his 10 seasons on NFL sidelines.
After coach Mark Dantonio retired in February 2020, Tucker more than doubled his total compensation by leaving Colorado after only one season with a 5-7 record to sign a six-year deal worth $5.5-plus million per year at Michigan State.
With an influx of transfers, including Heisman Trophy-candidate running back Kenneth Walker, the Spartans won their first eight games this season, including a second straight win over rival Michigan.
"The decision to extend Mel Tucker's contract is not based on one year of results, but rather it's an investment in a promising future for Spartan football," athletic director Alan Haller said.
Tucker was a defensive back with the Wisconsin Badgers in the early 1990s as Barry Alvarez began building the Badgers into a national power.
Wisconsin at Minnesota football: 3 keys to victory, why the Badgers D-line must shine and predictions
WHO HAS THE EDGE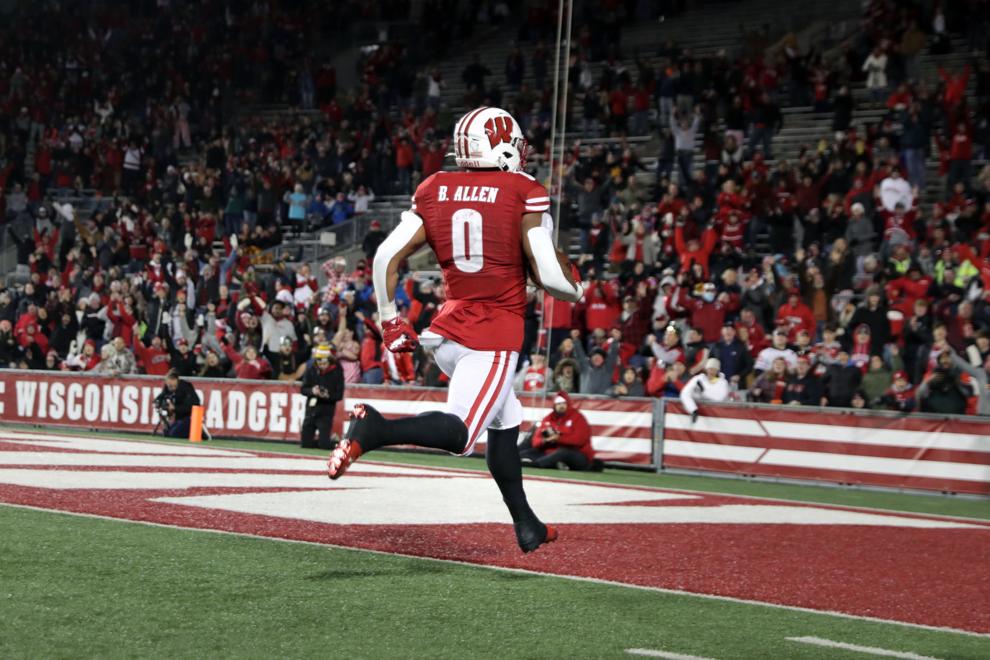 When the Badgers have the ball
Two key factors have helped the Badgers offense get on track the second half of the season, score 31.9 points per game and win seven consecutive games: The emergence of freshman running back Braelon Allen and a lack of costly turnovers.
Allen is earning comparisons to Jonathan Taylor, Melvin Gordon and Ron Dayne for what he's doing to begin his career in the backfield. His career-high 228-yard performance last week against Nebraska was his second straight game with three rushing touchdowns. He has 1,013 yards in the last seven games, the most by any Power Five player in that span, and he trails only Syracuse's Sean Tucker (nine) for most 100-yard games by Power Five players this season.
Quarterback Graham Mertz had a turnover-free outing against the Huskers, throwing for 145 yards and a touchdown.
Minnesota's defense quietly has been one of the stingiest in the FBS. The Gophers are fourth in the FBS in allowing 289.5 yards per game, with its rushing defense (103.6, 12th) and passing defense (185.7, 13th) ranking in the top 13 nationally. Senior linebackers Jack Gibbens and Mariano Sori-Marin are like a light version of the Badgers' linebacker duo of Jack Sanborn and Leo Chenal. Gibbens has 76 tackles and Sori-Marin has 75 this season. Minnesota only has allowed one offense to gain 300 or more yards, and that was Purdue in a 20-13 Gophers victory.
When Minnesota has the ball
Outside of Army, the Gophers are the most run-committed team the Badgers have faced this season. Minnesota is running the ball on 69.2% of its plays and gaining 204.6 yards per game on the ground. That total is third in the Big Ten and 23rd in the FBS.
The Gophers have had success on the ground despite losing four running backs to season-ending injuries, including Mo Ibrahim, the Big Ten running back of the year in 2020.
Minnesota's attack will have to find holes in the FBS' top-ranked rushing defense, which allows 64.3 yards per game, 13 yards less than Georgia, the team with the second-best rushing defense. UW has allowed four teams to rush for 100 or more yards, but two of those games have come in the past two weeks.
Senior quarterback Tanner Morgan is protecting the ball well for the Gophers — he has seven interceptions on 221 attempts this season — but not facilitating the explosive plays he made in 2019 with a pair of star receivers who are now in the NFL. He has directed an efficient third-down offense, though, as the Gophers are third in the Big Ten and No. 20 in the FBS with a 45.2% conversion rate. UW (25.2%) has the best third-down defense in the conference and second-best in the FBS.
UW has forced 19 turnovers in the past six games, but it may need to live with getting off the field with punts.
Special teams
Stephan Bracey gave UW's return game a shot in the arm when he returned the opening kickoff for a touchdown against Nebraska, the first kickoff return TD for UW since the 2020 Rose Bowl. His return abilities likely won't be a factor against Minnesota, which has allowed just 13 returns compared to 40 touchbacks this season.
UW's kickoffs this season have been a concern, and senior Collin Larsh replaced Jack Van Dyke last week after Van Dyke had a low, line drive kickoff. Larsh had a kickoff go out of bounds late in the fourth quarter. UW has 20 touchbacks on 61 kickoffs this season.
Larsh has missed two of his last three field-goal tries and is 13 of 17 this season after starting off hot. Minnesota's Matthew Trickett is 13 of 20 with a long of 50 yards.
The Gophers don't have many threats in the return game.
Trends
The Badgers are trying to have a full rivalry trophy case for the fifth time under coach Paul Chryst by finishing a sweep of Iowa, Nebraska and Minnesota. Chryst's Badgers are 20-4 in November games and have a 5-1 record against the Gophers.
Minnesota is 1-2 since coach P.J. Fleck signed a seven-year, $35 million contract that added two years to his previous deal.
Braelon Allen is the first freshman rusher since Jonathan Taylor to eclipse 1,000 yards in a season, and he is the first to rush for 100 or more yards in seven consecutive games.
UW is 6-5 against the spread this season and Minnesota is 6-4-1.
THREE KEYS FOR THE BADGERS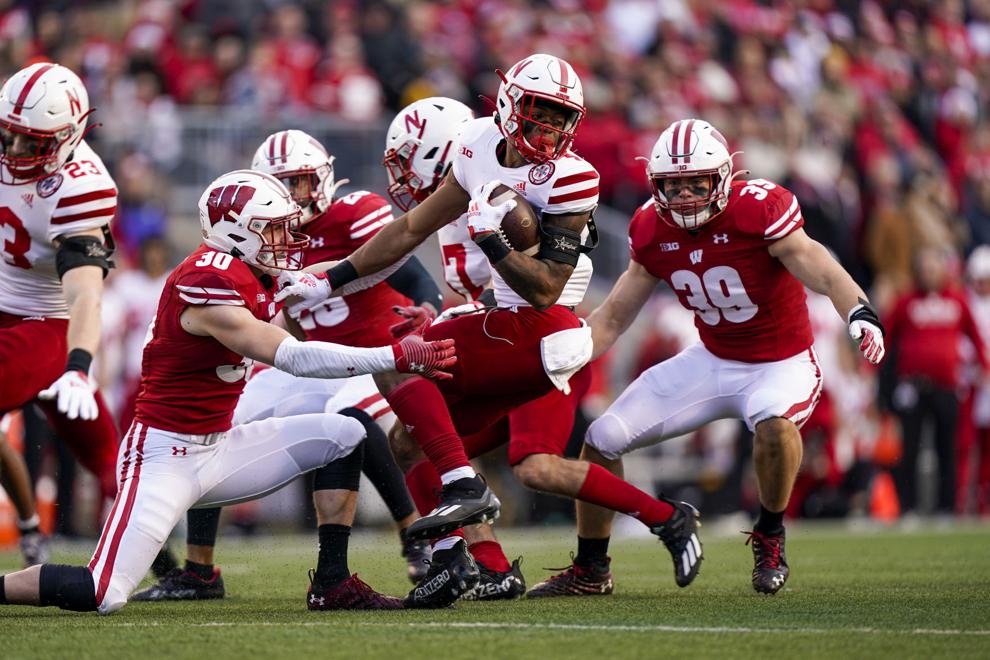 1. D-line needs best game: The improvement of the Badgers' defensive line has been one of the most important factors to the defense being the FBS' best against the run. That unit needs to have its best game of the season against the Gophers and contain the rushing attack to give the defense added flexibility against Minnesota's quick passing game.
Minnesota is down a handful of tailbacks and relying on redshirt freshman Ky Thomas and true freshman Mar'Kiese Irving. UW couldn't contain Mo Ibrahim on the ground last season, but the Badgers defensive line dominated the front in 2019 to make Minnesota one-dimensional. Do that again and UW is going to Indianapolis to play for the Big Ten title.
2. Outside linebackers handle the pressure: Senior quarterback Tanner Morgan is making quick, decisive throws over the middle of the field when Minnesota is moving the ball how it wants. Badgers inside linebackers Jack Sanborn and Leo Chenal may not be able to be as active in the pass rush as they've been all season to take away those Morgan passes.
UW needs sophomore Nick Herbig and senior Noah Burks to create pressure on the quarterback without as many inside linebacker blitzes as the Badgers have done this season.
3. Continue protecting Mertz: The Gophers' pass rush has slowed since the calendar turned to November, recording two sacks in three games this month. UW can't let Saturday be the game that Minnesota gets its pass rush back on track. The Badgers have allowed one sack of starting QB Graham Mertz in their past four games but will have to contend with senior defensive linemen Boye Mafe (six sacks) and Thomas Rush (5½ sacks).
Tight end Jake Ferguson laid out a couple Nebraska edge defenders with chip blocks last week, so that could be an option to help slow down pass rushers if Minnesota is getting pressure.
THREE KEYS FOR THE GOPHERS
1. Tackle Braelon Allen: This sounds obvious, but the seven consecutive teams that have allowed Allen to rush for more than 100 yards all had trouble bringing down the Badgers' star freshman tailback. Allen is clearly not 100%, as he's been slow to get up after tackles and dealing with some lower-body injuries as his role has increased, but the Gophers must wrap up after contact and attack him low.
Watch both of Allen's long touchdown runs last week and you'll defenders bounce off him because they don't follow their initial contact by holding onto Allen, and others trying to bring him down around his shoulders, which his tremendous upper-body strength prevents. PFF credits Allen with 706 yards after contact and 36 missed tackles forced this season.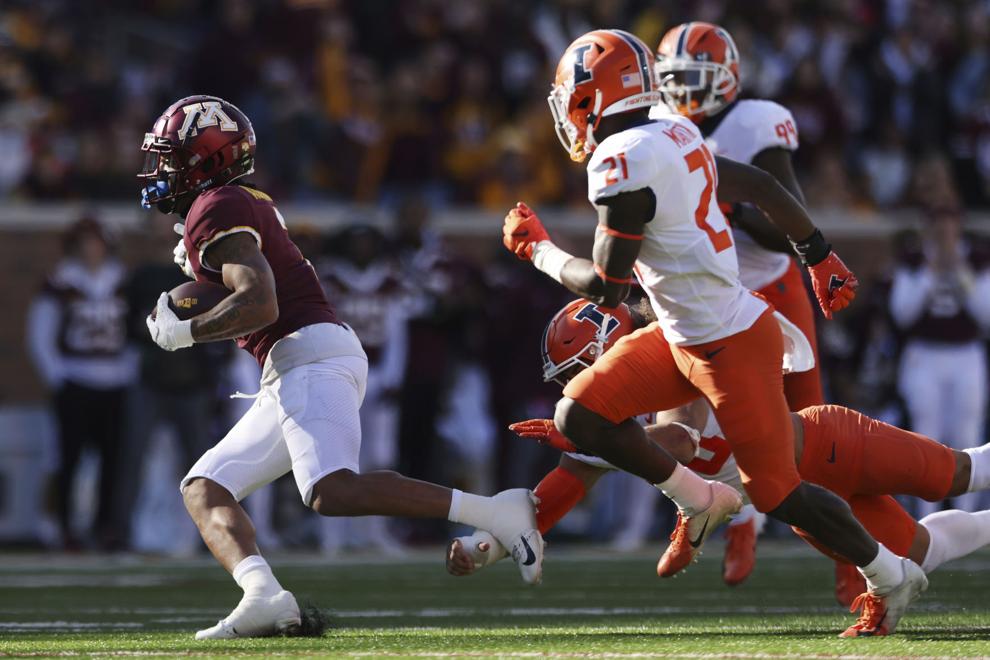 2. Attack with deep crossers early: The Big Ten isn't known as a copy-cat conference because each program's identity on offense has its own merits. But the Gophers should try to take a page out of Nebraska's playbook and attack with deep crossing routes. Those plays were effective against UW's defense for much of the game and took advantage of the Badgers' lack of top-end speed in the secondary.
Minnesota receivers Chris Autman-Bell, Mike Stephens-Brown and Dylan Wright could be dangerous on those routes, and the Gophers should make UW prove it can stop them.
3. Stay on the field: Watching a Minnesota game this season feels more like watching a Badgers game with how much the Gophers are running and possessing the ball. Minnesota leads the Big Ten in time of possession with an average of 35 minutes, 37 seconds per game. UW is second at 34:03 despite the third-worst third-down offense in the league (33.6% conversion rate).
Minnesota's been good at extending drives, converting 45.2% of its third downs, and it will need to do that Saturday against the Big Ten's best third-down defense in the Badgers. UW allows a 25.2% third-down conversion rate. If UW can get consecutive three-and-outs, the offense has shown it will pay off that effort more often during the seven-game win streak.
HISTORY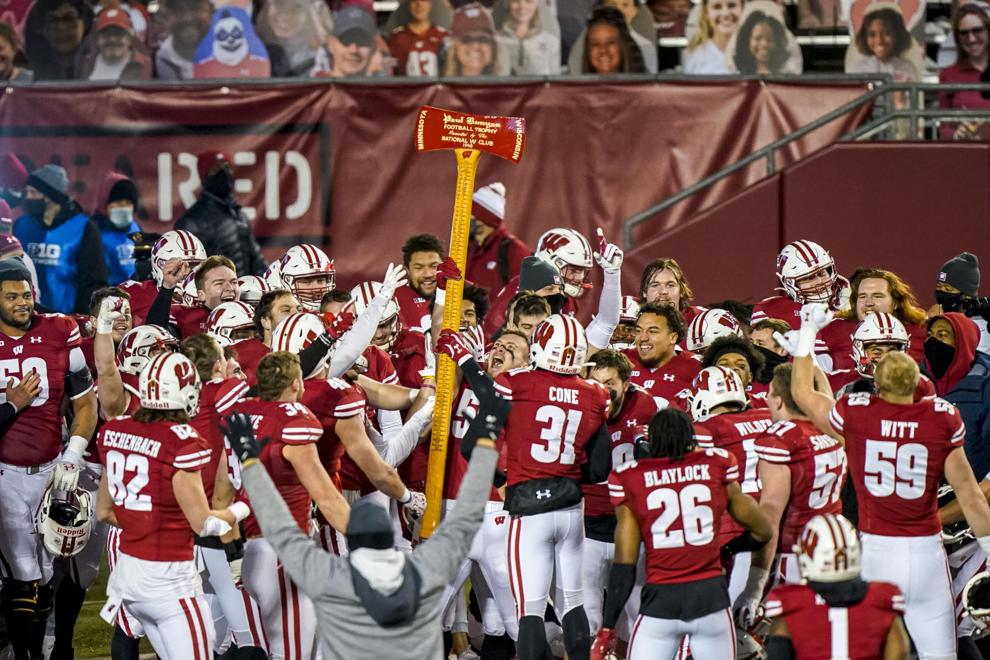 First meeting: UW lost 63-0 in Minneapolis
Last meeting: UW won 20-17 in OT last season
UW's longest winning streak: 14 games (2004 to 2017)
UW's longest losing streak: Nine games (1933 to 1941)
THE PICKS
Colten's prediction
This game has the makings of a grind-it-out, defensive battle between two of the FBS' best defensive units. After giving up a season high in yards last week, expect UW's defense to play well in a game that's right up its alley in terms of physicality. UW seems to have more firepower offensively. Braelon Allen is a special kind of runner that the Gophers haven't seen this season, and Graham Mertz has been able to keep drives alive in the passing game. UW marches on to Indy.
Paul Bunyan's Axe is on the line this week. Who are you taking?

— Madison.com Sports (@MadisonSport) November 23, 2021