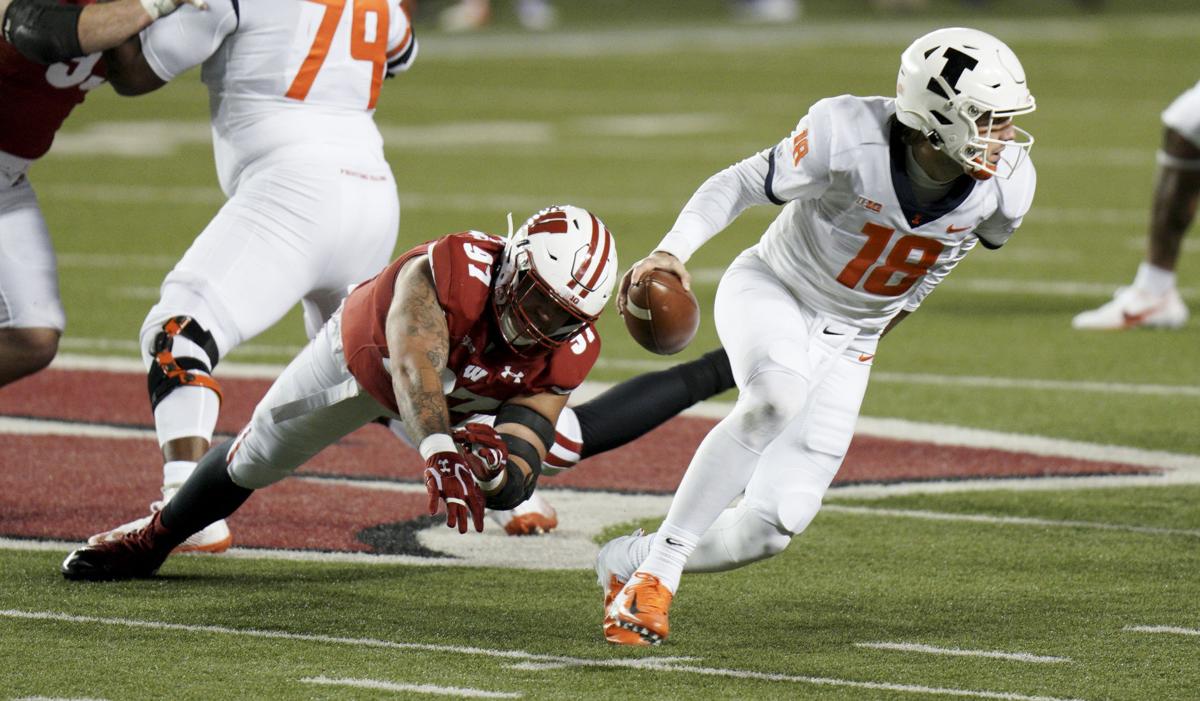 Confidence and arrogance is a fine line, one best walked like you're tiptoeing blindfolded and backwards on a tight rope across the Grand Canyon.
Confidence is good and contagious. Arrogance stinks. The Illinois football team perfectly walked that line leading up to Friday's delayed season opener against No. 14 Wisconsin. There was no stench of arrogance, but a smell of justified confidence. Things were all good in Champaign for game week.
It made sense given the team had experience at nearly every position and added offensive weapons in the offseason. They returned a starting quarterback, the leading receiver, four offensive linemen and virtually all of the back seven on defense. The pieces were in place for what head coach Lovie Smith has touted as his best team in recent memory.
They were perplexed by the betting spread opening up at 23.5 points — turns out the oddsmakers were on to something — against No. 14 Wisconsin. They talked about how this senior-heavy team had taken their lumps and was no longer the nail but rather the hammer driving the nail into the wall.
Wisconsin redshirt freshman Graham Mertz flung the ball around in his first college start and the Badgers rolled up 430 yards of offense. But frankly, the defense wasn't the issue. Until the fourth quarter it held the Badgers to 28 points and one came on short field position following an Illinois fumble. The defense held up well enough short of coverages that broke in grand fashion and for Wisconsin touchdowns — especially considering the defense was on the field for 43 minutes, 28 seconds.
The Illinois offense, though got nothing going. Zero points. Offensive coordinator Rod Smith said consistency was the key this season and Illinois couldn't do anything consistently right on Friday night. The Badgers' defense, which ranked No. 4 in total defense a year ago and returns nine starters, shut the door on Illinois and pitched a shutout in the process.
Peters targeted wide receiver Josh Imatorbhebhe a team-high 10 times, which is a pretty good plan given Imatorbhebhe's production last year. In the process, Peters missed Donny Navarro wide open twice for what would have been touchdowns. The running game was non-existent. Outside of Peters, Illinois rushed 18 times for 56 yards and finished with 218 total yards and the ball for just 16:32, was 2-of-10 on third downs, 0-of-3 on fourth downs and picked up just eight first downs in the entire game.
There's eight more games and Illinois certainly can't do much worse than on Friday, but as far as debuts go for a team that walked into Camp Randall confident and ready to prove a new leaf had been turned, this wasn't what Illinois had in mind.
"Just executing better," Peters said of what the offense can do better. "Some of that's on me. Some of that's on the O-Line up front, but we work as a unit. I think the biggest thing going forward is we just have to keep our heads up, keep working, keep trusting the system, that the coaches will get it right, they'll coach us up and it's on us to go out and execute."
Illinois has to get more players involved on offense. Tight end Luke Ford, who was once the No. 1 rated recruit in the state of Illinois and whose debut was highly anticipated, had one target and the pass was off the mark. Wide receiver Brian Hightower, who transferred from Miami, had one nice catch on the sidelines. Casey Washington and Donny Navarro were each targeted once and there wasn't a completion.
Rod Smith has to figure out how to put the pieces together to maximize the talent on the roster.
This is Lovie Smith's fifth year in charge and Rod Smith's third year as the offensive coordinator, these losses shouldn't happen. A loss to the No. 14 team in the country? Sure. A 45-7 beating with a team that Lovie Smith has heaped praise on? Not so much.
Perhaps this was truly a one-off game and was the very public reminder of the importance of tune-up non-conference games. There's time to right the ship and make this game look like a blip on the radar. It's really the only way ahead.
"There's only one thing to do when you have a game like this, they creep up on you," Lovie Smith said. "You just go back to work. We have an extra day, we'll need that extra day. We're going to evaluate. You have to get to that first game of the season to see exactly where you are. My experience has told me that normally that's here the biggest improvement happens is after that first game. Now we can really judge our guys based on game action. We'll put a better group together next week, a better game plan based on this."
Illinois planned to be the hammer on Friday, to flip the tide of yesteryear. Instead, it was just hammered. Again.
"Just executing better," Peters said of what the offense can do better. "Some of that's on me. Some of that's on the O-Line upfront, but we work as a unit. I think the biggest thing going forward is we just have to keep our heads up, keep working, keep trusting the system, that the coaches will get it right, they'll coach us up and it's on us to go out and execute."
---
Photos: Badgers cruise past Illini at empty Camp Randall